This post contains affiliate links and I may receive commission if you visit a link and buy something. Purchasing via an affiliate link doesn't cost you any extra, and I only recommend products and services I trust.
When we had our loft conversion, bedroom storage was a key part of the planning process and something we really had to think about. We decided early on that we would only look at ottoman beds for our new bedroom as they offer so much more extra storage space in the base compared to standard king size beds or super king size bed frames and we knew that organising that ottoman bed storage would be a priority.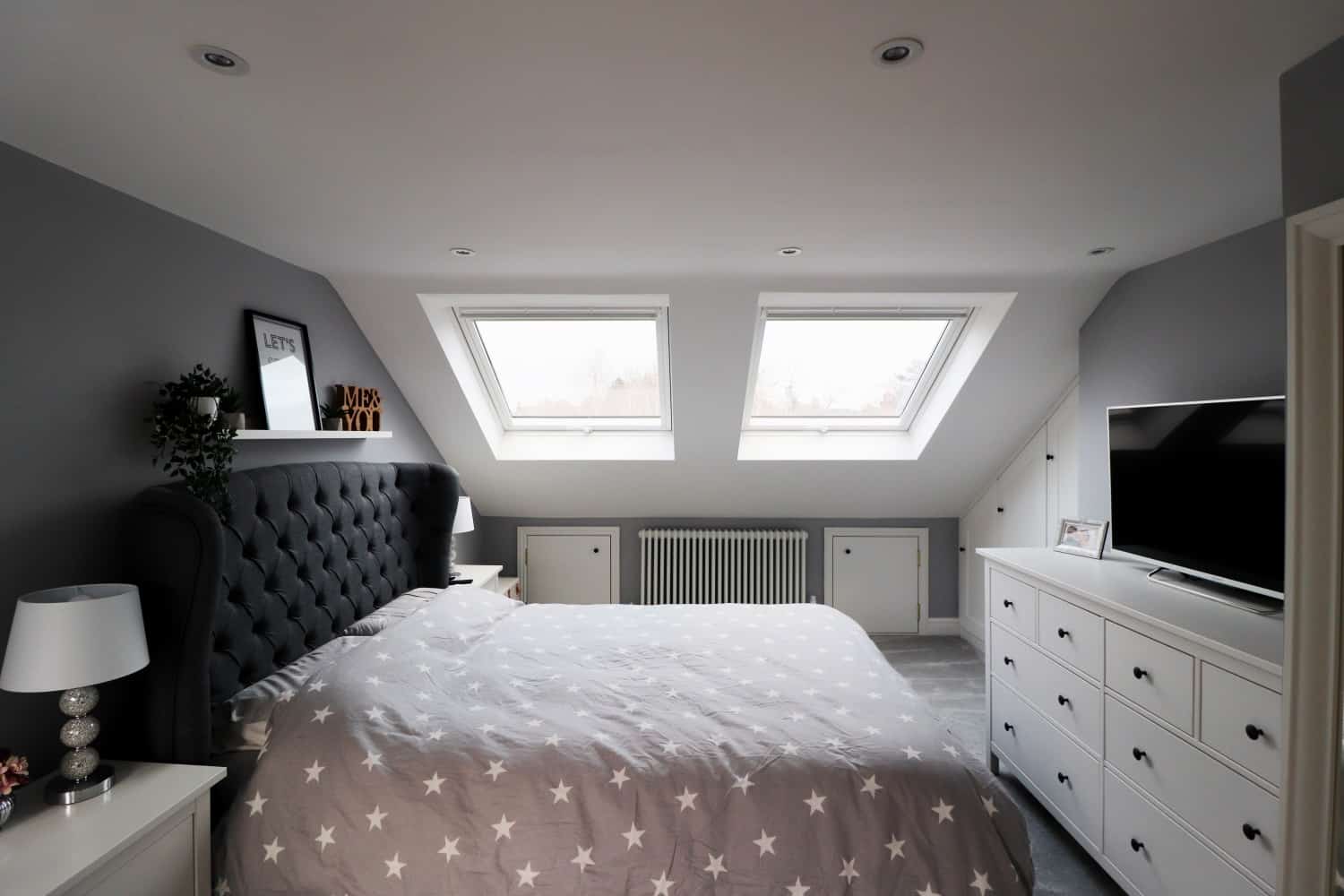 Why choose an ottoman bed?
There are so many different bedroom storage ideas that it's often hard to know where to start! Ottoman storage beds have built in storage that covers the whole area inside the bed frame under the mattress, pretty much from floor to slats. Unlike beds with storage drawers, they have a much bigger storage capacity and are perfect for small bedrooms, loft conversion and even a spare room where you might want to store household supplies or belongings.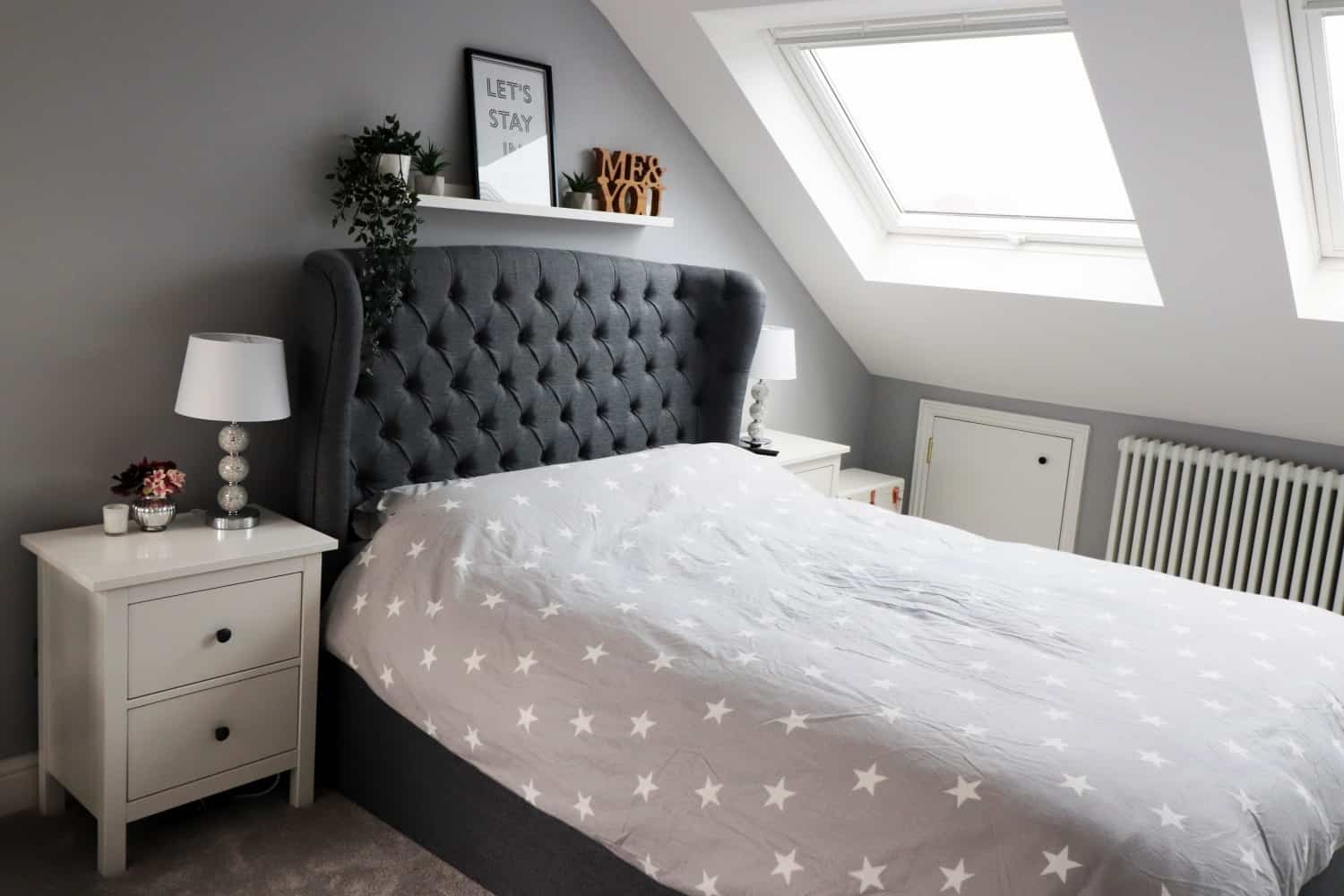 Ottoman beds are also nice to look at. If you have a standard bed without drawers, any kind of underbed storage will end up looking messy or out of place. Having built in storage always seems like such a tidier, more practical option.
Plus, storage ottoman beds come in all different sizes so you can have bed storage solutions in all rooms. Ottoman single beds in the kids rooms, double beds in the spare room and king size or super kingsize in the master bedroom. They fit perfectly next to bedside tables too and match your existing decor.
What to store in an ottoman bed
I wanted to store things under our bed that we didn't use very often but needed to have access to. I made a list of everything that I could think of that could potentially go under the bed. This included our other season clothes – winter clothes in summer and summer clothes in winter.
Guest towels and beach towels that we didn't use often, festive clothing, swimwear, old sentimental clothes like our favourites from when the children were babies and my one day clothes that don't fit right now but might in the future. You may also want to store extra bedding and many people use the ottoman bed space for storing clothing they don't fit into right now but might in the future. 
It makes sense to plan what could fit in the storage space and then tick things off as you add them later. You never know, you may be able to fit more than you realise. Plus, there's nothing nicer than an organised bedroom!
Organising Ottoman Bed Storage
Then we had to decide how to fit everything under the bed and make it as organised as possible. As we were only storing clothes and other squishy things, and the bed would be pressing down at least slightly on everything we stored, I didn't want storage options that were too rigid yet there are so many bed storage ideas to choose from.
I wanted to make sure that however we stored things they were easily accessible but also had some give in them so they would be able to live up to life inside an ottoman bed.
In the end I came up with two choices. Either, typical zipped underbed storage bags or fabric storage boxes. In the end the fabric storage containers won as they held their shape better than the bags. I chose ones that had handles so we could easily move them about and reposition them and we could overfill them slightly without any issue.
I ordered 24 of these fabric storage boxes from Amazon which fit the space under out king size ottoman bed perfectly and then made a list of what items were in them as I was filling them. The boxes worked so well – with reinforced tops and bottoms but also folding flat for storage if we didn't need them at any point.
We ruled out typical plastic under bed storage boxes as they didn't have any give in them and weren't the right dimensions for the space we had to fill. We also chose not to use vacuum storage bags. Although they do hold a lot, they aren't a very uniform shape when full and we wanted everything to fit as nicely under the bed as possible.
Once everything had a home under the bed I ordered personalised labels from OnTheNiceListDesigns on Etsy. Emma makes labels to any size and colour specification and they arrived really quickly and were easy to apply. I have no doubt they'll stand the test of time under the bed!
So now we have beautiful, practical under bed storage that has been well organised and can be easily sorted and switched around as the years go by. I'm so pleased with this storage solution and can't wait to get to work on other areas of our home.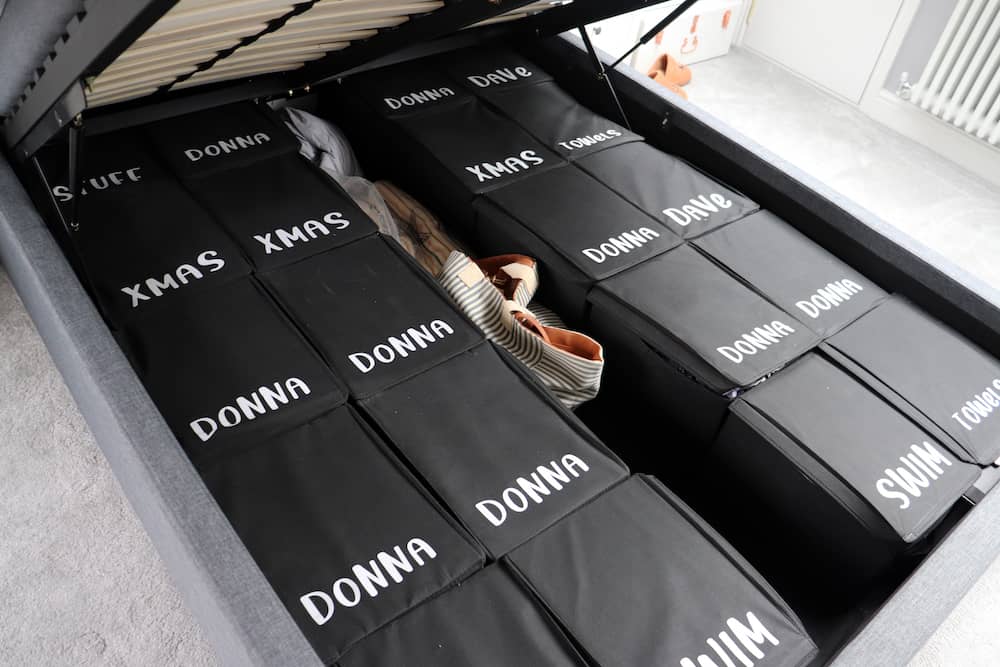 How to organise bed storage drawers?
Many storage beds have drawers instead of the ottoman style that we have. You can still use fabric storage boxes in the storage drawers but you could also use divider style storage, open top storage bins or more specialist shoe storage products and storage organizers.
How do you organise space under a bed that doesn't have drawers?
If you have a standard bed, without built in storage, there are many under bed storage containers that you can get to maximise the space. You can also get under bed shoe storage boxes but I would avoid anything made out of solid wood – under bed storage boxes should be as light and easy to move as possible. 
If you have more room, you could also invest in a plush velvet blanket box or ottoman bench to sit at the foot of the bed. An ottoman box can be great, easy access storage for, traditionally, things like blankets but in more modern times people usually store shoes in them as you can sit on it to put your shoes on too.