This post contains affiliate links and I may receive commission if you visit a link and buy something. Purchasing via an affiliate link doesn't cost you any extra, and I only recommend products and services I trust.
I wrote recently that a new Next flagship store had opened near us in Camberley. Up until this department store opened we had two other local stores. There was Next Camberley in the town centre and one at Farnborough Gate Retail Park. As soon as the new Camberley store opened, the Farnborough Gate store closed for refurbishment… To open as a Clearance store!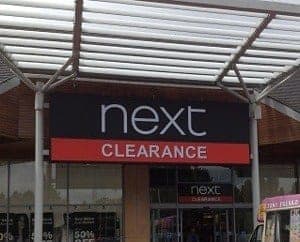 Now, anyone that knows me and follows this blog knows that I love a bargain. I'm familiar with the Next Clearance stores from shopping at various Outlet Centres across the country. But to have one locally, and not in an Outlet Centre seemed like quite a novelty.
With this in mind, we went for a visit last week and I was in bargain heaven!
What should you expect from Next Clearance Stores?
We've all been there at some point. You see something you love in a shop and for whatever reason you don't buy it. Can't get it in your size, haven't got the money or just forget. The shop then has a Next sale, and the item you've been lusting after sells out instantly. You just cannot get it anywhere! Well, that is where Next Clearance is amazing!
As soon as sales finish in store all the leftover stock gets shipped to the Clearance stores as well as in store returns. Admittedly, these Next outlet stores are a bit of a jumble sale, you need to enjoy a rummage! But you can find things that you didn't get around to buying for literally a fraction of the price – there is so much to save.
What can you buy from Next Clearance stores?
On our visit we bought a lot of clothes for Little Man. Outfits for Christmas, a Superman onesie and a hat gloves and scarf set (RRP £10 reduced to £1!) amongst other things. In the end we spent in the region of £65 but had £180 worth of clothing! This included the Elf Outfit below for Little Man to relax in around Xmas, reduced to £4!
As well as the clearance clothes there is also a lot of Special Purchase clothing. The Next SP range looks like a normal Next store setup but with everyday low prices – no sale labels here! It's still the quality and style you're used to from Next but with the Next Special Purchase lower price tag. There isn't the huge variety in high street Next stores.
If you have a Next Clearance store near you then it's definitely worth the visit. Have a rummage, find a bargain and go home happy! Plus, Next have a permanent Clearance section on their website too that I pretty much live in.
For reference, you can find the Next Clearance store address at Blackwater Valley Retail Park Farnborough 1A Farnborough Rd, Farnborough GU14 8BL.The Next Clearance Farnborough Gate opening times are over on their website but it opens at 9:30am every day – and 11am on Sundays. You can see all Next clearance stores locations here – many of which are in shopping centres. All Next Clearance opening hours are on their website.