Anyone watching our lives on social media probably think we have no money worries, don't have to budget and spend our whole time on press trips and having a big holiday every year. But, we are like every other family. We work hard to afford our lifestyle, plan as much as possible and find times like Christmas such a stretch like other families.
Growing up my parents used to get into debt every Christmas and it would take them until the following Christmas to pay it off – before the spiral started again. We had amazing Christmases but finding out years later that it was them buying the gifts, not Father Christmas, and that they didn't have the money to fund the Christmas they gave us yet did it anyway made me quite sad.
I would rather have had a simpler Christmas with quality family time, playing games together and watching movies, knowing my parents were debt free, than having excessive amounts of food and expensive gifts that they couldn't really afford. It meant they spent the whole year worrying about money. It was such a weight on their shoulders.
Now, with a family of my own, Christmas is still my favourite time of the year – that hasn't changed since my own childhood. But, when the children were born I made a promise to myself that we would always give them the best Christmas we could but it would be a Christmas within our means. If we couldn't afford it then they wouldn't have it. We have a Christmas budget and we stick to it.
So I thought it might be useful to put together some of the ways that we avoid getting into debt at Christmas and still have a great Christmas whatever our budget.
Plan through the year. We have a savings account that we put a standing order into each month to spread the cost of Christmas. This could be as little as £5 a month to give you £60 for Christmas dinner. But it really helps.
Buy Christmas gifts through the year. I know, the children may want the latest big brand toy that's released in the autumn but you can still buy other Christmas presents that you know they, or other people, would love through the year. We buy a lot of stocking fillers, Lego when it's on offer and things like board games and books that we know the children will love. It means we can make the most of special offers and have little bits of money being spent every so often rather than buying everything in the run up to Christmas.
Bulk out the gifts for the children with things that you would need to buy them anyway. Things like new pyjamas, character socks, a new dressing gown and slippers are things that the children will love but aren't costing you anything extra in the long run. They'll then get used to having practical gift ideas rather than just fun gifts too.
Save gift vouchers. We use Quidco to get cashback that we save, turning it into vouchers or cash straight into our bank account that really helps towards Christmas shopping and even Christmas dinner. There are many ways to make money online and many will let you cash out as vouchers which I find more useful than cash – if we have cash it will go on bills. Vouchers we can save and it's lovely having that little bit of extra money.
Find inventive ways to save. I know many people do the 1p challenge through the year as a way of saving money for Christmas and it saves a few hundred pounds over the course of the year. But, it also means you have to put the most money – £3.50 a day – into the pot at the most expensive time of the year.
Why not do the 1p challenge backwards, putting more money in at the start of the year and giving yourself a break further down the line? Even if you did the challenge backwards and skipped November and December you'd end up with around £650 to cover the cost of Christmas AND a couple of months to do all your shopping. Katy has a great post about money challenges to start in January – but you could start them at any time of the year too.
We do all of our spending through the year on credit cards, paying off in full every month. This gives us Nectar points that we can spend at Sainsburys or Argos as well as being about to multiply them at various times through the year. If paying a card off in full is an option for you then there are many offers available giving anything from physical cash back to points or vouchers.
Keep an eye on special offers. I use the HotUKDeals app religiously on my phone and will always make the most of relevant special offers. It tells me when sales are going to start and when places like Argos and Smyths Toys have their best pre-Christmas offers. The HotUKDeals system also shows whether an offer is good or not and you generally get to know whether you should hold out for a better offer.
Save on Christmas dinner. When it comes to Christmas food you really don't need much. Most families end up eating solidly for two or more days over Christmas. Tins of chocolates, crisps, nuts, cakes, biscuits. There is just so much food around. You really don't need all that just because it's on the shelf in the supermarket.
Over the years we've worked out what we need – a really nice Christmas dinner with all the trimmings, a couple of choices for dessert, a buffet type meal for Boxing Day and some snacks. If we buy more than that we end up feeling terrible afterwards or it goes to waste. So, cater for the amount of people coming and buy what you think you need and will realistically eat and enjoy.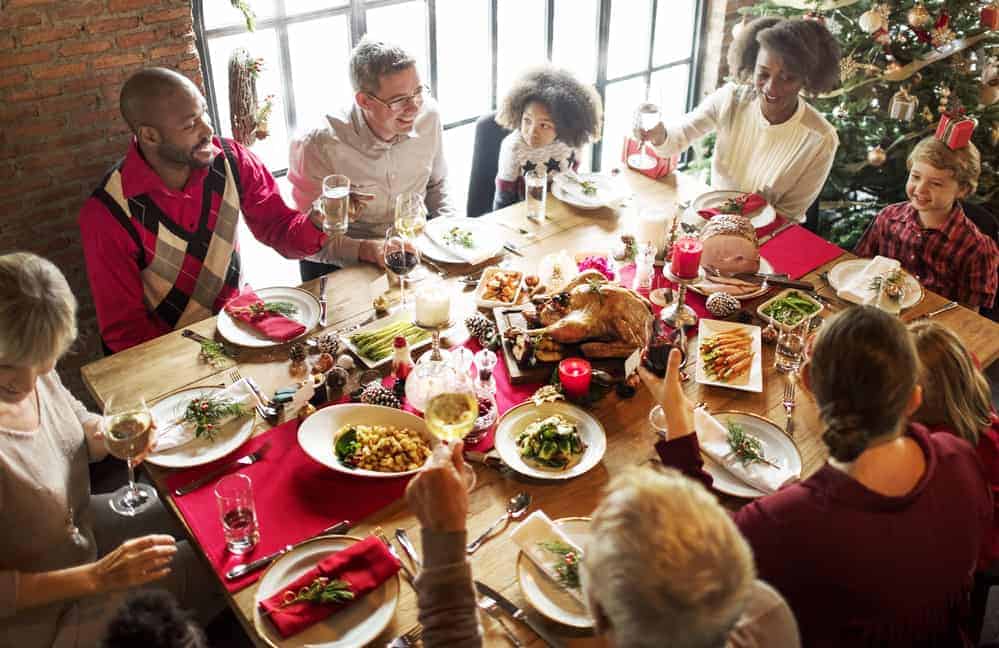 Every supermarket sells Christmas food and it varies in price massively. If you're on a budget shop somewhere like Aldi that does great food at a fraction of the cost of the other supermarkets. You can also save up vouchers and use special offers to make even more of a money saving. Nomipalony has this great post about feeding 5 people on Christmas day for just £11 from M&S.
We always buy a frozen turkey crown – or two – as it's so much cheaper than a traditional roast turkey with a lot less waste and we can buy it way in advance of Christmas, giving us one less thing to worry about. We also make our own pigs in blankets and use normal vegetables rather than any fancy prepared festive ones.
Really, most people would be happy with a normal Sunday lunch with some cranberry sauce, pigs in blankets and brussel sprouts. Christmas dinner is definitely one place you can cut corners where the cost is concerned without sacrificing your meal.
If you really don't have the money for Christmas dinner then speak to whoever you are spending Christmas with and all bring a dish. A turkey can be cooked in the morning and brought to the host's house, desserts can be brought and everyone can bring a bottle. Just because someone is hosting Christmas it doesn't mean they should always foot the bill.
If your Christmases have got way out of control over recent years and they just keep getting bigger and bigger but you can't afford to keep doing it, speak to the children – and other family members – about it. Explain that this year you're going to be focusing more on quality time together rather than material things.
Buy gifts for the whole family to enjoy like an experience or gifts for children to share. I know it goes against the grain to some degree but Christmas doesn't have to be about how much is wrapped up under the tree – and it was never meant to be about that either.
I have many friends whose children have a small stocking at the end of the bed that has small gifts, fruit and sweets in. They then get a bigger gift under the tree from Father Christmas and any other gifts come from friends or family – with the focus being on the spirit of Christmas and not about all the things you receive.
I honestly think that if you cannot afford Christmas then this would be a great way to go – removing the commercialism from the occasion and just enjoying a really lovely festive season with those closest to you.
At this time of year, throughout the holiday season, it may be too late to budget for Christmas in your home. We start planning our Christmas spending in January to make sure we can afford it and that we can enjoy a debt free Christmas. But, it's never too late to plan.
Take stock now and look at what you can afford and the kind of Christmas you would like. Have a Christmas within your means that the whole family will enjoy – without you having to spend the whole of next year paying for it.