Christmas 2013 was Little Man's First Christmas. A couple of years ago, 2011, was LP's First Christmas. I have now lived through two 'First Christmas' celebrations.
Were they the amazing, magical, twinkling experiences seen in the movies and advertised in shops? Complete with sugar plum fairies, flying snowmen and magical reindeer feed?
No. They weren't.
I hate to shatter illusions but Baby's First Christmas is something every parent dreams of. A special first Christmas bauble for the tree, a first Christmas outfit, a first visit to see Santa and looking for those special first Christmas presents.
Baby's first Christmas is something that is planned to perfection – every single detail is organised and orchestrated to make sure that the first Christmas as a family, or with a new arrival, is the most amazing Christmas that ever happened. Baby's first Christmas is put on a pedestal so high, with expectations so huge that even Santa himself would have trouble living up to the dreams that we've seen portrayed in Christmas films and seasonal advertising every year since our own childhoods.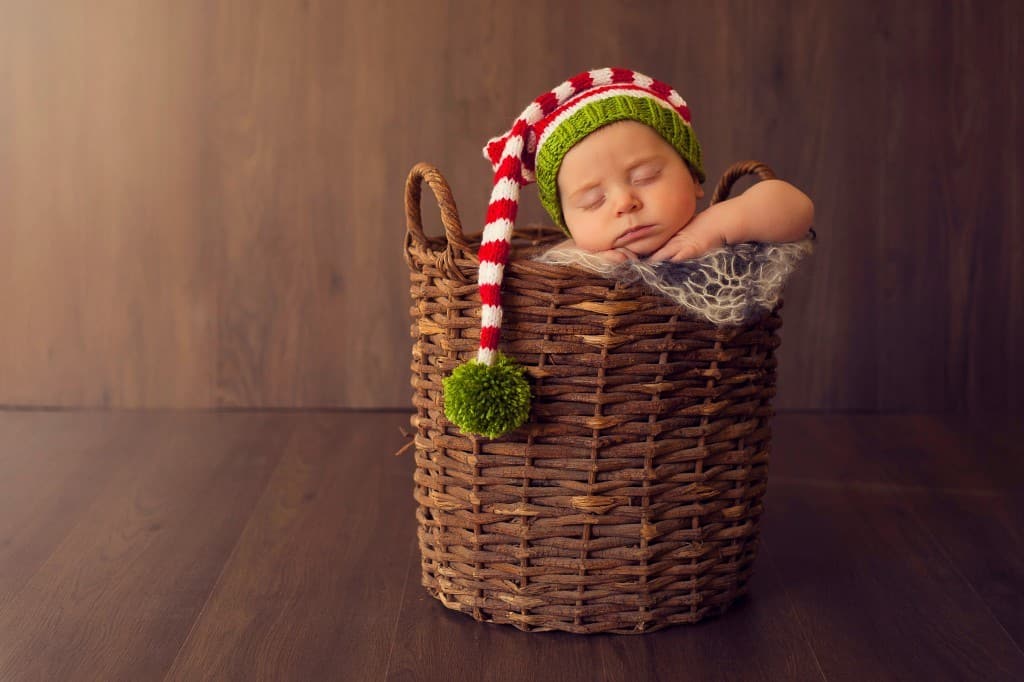 In reality, Baby's First Christmas is more for the parent's benefit than the baby's. The baby – whether a few weeks old or 11 months old will not remember that first Christmas. They will also not be able to participate in it a huge amount – yes a baby can eat Christmas dinner with you, but they aren't great at unwrapping presents even at a year old and their attention span is short at best.
On Baby's First Christmas, parents still need to feed the baby, change nappies and get the baby to have naps. The day to day 'chores' of having a baby continue. Things like exploding poopy nappies, projectile milky vomit and teething hell don't stop purely because Santa's been. Christmas day, as far as a baby is concerned, is just another day to poop, wee, eat, sleep and cry.
If anyone with a baby at Christmas felt in any way disappointed or let down by Baby's First Christmas then don't worry – That feeling is natural. When people ask you how Baby's First Christmas was you smile and say how perfect and amazing it had been. You wax lyrical about how 'Baby' put out a mince pie for Santa, a carrot for Rudolph. You tell everyone about the first visit to Santa and about how you put the presents quietly under the tree on Christmas Eve. You show everyone the photos of your baby in their Christmas outfit on Christmas day and the photos of that first visit to Santa. But you don't tell anyone about how the whole of December was full of teething, how you didn't get more than a couple of hours sleep at a time for the whole of advent. You don't mention that 'Baby' was only in their Christmas outfit for 40 minutes because they were sick all over it the minute the photo was taken or that when you went to visit Santa they screamed their head off the whole time and you only managed to take a photo by jiggling them up and down singing frere jacque for fifteen minutes beforehand.
When people ask, you don't tell them how you ate Christmas dinner one handed whilst breastfeeding the baby, or how your dinner had to be reheated as you spent the whole of the meal trying to settle a grumpy baby. You don't mention the fact that you unwrapped every single present that Santa left, even though you were up until 1am Christmas Eve wrapping them up as baby had no interest in unwrapping them – and you definitely don't mention how the only thing you asked Santa for was some sleep and for teething hell to sod off until the New Year.
Baby's First Christmas isn't all it's cracked up to be. As new parents to our first baby we found that first Christmas exhausting. LP was 4 months old and we'd been up the whole of the night before. We were shattered and yet we still went to people's houses, rocking LP for naps, changing nappies and not really having a break at all. This time with Little Man Christmas was all about his Sister. LP is now 26 months old and she loved Christmas. Little Man's first Christmas was great – because LP loved it. Little Man's first Christmas for him was just another day and to be honest, the fact it was his first Christmas was irrelevant – I didn't even remember to get him a bauble for the tree! Little Man had Christmas dinner with us, wore his outfit – until it got food all over it, had naps, had nappy changes and did what he does on normal days – played in his walker, played with some toys. He was oblivious.
Was Baby's First Christmas everything you expected it to be? No. But after that first Christmas you have much more realistic expectations. You know that Santa isn't going to leave you a sack full of sleep and that Christmas may be full of teething and leaky nappies. But, whether Christmas is your Baby's first one, or their tenth one, it's an amazing time. LP's first Christmas was exhausting and emotional but it was Christmas, and it was lovely – It just wasn't something they'd sing about in a Disney movie.
Baby's First Christmas may not be full of dancing elves and singing robins – but neither is real life. Life isn't a Disney movie. Baby's first Christmas is whatever you make it if you keep at the front of your mind that it'll be exactly the same as any other day as far as baby is concerned BUT you get to be surrounded by lovely family, eat great food and have presents you won't be disappointed.
How was your Baby's First Christmas?