Welcome back to another week of the Ordinary Moments. If you haven't joined in before this is a weekly linky that launches every Sunday morning and is open until midnight on the following Saturday. It's a linky that celebrates any ordinary moments in your life – or the not so ordinary some weeks too. Basically – anything goes. I'll be sharing and commenting on the posts that are linked up during the week and there's a badge at the bottom of the post if you'd like to add it to yours too.
Can you believe we've already been away from home for 3 weeks? This time next week we'll be back at home, back on the first floor whilst the loft gets finished off above our heads.
The last three weeks have flown by and every week I am amazed at how much further forward the build is. This week we have had Velux windows installed, the plasterboarding has been finished, the first fix plumbing has been done and our boiler has been repositioned and can be used again. Oh hot water at the house I have missed you!
The loft conversion now has distinct rooms and we can see how bright it will be. We can visualise how the furniture will fit and how we'll use the space. This week has been such a big one for us – it's really felt like it's all come together.
The next week will be spent cleaning and decorating the first floor, making flatpack and putting the children's rooms back together to help them feel at home when we move back next Sunday.
The loft still has another three weeks or so to go before completion and so life as we know it at home won't be quite the same for a little while but we're all really looking forward to being back at home. It's been like an extended holiday living in the flat but there really is no place like home.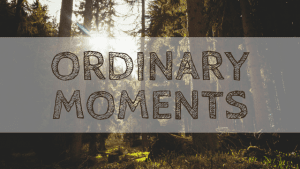 If you have an ordinary moment this week, come and link up – I'm looking forward to reading the moments that you share and will comment and share them on Twitter through the course of the week. Thanks so much for taking part.
You are invited to the Inlinkz link party!