Welcome back to another week of the Ordinary Moments. If you haven't joined in before this is a weekly linky that launches every Sunday morning and is open until midnight on the following Saturday. It's a linky that celebrates any ordinary moments in your life – or the not so ordinary some weeks too. Basically – anything goes. I'll be sharing and commenting on the posts that are linked up during the week and there's a badge at the bottom of the post if you'd like to add it to yours too.
There was a time when I thought this moment would never happen, but finally, it begins. Today we are moving out of our home for the loft conversion to start and that feels so surreal to me.
We had scaffolding put up last week and we've been busy clearing the first floor and loft ready for the work to start. As we don't have enough room downstairs or any washing facilities downstairs aside from a sink we'll need to move out initially whilst the first floor ceilings are lowered to give more head height in the new loft rooms.
Although we're moving out, literally to a flat a stone's throw away, I'll be back every day to work from home and the cat has gone off on her little holiday for a few weeks too.
We're hoping that once the new ceilings are up that the cat can come home. We'll then blitz the upstairs – decorating the bedrooms and bathroom and getting new carpets before moving back in again. The hallway won't be touched until all the work is finished.
So for now I am excited and apprehensive in equal measure. Although we had our extension done a few years ago we have never had to move out of the house so we have never lived through an upheaval like this. But, to be honest, after the last few months of 2020 I've learnt that you just have to roll with whatever comes your way.
I'll let you know how we get on with the loft work and splitting our time between different homes for the next few weeks. If nothing else, it'll be an adventure!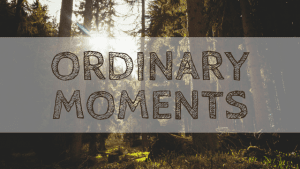 If you have an ordinary moment this week, come and link up – I'm looking forward to reading the moments that you share and will comment and share them on Twitter through the course of the week. Thanks so much for taking part.
You are invited to the Inlinkz link party!