Welcome back to another week of the Ordinary Moments. If you haven't joined in before this is a weekly linky that launches every Sunday morning and is open until midnight on the following Saturday. It's a linky that celebrates any ordinary moments in your life – or the not so ordinary some weeks too. Basically – anything goes. I'll be sharing and commenting on the posts that are linked up during the week and there's a badge at the bottom of the post if you'd like to add it to yours too.
Well, that's it. The holidays are over and the children have been back to school for a few days. I won't say it's been easy as it really hasn't but we're definitely back in a nice routine and it can only get easier as the term goes on.
Getting up for school has been hard. It's so dark in the mornings and LP and Little Man are just so tired. But, they love school and are glad to be back with their friends. Plus, they live for the weekends like me and are always asking what's happening the following weekend.
The children are signed up for clubs that start in a couple of weeks and they have quite a lot of extra-curricular things going on with school too. There are local concerts and LP is off to the Young Voices choir in a couple of weeks too – we cannot wait!
As the children are back at school, I'm back in work mode and it's been lovely having full working days back again. This year I'm being really mindful to switch off from work when I pick the children up from school and to get back into the routine of doing after school activities with them too.
They're both excited about starting to bake after school again, do crafts and paint. It's something we always start at the beginning of term and by the end of the term all they want to do is relax, read and watch TV! I'll let you know how we get on!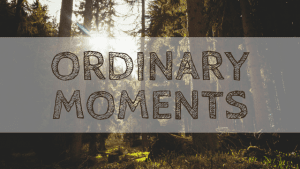 If you have an ordinary moment this week, come and link up – I'm looking forward to reading the moments that you share and will comment and share them on Twitter through the course of the week. Thanks so much for taking part.
You are invited to the Inlinkz link party!