*This is a collaborative post with Warner Bros UK
If there's one thing we love as a family it's baking – and we always bake once a week. Usually though the children ask to bake something seasonal or current – something to prepare us for the autumn, summer puddings, festive delights or something that coincides with their school learning, a TV show or movie. Well, it just so happens that today Smallfoot has been released at cinemas across the country.
So last week LP, Little Man and I made some yeti cookies to celebrate the launch and thought we'd share them with you in case you want to make your very own cookies at home. They're simple to make, taste great and are perfect for the whole family to enjoy.
Ingredients (Makes approx 14 cookies)
For the biscuits
150g butter
100g icing sugar
2 egg yolks
350g plain flour
a pinch of salt
For the decoration
food colouring – blue and black
150g icing sugar
edible eyes
Recipe
Beat the icing sugar and butter together until fluffy and then add the egg yolk
Sift in the flour and salt and knead to form a dough
Chill in the fridge for 20 minutes
Preheat the oven to 190C/375F/Gas 5
Roll out the dough to about 6mm thick and cut out rounds with a cookie cutter
Place on a baking sheet and bake for 12-14 minutes until they start to brown around the edges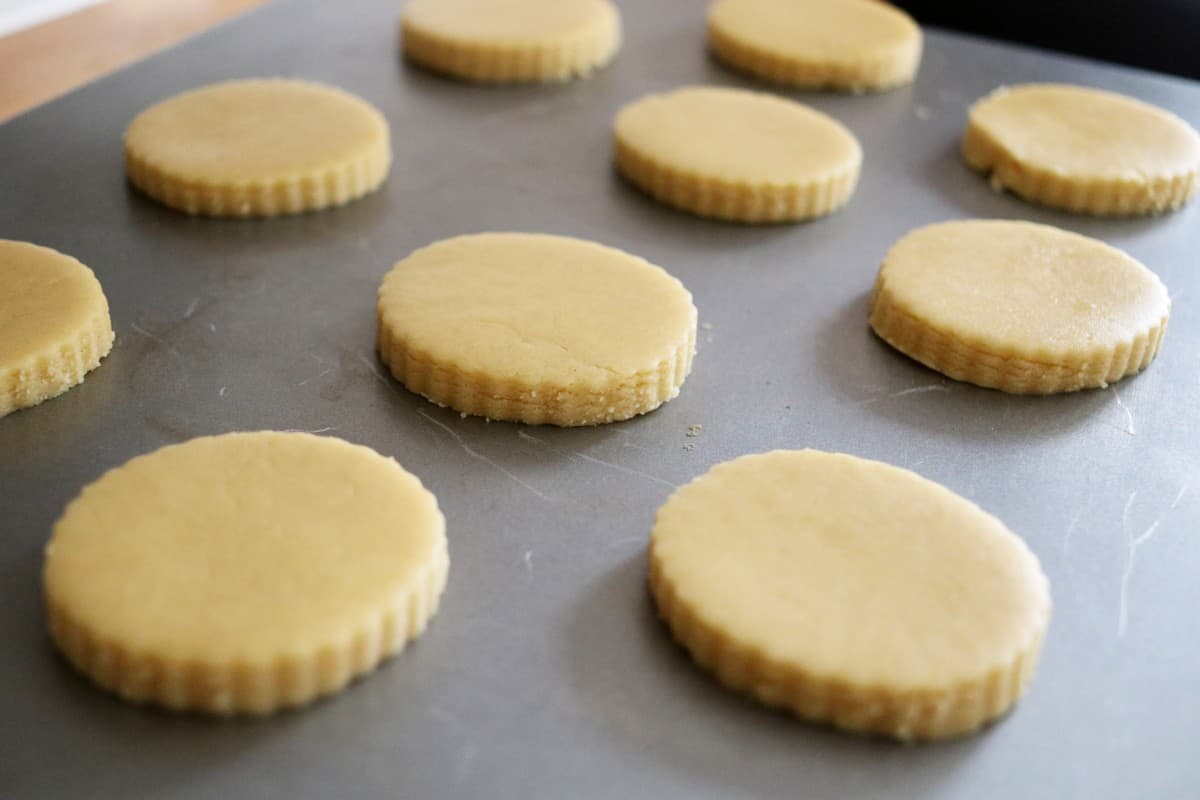 Leave to cool completely – preferably overnight
Make the icing by mixing the icing sugar with about 15ml water – add water a tiny bit at a time until you get a good consistency that will coat the back of a spoon
Seperate the icing into three and colour two lots blue and black
Start decorating the cookies with the blue first – drawing on horns and the outline of the yeti mouths
Add black to the inside of the yeti mouths, drawing teeth shapes
Fill in the teeth with white and then draw an 'furry' outline around the cookies in white before filling the rest in with white
Before the icing sets, stick eyes on to finish the cookies off.
LP and Little Man loved helping to bake the cookies – although the icing was mostly my handiwork! Dave said they reminded him of bakery biscuits from his childhood and the children really enjoyed them to – so we'll definitely be making them again.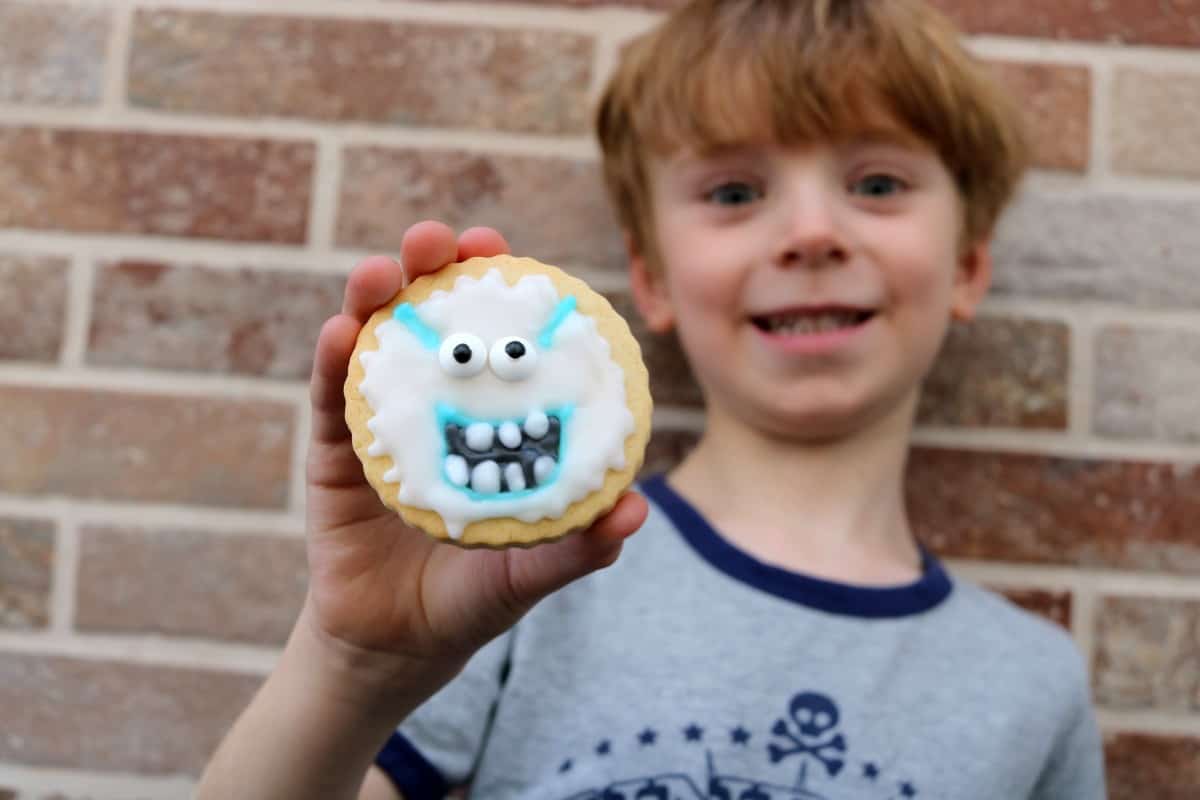 Warner Bros' Smallfoot is out now. An animated adventure for the whole family with original music and an all-star cast – Channing Tatum, James Corden, Danny DeVito and more – Smallfoot, turns the Bigfoot legend upside down when a bright young Yeti finds something he thought didn't exist—a human.
LP and Little Man can't wait to see the movie and I know we'll be going to see it as soon as possible – and we'll be making even more cookies to celebrate! You can find out more about the movie here.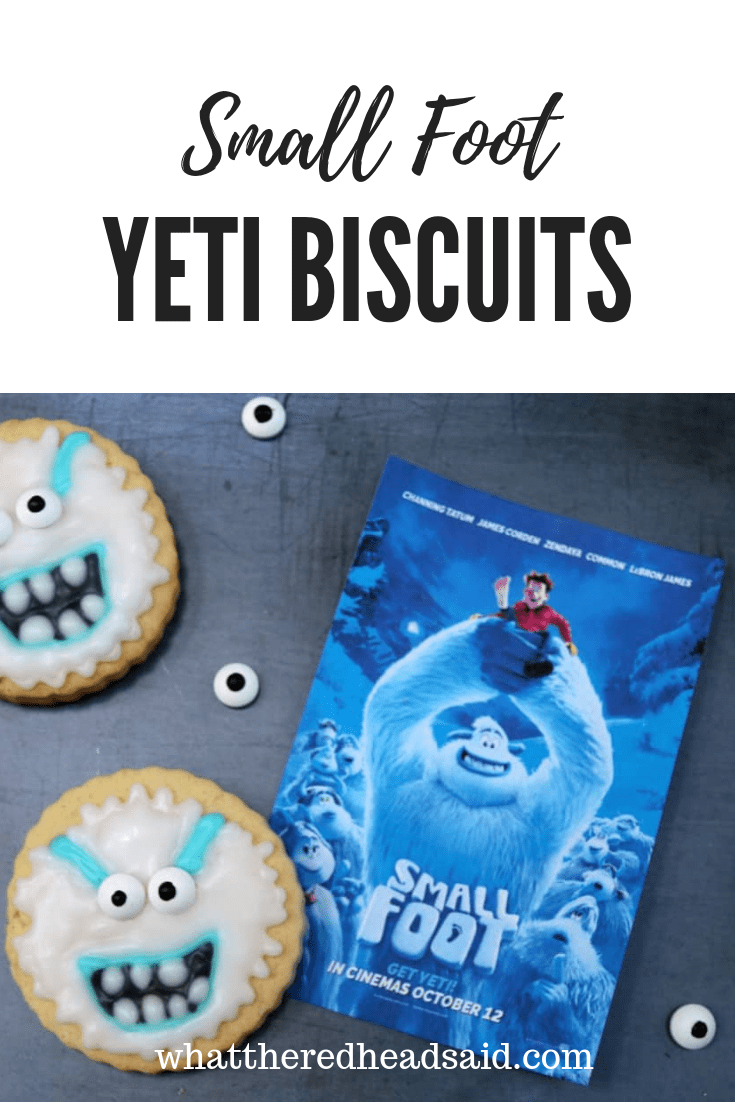 *This is a collaborative post with Warner Bros UK