Welcome back to another week of the Ordinary Moments. If you haven't joined in before this is a weekly linky that launches every Sunday morning and is open until midnight on the following Saturday. It's a linky that celebrates any ordinary moments in your life – or the not so ordinary some weeks too. Basically – anything goes. I'll be sharing and commenting on the posts that are linked up during the week and there's a badge at the bottom of the post if you'd like to add it to yours too.
I don't know about you but life has gone pretty strange in the last week or so. Life as we know it is no more and there is so much unrest. But, we have been trying to carry on as normal as much as we can.
Aside from washing our hands more often we're pretty much being as we've always been. The children are going to school, I'm working – although things have slowed down quite a lot – and we're taking each day as it comes.
We've still been doing after school activities, we've been to the park, been out in the forest and have had a good mix of scooting and driving on the school runs.
But, I know normality won't last forever. A time will come when schools will close and when we'll have to homeschool the children until things calm down. It'll be really strange and although it hasn't happened yet I have no doubt that it will happen at some point.
The children will see it as an extended holiday but we'll still have work to do – them and me – so it will be interesting to see how it pans out. But, for now, we are carrying on as normal. How are things for you?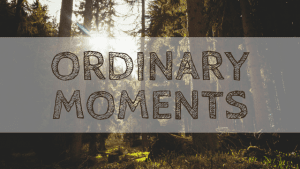 If you have an ordinary moment this week, come and link up – I'm looking forward to reading the moments that you share and will comment and share them on Twitter through the course of the week. Thanks so much for taking part.
You are invited to the Inlinkz link party!