Welcome back to another week of the Ordinary Moments. If you haven't joined in before this is a weekly linky that launches every Sunday morning and is open until midnight on the following Saturday. It's a linky that celebrates any ordinary moments in your life – or the not so ordinary some weeks too. Basically – anything goes. I'll be sharing and commenting on the posts that are linked up during the week and there's a badge at the bottom of the post if you'd like to add it to yours too.
And just like that our routine has been shaken up again. Friday marked the last day of our school at home as LP is off to school for the week next week and Little Man will be off to school for a transition week two weeks after.
They'll have a week at home together again in between and this will really break up the time we have left of the school year. I'm hoping that after the summer the children will return to school and it will feel much more normal but only time can tell.
I'm really happy with all the measurements that the children's school has put in place to keep the children safe. They are only having as many children in as they can manage safely at any one time but want to give all the children a chance to return to school even if it's only for a short time.
I think this is for so many reasons. To give parents a break, to try and give the children a little sense of normal, to help safeguard the children who need it and to try and keep school a familiar place for children as otherwise they wouldn't have been in the school for 6 months by the time they return.
LP will be in a class of just eleven children with a teacher. It's not her teacher but another of the teachers from her year. They're going to be doing maths and English in the morning and more fun things like science and art in the afternoon with a lot of time spent outside on the school field.
Children wear their own clothes – and a different set each day to reduce contamination – they don't take their own belongings in with them aside from a drinks cup and sun hat and packed lunches are taken in a carrier bag that can be thrown away after.
I'll be dropping LP off at the gate to limit the number of people in the playground and we'll have staggered pick up and drop off times to make it safe for everyone to maintain distances.
The children are looking forward to doing something different, switching up our routine and having something new to talk about. I'm mostly looking forward to having one on one time with the children and only have one lot of schoolwork to go through with them each day.It'll be a bit of respite after months of school at home.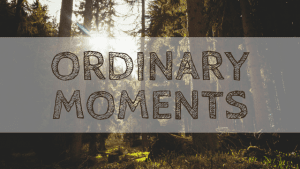 If you have an ordinary moment this week, come and link up – I'm looking forward to reading the moments that you share and will comment and share them on Twitter through the course of the week. Thanks so much for taking part.
You are invited to the Inlinkz link party!