Pork belly is one thing that I've never managed to cook properly and yet it's one of my favourite things to eat and a first choice when we dine at restaurants that have it on the menu. In my quest to perfect my pork belly cooking skills, I've been scouring the internet for the best recipes for belly pork in a slow cooker.
How do you cook belly pork?
Belly pork is one thing that really needs to be cooked slowly, either in the oven or slow cooker although I have heard of people cooking it on the barbecue before! There's a real knack to making sure that you create a lovely, incredibly tender pork belly that's cooked for just long enough. But, it is possible to overcook pork belly so you need to make sure you get the balance just right. Slow cooking belly pork is a real art.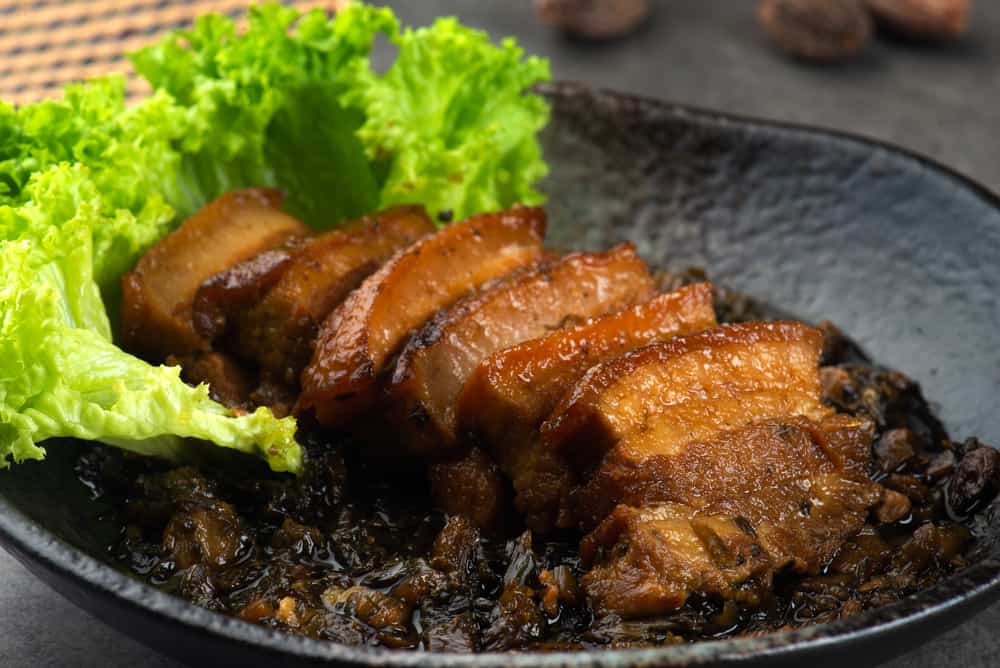 Slow cooked pork belly is such a delicious main dish for any occasion. The meat almost melts in your mouth and just falls apart. There really is no other way to cook pork bellow than by slow cooking it, either in a crock pot or the oven. So here are our favourite belly pork recipes from across the internet:
Slow Cooker Pork Belly Recipes
Slow Cooker Pork Belly – This recipes gives you slow cooker pork belly slices that are full of flavour and delicious, ready to serve with any accompaniments you like. With garlic cloves, root ginger, onions and soy sauce, serving this slow cooker belly pork and potatoes would be a perfect family meal.
Slow Cooker Pork Belly with Apples and Cabbage – This delicious slow cooker braised pork belly dish involves leaving the flavours to marinade for up to 24 hours before cooking. It gives a wonderful flavour to the finished dish and searing the sides after cooking gives a lovely crispy skin too.
Slow Cooker Pork Belly with Honey Balsamic Glaze – This slow cooker pork belly is incredibly tender and infused with a sticky tangy glaze. Cooking in the slow cooker helps to locks in the flavors, and the end result is a delicious, moist pork belly that just falls apart.
Chinese Pork Belly Slow Cooker – This pork belly slow cooker recipe comes with a honey and soy sauce glaze giving it a lovely, oriental flavour that compliments the pork flavours beautifully.
Apple Cider Braised Pork Belly Slow Cooker Recipe – This Japanese inspired pork belly recipe is full of rich, cider flavours. The meat is left beautifully tender and has a sweetness that works so well with the pork.
Slow Cooker Braised Pork Belly – This slow cooker pork belly chinese recipe is delicious and great to bulk cook and freeze. With star anise, dark soya sauce and cooking Sherry, it really is full of flavour.
Slow Cooker Pork Belly Casserole – This slow cooker pork stew is the perfect comfort food. It's hearty and satisfying, with chorizo, beans and that all important pork belly.
Slow Cooker Pork Belly BBQ Sauce – Using this recipe but with a shop bought or even homemade barbecue sauce, you can create a simple but delicious Slow Cooker Belly Pork dish, perfect for the summer and barbecue season.
Slow Cooker Chinese Pork Belly – This slow cooker honey-soy pork belly with Asian greens is a wonderful oriental meal that has all those typical Chinese flavours. The Asian greens complement the pork belly flavours perfectly.
Kakuni Japanese Braised Pork Belly Slow Cooker Recipe – This wonderful recipe can be cooked in the slow cooker or oven if preferred. Kakuni is flavoured with ginger creating a sticky and delicious pork belly dish that is a firm Japanese restaurant favourite.
Taiwanese Braised Pork Belly Slow Cooker Recipe – This is a really delicious comfort food from Taiwan. It has a real depth of flavour and served alongside boiled eggs, it's a really lovely one pot dish.
Slow Cooker Pork Belly Tacos – If you like to have a family style meal, where everything is dished into the centre of the table and everyone helps themselves, then this dish would be perfect.
I hope that's given you some inspiration when you're next looking to cook a delicious family meal. I'm also looking forward to trying slow cooker pork belly in the air fryer at some point – I'll let you know how it goes.