Disclosure: We were invited on this break for the purpose of this review however all opinions are my own.
A few months ago I received an invite for a family trip to Puy du Fou. I had never heard of Puy du Fou before but a quick online search told me that it was the second most popular attraction in France next to Disneyland Paris. That told me all I had to know – we just had to visit. So we booked to fly to France at the end of the summer holidays to experience Puy du Fou for ourselves.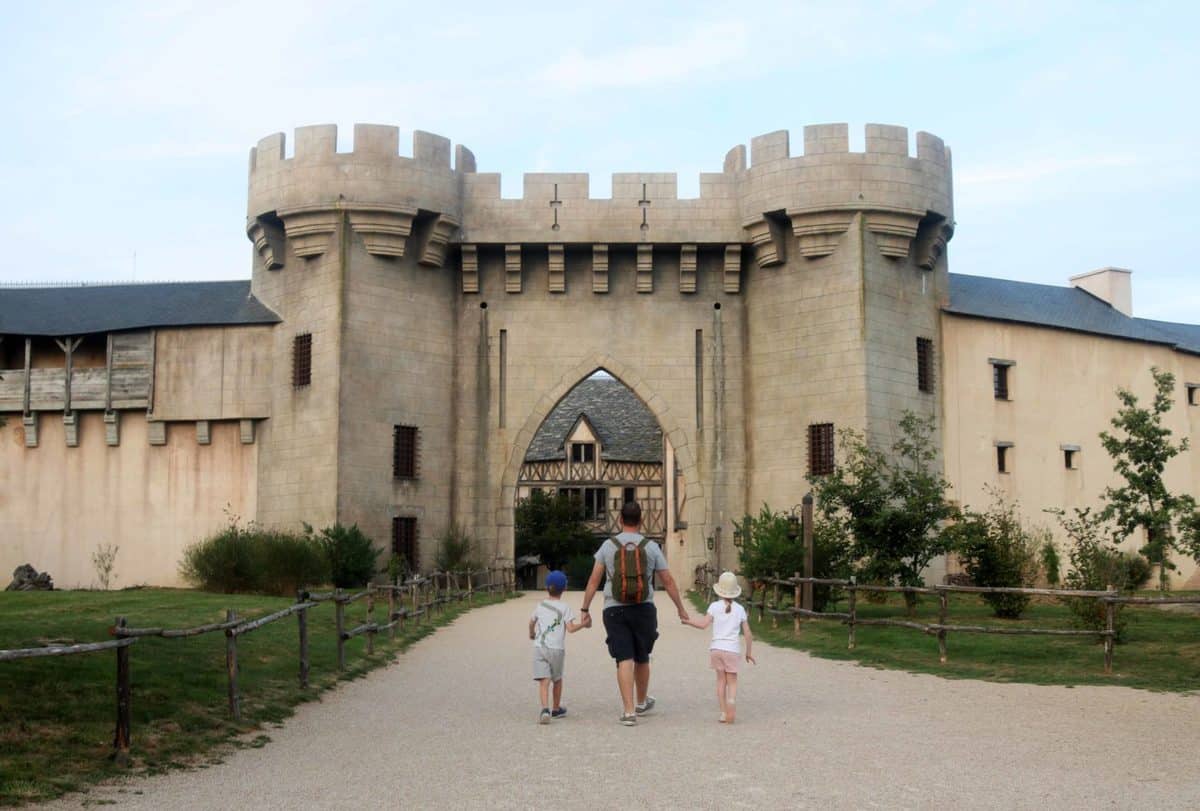 Puy du Fou is a theme park without any rides. Instead there are incredible shows and experiences, something that words really don't do justice. The minute you step into the world of Puy du Fou you really are somewhere else. It's a place where all your senses are heightened, where you believe everything you see and where history comes to life. Puy du Fou is beyond anything I had even imagined before.
Getting to Puy du Fou
Puy du Fou is located in Les Epesses in the heart of the Vendée region of Western France. As we were travelling from the UK we flew with EasyJet from London Gatwick to Nantes and hired a car for the weekend. However, Eurostar would also be an option or you could drive the whole way if you had more time on your hands or wanted to make it part of an extended stay in France.
There are free car parks at Puy du Fou and you are able to park campervans there too with a nightly charge. There are also shuttle buses available to/from the local train station, Angers TGV and to/from Nantes airport at an additional charge. We found Puy du Fou really straightforward to get to and well signposted too.
Puy du Fou Accommodation
Puy du Fou has many different accommodation options to suit all family and group sizes. We had a room in La Citadelle hotel which was a great introduction to Puy du Fou. Staff were all in character and it felt like we really stepped back in time.
Our room was beautiful. It had a main bedroom with a double bed and a daybed, a shower room, a separate toilet and a bedroom with bunk beds for the children easily sleeping five guests if needed.
There were complimentary toiletries, plenty of storage space, a TV, a safe, complimentary wifi and fantastic views across the La Citadelle courtyard. It really was a lovely base for a Puy du Fou weekend. The only thing I missed was tea and coffee making facilities as this is something I always expect at a hotel and being able to make a cup of tea in the evening would have been lovely.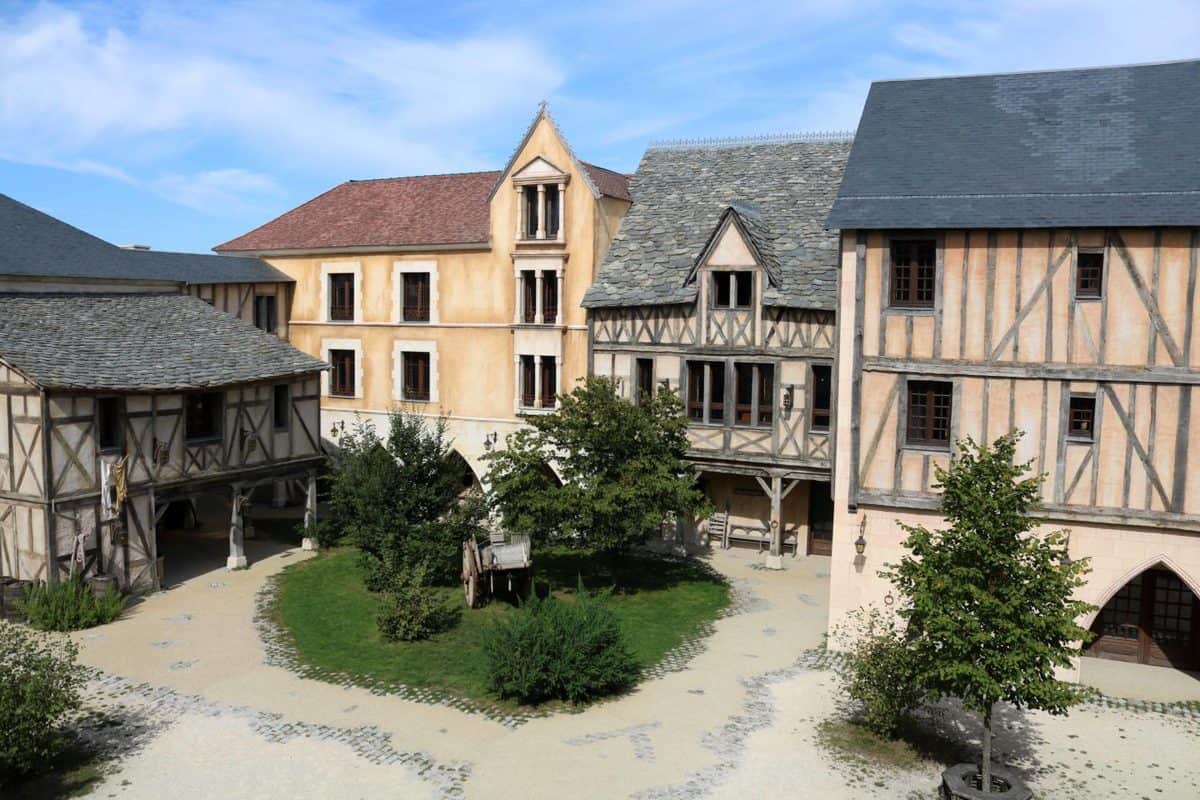 As well as La Citadelle there are other accommodation options like Les Ile de Clovis, La Villa Gallo-Romaine and the beautiful Le Camp Du Drap D'Or. Each of the hotels is so true to the era that they are meant to represent and walking from one to the next was like a real trip through history. We got to pass many of the hotels on our short walk to the Grand Parc each day.
Our First Impressions
You can get tickets to Puy du Fou for one, two or three days. When we visited the gates opened at 9:30am and there was airport style security before you enter the park. This is something I have come to expect at tourist attractions and something that I always find really reassuring too. We had our own entrance into the Grand Parc from the La Cité Nocturne where the hotels are situated and were instantly transported into another era.
As it says on the Puy du Fou website, there is far too much to do in one day. We crammed so much into the day and a half we had on site and I think next time we'll go for three days to make sure we can see and do as much as possible.
Each evening you can pick up a planner for the following day that has all the information you need to play your day at Puy du Fou including a Puy du Fou map, show times and restaurant information. The planners come in all languages and we spent a few minutes each evening planning what to see the following day. The day's calendar is also available online along with an interactive map if you prefer a digital version but I loved making notes on the paper planner.
The world of Puy du Fou spans four distinct villages Le Fort de l'An Mil, La Cité Médiévale, Le Village XVIIIème and Le Bourg 1900 with the forest and lush green landscapes between them. Each village has a different feel, a different time in history and with entertainment, facilities and staff who are really in keeping with the era that they find themselves in.
The Puy du Fou Villages
Walking around Puy du Fou is an experience in itself. We started off in the forest which is a really cool and shaded area of Puy du Fou, perfect for a break from the sun. We made our way around the different villages, seeing shows as we went.
La Cité Médiévale
La Cité Médiévale is full of the buildings and crafts of the Middle Ages. It's a hive of activity, with so much going on and so much to look at. The medieval world has been fully recreated and there's even a little church to explore.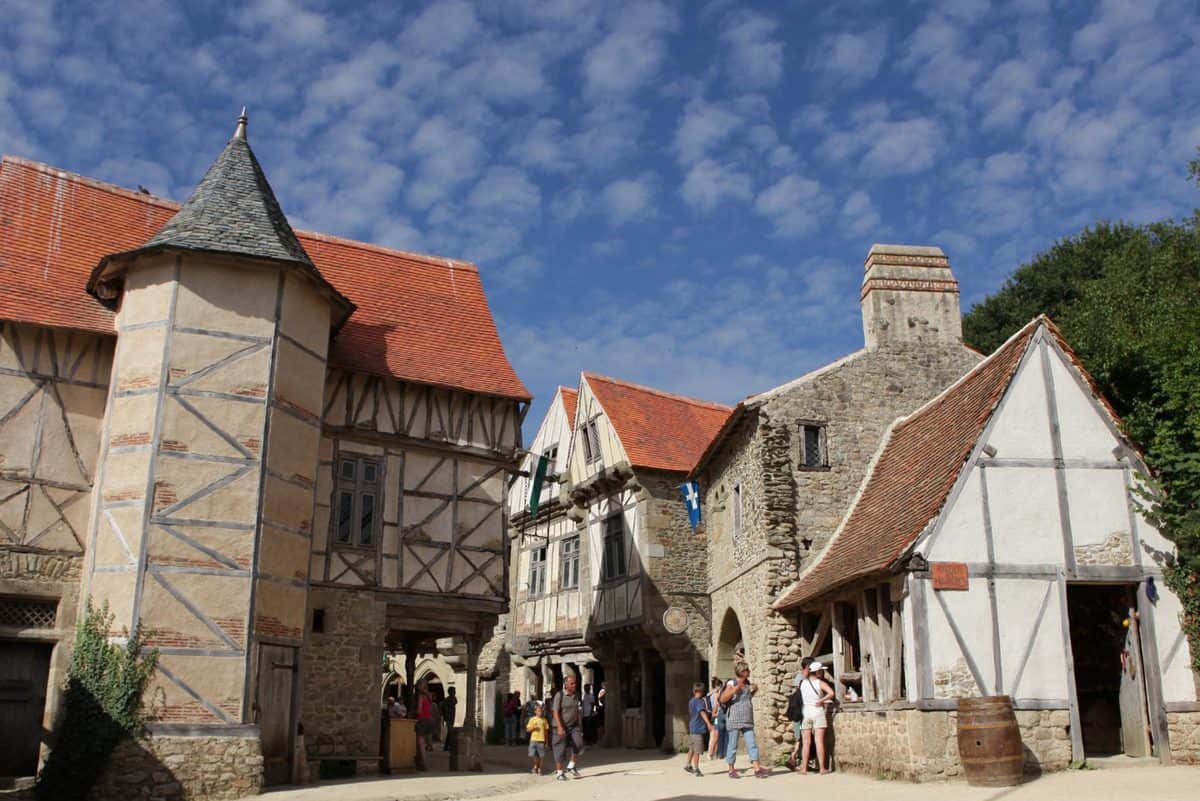 Le Village XVIIIème
This is an 18th century village with so many houses to look at and explore. There are kitchen gardens, a wash-house, a barn – and so many animals too.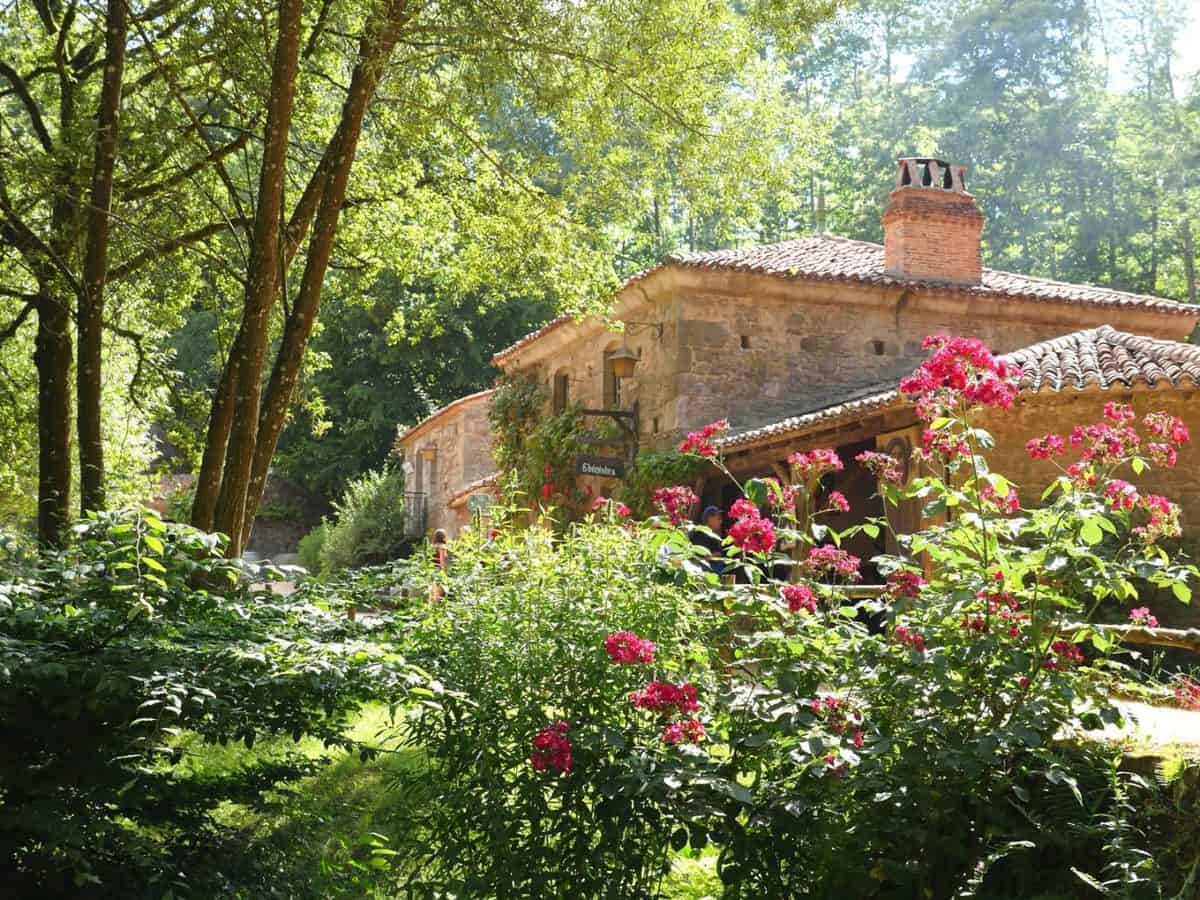 Le Bourg 1900
The large square full of Victorian and Edwardian-style shops in Le Bourg 1900 is full of attractive window displays, a buzz of people and so much going on. There are so many shops and this is the place to buy souvenirs during your trip.
Le Fort de l'An Mil
The set of the Vikings' show is a real hamlet to wander around with thatched roof buildings, a blacksmith and so much to look at and explore.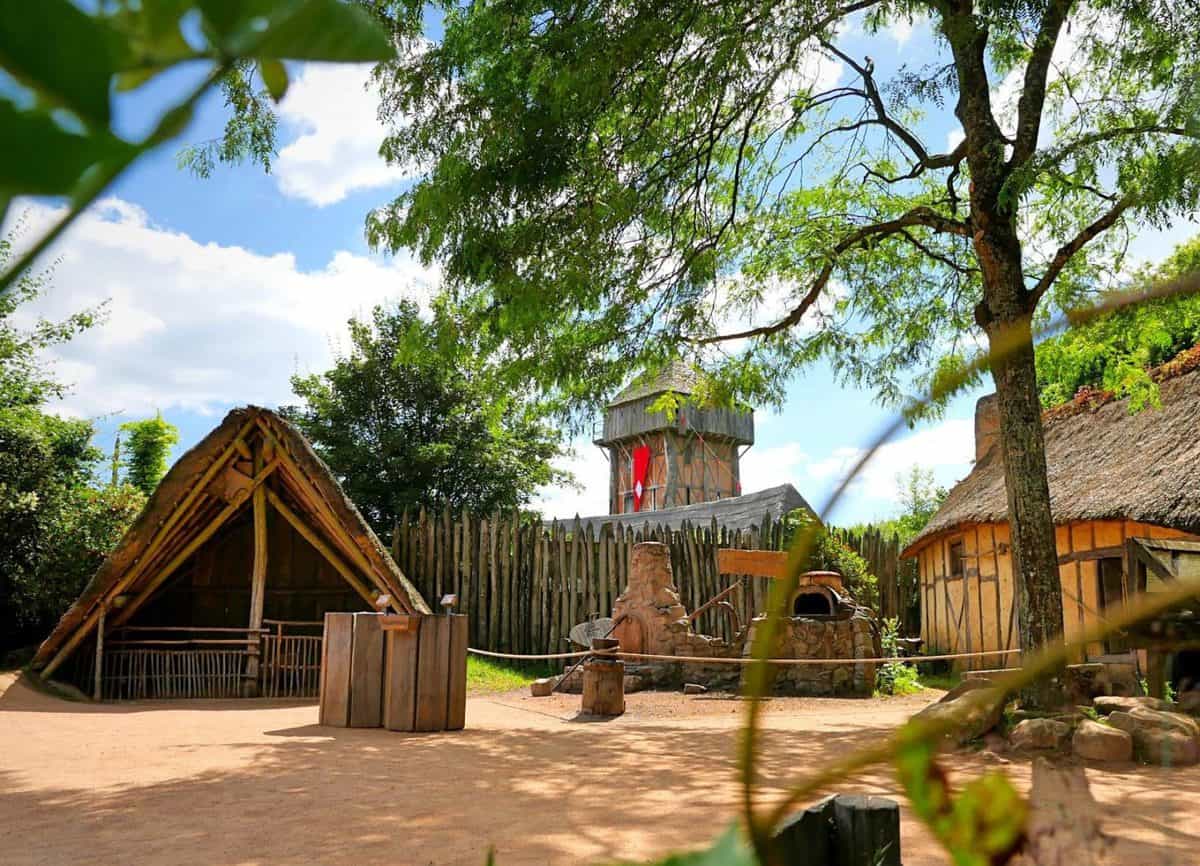 The Shows
The Puy du Fou shows are such huge scale performances that you really do have to see them to believe them but I'll do my best to give you an idea of the shows we saw whilst we were at the Grand Parc. The shows take you on a time travelling adventure from the 3rd century through to the early 20th century and it's a real rollercoaster of events, emotions, music and backdrops. It is incredible.
Be aware, the next sections give spoilers of the shows – if you don't want to know what happens in them skip this part so that you'll get as many surprises as possible when you visit!
Le Signe du Triomphe
This was one of our favourite shows. Set inside a Gallo-Roman arena that looked just like a smaller version of the Colosseum, Le Signe du Triomphe lets you experience the frenzy of the Roman Circus.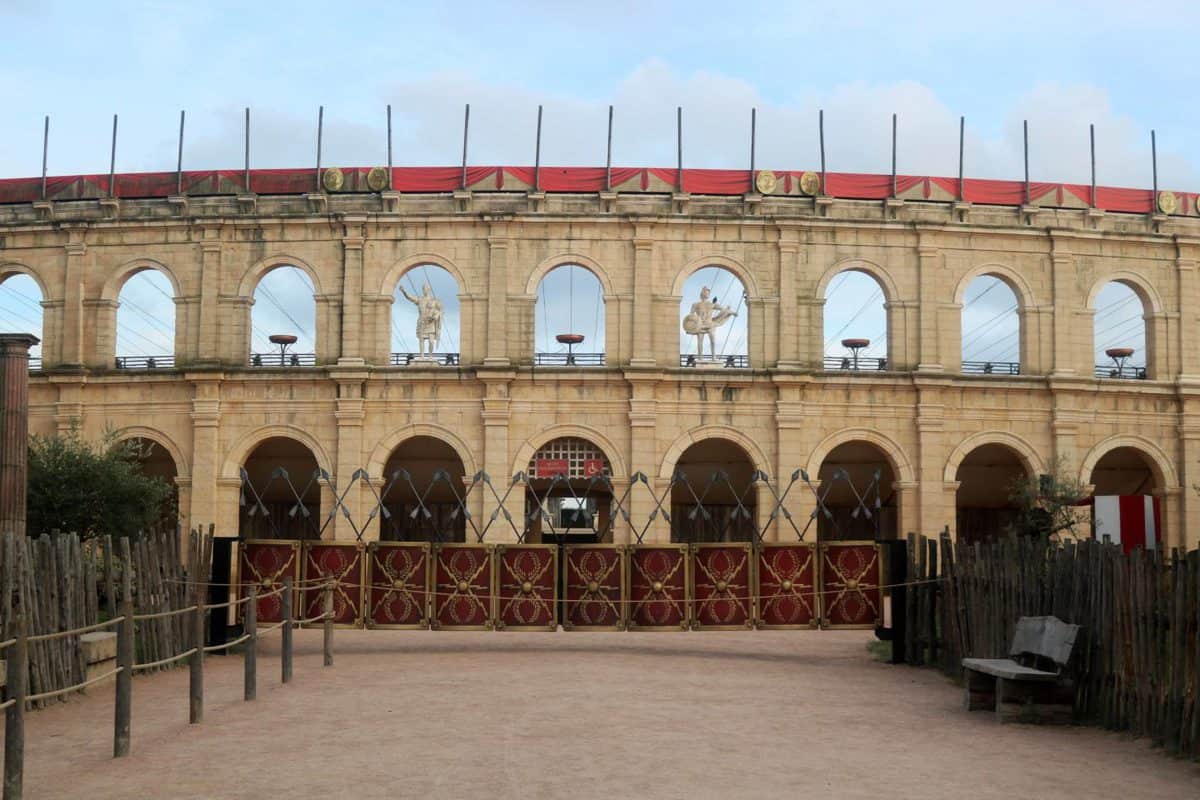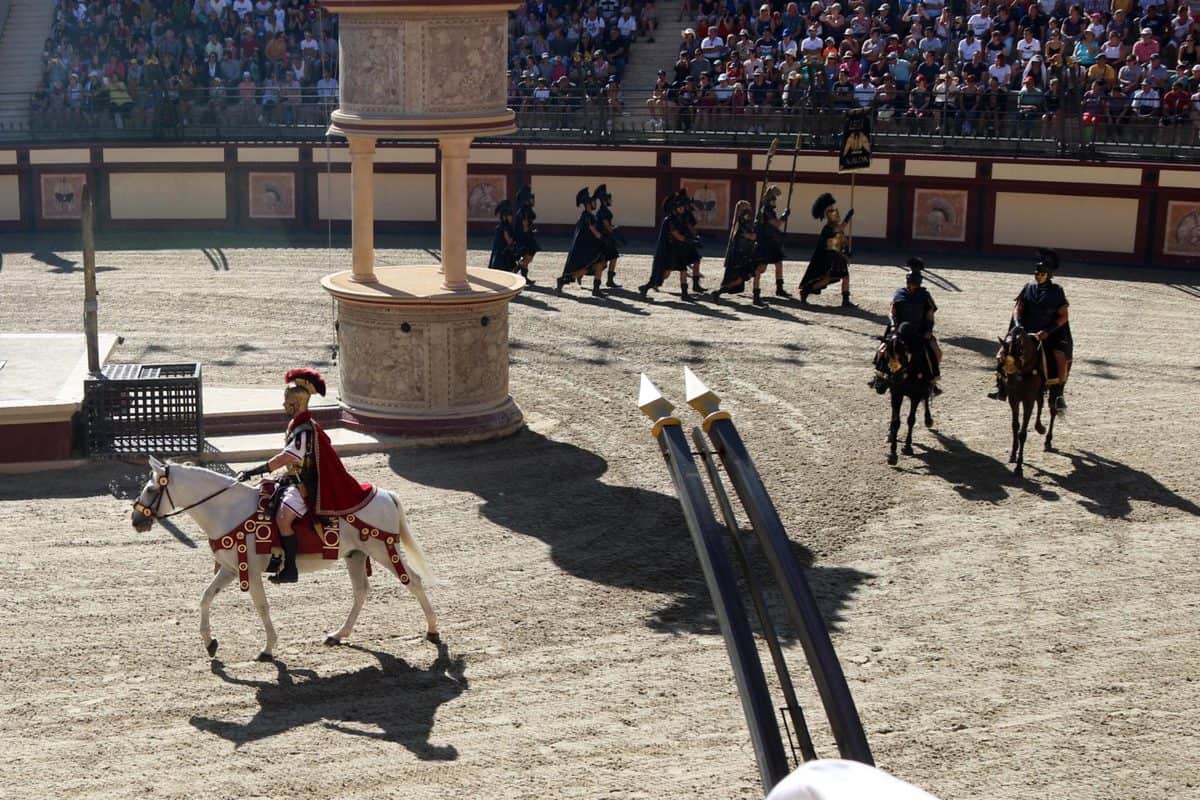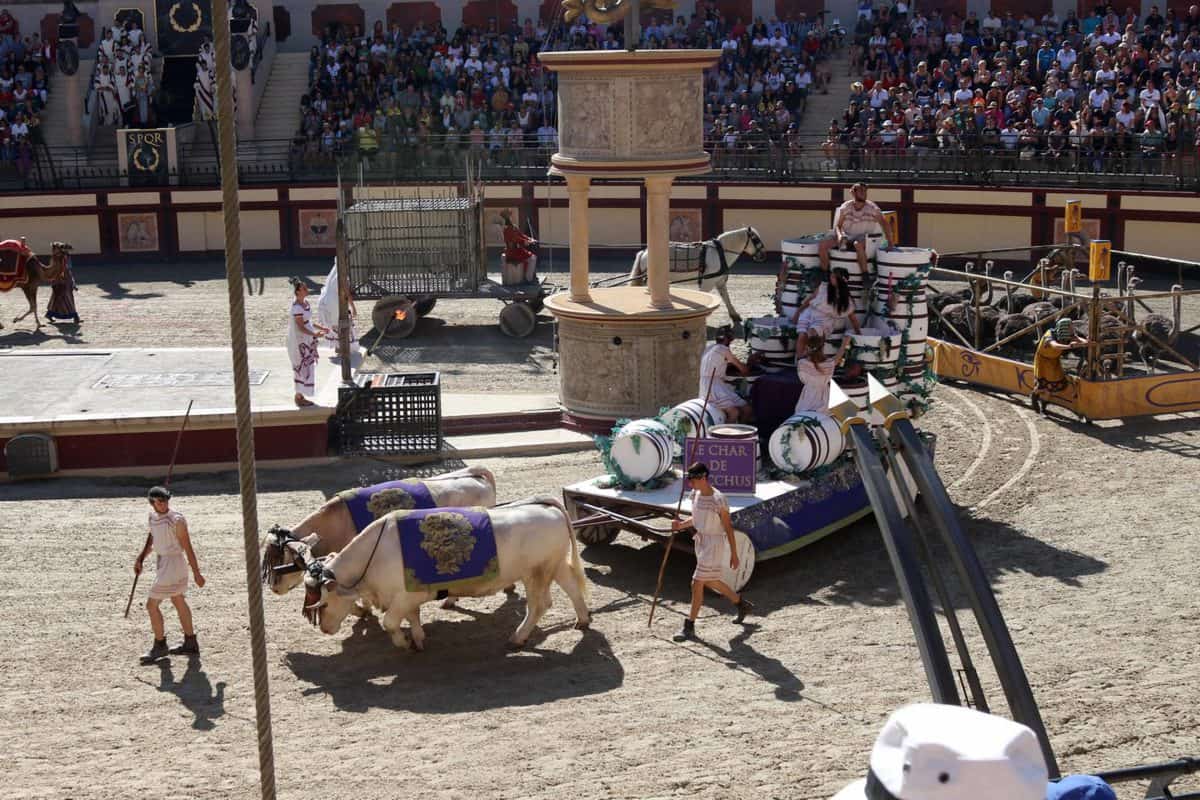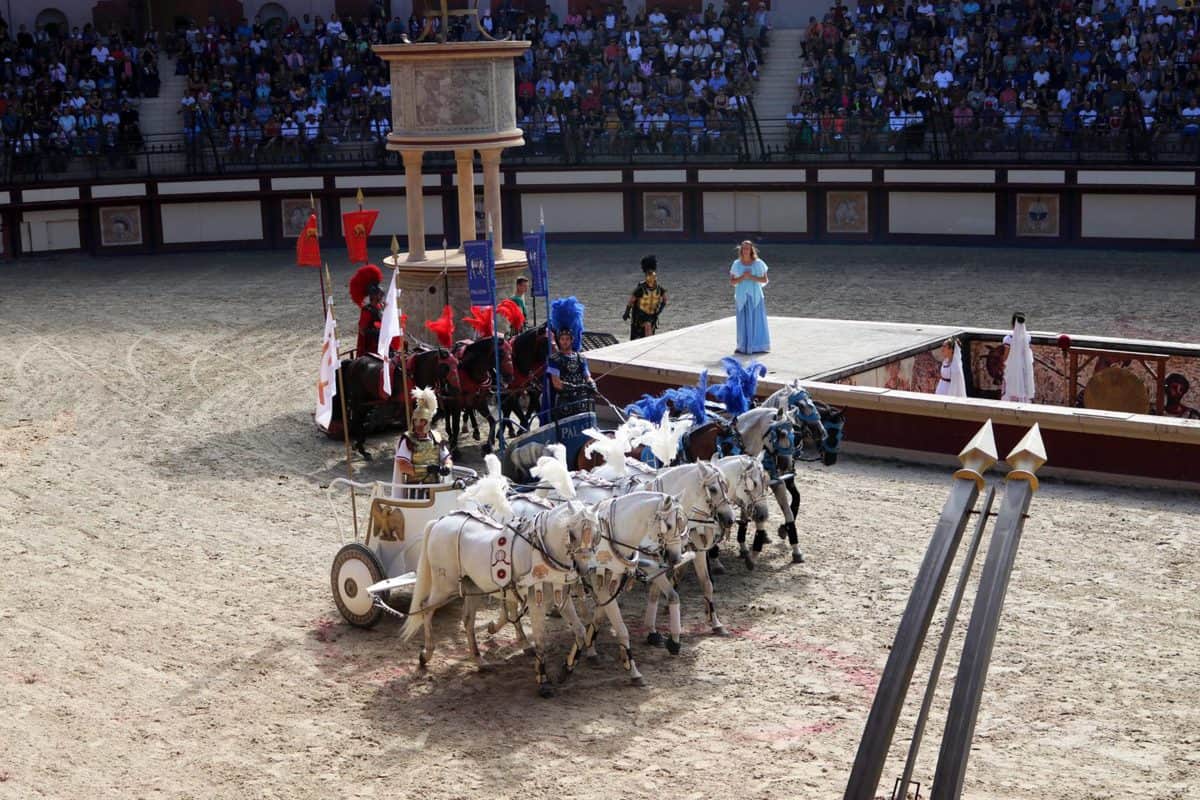 It has everything from gladiators fighting, chariots racing and even animals in the ring. With atmospheric music, great acting and even fake blood it really transported you back to the Roman times.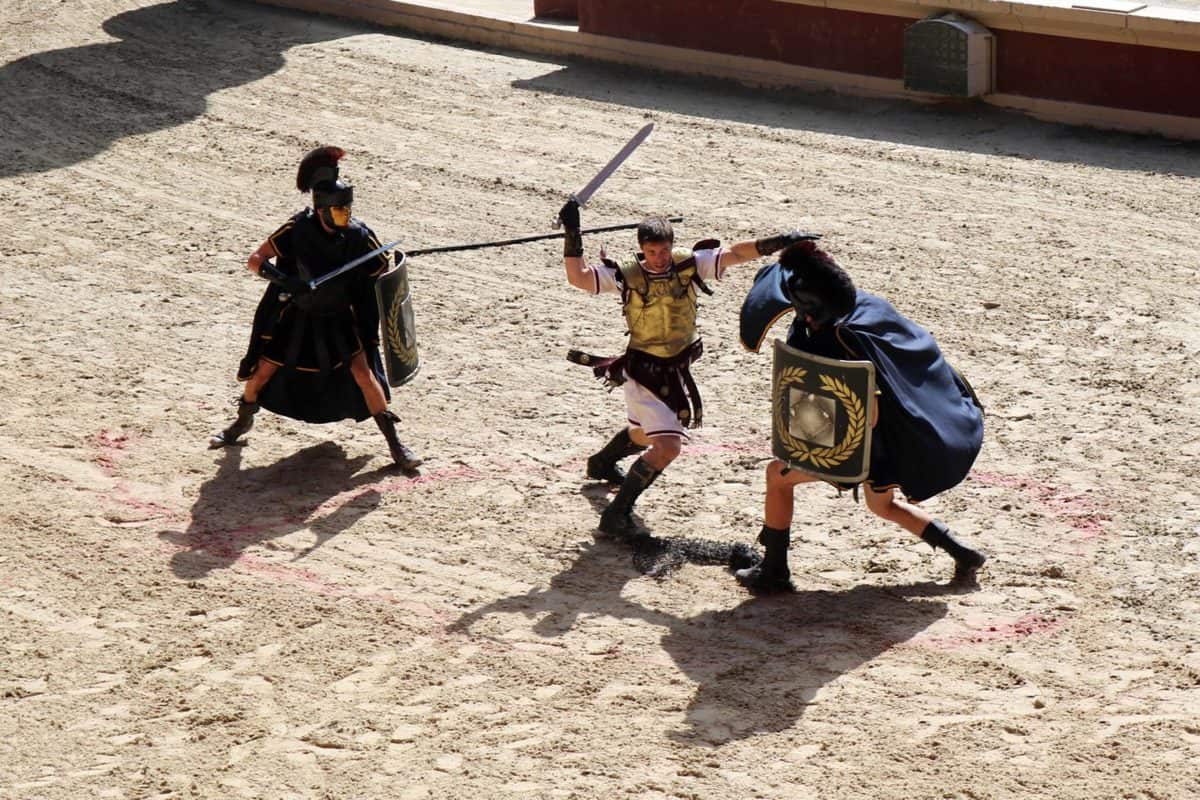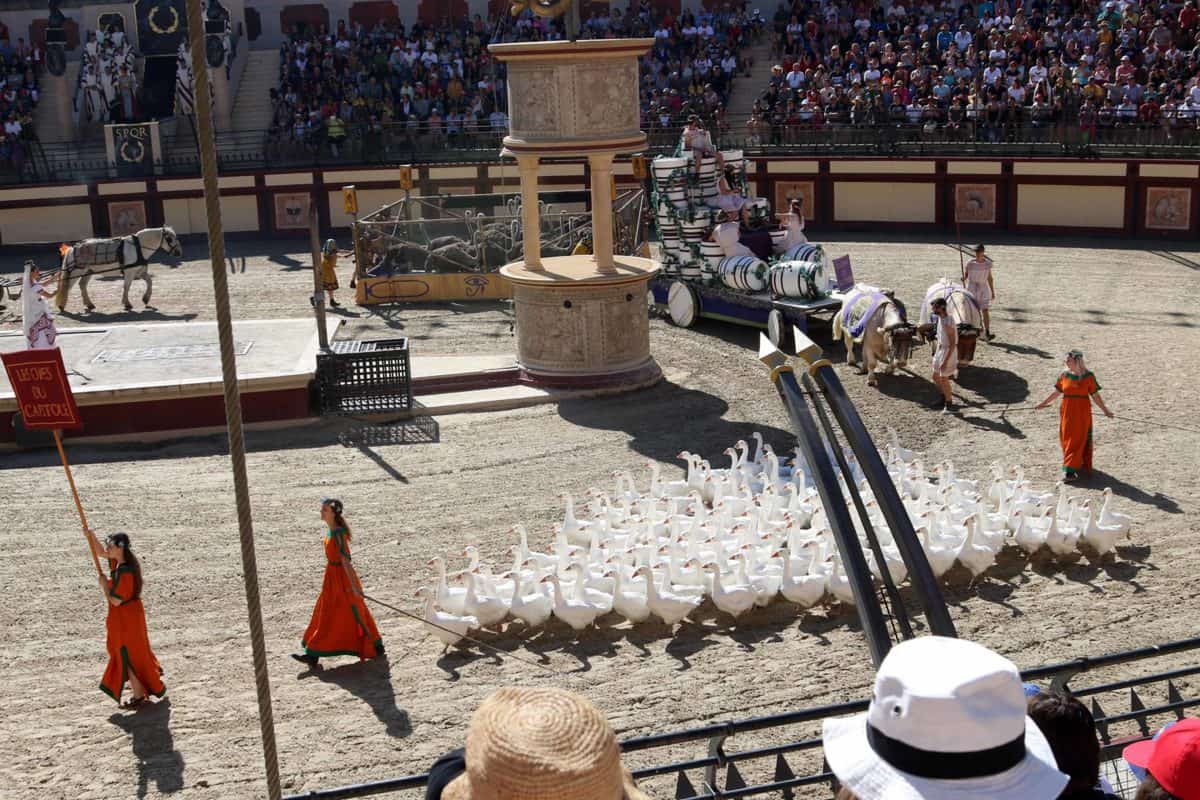 Les Vikings
This show lets you watch the Viking warriors launching their attack on the peaceful Fort de l'An Mil village. This show recreates village life – complete with a wedding and herding animals.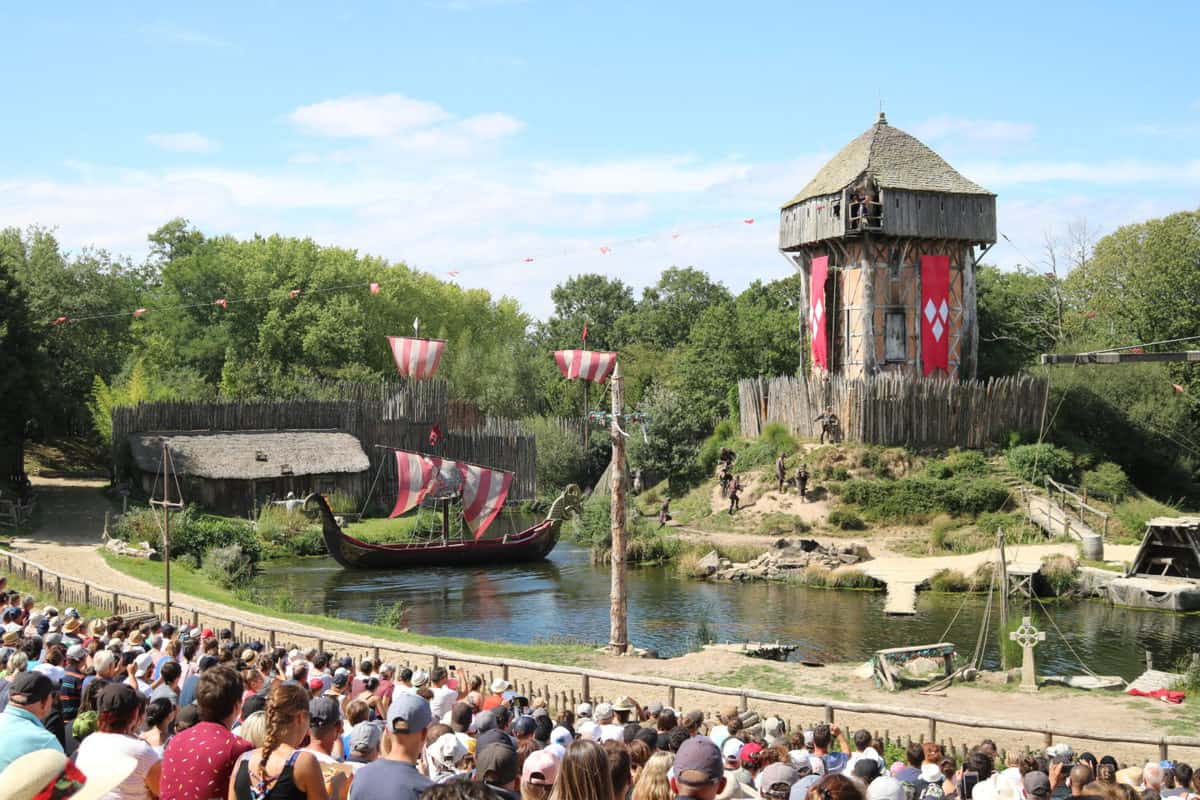 A 20 metre long viking ship emerges from the lake and there's more than a little fire and other special effects too. Buildings get pulled down, actors appear from the bottom of the lake and actors get dragged off in all directions. It was fantastic!
Le Bal des Oiseaux Fantômes
We saw this show first and it was definitely a baptism of fire – it showed us exactly what to expect from Puy du Fou and we loved it! It follows the story of Aliénor who wakes up in the ruins of the old château and her memories make falcons, owls and vultures emerge. It was a pure ballet of 330 birds that has been in development for 25 years.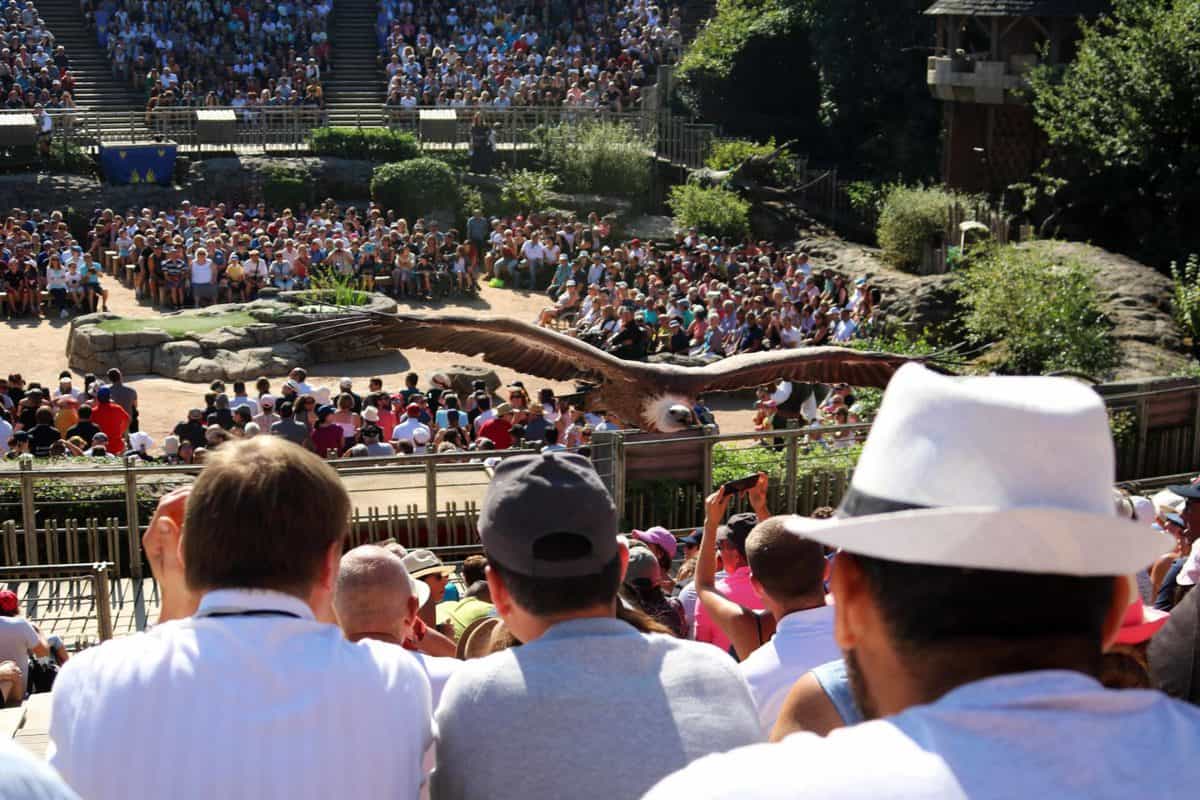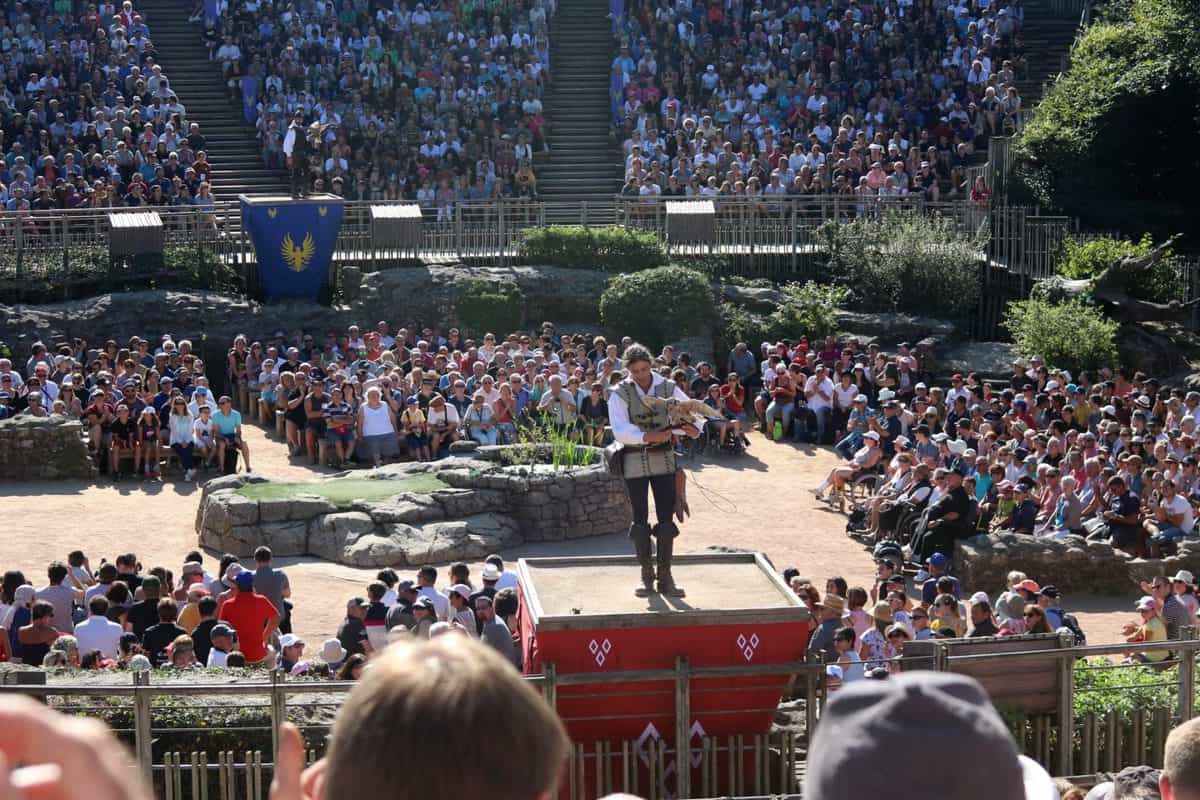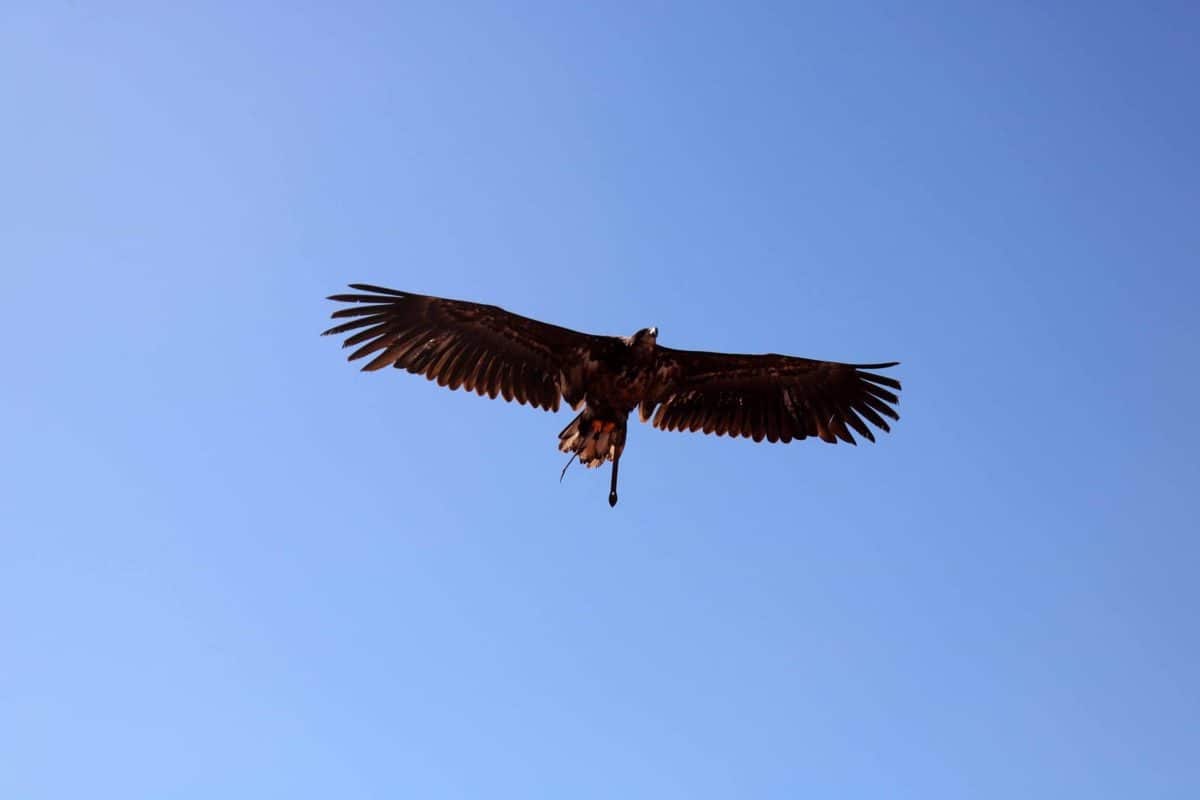 The birds put on such an incredible show, skimming past our heads. Birds even get launched from a balloon in the air and a microlite adds to the show as well. These photos don't do the show justice – it was one that made you sit on your hands, close your eyes at times and just get completely drawn in by it. We'll be talking about the Puy du Fou bird show for years!
Le Secret de la Lance
Le Secret de la Lance lets you experience a medieval adventure. Most of this show is on horseback – and I have never seen horse riding like it. The things these actors could do on the back of a horse was amazing and showed the level of their training.
This show blew us away with the amount of set/scene changes with surprises around every corner. There was suspense, fire and battles – it was awesome.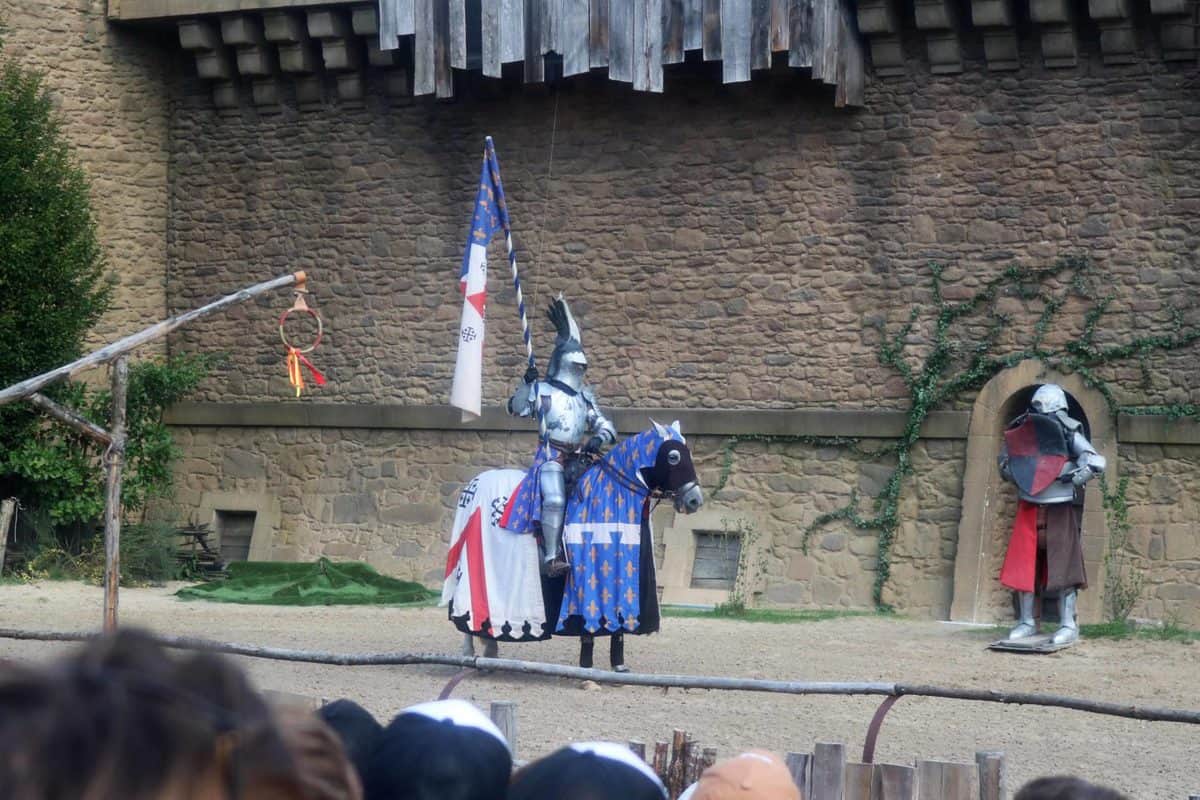 Les Chevaliers de la Table Ronde
Although one of the shortest shows at Puy du Fou, Les Chevaliers de la Table Ronde was one we were really looking forward to. Recreating such a classic story, the Knights of the Round Table, this show did not disappoint.
It showed the sword in the stone and King Arthur uncovering the secrets that lay beneath the lake. Water parted, furniture floated in mid-air and it really was a fantastic show to see.
Mousquetaire de Richelieu
The Mousquetaire de Richelieu was our first indoor show and it was full of sword fights, flamenco dancing and even dancing horses and so much water. Set in a dark theatre it was completely different to anything we had experienced before.
There are also a couple of evening shows. Les Orgues de Feu where most evenings on the Puy du Fou lake nymphs and sprites dance to music dressed in illuminated costumes creating a symphony of fire and water. If that wasn't enough, La Cinéscénie has 2,400 actors on a stage spread over 23 hectares and 28,000 costumes. Lasting 1 hour 40 minutes, it's the world's biggest night-time show which has become an absolutely unmissable and legendary experience. I say unmissable but we missed it as it was on just too late for the children. We'd love to experience it on another visit though, it looks amazing and is offered as a standalone ticket or an additional cost on top of your Puy du Fou entrance price.
Puy du Fou Experiences
As well as the big shows there are smaller shows and experiences that happen throughout the day. These were a big part of Puy du Fou and some of my favourite aspects too.
Le Mystère de La Pérouse was one of the parts of Puy du Fou I enjoyed most. We were transported back to 1875, aboard one of the ships of explorer La Pérouse. Throughout the experience we felt like we were on board the ship – seeing the cargo in each room, seeing the sights and sounds through the portholes and feeling the temperature drop as we reached cooler waters. It was a complete sensory experience.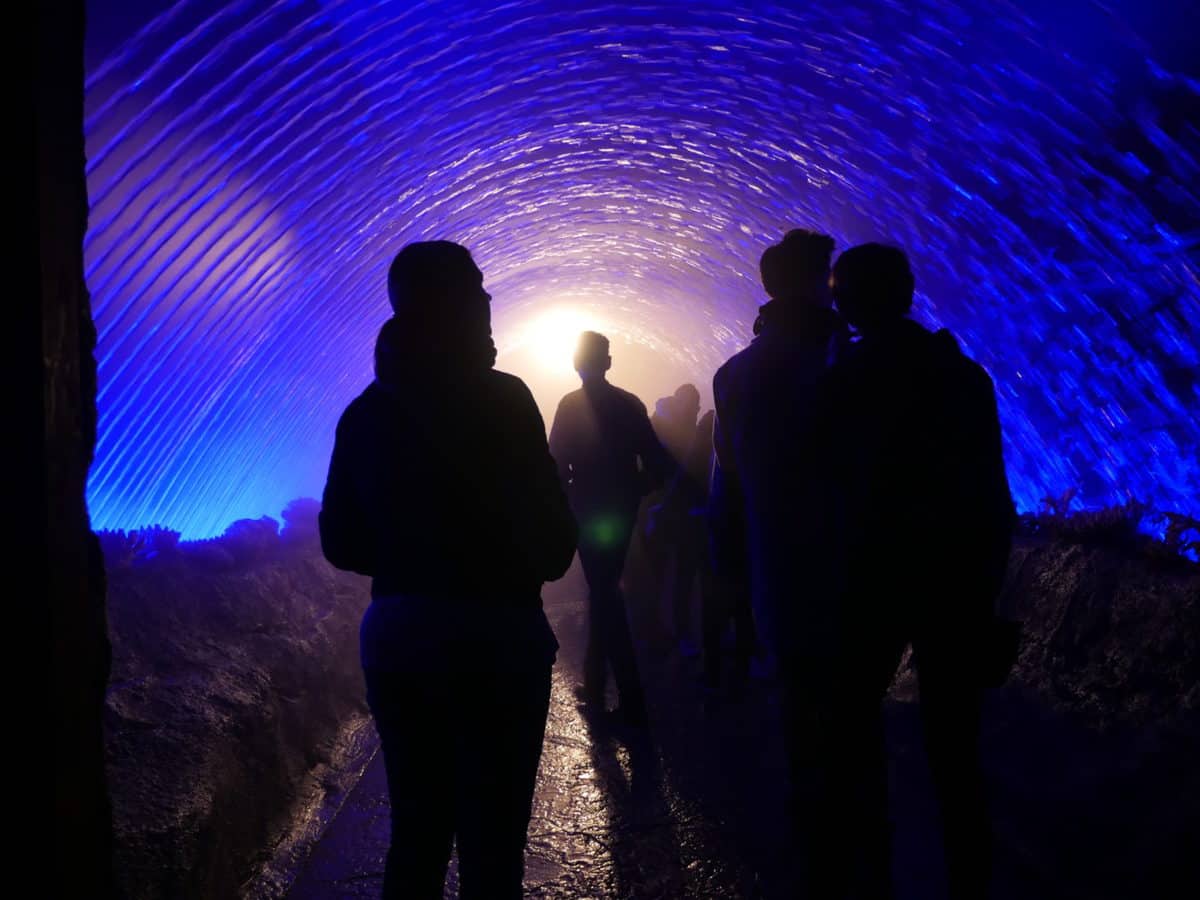 In Les Amoureux de Verdun we got to walk through a trench in 1916. There was smoke filling the tunnels, the ground was shaking with explosions and there were gunshots and sirens wailing. The children were probably slightly too young for this experience – and some do have parental advisory notes with them. But, we always feel it's quite sobering to learn more about the war at any age and this experience reinforced to the children more about the war, the conditions people fought in and the lives that were lost during that time. It was quite a hard hitting experience that was so realistic.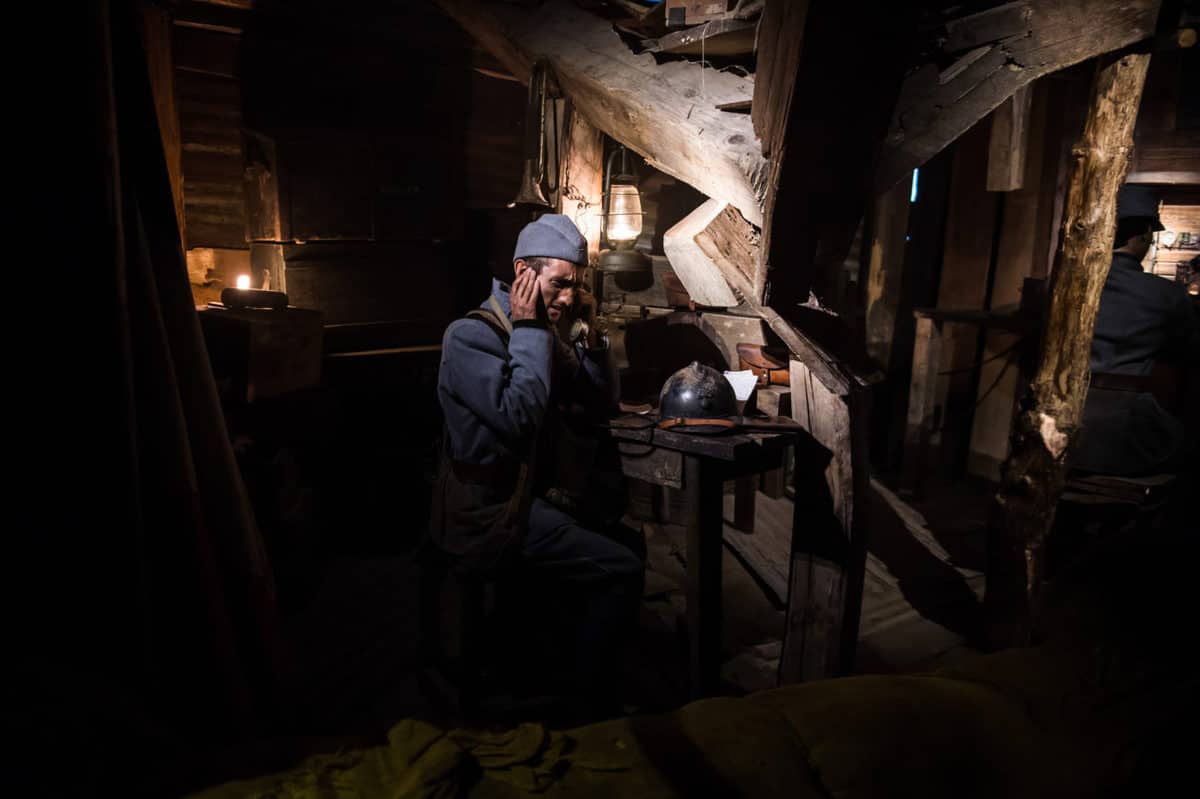 In La Renaissance du Château we got to explore the Castle of Puy du Fou where each room had something to see. The paintings spoke to us, suits of armour moved, actors recreated so many scenes and we got to see the King and Queen dance for us.
Les Automates Musiciens was a sudden performance by mechanical musicians on the balconies around the village square where we could stop, listen to the music and see the square come to life.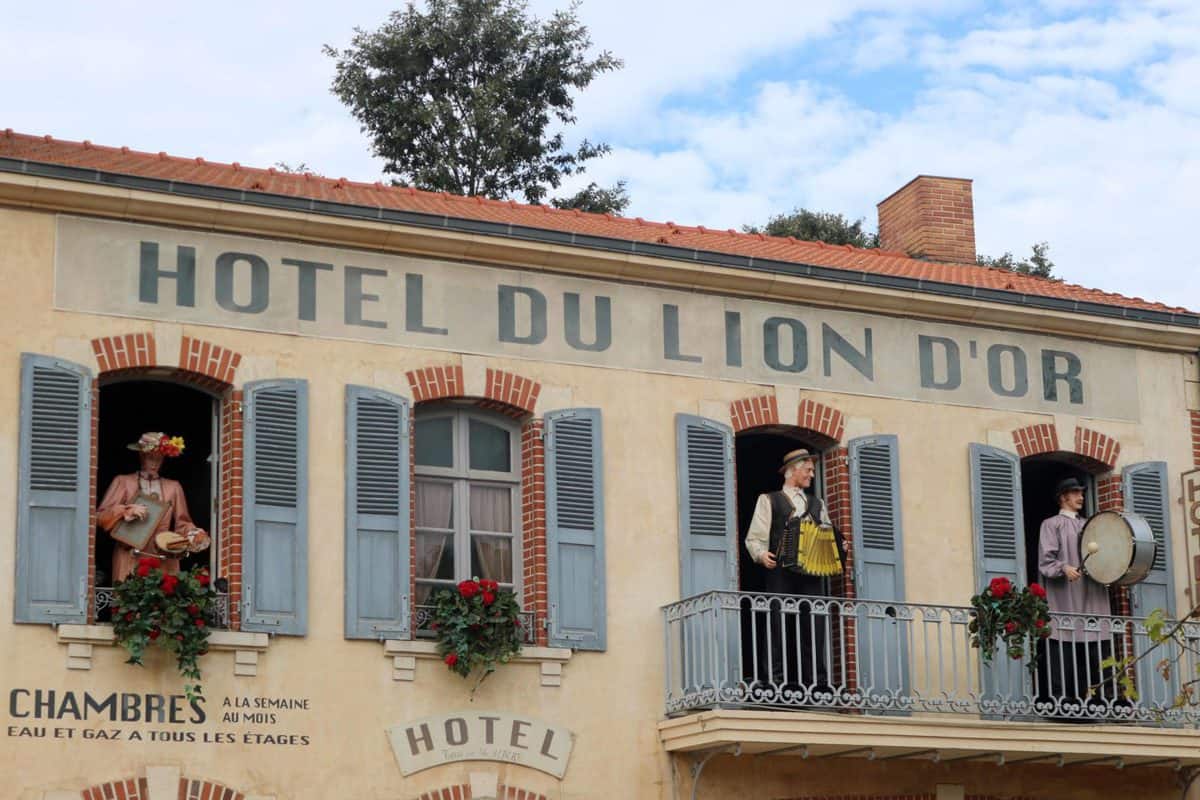 Later, for such a full ten minutes, Les Grandes Eaux invited us to be guests of the composer Lully, experiencing the golden age of Versailles. We listened to beautiful classical music by the side of a lake where fountains came to life, moving in time to the music.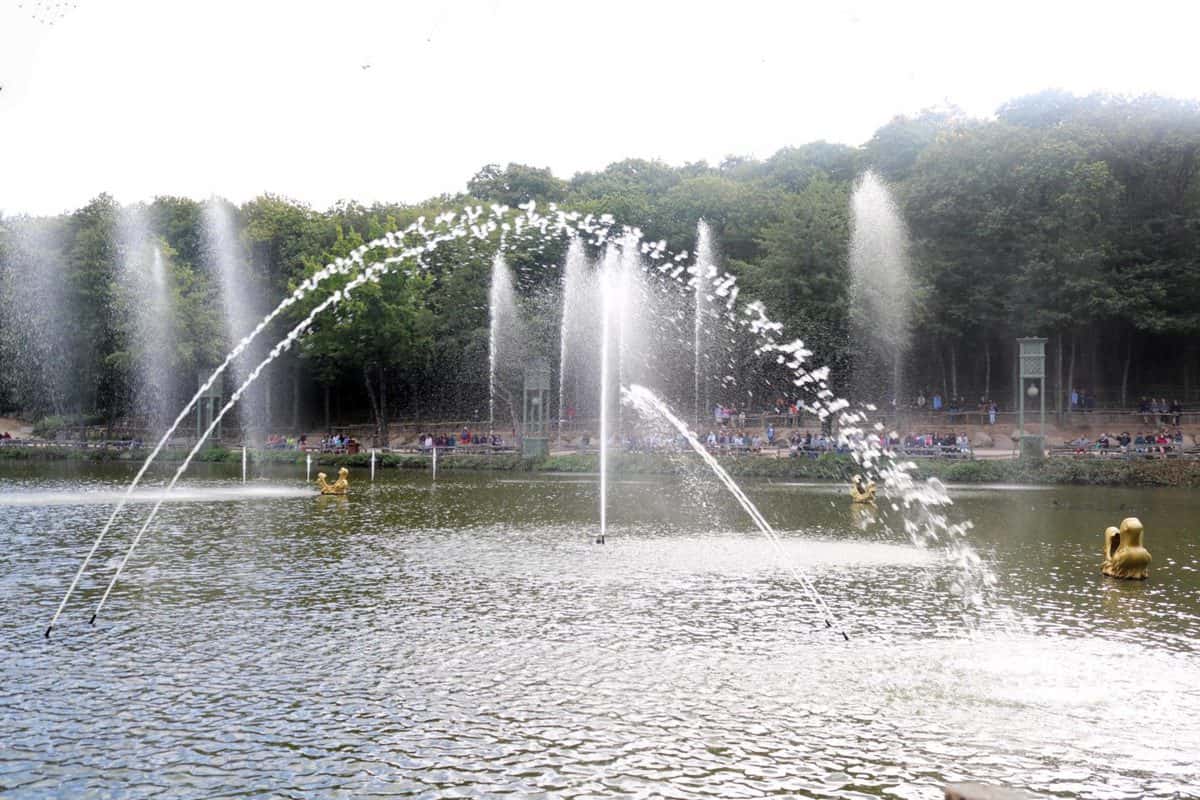 In between shows the children were able to press buttons on small pianos to control the fountains themselves. This kept them entertained for much longer than I expected! It really is the simple things.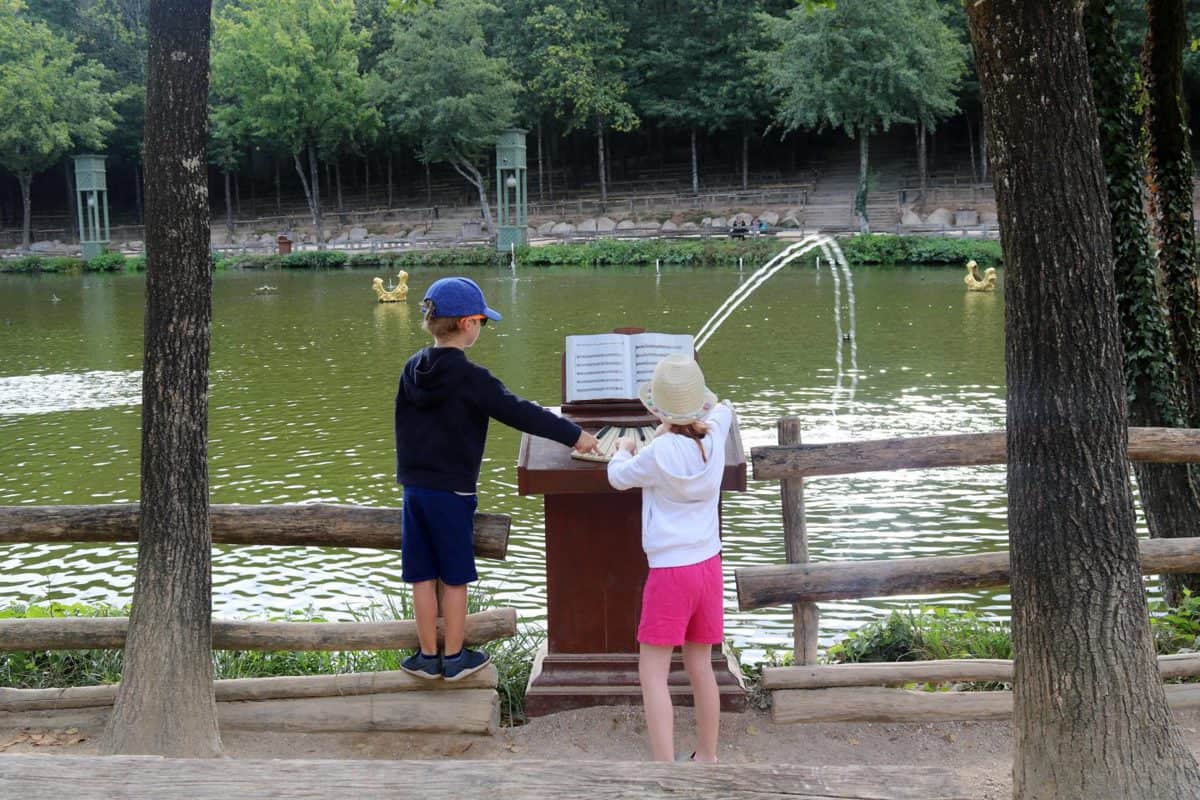 We loved wandering around Le Monde Imaginaire de La Fontaine where we got to explore a really extraordinary and interactive garden. There were famous fables brought to life with animals, talking trees and so many surprises.
There was also a hedge maze to work your way through and the children loved the adventure playground. It was great to have attractions for the children that we could walk around and spend time at – or just let off steam – in between the big shows and experiences.
Dining Options
As we were staying at Puy du Fou, a continental breakfast buffet was provided each morning. This was served in the L'Ecuyer Tranchant restaurant at our hotel, La Citadelle. Breakfast was a really lovely spread of everything you'd expect in a continental buffet in France – beautiful pastries, so much bread, cheeses and meats, fresh fruit and yogurt, cereals and fruit juice. It was a great start to the day.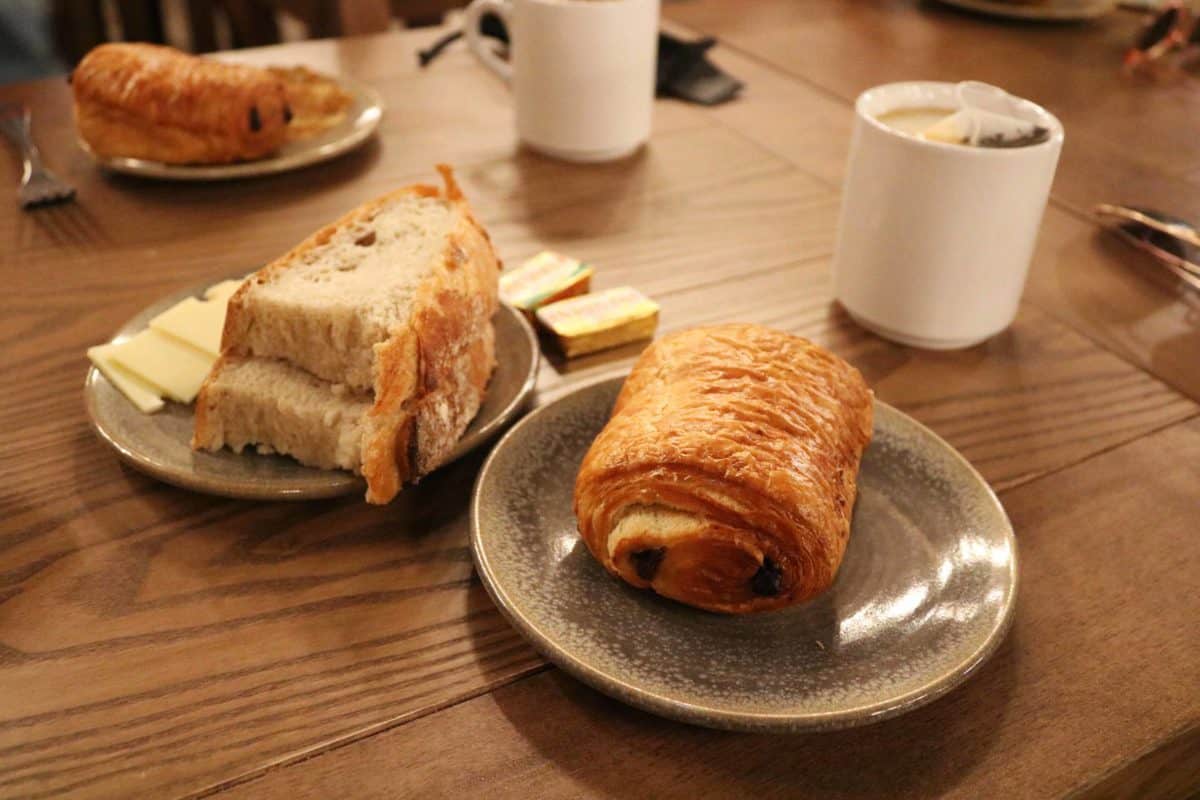 We also had dinner in L'Ecuyer Tranchant on our first night at Puy du Fou which was a really hearty French buffet full of homely food like a beef casserole, roast chicken and salmon en croute. There were so many side dishes, salads and a huge array of desserts too.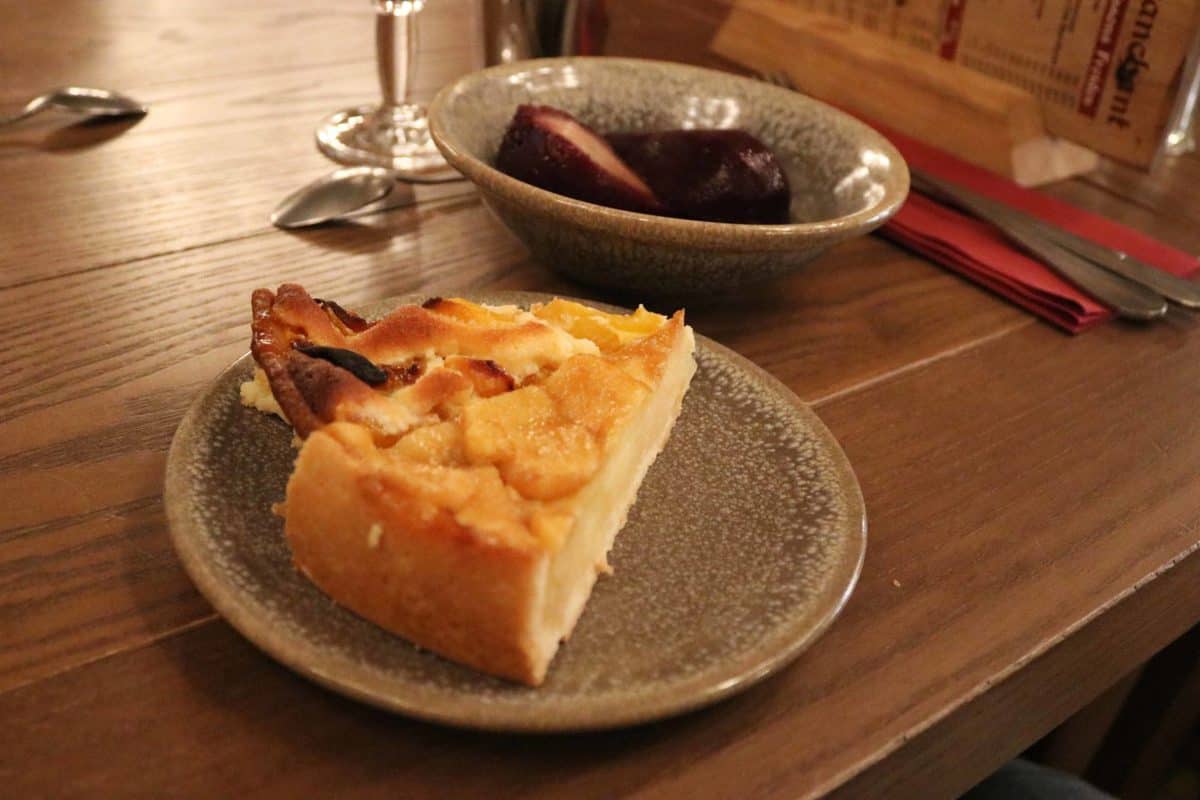 Most restaurants require you to book in advance to make sure that a table is available for you. It also makes the process quicker when you're in the restaurant as a table will be reserved ready and you will have paid for your meal at the time of booking too. There are so many restaurants available with time slots so you can dine at a time that suits you for lunch and dinner.
We also had dinner at Le Café de la Madelon which had the extra benefit of a full show entertaining us whilst we ate. It was in a beautiful building with a set menu to compliment the show. The show transported us to a wedding meal in 1914 where pretty much everything went wrong.
For lunches you could have a full meal at a sit down restaurant or there were plenty of take away food outlets for things like paninis too. There are food options for all budgets and tastes. We had lunch at two completely different restaurants during our trip – Le Bistrot was very traditional al la carte French cuisine that the whole family really enjoyed. La Mijoterie du Roy Henry was a complete contrast with really rustic but traditional meals served in metal casserole dishes on wooden boards. The authenticity of the Puy du Fou restaurants was amazing and we really enjoyed the variety of meals we tried during our trip.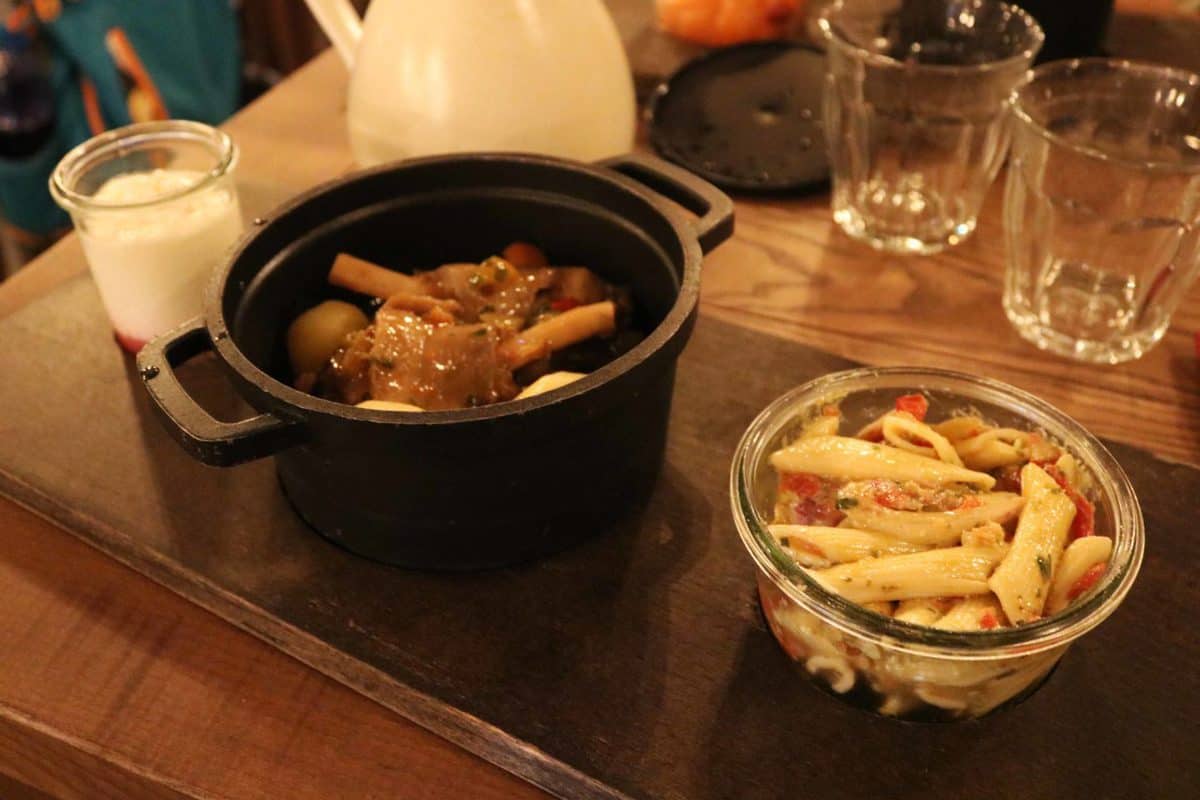 Tips for your time at Puy du Fou
A big plus for us during our visit was Pass Emotion. For and extra €15 per person per day the passes let you sit in reserved seating areas in the main shows which give fantastic views of the shows and allow you to reach each show just ten minutes before it starts rather than queueing with everyone else half an hour before the show. The passes saved us so much time and are a bargain compared to UK theme park fast track prices too. I would definitely recommend getting them for your visit.
As you'd expect from a French tourist attraction, the main language everywhere at Puy du Fou is French but the majority of people spoke English. All of the shows and experiences are in French but through the Puy du Fou app we were able to get live translations to play during each of the main shows. All we needed were headphones and headphone splitters which are available to buy at the hotels and in the Grand Parc if you've forgotten your own. We did find that the translations didn't really work with the smaller walk through experiences so we just listened to them in French and we were able to follow the stories quite well without a translation especially as there was so much to look at.
The shows are incredible but you should be aware that pretty much all of them involve animals in some ways. This only really surprised me when lions and tigers appeared but there are flocks of birds, hundreds of horses, cows, pigs and many other animals all involved in the shows. In the UK we just wouldn't have a tiger in a show so it was a shock to see it in France. However, the animals are well cared for, get plenty of rest between shows and work on rotation. Puy du Fou also do a lot of animal conservation as well as having their own Equestrian, Canine and Falconry Academies.
We couldn't find any water fountains to refill bottles in Puy du Fou and instead ended up refilling bottles in the sinks when we went to the toilets – which obviously wouldn't be something everyone wants to do. Take water with you or be prepared to buy drinks whilst in the park.
Puy du Fou is a gloriously beautiful place when the weather is nice but because of the dry weather the ground is very dusty. I would avoid wearing black trousers and make sure you don't wear your newest, whitest trainers for the trip!
Make sure you plan your day using the guides in advance. You can't arrive late to shows so you need to know where you need to be at any given time. It's also a good ten minute walk between the middle of the park and the furthest corners so best be prepared and know where you need to be next.
Above all else – have a great time. I am now insanely jealous of anyone that gets to experience Puy du Fou for the first time. It was such a surreal but incredible place and we loved our time there. I'm already looking to see if we can fit another flying visit into our travel plans next year. You really do have to see and experience Puy du Fou to truly understand it and appreciate it. But, as a family we have seen and done so much. We have been to all the UK theme parks, we have been to Disney World Florida and yet Puy du Fou blew us away. We thought we had seen it all – and we were so wrong. Puy du Fou trumps any UK theme park and I cannot wait to go back.
Here's a little video we made of our visit: