Welcome back to another week of the Ordinary Moments. If you haven't joined in before this is a weekly linky that launches every Sunday morning and is open until midnight on the following Saturday. It's a linky that celebrates any ordinary moments in your life – or the not so ordinary some weeks too. Basically – anything goes. I'll be sharing and commenting on the posts that are linked up during the week and there's a badge at the bottom of the post if you'd like to add it to yours too.
Little Man loves a tradition. He often asks to do the same things each year – going to Drayton Manor, Alton Towers or eating at his favourite restaurants. But, he has taken his love of traditions a stage further this time.
Last year he fell over on his bouncy castle at his birthday party, after everyone had gone home, and fractured his elbow. He was in a cast for a few weeks and it made for an eventful trip to Butlins and Center Parcs but thankfully didn't affect his birthday.
But this year, exactly a week before his birthday, he broke his other elbow. He came out of school feeling very sorry for himself and I took him to A&E, knowing that he was acting so similar to how he had been a year ago.
During the four hours at the hospital I hoped I was wrong. I hoped that his arm was just sprained or bruised but when they said it looked like a fracture I wasn't surprised – his pain was the same as it had been last year, the same movements hurt him and he just looked so sad.
But, once his cast was on he was pretty much pain free. His elbow was supported and he has coped so well. But, it did mean that his birthday hasn't been quite as we had planned. He wasn't able to participate in his trampolining birthday party after school this week (and instead sat with a blue slushie and sweets for the duration) and he won't be able to use his birthday bouncy castle in the garden today either. His cast came off on Friday but he's still in a sling with strict instructions for the next few weeks.
I'm now just hoping that he doesn't carry on this tradition – with broken legs or anything in the coming years. He is clearly accident prone, like his dad, and I am sure this is not the last time we'll be visiting the hospital with him. I just hope next time it happens at a different time of year – and not around his birthday!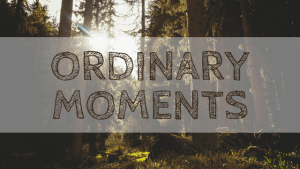 If you have an ordinary moment this week, come and link up – I'm looking forward to reading the moments that you share and will comment and share them on Twitter through the course of the week. Thanks so much for taking part.
[inlinkz_linkup id=779757 mode=1]