Welcome back to another week of the Ordinary Moments. If you haven't joined in before this is a weekly linky that launches every Sunday morning and is open until midnight on the following Saturday. It's a linky that celebrates any ordinary moments in your life – or the not so ordinary some weeks too. Basically – anything goes. I'll be sharing and commenting on the posts that are linked up during the week and there's a badge at the bottom of the post if you'd like to add it to yours too.
We've now been at home for five weeks and we have worked our way through so many activities over that time but the one thing LP and Little Man keep coming back to is den building. They love nothing more than making a den to relax in and enjoy.
It seems to be some sort of primal instinct for children, to make a den to play in. It's something LP and Little Man have done for as long as Little Man has been able to walk and it's something that has always brought them both so much joy.
Now, our den making has moved outside, using the garden furniture, blankets and my photography clamps to create a little space of their own. They put cushions on the floor, fill it with toys and books and spend so much time inside before we have to take it down at the end of the day.
It's somewhere to sit and play, somewhere to unwind and somewhere to have lunch too. It's a little haven for them, somewhere to have a break from school work and somewhere that can be whatever they want it to be.
I've never met a child who doesn't love making a den and I'm pretty sure these two have a fair few more years of den making to enjoy too.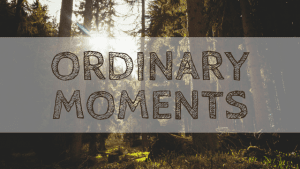 If you have an ordinary moment this week, come and link up – I'm looking forward to reading the moments that you share and will comment and share them on Twitter through the course of the week. Thanks so much for taking part.
You are invited to the Inlinkz link party!