Disclosure: We were invited on this break for the purpose of this review however all opinions are my own.
When we were planning my Birthday this year I decided that I wanted to do something with the children. As LP had just started school a month before and Dave and I often work at weekends we don't get a huge amount of time together so a family weekend break away at the Marriott Forest of Arden Hotel for the four of us seemed like the perfect way to spend my Birthday.
Marriott invited us to stay at the Forest of Arden hotel and country club just outside of Birmingham in the West Midlands and although quite close to Birmingham it was obvious from the moment we parked in the car park that this was far removed from a city hotel. It felt like we were in the countryside and as it's surrounded by forest and a golf course it felt idyllic and peaceful – just what we were hoping for.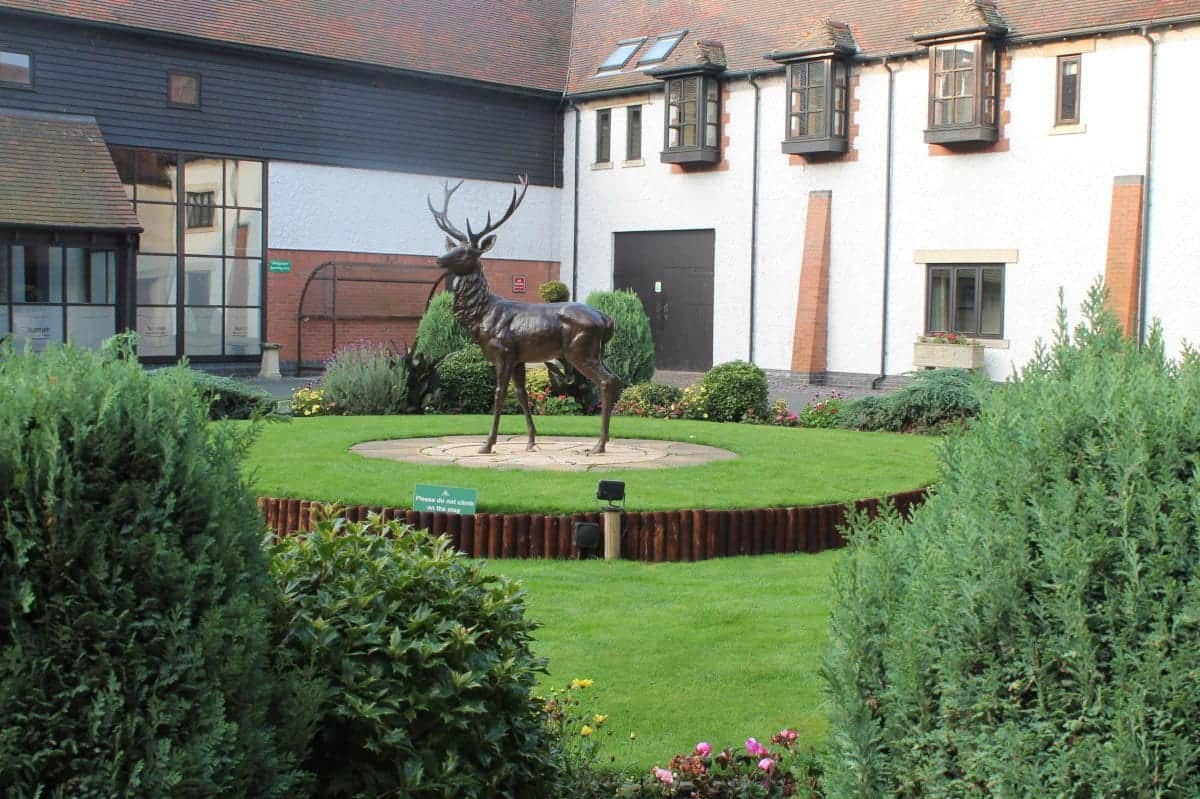 What is the Forest of Arden Marriott Hotel like?
The reception of the hotel is bright and welcoming and checking in was smooth. Unfortunately the lift was out of service when we arrived but we were offered help with our bags although we declined as the children wanted to explore and we could carry the bags ourselves.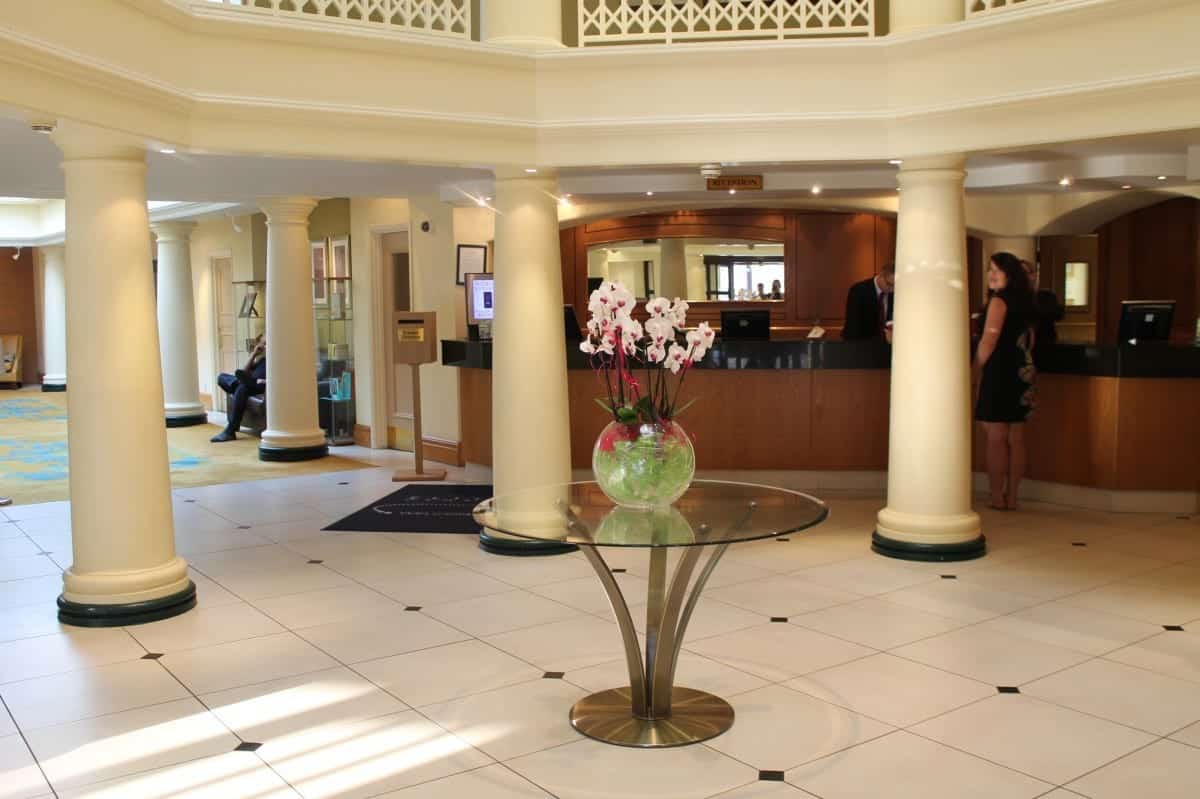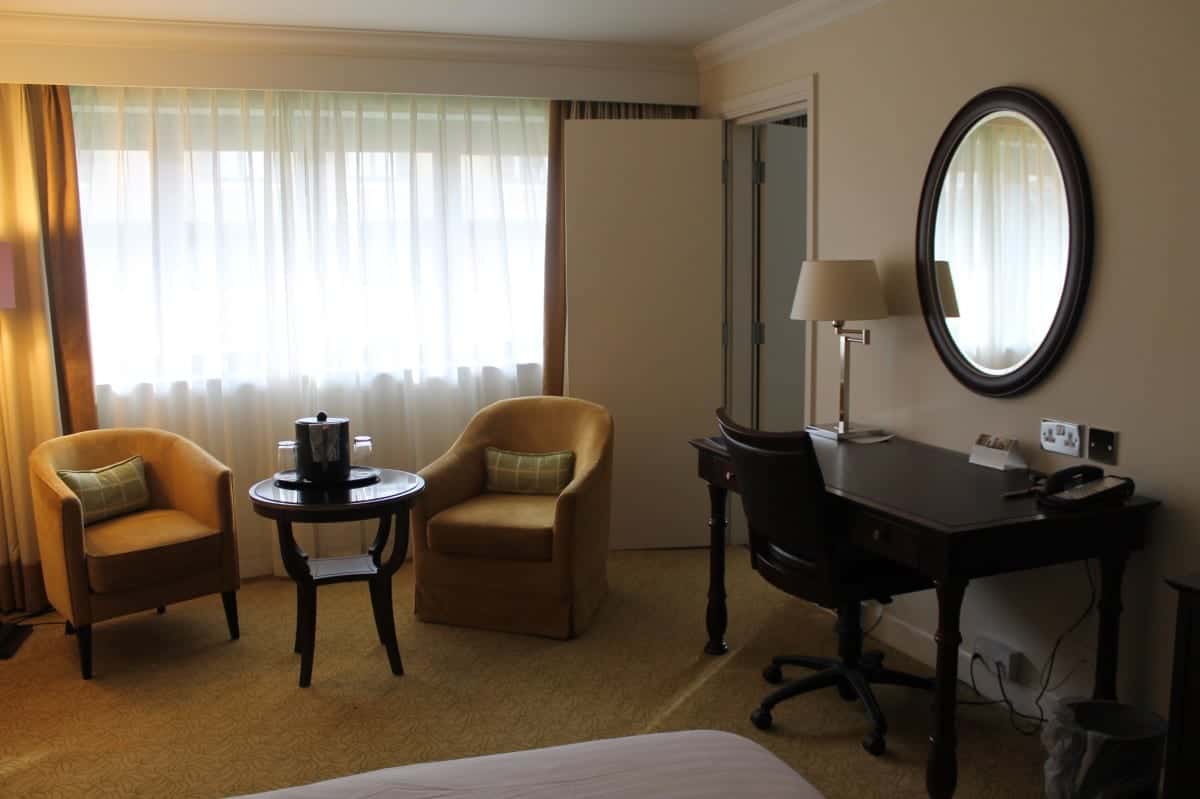 The Marriott Forest of Arden Hotel has rooms over three floors and we were on the first floor. All rooms lead off from one main corridor and so are easy to find. We were given interconnecting rooms, one double and one twin which were both a great size, with their own bathrooms – complete with complimentary toiletries, tea and coffee making facilities and even an ice bucket.
As a family we do spend quite a lot of time in our room to relax, get ready and just wind down and the rooms were perfect for this. With generous sized beds, separate seating areas and TVs with a good selection of channels the children were happy to climb into bed and relax, watching TV whilst Dave and I got ready.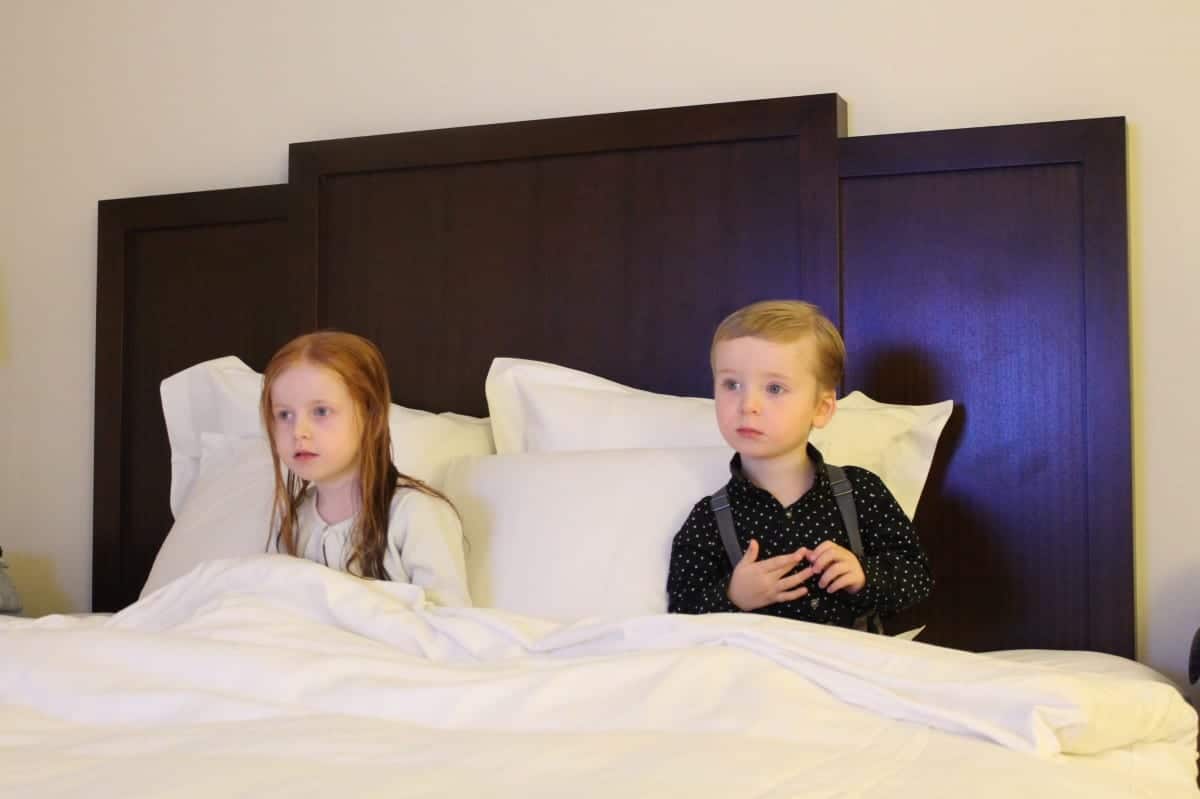 What are the facilities like at the Marriott Forest of Arden Hotel?
Before dinner we explored the hotel and went for a swim in their onsite swimming pool. We did have a bit of trouble finding the right route to the indoor pool from our rooms as it wasn't well signposted but when we got to the leisure reception we were given towels to use and made our way to get changed in the changing rooms – which had ample lockers, showers, hairdryers, a single changing room and communal changing areas.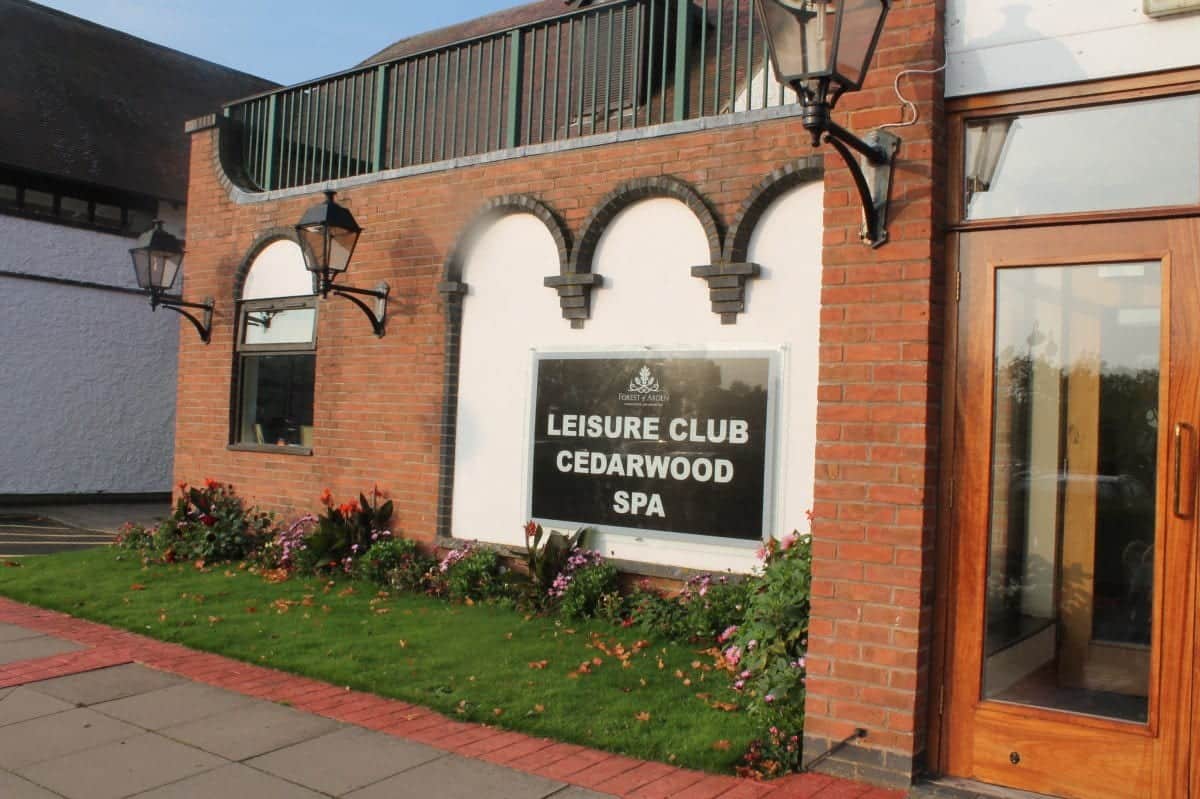 The pool was lovely and big with graduated depth and stairs into it which the children could easily use. There was also a sauna, steam room and jacuzzi although having the children with us we couldn't easily make use of these. The children loved the shallow children's pool and overall we loved the swimming facilities. The hotel also had a spa and gym although we didn't use these either.
What is the catering like at Marriott Forest of Arden Hotel for families?
In the evening we had a reservation for Oaks Bar and Grill which has a smart casual dress code. But there are less formal dining options available. I was worried that the children might be too tired for dinner as our reservation was at 6:30pm, the first slot, and the children usually have dinner by 6pm but I needn't have worried. The staff were really good with the children, giving them activity packs, talking to them and really making them feel a lot more grown up than their years!
Oaks Bar and Grill had two options – a buffet style meal or al la carte and we chose al la carte purely because it's hard to all eat at the same time from a buffet when you have small children with you. The al la carte menu sounded lovely with starters, mains and desserts and vegetarian options.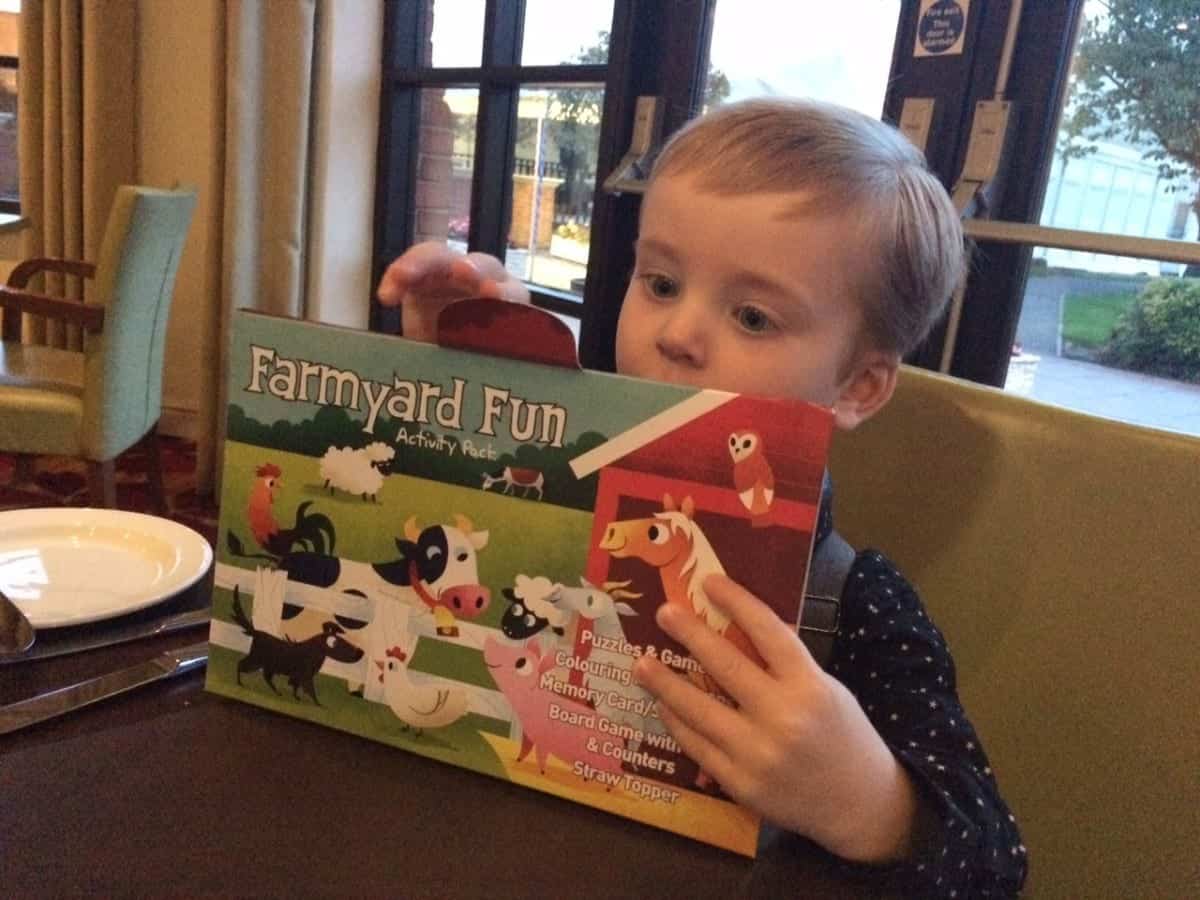 For starters we had the Pan Fried Sea Scallops and the Smoked Ham Hock Salad – both of which were lovely. I don't have scallops often and accompanied by king prawns they were melt in the mouth perfection, a really lovely dish.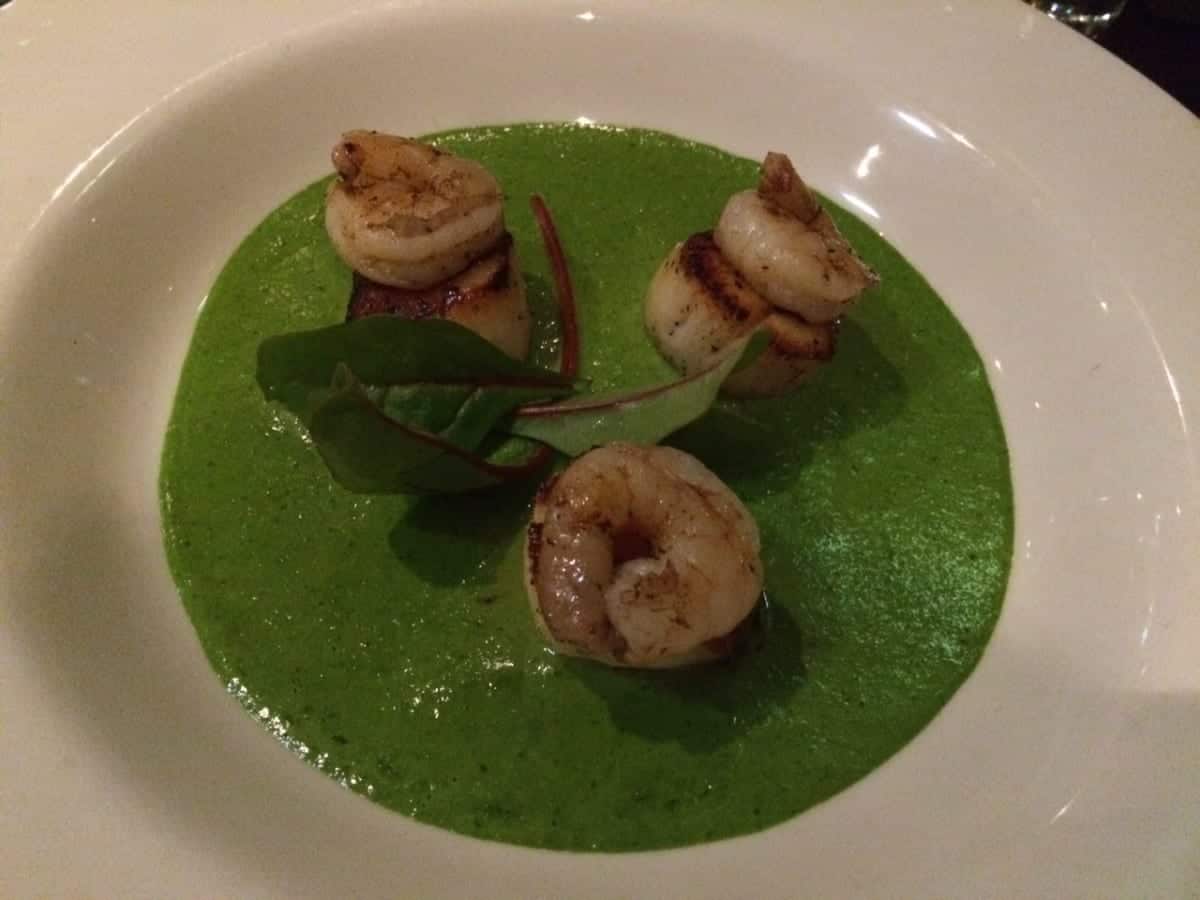 For our mains I had the Lamb Supper with both a lamb rump and cutlet. Dave had the Braised Cornish Feather Blade of Beef which he said was so tender he could have eaten it with a spoon – there's nothing like meat that just falls apart.
The children had their choice from a small but adequate children's menu and LP went for spaghetti bolognese and Little Man had tomato pasta – which disappeared in seconds. The children's portion sizes were fantastic and their mains kept them occupied whilst we ate both our starters and mains.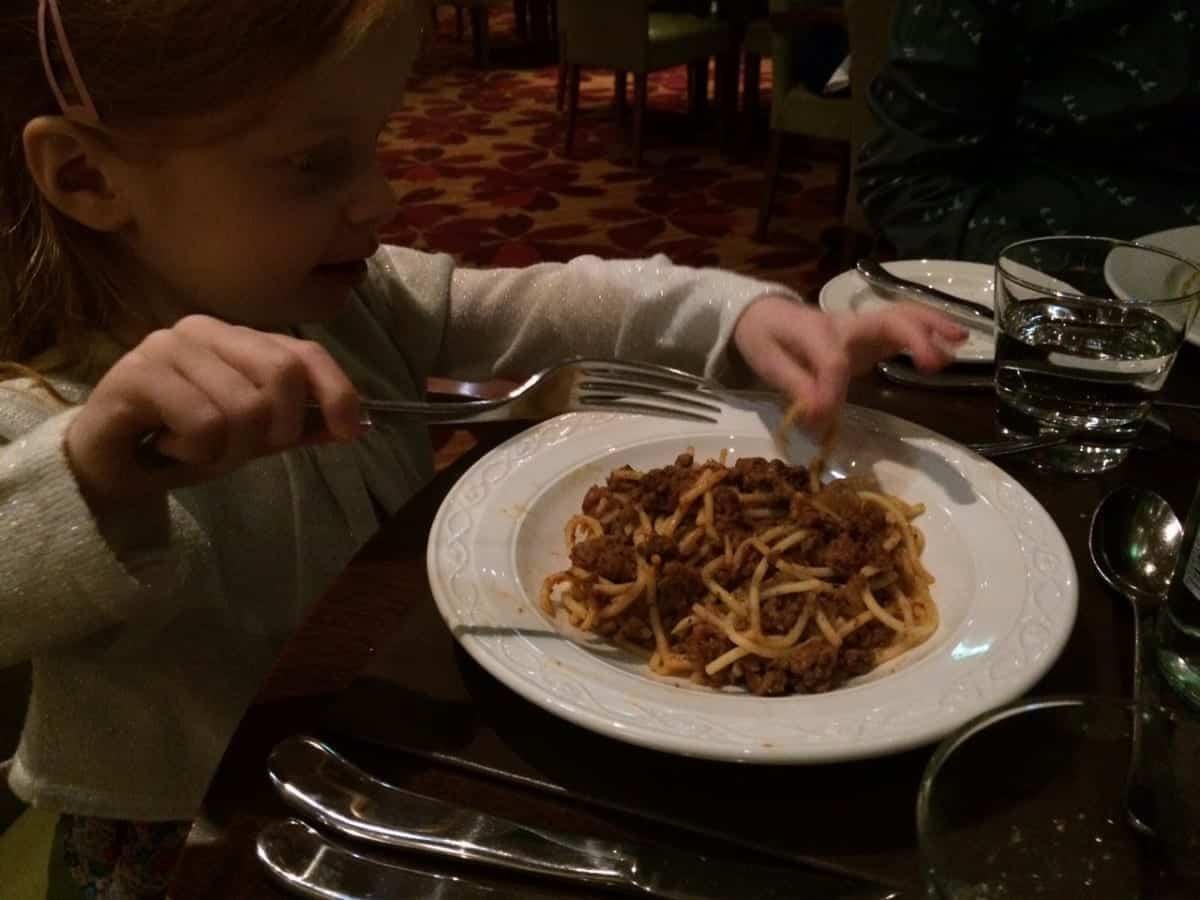 After we'd all finished we had desserts – Sticky Toffee Pudding for me and Lemon and Blueberry Mille Feuille for Dave. The children had individual pots of ice cream and we all really enjoyed this last course – all three courses were like something from Masterchef and we can't fault the food or service. It was lovely to take the children somewhere to eat in the evening and be made to feel so welcome.
After dinner it was time for bed and we all slept really well. My only slight issue was that our double bed was made of two single beds pushed together which made a great size bed but had a very noticeable groove down the centre. Apart from that the beds and bedding were really comfortable and warm and although there was a wedding at the hotel when we stayed we weren't disturbed by the music at all.
And what about breakfast?
In the morning we went for breakfast before 9am as the staff had advised us that the Forest of Arden restaurant starts to get really busy at that time. The breakfast is a buffet with so much on offer – traditional cooked breakfast options, continental hams, cheeses, breads and cereals as well as a whole section of cakes and pastries, a children's yogurt sundae bar and even a waffle maker and omelette station. It was one of the best breakfast options I have ever had in a hotel and we definitely made the most of it.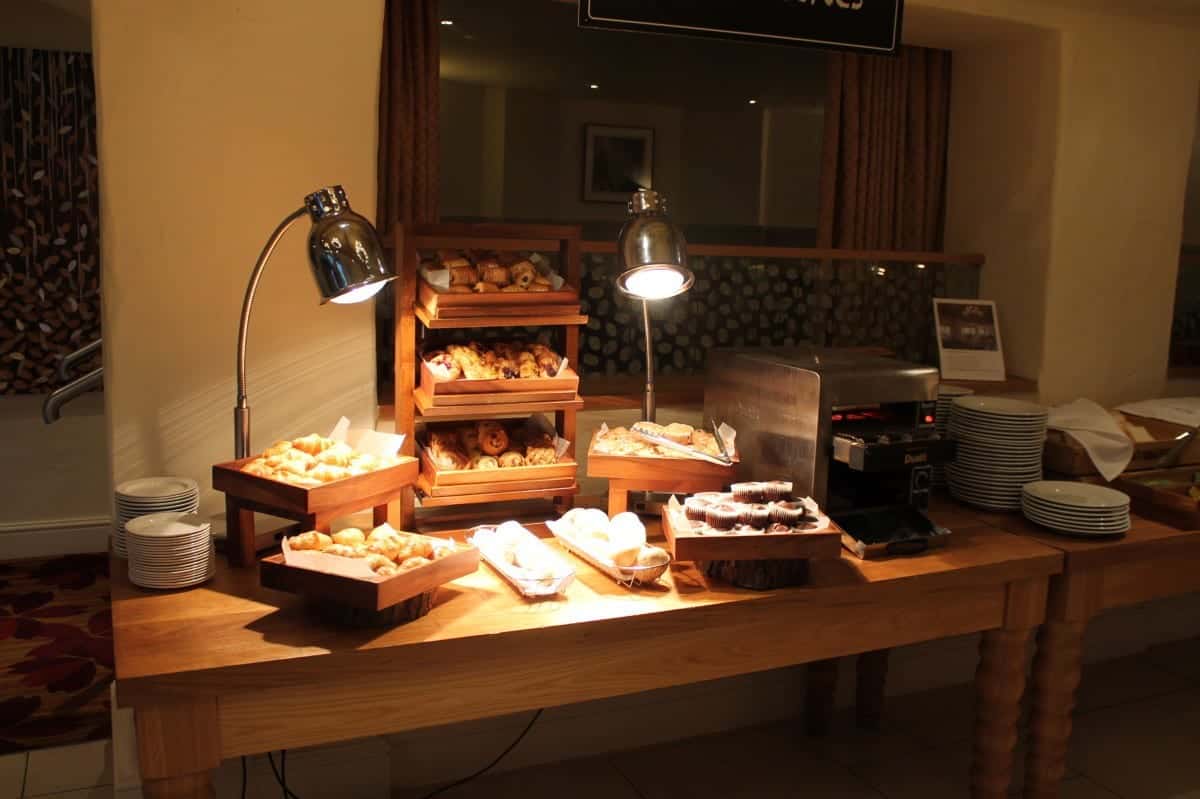 After breakfast we had a wander round the grounds, packed and checked out – which couldn't have been easier. Checkout isn't until 12pm so if you wanted to make use of the pool, have a round of golf or just have a lay in then the Forest of Arden Marriott Hotel & Country Club could be the perfect place for you. We had a really lovely stay and it was the perfect place to celebrate my Birthday.