Disclosure: We were invited to see this show for the purpose of this post however all opinions are my own.
Last night we were invited to ABBA Voyage and as someone who has grown up loving ABBA songs, I couldn't wait to go along – and share the experience with the children too.
What is ABBA Voyage?
ABBA Voyage is like a concert – but also very much not a traditional concert. It's a musical experience and a visual and aural masterpiece. ABBA Voyage blends cutting-edge technology and spectacular lighting to bring ABBA to the stage in a whole new way – as digital avatars.
We had no idea what to expect with ABBA Voyage. We knew that ABBA would be computer generated, and that the digital avatars would be accompanied by a live band. But, aside from that, we didn't know what the 90 minute show would entail. It's safe to say it exceeded every conceivable expectation. It blew us away.
The ABBA Arena
ABBA Voyage takes place in the ABBA Arena, a purpose built venue that suits the show perfectly. Doors open 1hr 45 minutes before the show starts and bags are searched on arrival. You can't take food and drink in with you – aside from water – but there are plenty of outlets inside to get lunch, dinner or just a snack or drink before the show.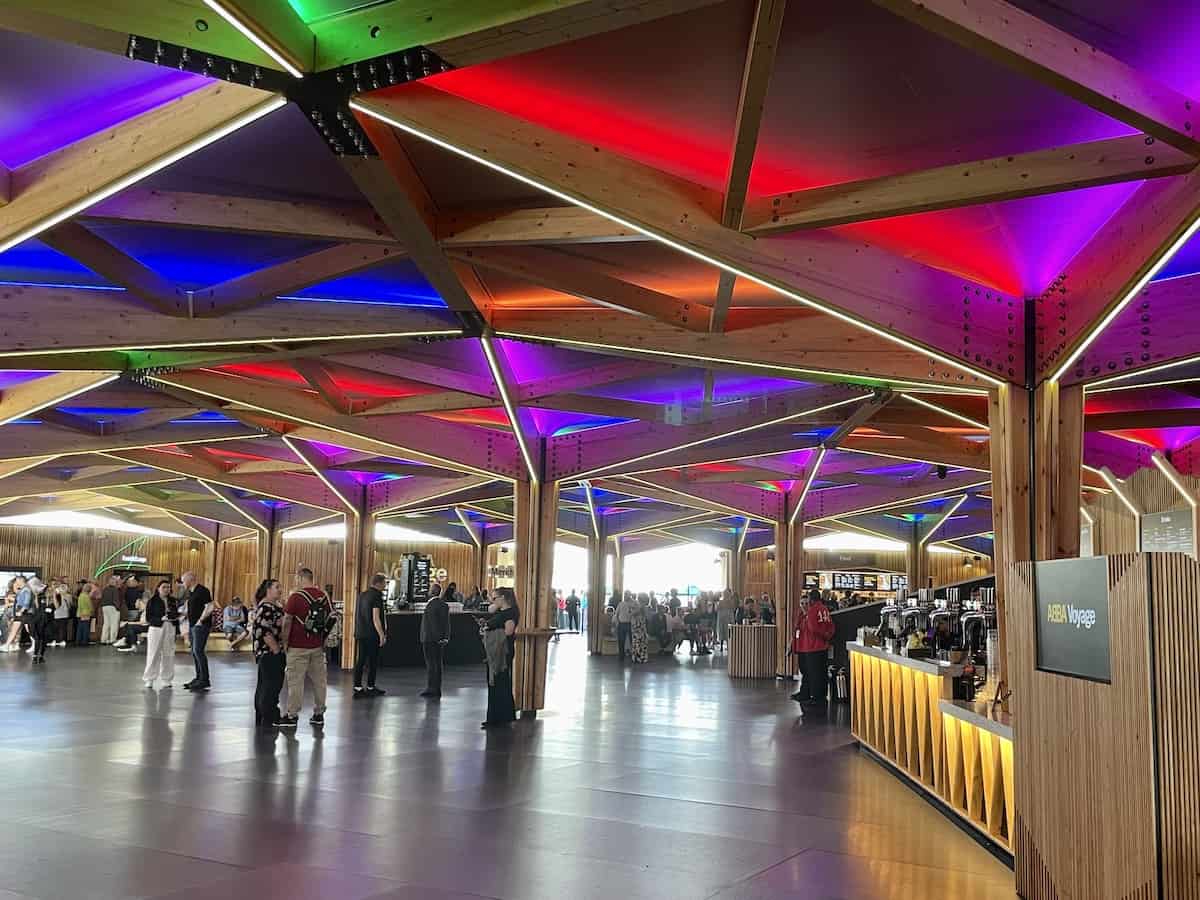 As well as food and drink outlets, the main arena concourse also has a lot of merchandise outlets selling everything from pin badges to jackets – with many of the products also available on the ABBA Voyage website. There were also super clean toilets and a few places to sit although most of the concourse has space to stand and wait for the doors to open. It was also a great opportunity to admire the outfits of everyone attending – sparkles, feather boas and flares are pretty standard!
In the main arena the seating areas are clearly signposted and there are staff everywhere to help you find your seats. With a 3,000 person capacity, it isn't a huge venue making it a really lovely, almost intimate experience. Children under twelve have to be seated although there is a general admission / standing area called the dance floor if you want to be up close to the action and there are also dance booths available to book. The great thing about ABBA Voyage is that there are no bad seats – every view will be amazing.
The ABBA Voyage show
As the show started we were all told not to take photos or videos during the performance. The staff were really hot on this and we saw a few people being told to put their phones away during the show. However, not using your phone was actually a really refreshing experience – I can't remember the last time I was surrounded by thousands of other people all focused on what we were watching together. It really added to the atmosphere.
As soon as ABBA appeared on stage we were blown away – and I know I spent at least the first three songs sitting on the edge of my seat with my mouth gaping open. I was in awe. It was incredible.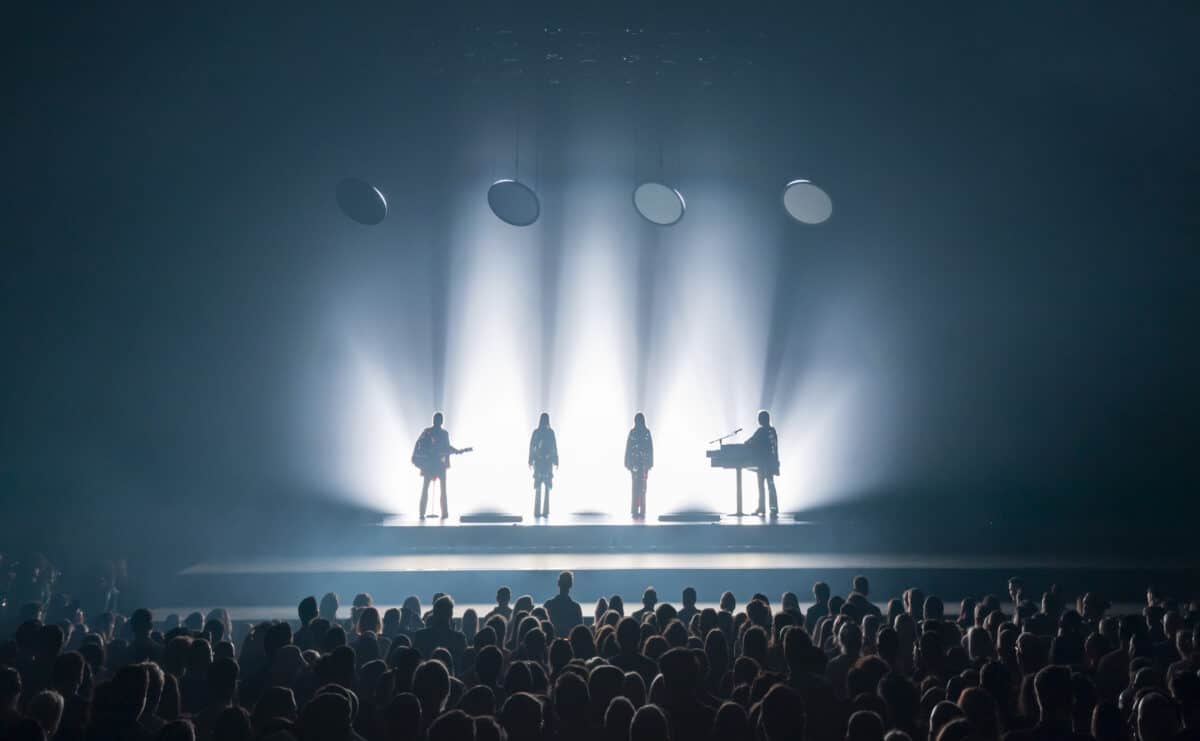 From the very first notes of music, the light show was fantastic. The lights and visuals are a massive part of ABBA Voyage – and there are a lot of flashing lights in the show. The children thought the lights were one of the best parts of the show and it really did add so much to the whole performance, making the arena seem bigger, adding emotion and depth where needed and really helping to illustrate the songs, It was all so well done.
The vast majority of the songs were ones most people would know – and ones that real ABBA fans would know all the words to. SOS, Gimme Gimme Gimme, Waterloo, Mamma Mia, Fernando and so many more. Plus, there were a couple of songs that were newer ones that we all really enjoyed. All the songs were accompanied by the live band who were absolutely fantastic.
ABBA were perfect. Dave and I looked at each other early on in the show with completely baffled looks. If we didn't know that the ABBA members on stage were computer generated we would have really believed they were the real deal – just the real deal from 40 years ago! They looked as they have done every time I've seen them on TV or in books and magazines. ABBA as they looked in the 70s.
ABBA were on stage and, like any concert, there were big screens that showed them up close too. And they looked so real. It was mind blowing. Technology has come so far and last night it enabled us to experience an ABBA concert of the 70s but with modern lighting, sound and visuals. Even now, 24 hours later, I'm baffled by the whole experience. It was like ABBA zoomed 40 years into the future to perform for us.
The whole show felt like an utter gift. Experiencing something we shouldn't have been able to experience. A show that, in reality, took place long before we were even born. And yet, we got to live it in 2023! ABBA Voyage may well be the most futuristic thing we have ever done. We loved it.
The show had a fantastic finale that I won't spoil for you. But, I left feeling quite emotional. The ending, along with singing Dancing Queen alongside 3,000 other people, with ABBA live on stage, was the experience of a lifetime. And, I know, it wasn't really ABBA. But for us, last night, it felt like it was. It was real and I was there with my family by my side. What an experience.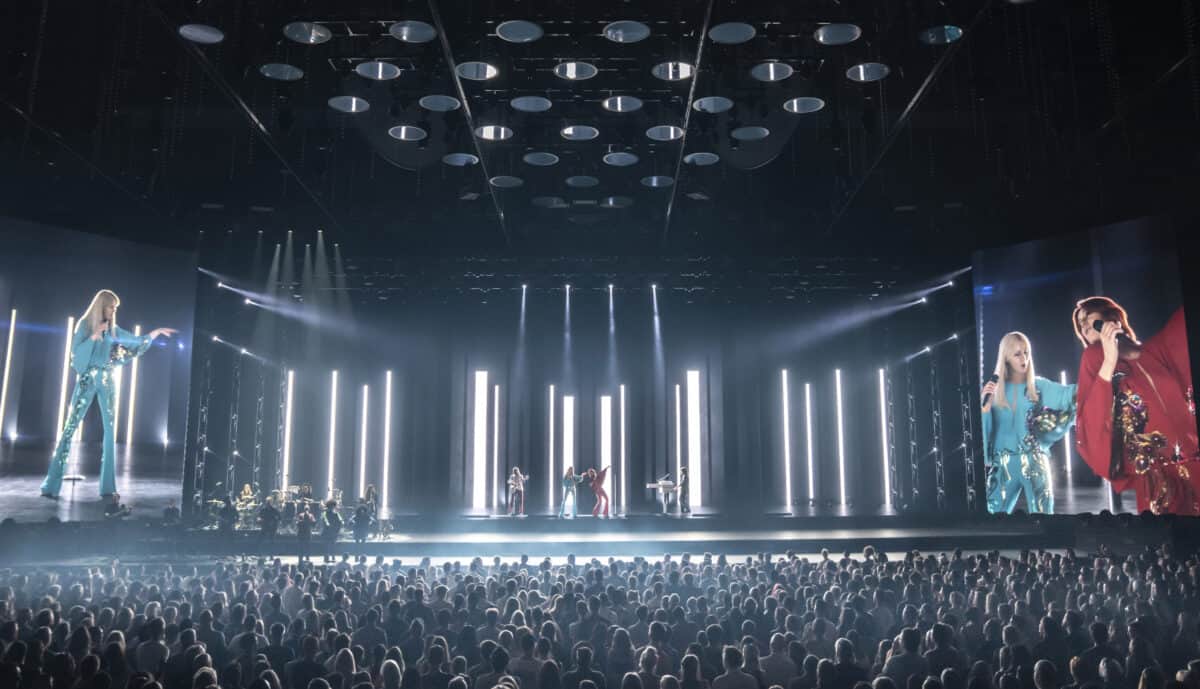 ABBA Voyage has shown us the future of the entertainment industry. With ABBA Voyage, ABBA are trailblazing – leading the way for every artist to be able to perform indefinitely. And it's something I am so excited about.
If you love ABBA, if you want an incredible night out or if you just want to experience something like nothing else you have ever done before, go and see ABBA Voyage. You will not regret it.
Find out more and book tickets over on the ABBA Voyage website.