When we spent half term on Hayling Island, staying at the Mill Rythe Resort, we spent a day at Funland, one of Hayling Island's main attractions. It was the biggest day out of our holiday and one that the children really loved.
What is Funland?
Funland Hayling Island is one of the biggest amusement parks on the south coast. It's a free to enter attraction where you just pay for the rides you go on – either with tokens or by buying wristbands so you can go on as many rides as you like.
Funland also has sideshow style attractions, arcades and plenty of places to grab a drink, snacks or lunch. It's somewhere you can pot to for an hour or spend all day if you break it up with food and some time on the beach.
How much is Funland?
The Funland theme park offer wristbands that are great value if you're going on a lot of rides. There's an unlimited ride wristband valid 11am-5pm for £20 per person, a late comer afternoon 2pm til 5pm unlimited ride wristband for £15 per person and an evening special 5pm-8pm unlimited ride wristband for £14 per person.
Alternatively, you can buy ride tokens. These are currently 12 tokens for £10, 24 tokens for £15 or 36 tokens for £20 and all rides are 2/3 tokens per person per go. If you're visiting as a family then tokens could work out a really cost effective option.
When we went to Hayling Island, the adults were happy to just watch the children on the rides and so we bought the kids unlimited ride wristbands and off they went! It was great knowing we paid one price and they could go on everything again and again if they wanted.
What can you do at Funland?
There are so many rides to experience at Fun Land with different options for different heights and ages. Our children were big enough to go on every ride at Funland but there's plenty for younger children to do as well with many rides having a minimum height of 0.9cm.
The first ride the children went on was the Main Train, a fantastic rollercoaster which really set the tone for the day. This ride gets really busy so we were right to go on it first thing and avoid queues in the heat!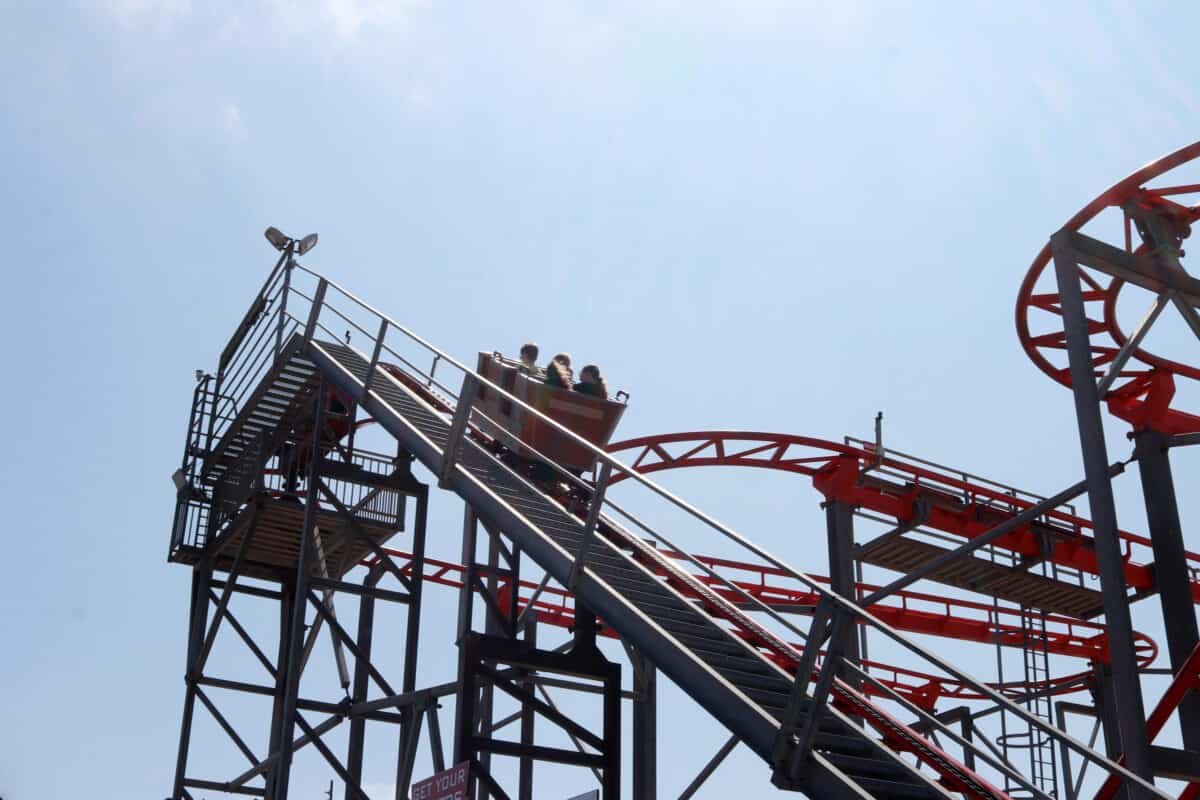 The children's favourite ride was Spinosaurus. A spinning rollercoaster that built up a nice amount of speed. They went on it a few times and loved it but they also really enjoyed Jungle Splash – a nice, quiet log flume boat ride through the Jungle with a big splash at the end! A great way to cool down on what was the hottest day of the year so far.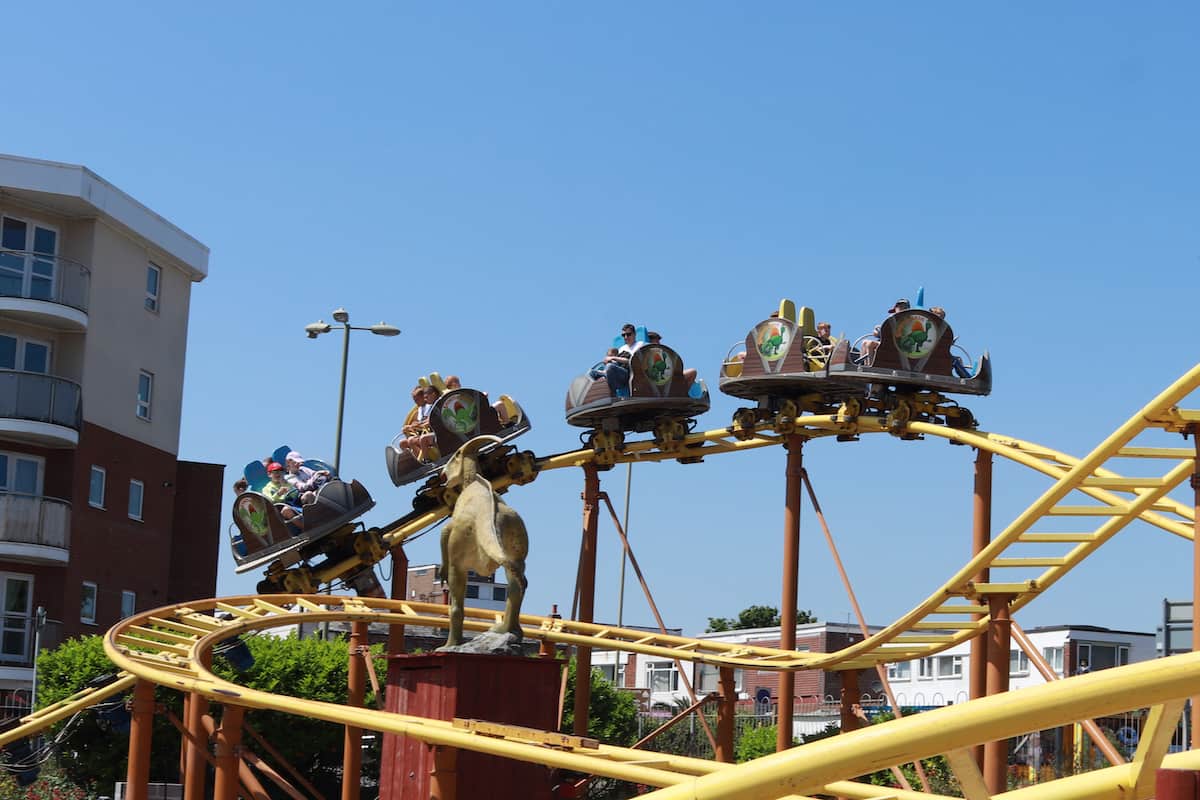 They also went on Aztec Falls, a more sedate ride where you sit in an enclosure and spin in a circle and the Soaring Seagulls where they got to fly in the sky – as long as they pedalled hard enough!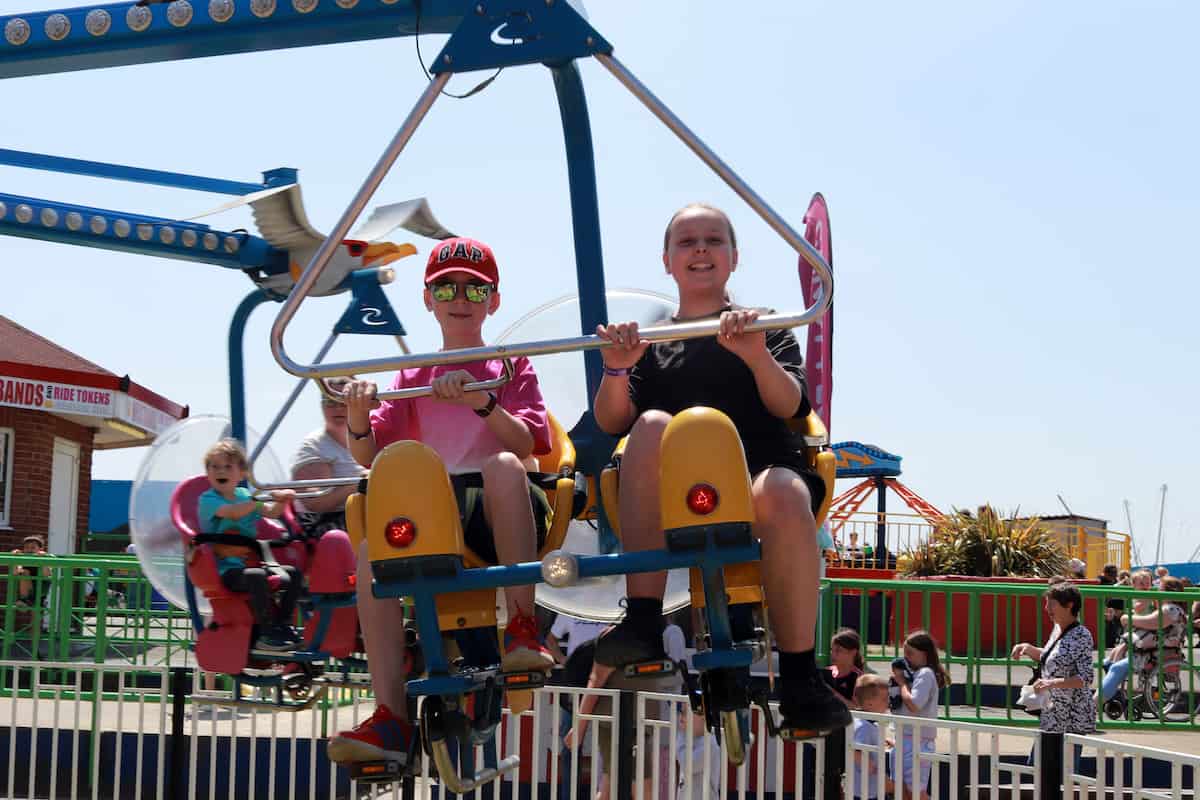 The Crazy Caterpillar was a simple sliding and spinning ride that they enjoyed and there's a Carousel ride that every member of the family is bound to enjoy. They also enjoyed the Viking Ride where they got to splish and splash on the water in Viking boats.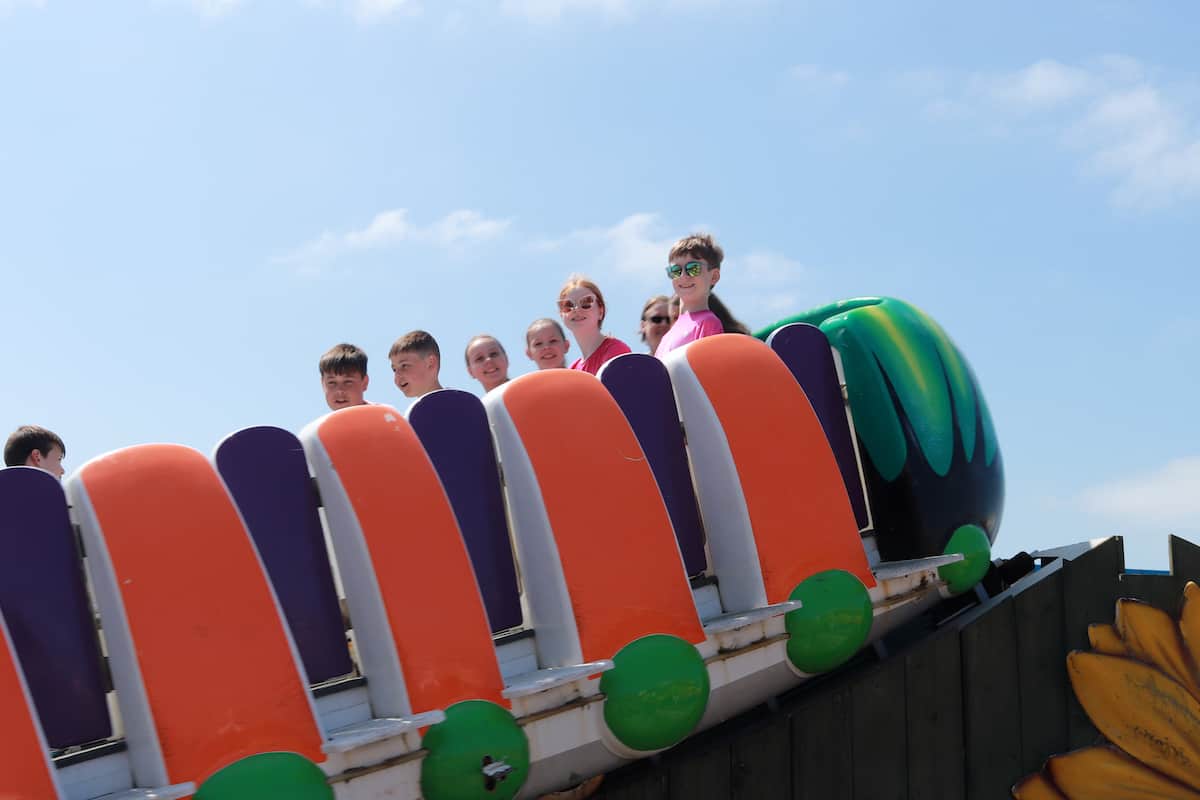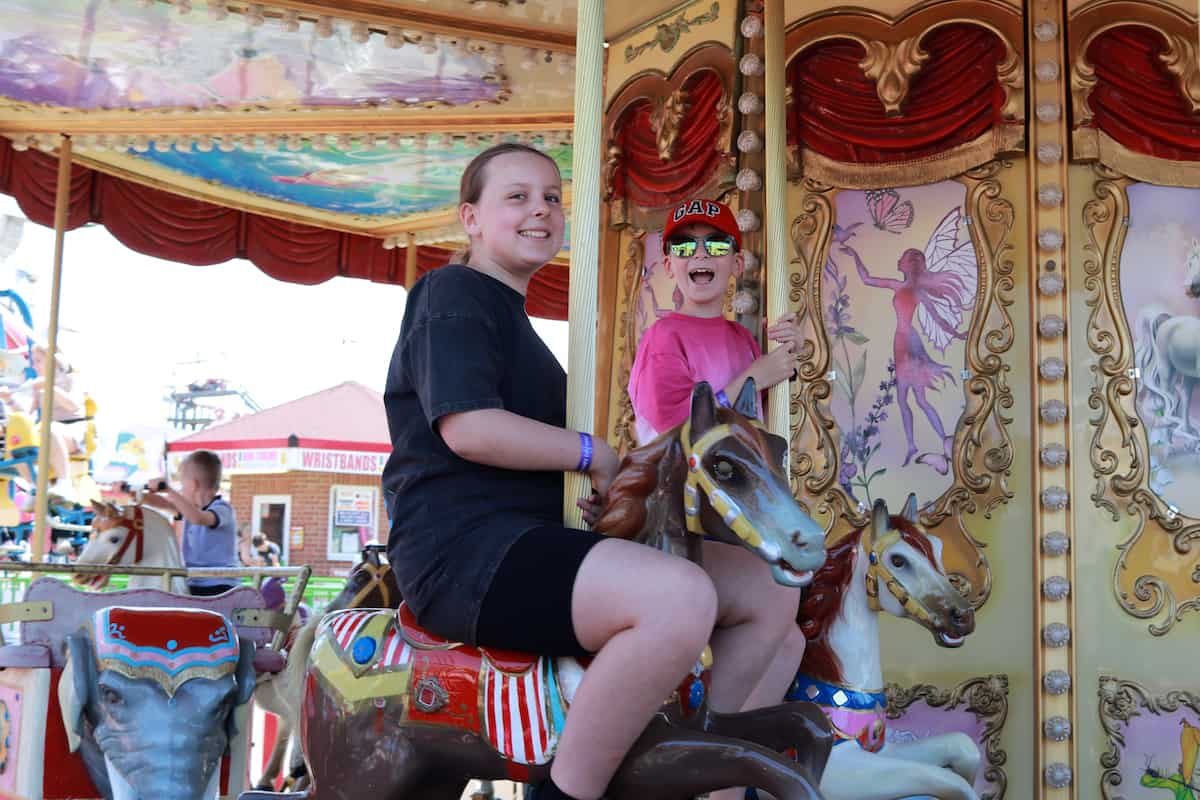 There was also the Galleon Ride where the kids got to set sail on the seven seas whilst riding the waves in a cute ship and the basic but super fun Snake Slide that the children went on again and again.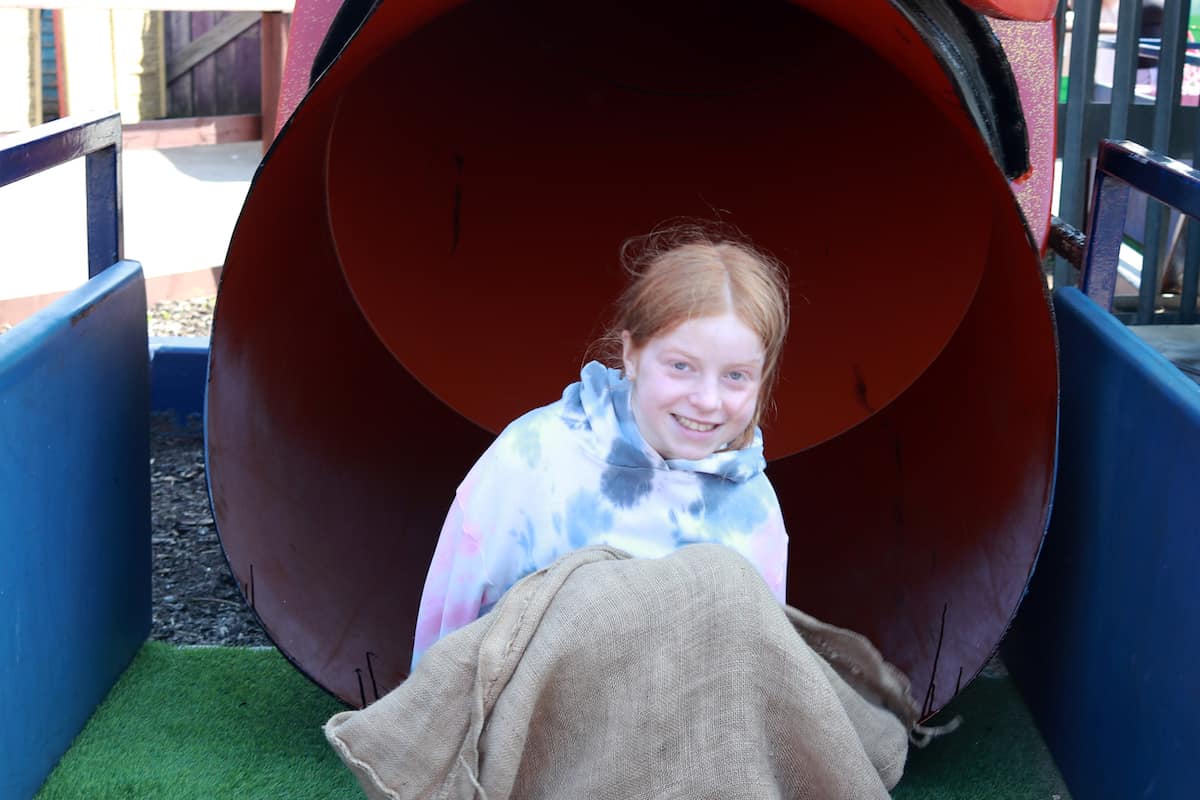 The children loved the Samba Balloons and the Flying Elephants where they got to go up, down and around, apparently seeing great views of the coast! They also enjoyed the simple Jurassic Safari ride where they got to ride safari trucks around a track.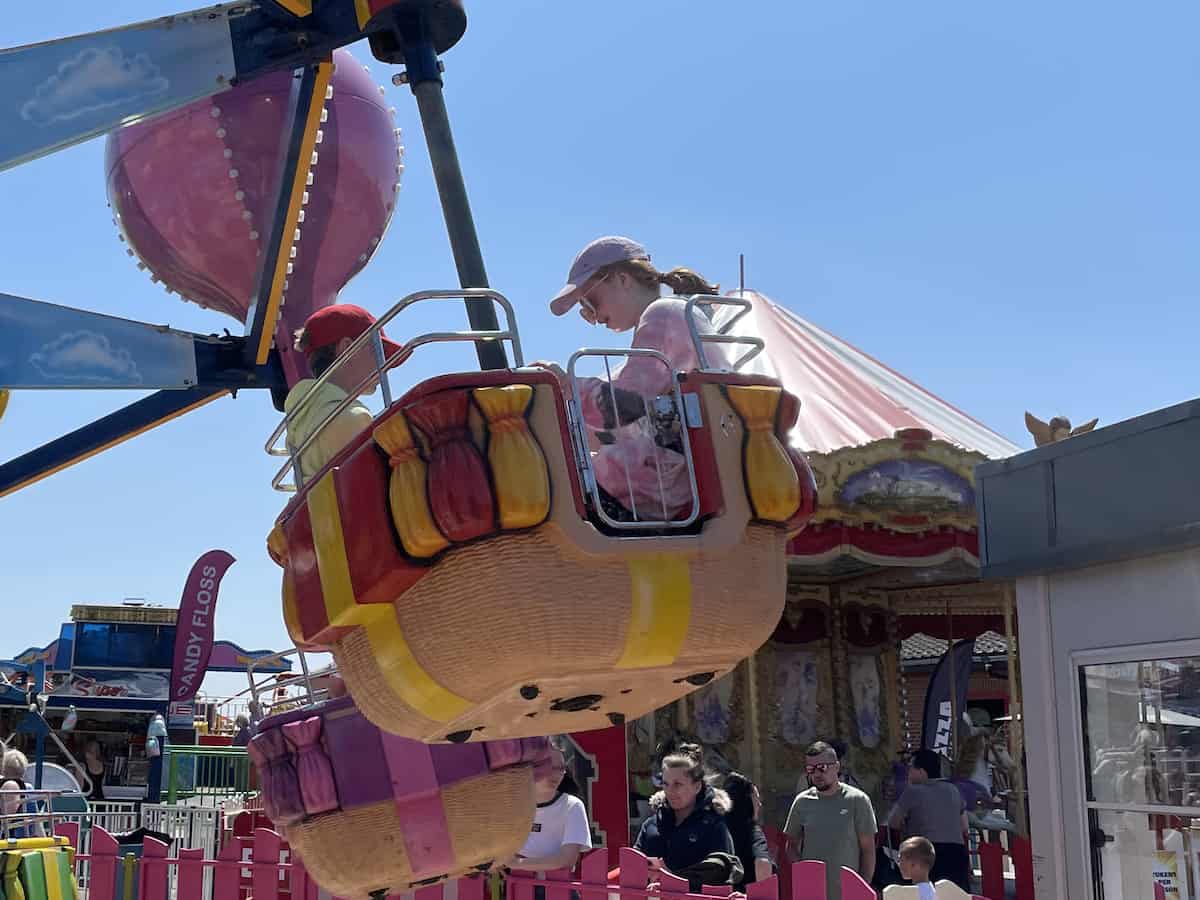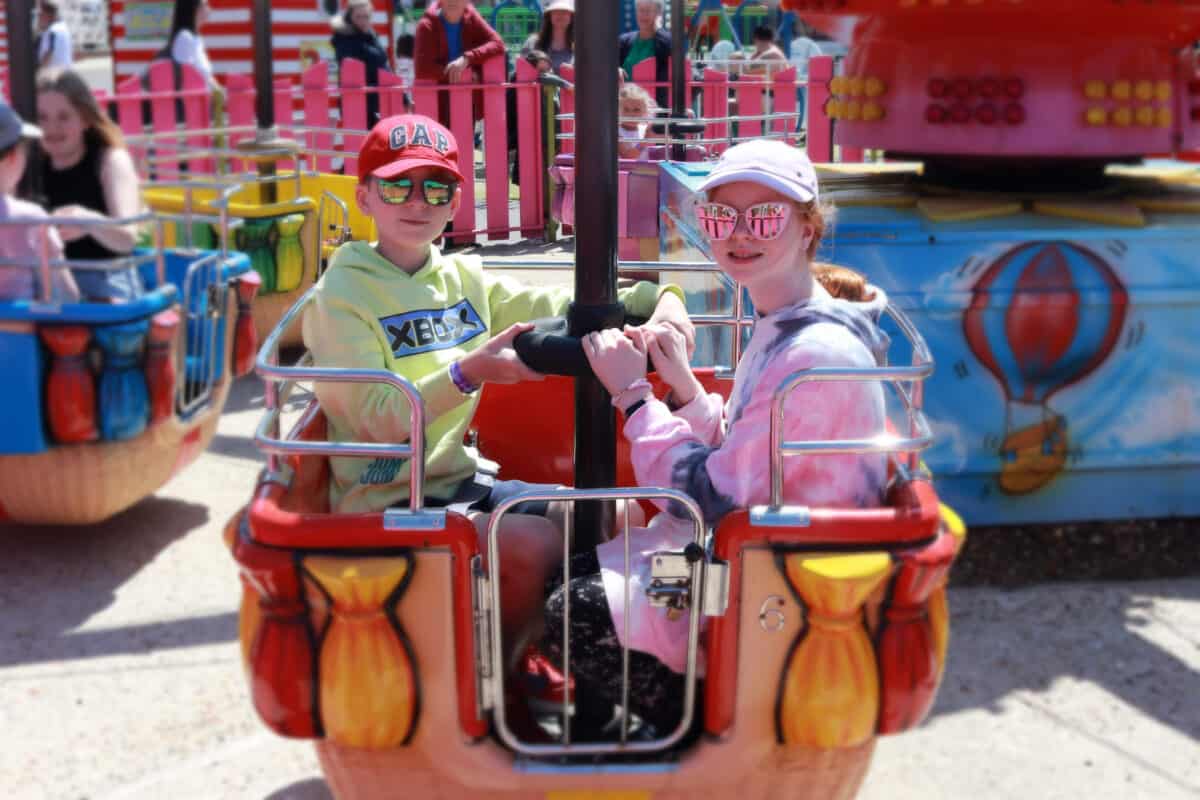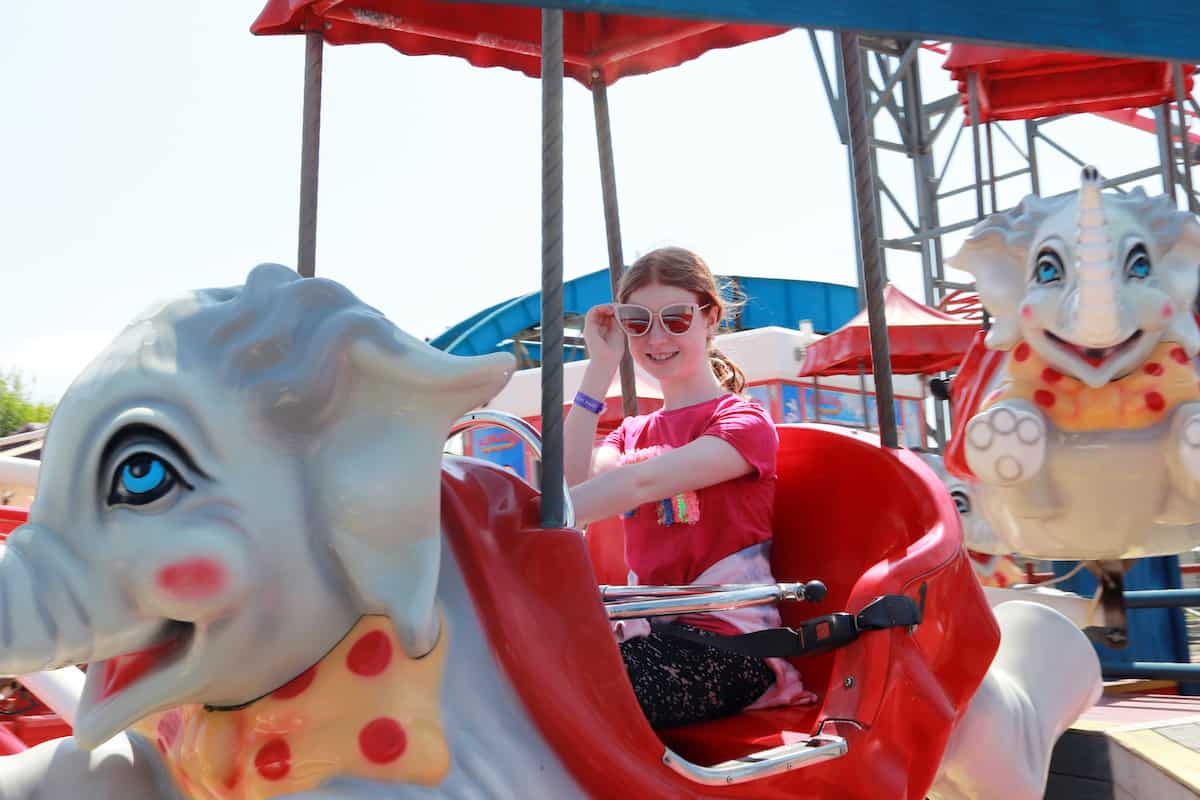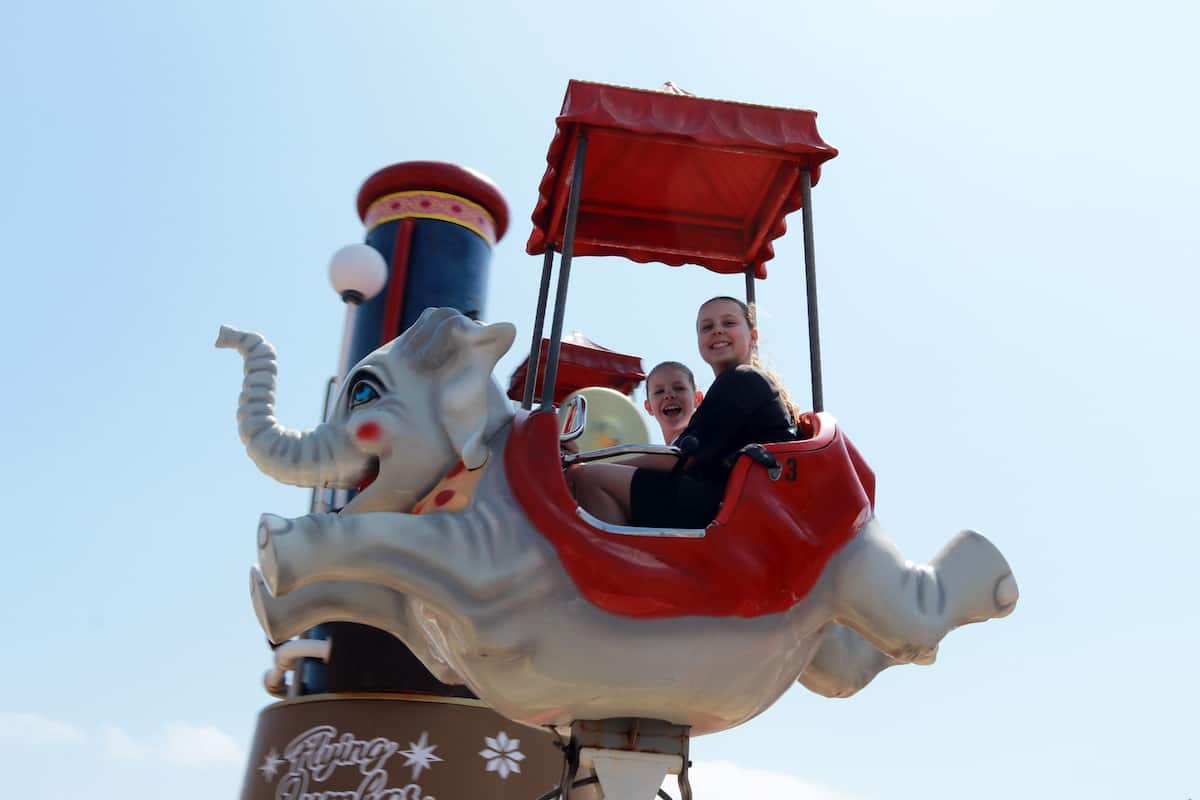 One of the last rides we went on was the Dodgems but this is indoors, incredibly loud and stuffy. The children didn't find it that enjoyable and we'd probably skip it next time unless visiting on a cooler day.
We finished the trip with a second go on Cyclone, a classic ride where they were spinning all over the place at fantastic speeds. They loved it!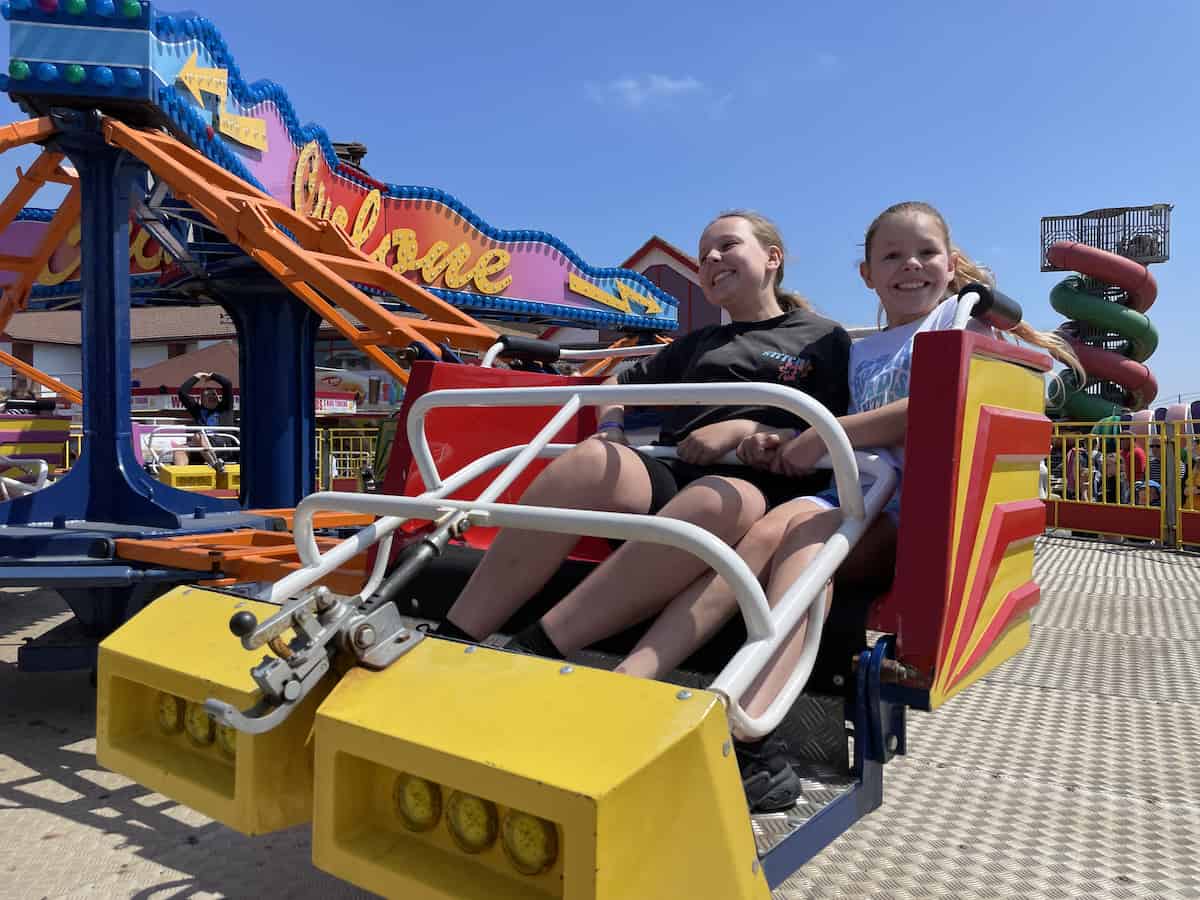 The only thing the children didn't go on was the Ride on Bikes as they were too big for them and both Destination Z and Extreme were closed on our visit.
Other attractions at Funland
Funland is also home to Pirates Adventure Golf and the Midway Games sideshows of hill billy shooting gallery, hook a saurus, ring toss, giant crane and aqua blasters. The children had a go at the ring toss – but it's harder than it looks!
There's also a good size arcade – although we found the ones just outside of Funland were much better value, with better prizes and lovely staff so we didn't use these ones much.
There's also a Kidz Kingdom soft play although our children were too big so we didn't even look at it. This comes with an additional cost. There's a great gift and sweet shop that the children spent some of their holiday money in. You'll find all the usual favourite souvenirs, fudge, rock and so much more.
Eating at Funland
We took a picnic with us to Funland and there are plenty of picnic benches around to make use of. But, if you want to buy lunch there are plenty of options. Diane's Diner is an American style Restaurant perfect for a snack or a full meal or there's the Seaview Fish & Chips Restaurant for a classic taste of the seaside!
There's also the Carousel Cafe which has so much typical cafe food as well as sandwiches, jacket potatoes and drinks. Plus, there's the Ice Cream Parlour that was busy all day when we visited. Their large whippy ice creams are huge and great value too!
For snacks and sweet treats there's also Charlie's Doughnuts and Cogger's Candy – where we got lovely candy floss and toffee apples from. Perfect seaside treats!
We had such a great day at Funland. We were there from about 11am until 4:30pm, making the most of the great weather and the unlimited ride bands. We saw many people leaving to spend time at the beach before coming back later and it's obviously a really popular place to spend time.
The children loved the rides and everything felt really great value. I've never been to another seaside where you can park all day for just £4. It's the sort of seaside day out that the children will love and will leave you all with such happy memories to look back on.
The Funland Hayling Island amusement park can't be compared to Thorpe Park or Chessington World of Adventures, but, it's a great day out in it's own right. If you want an easy, affordable day at the seaside then Hayling Island is a really good choice – and Funland would be a really lovely addition to it.
You can find out more about Funland over on their website. For reference the address is: The Sea Front, Hayling Island, Hampshire PO11 0AG