*This is a collaborative guest post
Finding a working promo code can be a real headache. The key word in that sentence is "working." There are dozens of discount websites on the Internet that seem to specialise in user frustration; just try to use one of their promo codes and see what happens. Usually, the shopper will fill up their online cart with goodies, search and snag a promo code, apply it, and have it fail. The failure could be related to an expiration date or some sort of fine print that disqualified the discount. It can be really exacerbating when the shopper is trying to complete a task and move on to the next one.
We've pulled together 8 ways to find a working promo code in a minute – or less. From tips on filtering a search engine query to sites that have other consumers verify discounts or even browser plug-ins, this article will help speed up the process of finding deals.
Top 10 Ways to Find Working Promo Codes, Fast
1. Write a good search engine query
It can be a hassle to have a cart full of stuff and then have to search for a discount. However, there's an easy way to search, by simply opening a new tab and using your favourite search engine to find a discount. But most retailers design their sites to encourage shoppers to buy on the spot instead of searching for a discount. For example, Amazon's one-click feature probably creates a lot of buyers remorse.
Also, while many e-commerce sites offer discounts like free shipping, the majority of the best deals require a little bit of hunting to find them.
One quick way to find a working promo code is a simple search engine query. As an example, let's use Google to find a working code for Fitbit. Open a new browser window to Google and type in "fitbit promo code."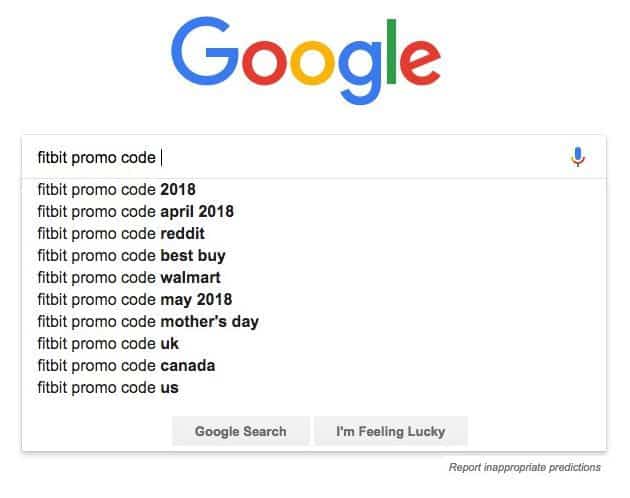 See how Google gives the user some suggestions for the search based on popular queries. See if that helps inform the question asked, and then click the "enter" key to see the results.
In this case, the top answers seemed to give a great response. The time elapsed at this point is tied strictly to the speed of the Internet connection used, so hopefully, this has taken just a couple seconds.
While this method is definitely the quickest, it's not necessarily the most accurate. Sometimes, it can be hard to find a working promo code on your first try, since a lot of sites don't take the time to verify that their promo codes are working properly.
2. Check group discount sites like Groupon
Generally speaking, Groupon has good deals if you're looking to do some type of local activity, or buy a certain product (if they end up having it on their site).
The process for searching on Groupon is really the same as doing a search engine query, except the search is happening on a website that specialises in group discounts. That actually cuts a step from the search engine process; just go to a promo code site and write the search query in their navigation bar. For Groupon it will look like this: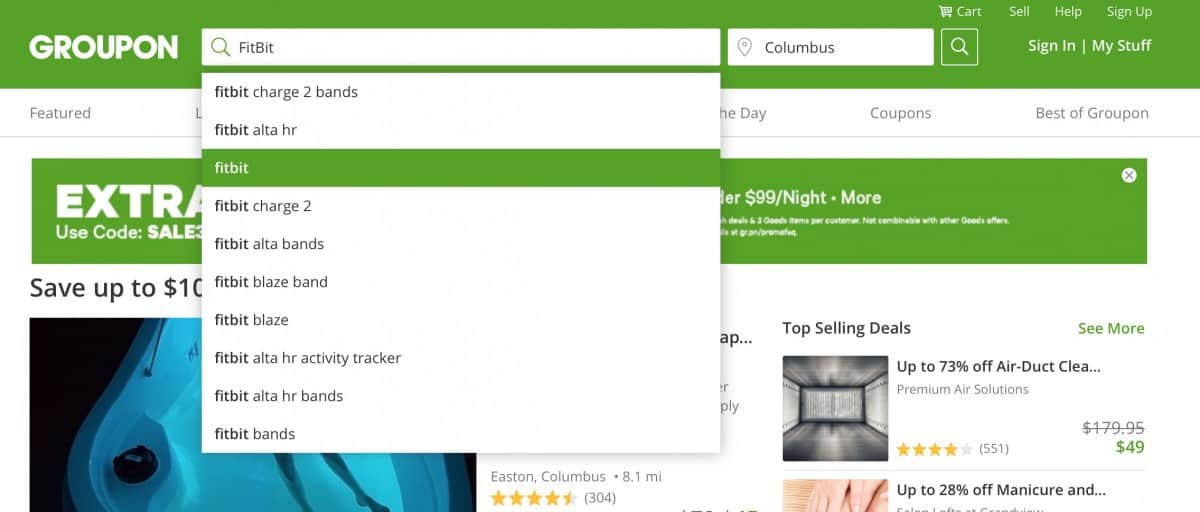 See how the coupon site also has a drop down to help hone the search. Using it will speed up the process.
3. Use a Chrome browser extension like Cently
Cently is a browser add-on for Google Chrome that's free to use. The software does the hard work of hunting the web for promo codes when you're at checkout on a brand's website. They filter through the results to deliver unused and unexpired promo codes, and apply them to your order (somewhat like competitor Honey). That way, all the shopper has to do is wait a moment while checking out — takes less than a minute, and works like a charm.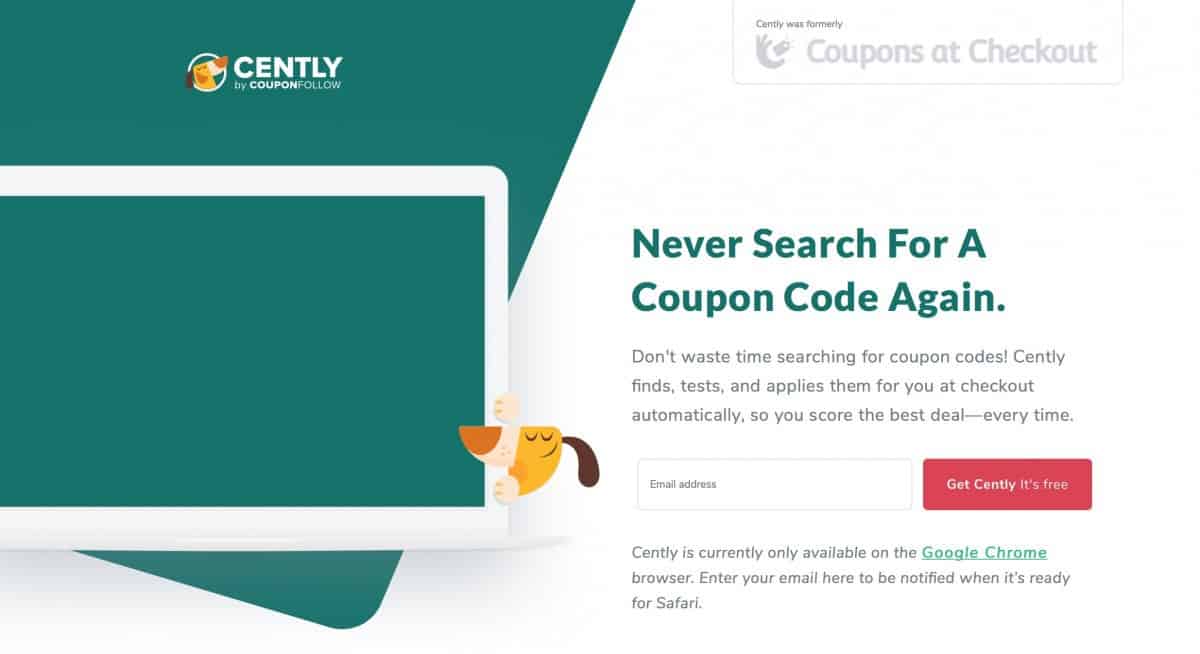 4. Use crowdsourced promo code sites like Dealspotr
Savvy shoppers join Dealspotr. Period. That's because the site has 4x as many working promo codes as any other online coupon site. The promo codes are vetted by members of Dealspotr's coupon-saving network, which means that consumers are updating these codes in real-time. This is huge for ensuring that the promo codes are valid and haven't expired.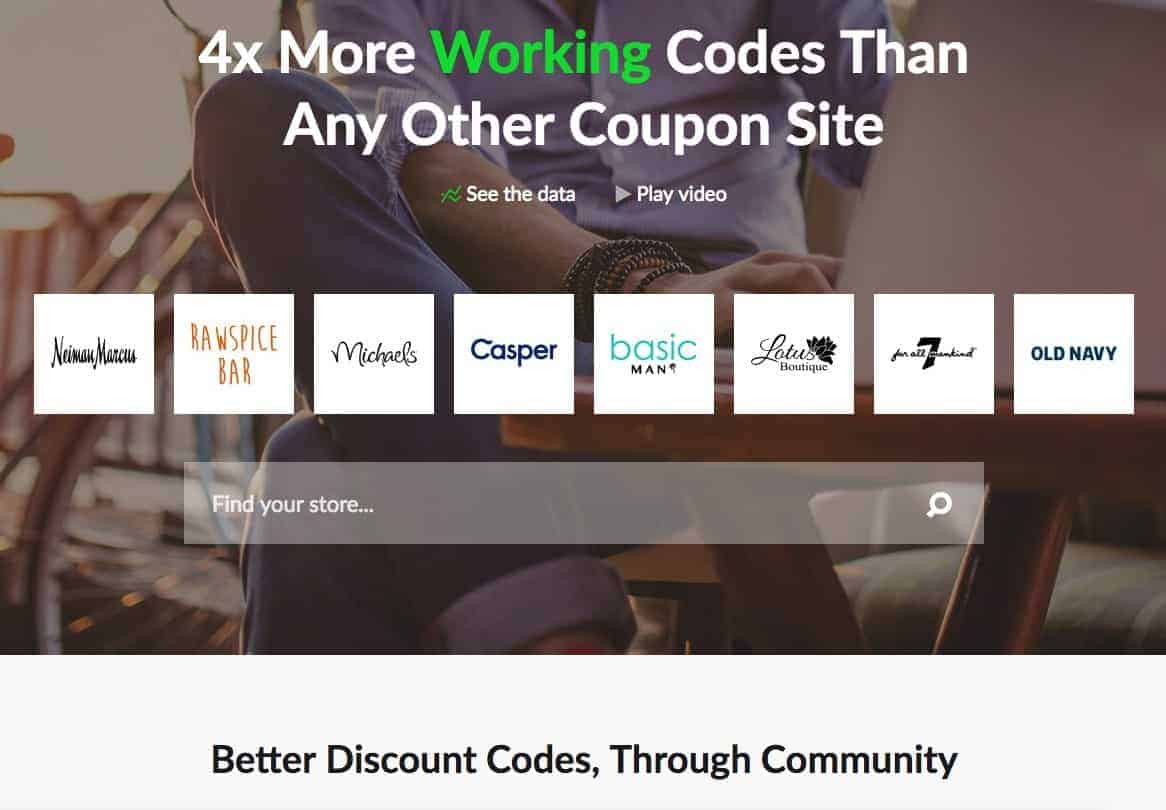 There's a news feed feature for each Dealspotr user, where you can follow brands and receive updates on new promo codes and exclusive deals for that specific brand. There's also the option to follow interests like "beauty" or "health & fitness," which connect you to other members of the Dealspotr community that are also sharing deals and savings tips on these topics.
For the impromptu shopper, it takes less than a minute to login and search by type of product or brand. On the "Promo Codes" page, or even right from the search bar on the home screen, you can type in anything from a store name, to a type of product to find deals and promo codes for that specific thing.
For example, typing in the word, "jeans" in the built-in search engine nets some good query suggestions that include specific places to shop, discounts by brands and exclusive deals tied to pant styles.
Dealspotr members participate in a cashback rewards program and have access to exclusive deals consumers won't find anywhere else.
5. Check coupon forums like SlickDeals
Another promo code site that offers a quick search feature is SlickDeals. Members also submit deals on this site and are able to vote on their effectiveness, however the real beauty of this site comes from the user forums.
One caveat is that it can be hard to navigate to the exact promo code page of the store you're looking for. So, when looking for promo codes, bookmark the coupon section of the site, to save time. Start the search here.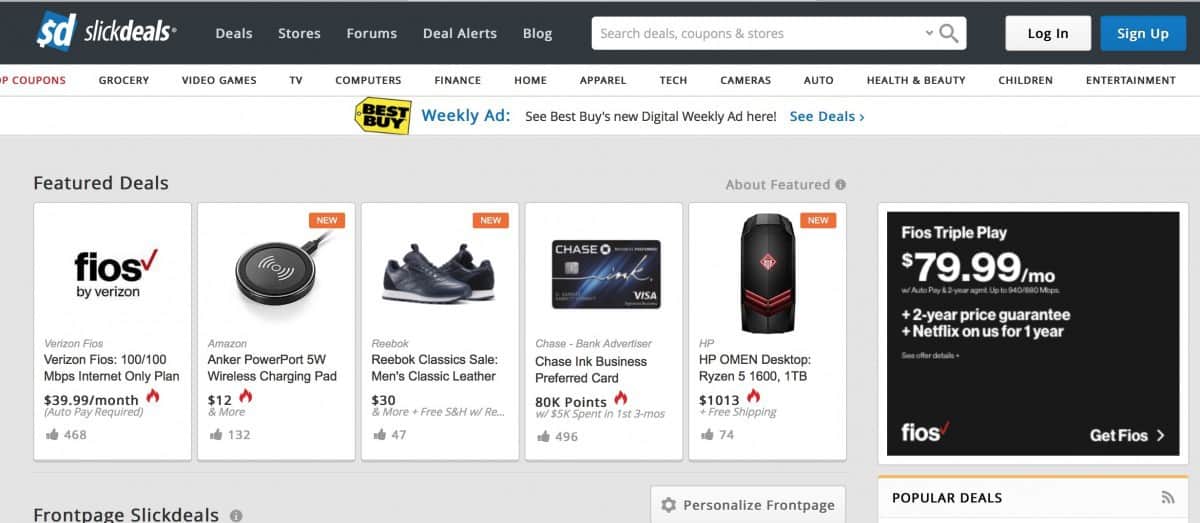 6. Try product deal-focused platforms like Offers.com
You can also try the Offers.com website to find a promo code. Like Dealspotr, they have some exclusives and the visitor can do a quick search by brand, date, or by keyword to find what they're looking for.
7. Try checking browsable sites like Coupon Cabin
Coupon Cabin is another free and easy way to snag a working promo code in under a minute. The site design is a little differently, with the most popular stores at the top of the homepage. The bad news is these aren't alphabetised, so the user wastes valuable time scanning the logos of these brands before clicking through to the promo section. A simple search tool at the top alleviates the problem.
8. Last but not least, try your luck at Goodshop
Like the other sites we listed, Goodshop, by Goodsearch, yields a fast search process. On the flip side, it's not our top pick for user validation of their promo codes — many are expired. It does, however, offer travel discounts that work well.
Finding Promo Codes in a Flash
There are all kinds of ways to shop for promo codes now. The Internet has been the great equalizer so that anyone can become their own version of an extreme shopper. While it can take time to find the right promo code, we hope this article proved that if there's only a minute to spare, it's enough to find a good deal.