As time goes on LP's personality is developing and her preference for different toys, clothes and TV shows is developing too. LP has, and will always have, a love for Curious George. She adores that cheeky little monkey! But slowly and surely a new love is creeping into her life, a love that I can relate to and that I'm secretly pleased about.
LP has discovered Wallace and Gromit.
Growing up I remember watching the Wallace and Gromit movies as they were released – A Grand Day Out, The Wrong Trousers, A Close Shave followed more recently by The Curse of the Were-Rabbit and A Matter of Loaf and Death. I was a huge Aardman Animations/Nick Park fan and grew up in awe of the things they could do with plasticine! I always thought this kind of animation/film was amazing!
We have all the Wallace and Gromit movies on DVD and have introduced them to LP who now loves them. She has inherited my Gromit soft toy and insists he sleeps when she sleeps, he sits at the dinner table when she eats and keeps her company at various times around the house. Gromit is now one of LP's most treasured companions – Aside from Curious George!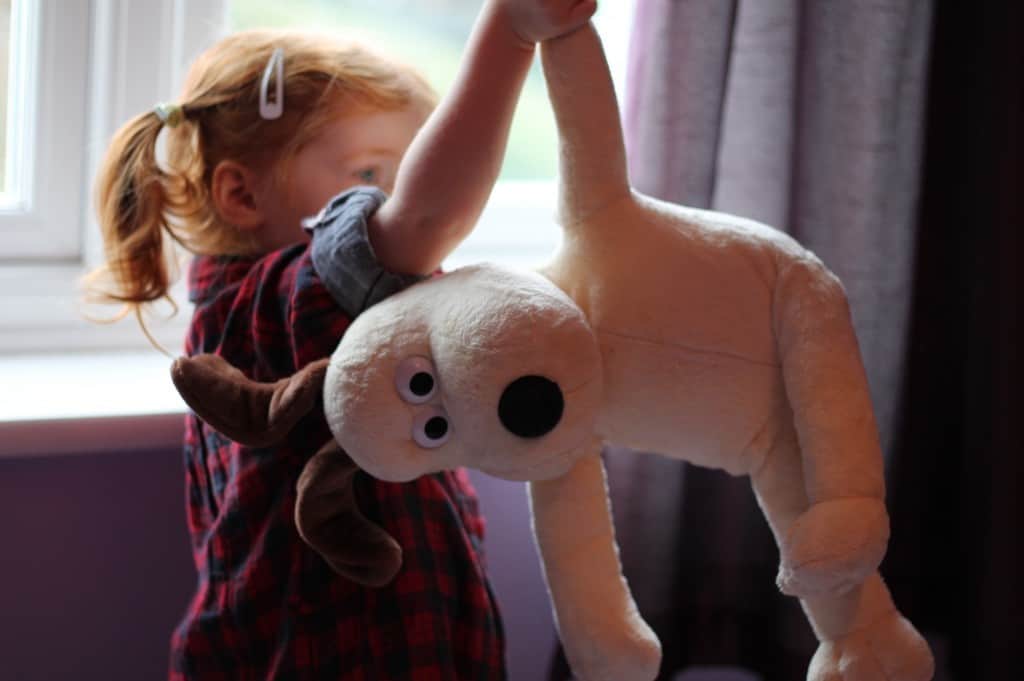 I hope that LP carries on loving Wallace and Gromit. Movies and TV generally has come a long way since A Grand Day Out was released in 1989. The world of cinema is now full of CGI and special effects – not loveable plasticine figures and films that take years and years to painstakingly make. I hope that LP continues to appreciate the labour of love that those movies must have been.
I also hope that LP continues to show such amazing imagination, making her cuddly toys have breakfast, lunch and dinner with us. Putting them to bed and waking them up in the morning. LP insisted on putting Gromit to bed in her bed the other day, tucking him in and reading him a bedtime story. She even told him that he was going to nap for two hours – just like we tell her and that he could wake up when 'the sun's back' – a reference to her beloved Gro Clock!
LP has another new love, this is ordinary for us now. I'm sure there will be many more ordinary moments involving LP's latest loves in the weeks, months and years to come.