Carrying on our Baby Led Weaning guest post theme, Sarah from Toby Goes Bananas talks about her thoughts on Baby Led Weaning and how they are finding it so far.
Firstly, I just want to say a big thank you to Donna for giving me the chance to write this guest post. I'm hoping some of her lovely readers can help me out with some advice.
Ever since we started trying to conceive I have always read all the books, Googled things, read reviews and blogs; basically I have done my research about pretty much everything so that I can try and do my best for Toby. So as we headed towards six months and I knew we would soon be starting weaning I got myself a few books to read. I had heard of baby led weaning and I already thought it sounded like a good idea but I wanted to at least find out a bit about 'traditional' weaning with purées so I could decide what was the best way forward for us.
So having done my research I decided (I do discuss these sort of things with the husband but it tends to be that I find out the information, tell him what I think, and then he agrees with me!) that we would wait until Toby was six months and then go down the baby led route. It just makes sense to me for Toby to eat the same things we do and by waiting until he was six months I could avoid lots of time-consuming purée-making and also avoid having to sterilise everything as well.
And so, on Christmas Day, even though Toby was only about five and a half months, we gave him a couple of steamed carrot sticks and some roasted parsnip fingers to see what would happen. Toby seemed to enjoy playing with them and dropping on the floor but nothing went anywhere near his mouth. Since then we have carried on giving him things off our plates; green beans, stir-fried red pepper, baby corn, banana, cucumber, cheese, toast, pasta, noodles and even a chip! He's also had breadsticks and rice cakes. I try to give him a chance to eat solids at least once a day.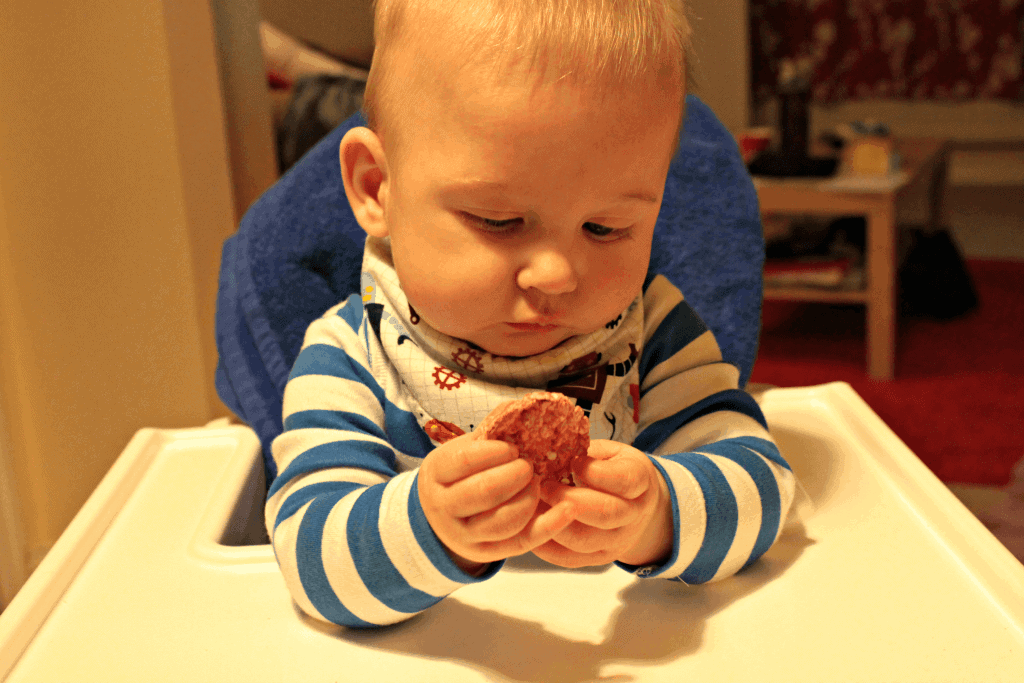 However, I am having a bit of a dilemma. Toby is now nearly six and a half months old and of all the different foods we have given him his hasn't yet put anything in his mouth himself. It isn't a question of dexterity or co-ordination. He manages to pick everything up that we give him, he's developing his pincer grip, he passes things from one hand to the other, but he just has no interest in putting any of it in his mouth. He has tried some of these things though. If I hold things for him he'll suck or chew them and judging by his nappies he's definitely eaten some of it! Sometimes he will even hold something in his mouth himself if I put it there first (which is what you can see in the picture of Toby eating toast). I have also tried spoon feeding him a couple of things (porridge and some Ella's Kitchen pouch things) but he wasn't really into that either.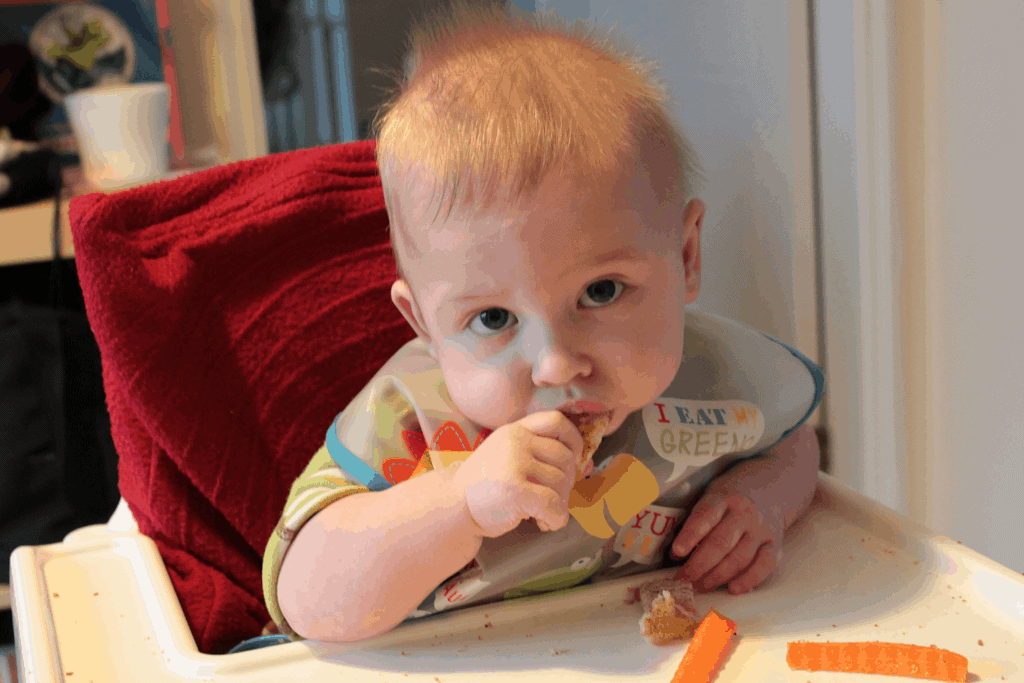 The thing is that Toby just isn't really interested in putting anything in his mouth, which seems a bit strange for a baby. He doesn't chew his toys; after a brief interest when he first got it even Sophie La Girafe doesn't go in his mouth any more. The only thing he will put in his mouth is fabric; he's always chewing his bib or a muslin.
And so my question is this: Is Toby just not ready for weaning yet? He seems perfectly happy just with his milk at the moment and, fingers crossed, has been sleeping through the night (a full 14 hours without waking up) again recently so he can't be hungry. I know, from reading the Baby Led Weaning book that some babies take longer than others to get the hang of weaning, and some babies aren't ready until seven or eight months.
Should we just leave it a few weeks and then try again? Or should we persevere? Do we just keep offering him food and hope that one day he decides to eat it? I know I am kind of going against the point of baby led weaning by holding food for Toby but I feel like I at least want him to get a taste of things – maybe if he gets a taste he'll work out what he needs to do to get it in his mouth himself.
I know I shouldn't compare Toby to other babies but there are so many other people on Twitter with six month old babies who seem to be eating three meals a day. When I read other baby led weaning stories they always seem to be much further down the line and just start with "we gave him some fruit/veg sticks and he loved it from the word go". So, I would love to hear from anyone who has gone through baby led weaning and had a similar experience to us. What did you do if your baby just wasn't interested in eating?
Any advice will be very gratefully received!
Thanks so much Sarah for this lovely post. If anyone has any advice then send it her way @tobygoesbananas or comment on this post.