*This is a paid post
I have worn glasses for pretty much my whole life, getting my first pair when I was just at nursery school. Since then regular eye tests have become the norm for me and getting new glasses is always such a treat, no matter how old you are.
It now feels like such a long time ago that I went into Specsavers, before lockdown, to have my eyes tested. I visit my local Specsavers every couple of years for my routine eye test and it's always such a positive experience.
Back in March I had my eyes tested and, like always, was impressed by how far eye tests have come from my childhood experiences! There are so many machines and gadgets that test every aspect of your eyes – not just your eyesight but your full eye health. Going to Specsavers for an eye test is like a full eye MOT and it always leaves me feeling reassured afterwards.
At this eye test I found out that my eyesight hasn't really changed and so my prescription remains the same. Even so, I'd had my glasses a couple of years and, after everyday wear, they had seen better days. It was time for new glasses!
I spent some time choosing the perfect glasses for me from the Specsavers range. I always love the variety on offer – with price points to suit every budget (with full glasses from just £19), so many different frame styles and frames from so many different designers too.
For me, glasses have never been a statement. I have never wanted ones that stand out or draw attention to the fact I'm wearing glasses. I've always wanted them to be functional and to suit my face but also to have full frames and be hard wearing. Specsavers always have great glasses for me – and so many choices if you anything from more discreet frames to bold designs.
A lovely member of staff helped me decide on the glasses I wanted and I choose upgraded lenses. One of my eyes is short sighted and one is long sighted and I really notice the different in lens thicknesses in standard lenses so always choose an upgrade.
The whole process was seamless and I had an appointment made to collect the glasses in ten days time. But then lockdown happened. I contacted the store and they said they'd be happy to send my glasses out to me or I could still collect, with us all following strict safety measures but instead I chose to wait until lockdown had eased and so my glasses sat happily waiting for me in the store.
Over the last few months I've actually become aware that Specsavers offer a fantastic range of glasses online. You just need a current prescription from within the last two years and then you're able to buy glasses from the comfort of your own home.
I am quite traditional and have always gone to an optician to purchase glasses but knowing that Specsavers have such a great range online I'll be inclined to get new glasses more often in the future. They also have free delivery on glasses over £69 too and 90 day returns.
Specsavers also have fantastic special offers like 2 for 1 on many £69+ frames, something I often take advantage of. I know as a busy parent how easy it is to lose, misplace or even break glasses so it's always reassuring to have a second pair.
I finally got around to going back to pick up my glasses last weekend. I made an appointment easily by phoning the store but you can also book online and Specsavers are working by appointment only.
When I arrived for my appointment I took I seat in the waiting area – where seats had been put 2m apart with barriers in between. All the staff in store are wearing PPE and there are screens between staff and customers too.
I don't think I have ever been in and out of an opticians so swiftly. The staff were expecting me, they had my glasses ready, they made sure they fit correctly and I then left happily with my beautiful new glasses.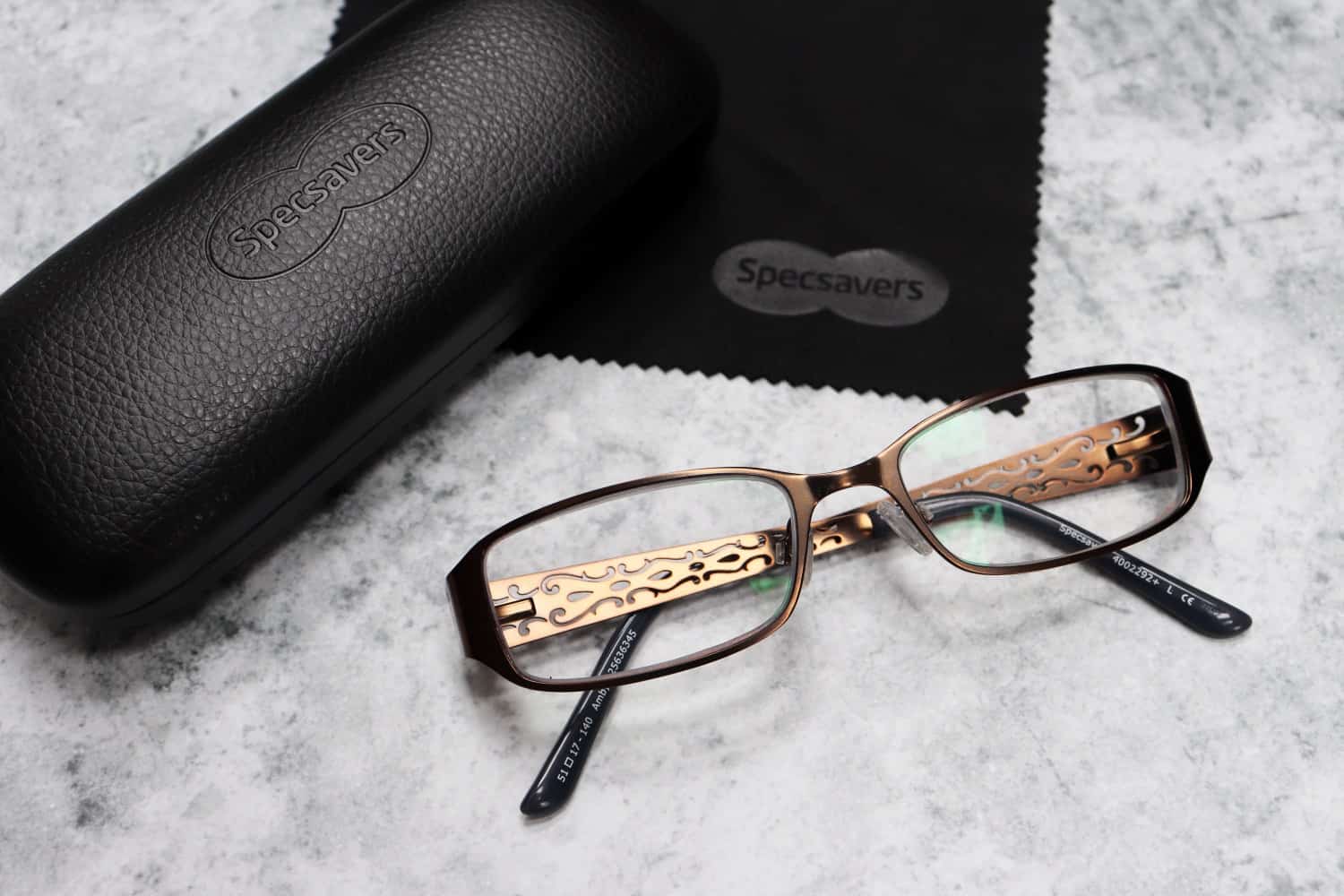 The service at Specsavers, both before and after lockdown, has been faultless and now they are doing all they can to make visiting them as safe and stress free as possible. I felt safe throughout my time in store, staff were cleaning regularly and I noticed someone trying on glasses to decide on a style passing each pair she touched back to a member of staff to be cleaned before being put back on display. It's a system that works well.
I'm so happy with my new glasses. They fit perfectly and are so comfortable too. If you need new glasses you can check out the Specsavers range online here and book an eye test in a store near you.