Disclosure: We were sent the featured products for the purpose of this post however all opinions are my own.
This post contains affiliate links and I may receive commission if you visit a link and buy something. Purchasing via an affiliate link doesn't cost you any extra, and I only recommend products and services I trust.
We are now in the run up to Christmas and everywhere is showcasing their Christmas must have toys and the things they feel your child will want waiting for them under the Christmas Tree this year.
I have fond memories as a child of looking through the Argos catalogue as soon as we picked it up and circling the things I'd like on my Christmas list that year. This was an annual ritual that my brothers and I loved. We had different colour pens to mark the catalogue with and my parents even appreciated it when they came to tell Santa what we'd like….
With these fond memories in mind I had a look at the Argos catalogue – although online, and their list of Dream Toys 2013 for Christmas this year. There is so much to choose from and so many great toys.
Is a Chad Valley Table Train Set a great gift for a preschooler?
There are a couple of things that I feel are 'Dream Toys' for toddlers like LP. If she didn't already have one then a solid wooden kitchen would be a must have this year. Also top of my toddler list is a wooden train set – which we have been lucky enough to review before Christmas! As you can tell, we love wooden toys!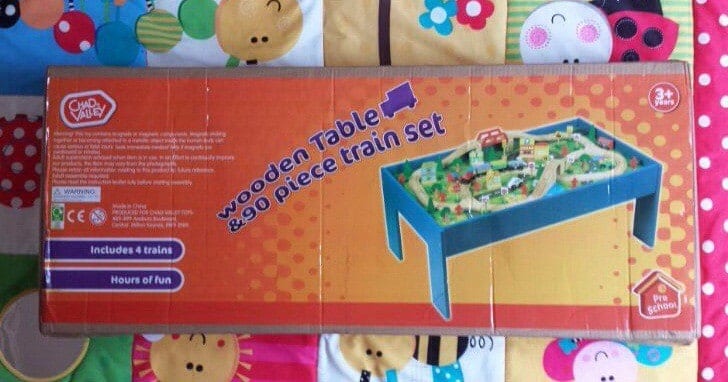 How easy is the Chad Valley Train Table set to assemble?
The Chad Valley Wooden Table Train Set comes complete with a perfectly sized table to play with it on and the train set itself has 90 pieces. The whole thing comes flat packed but took literally a few minutes to put the table together – the hardest part was putting the Chad Valley wooden train set with table together!
Once set up the train set and wooden table look great! The wooden train set table is really sturdy, a great height and has a really nice road design on the base. The Chad Valley train set is made of good quality wood with two different track 'loops' that run across each other including two different bridges and a tunnel!
Is the Chad Valley Train Table good value for money?
This Chad Valley Argos Train Set has an RRP of £49.99 and I think that is an amazingly good price – having looked at similar train sets that don't even include the table! This train set really does have everything you could need – 4 wooden trains, 3 vehicles and 1 cover, 10 road signs, 2 wooden stand block and 2 bridge handrails, 14 trees and bushes, 10 building pieces, 9 figures and 35 wooden track pieces.
LP has been playing with this Chad Valley train set constantly. The toy trains move around the track easily and the little car, bus and police car also fit on the tracks! I'm really impressed with the quality of this train set and the amount that is included for the price. The set is also made of chunky pieces children can hold easily. It's perfect for working on gross motor skills and is something any child from a few year old onwards would really enjoy.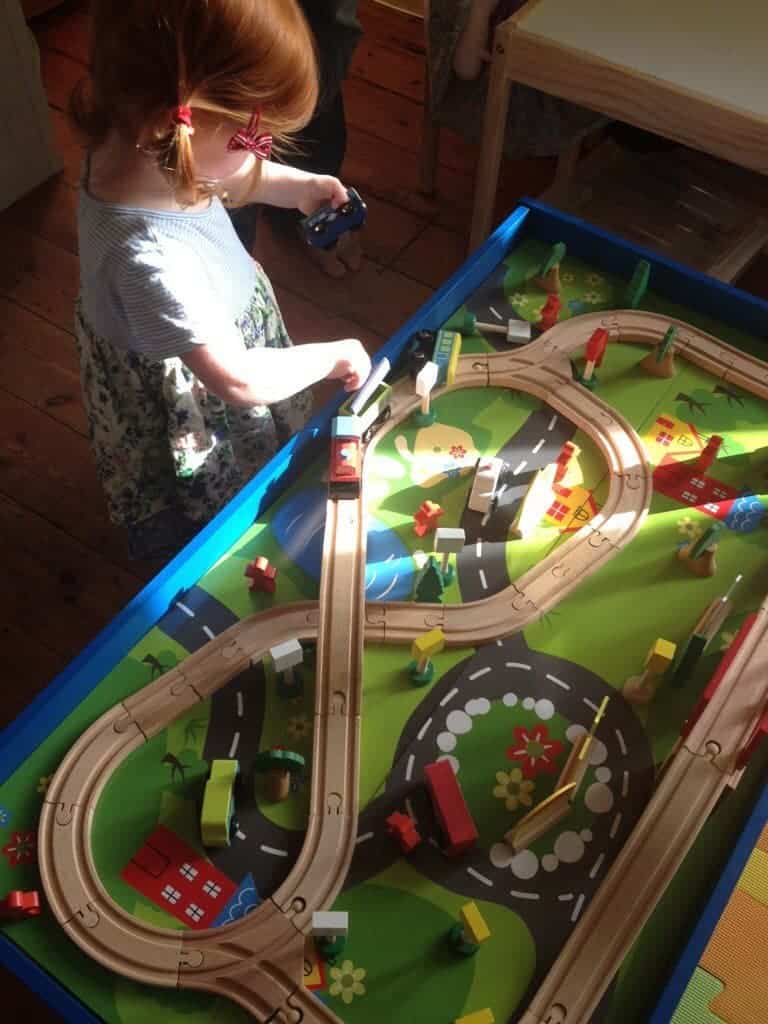 LP has had so much fun playing with the whole set, making three piece trains to move around on the wooden Chad Valley table and I know she will carry on playing with it for years to come – along with her little Brother. It's a great investment for any home with children – the kids will always love it!
Does the Chad Valley Train Table work with other wooden train brands?
The train track is interchangeable with other train brands so if you wanted to buy extra pieces, more trains or some buildings and extend the train set then you'd be able to – you could then have the train on the floor taking over your whole house!
There's also the option of a Chad Valley battery powered train which is sold separately that would work really well with the set and would make a great additional gift.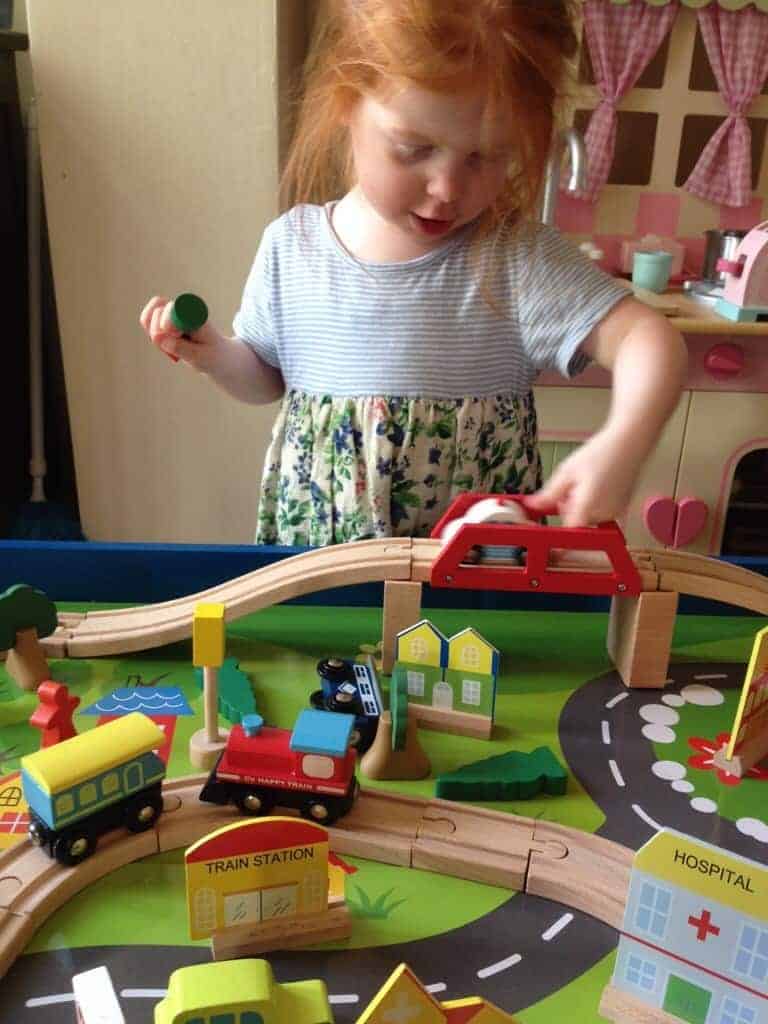 If you already have wooden train sets at home this would be a great way to expand your wooden railway collection. The kids wooden train table doesn't just need to be used with the set that comes with it but can be used with any wooden train track and accessories.
For us, the train fits perfectly on the wooden train table and LP can walk around it to play. Having the train on the table also keeps all the bits and pieces contained with less chance of losing or damaging them. We won't be extending it any time soon!
A good quality wooden train set is definitely on my dream toy list for toddlers, preschoolers and onwards. It would be a great purchase for any little train fans.
Although Argos no longer sell this train table, they do sell a very similar one – the Chad Valley Battery Powered Train and Table. This looks exactly the same to me, except it's red and has a battery powered train with it – which is a pretty cool addition!