Welcome back to another week of the Ordinary Moments. If you haven't joined in before this is a weekly linky that launches every Sunday morning and is open until midnight on the following Saturday. It's a linky that celebrates any ordinary moments in your life – or the not so ordinary some weeks too. Basically – anything goes. I'll be sharing and commenting on the posts that are linked up during the week and there's a badge at the bottom of the post if you'd like to add it to yours too.
Little Man started learning to read when he was in reception at school. I'm not really sure you can call it learning to read – it was more learning the sounds of letters and starting to put them together. But he loved it, putting the letters together easily and spotting occasional words on road signs and on billboards.
A couple of weeks ago Little Man started year one at school and his learning ramped up a notch – and he was so ready for it. I don't know what or how but something has clicked for him and he now absolutely loves to read – and will read anything his eyes fall upon.
We now live life with Little Man reading road signs, reading words on the backs of cars and reading every box and packet he can get his hands on. He knows so many words just by looking at them now and others he puts together happily, one sound after another before giving the whole word a try. Often, he gets the word right first time and sometimes he just needs a little help with the pronunciation but, somehow, Little Man has suddenly learnt to read.
Before LP learnt to read I had no idea that reading happened so soon. I really didn't realise that by 6 so many children can read by themselves. I couldn't remember when I learnt to read but seeing both LP and Little Man learn just made me feel like we'd come to the end of an era – and how I wish time could slow down.
But reading has opened a whole new world for Little Man and it's so nice listening to him read his school books and hearing him giggle as he understands a joke amongst the pages. The days before reading are over for both LP and Little Man but the whole world of books is right there in front of them – and what an exciting prospect that is.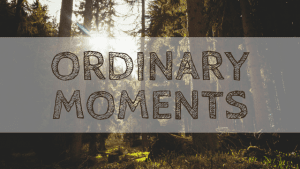 If you have an ordinary moment this week, come and link up – I'm looking forward to reading the moments that you share and will comment and share them on Twitter through the course of the week. Thanks so much for taking part.
[inlinkz_linkup id=798898 mode=1]