During our stay at Bluestone in Wales we wanted to take the children on a day out and loved the look of Folly Farm as it has grown to be so much more than just a farm. Unfortunately the day we chose wasn't the best for weather but we decided to put the children's wellies on and go to Folly Farm anyway.
What were our first impressions of Folly Farm?
When we arrived at Folly Farm it was quite a quiet day being term time and pretty awful weather. There seemed to be a huge amount of parking and when we bought our tickets we found it to be quite good value compared to other tourist attractions – Under 3's are free and for LP, Dave and I it cost just over £30.
The first part of Folly Farm we explored was the indoor farm barn which was full of pens of farm animals – pigs, goats, chickens, guinea pigs, rabbits. It also had a play area in the middle and this would have kept the children entertained all day – a farm completely under cover with a play area too! Heaven! Folly Farm definitely had visitors in mind when this was planned.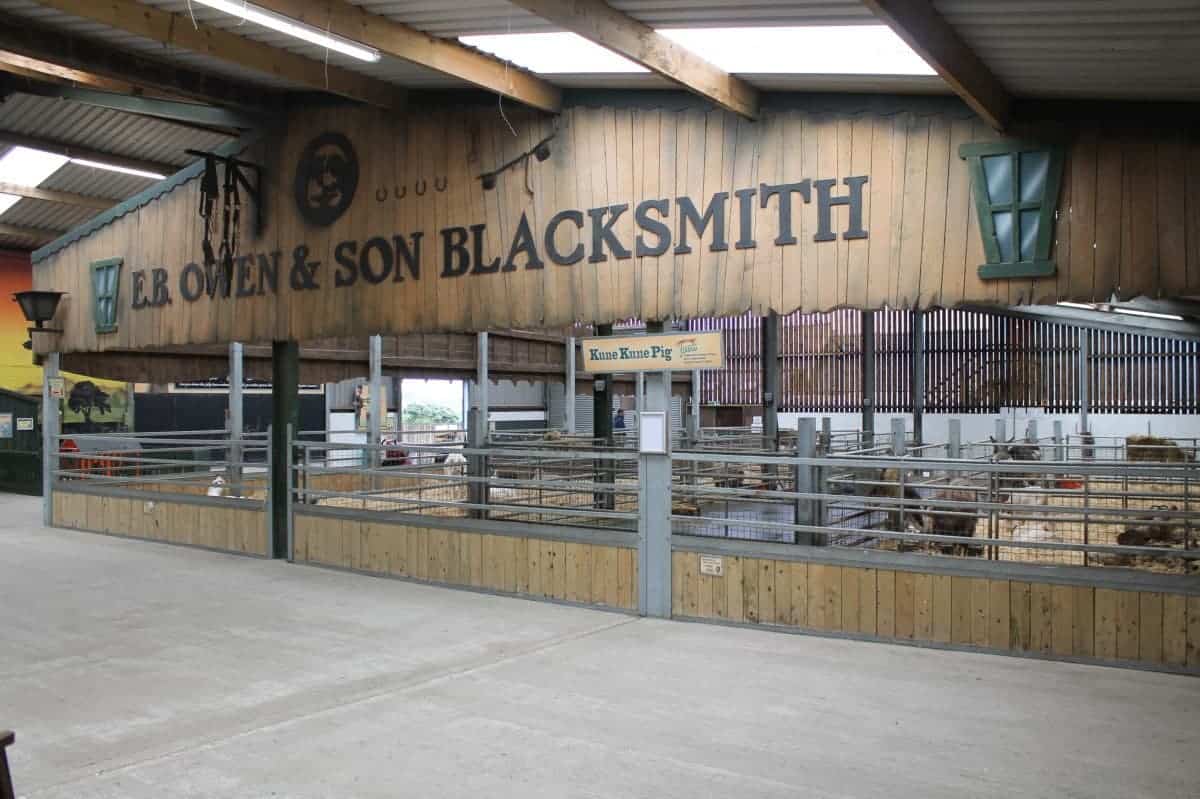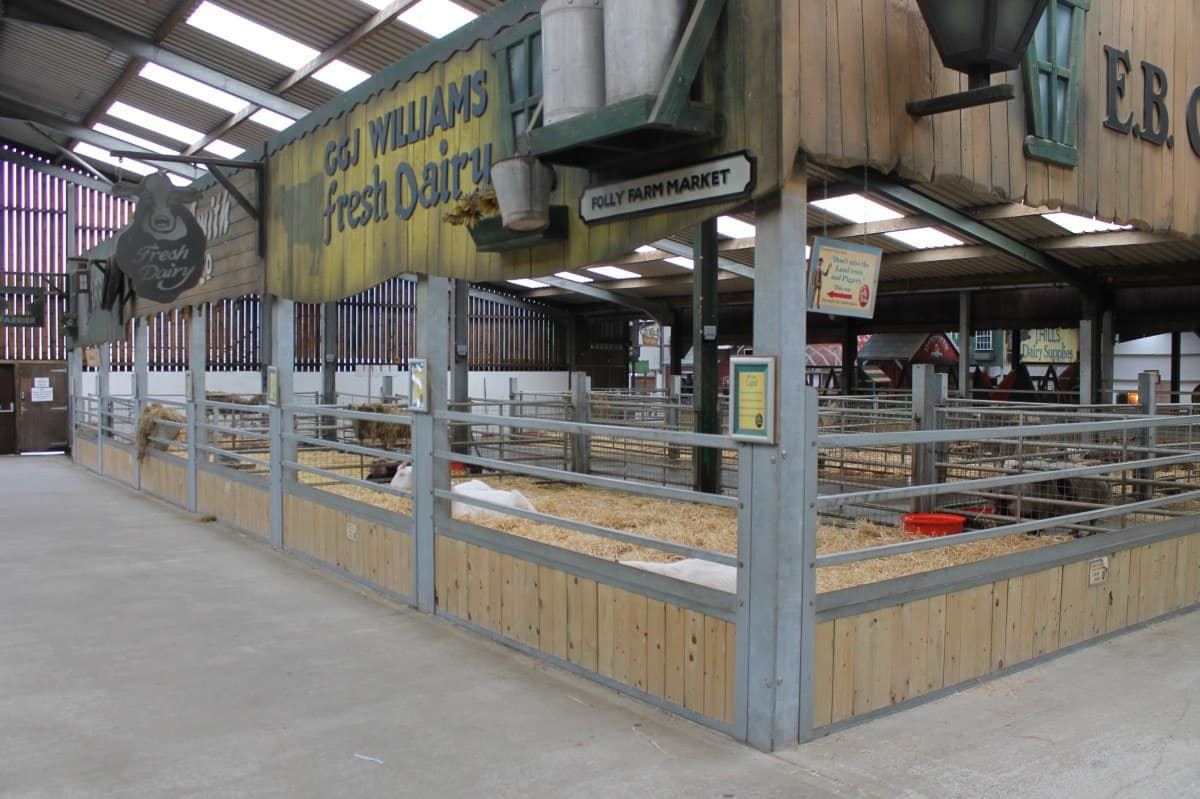 LP and Little Man were able to learn how to milk a cow, get up close to a baby goat and learn about eggs hatching amongst other things. The farm part of Folly Farm was fantastic.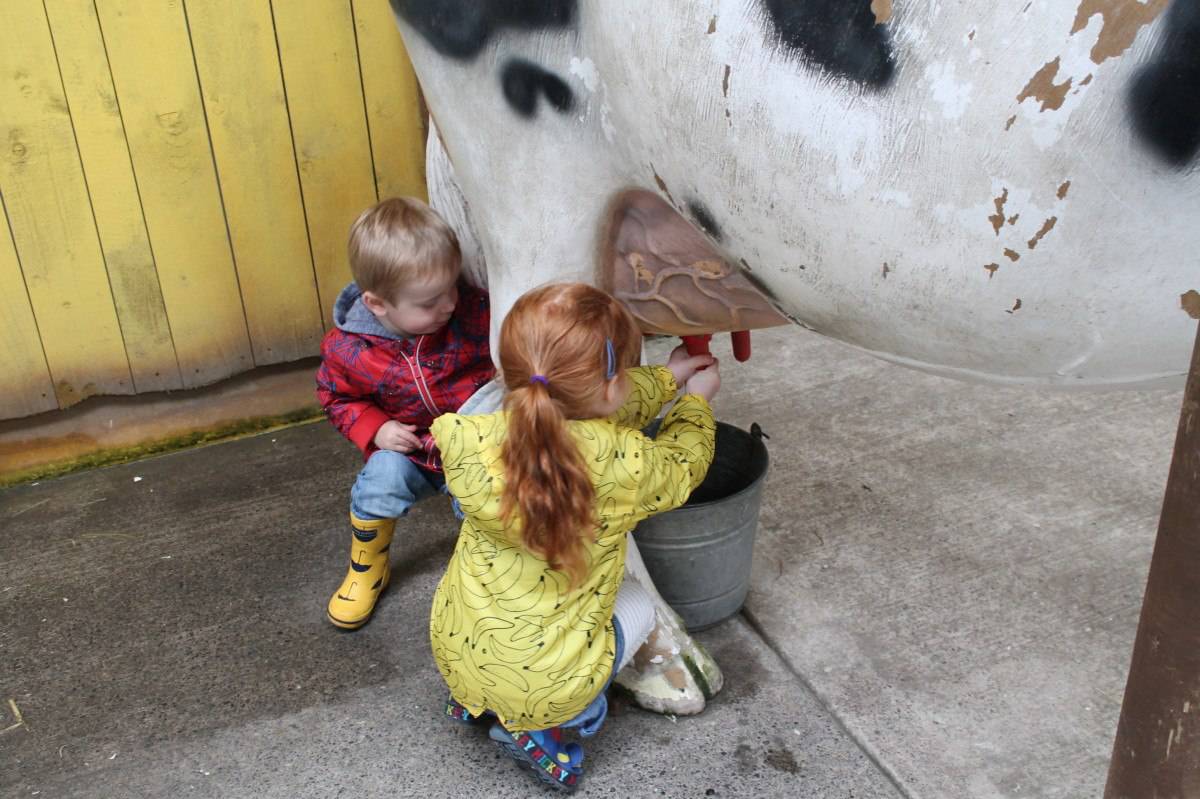 After the farm we went to explore the vintage fun fair and indoor play areas. The fun fair was really old and we read about the history of the carousel although the children didn't go on any rides. Most rides were 50p or £1 per go but there's plenty to do at Folly Farm without paying for anything more than your entrance fee.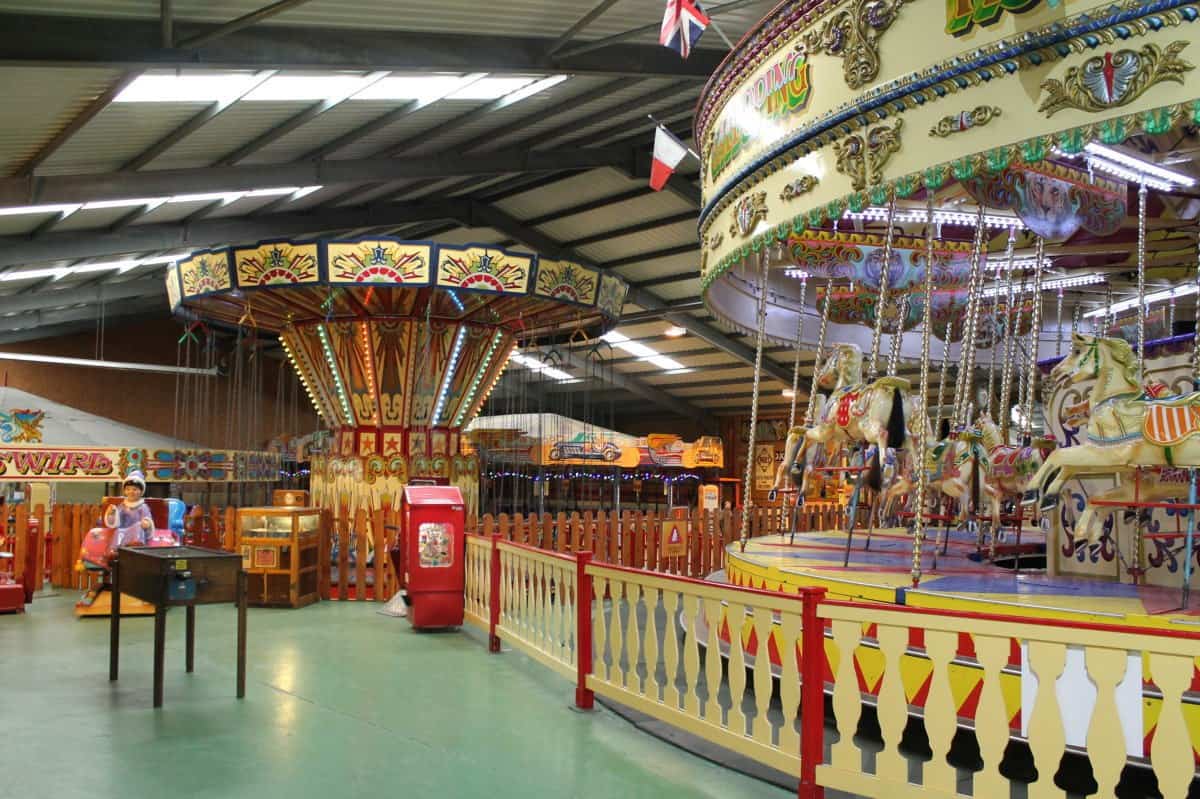 In the same building as the fun fair there was a huge adventure playground that the children would love when they're a little older and two soft play areas split into different ages – one for under twos and one for age 2-6. As Little Man had just turned two he tried out both play areas and could move around the 'baby' one with ease, climbing, sliding and playing. The larger soft play area kept both Little Man and LP amuse for quite a while, with different levels to explore and different activities to do. All in all I was impressed with the indoor play areas.
I used the arcade machines in with the vintage fun fair and was pleased to see 2p machines available – my arcade favourite! I spent a couple of pounds using the machines whilst the children played but was disappointed that some of the coin chutes were broken so the 2ps didn't go anywhere after you put them in and in others I was happily playing, seeing coins fall down where the winnings tray is and yet when I went to get them out they weren't there – obviously filtered back into the machine somewhere. This for me was the only disappointment of the day, I wouldn't use the machines again and will stick to the ones at the seaside!
We then went on the land train which took us around fields of deer, alpacas and donkeys. The children loved the train and the journey took about 15 minutes. We could then explore the pigsty that was next to the train or go back to the rest of Folly Farm.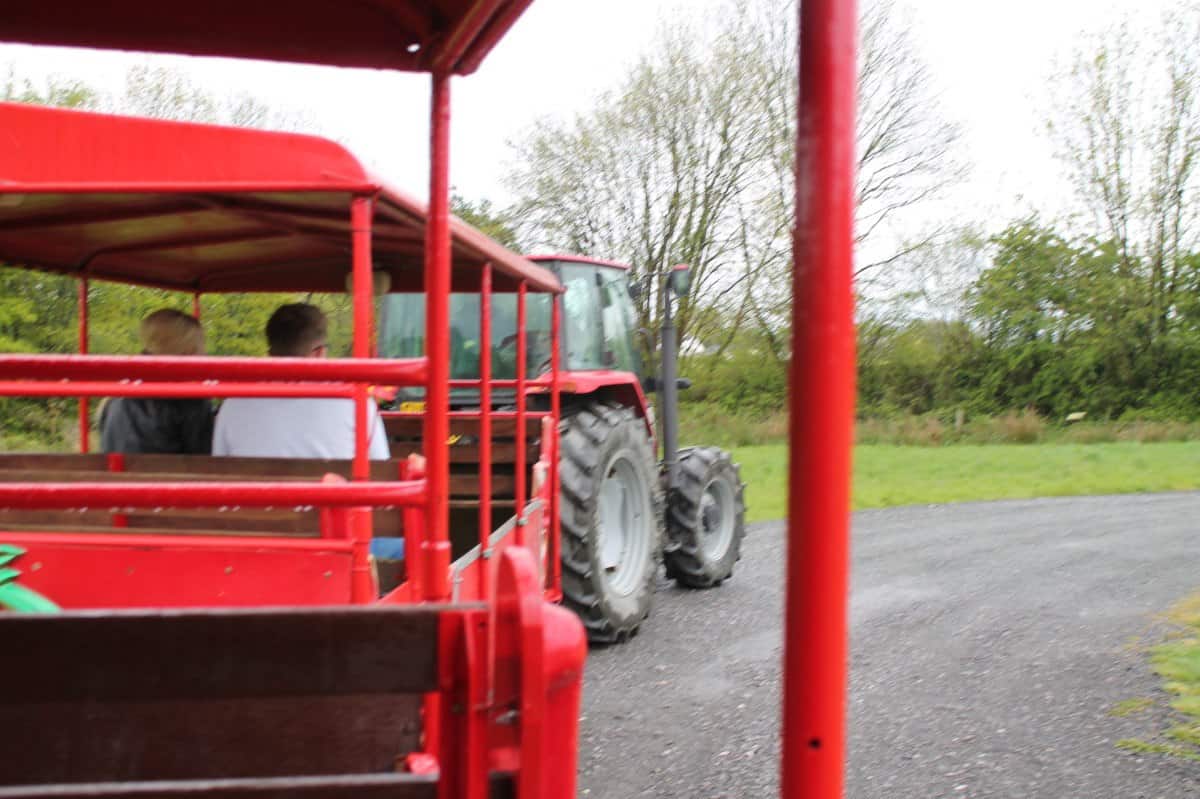 LP wanted to see giraffes so we went for a wet walk around the zoo part of Folly Farm and saw lions, zebras and giraffes. We were able to get touching distance from the giraffes and it may well be the best giraffe enclosure I have ever seen – and we've been to a few. There were a pair of soggy looking zebras in with the giraffes too but I think the giraffes stole the show.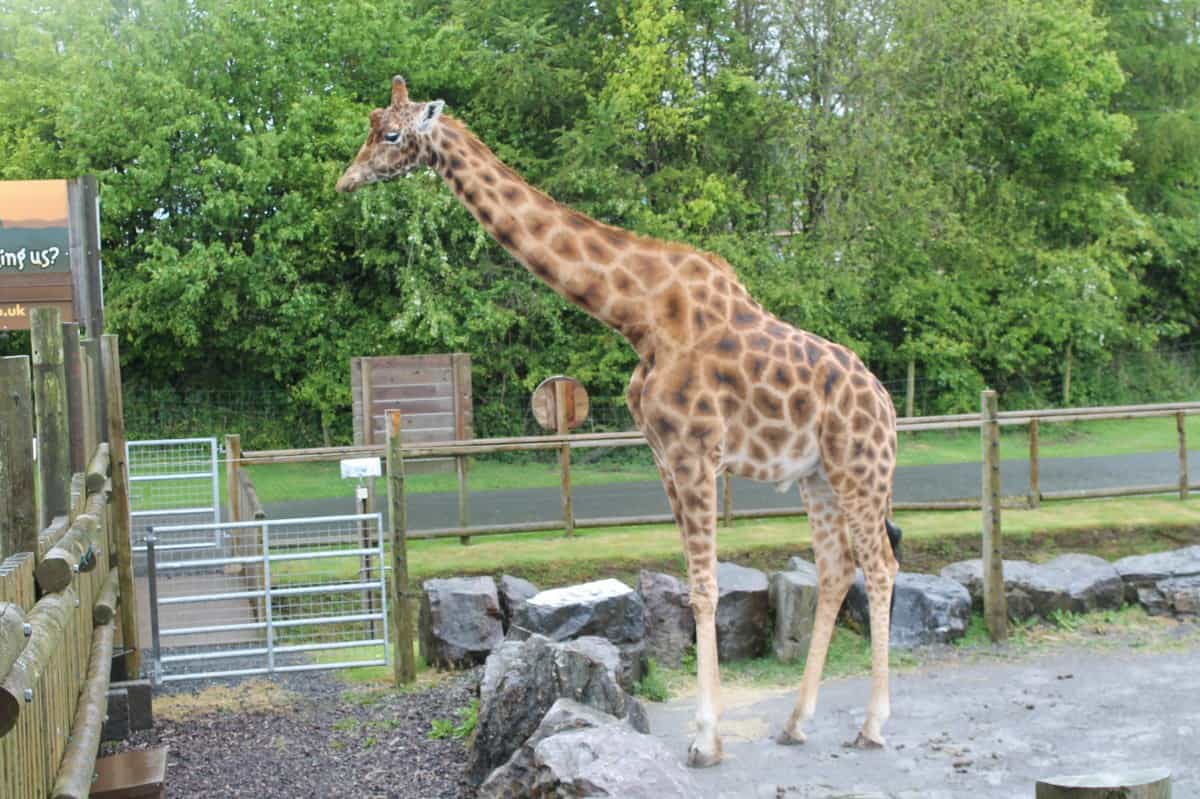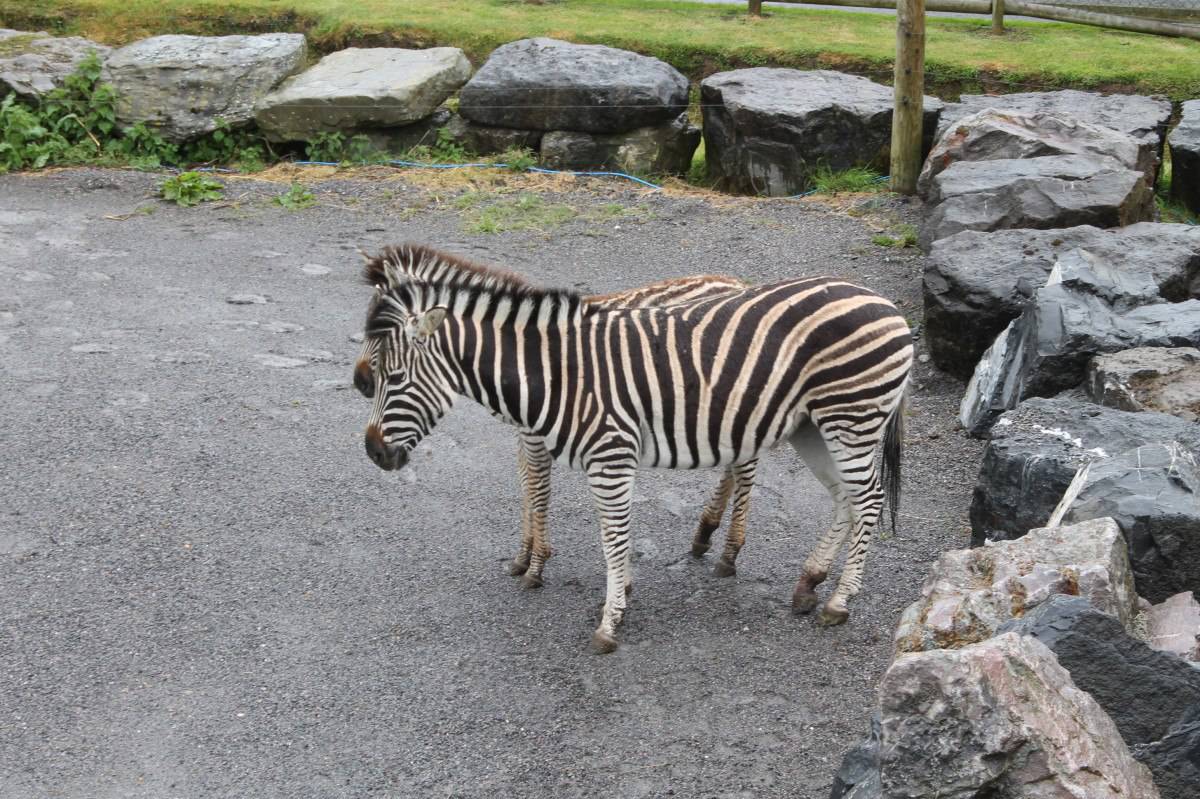 The penguins were a great exhibit and they seemed to like performing for the visitors. There's a well planned undercover walkway with viewing windows where the penguins spent time entertaining the children and LP and Little Man loved watching them swim and dive.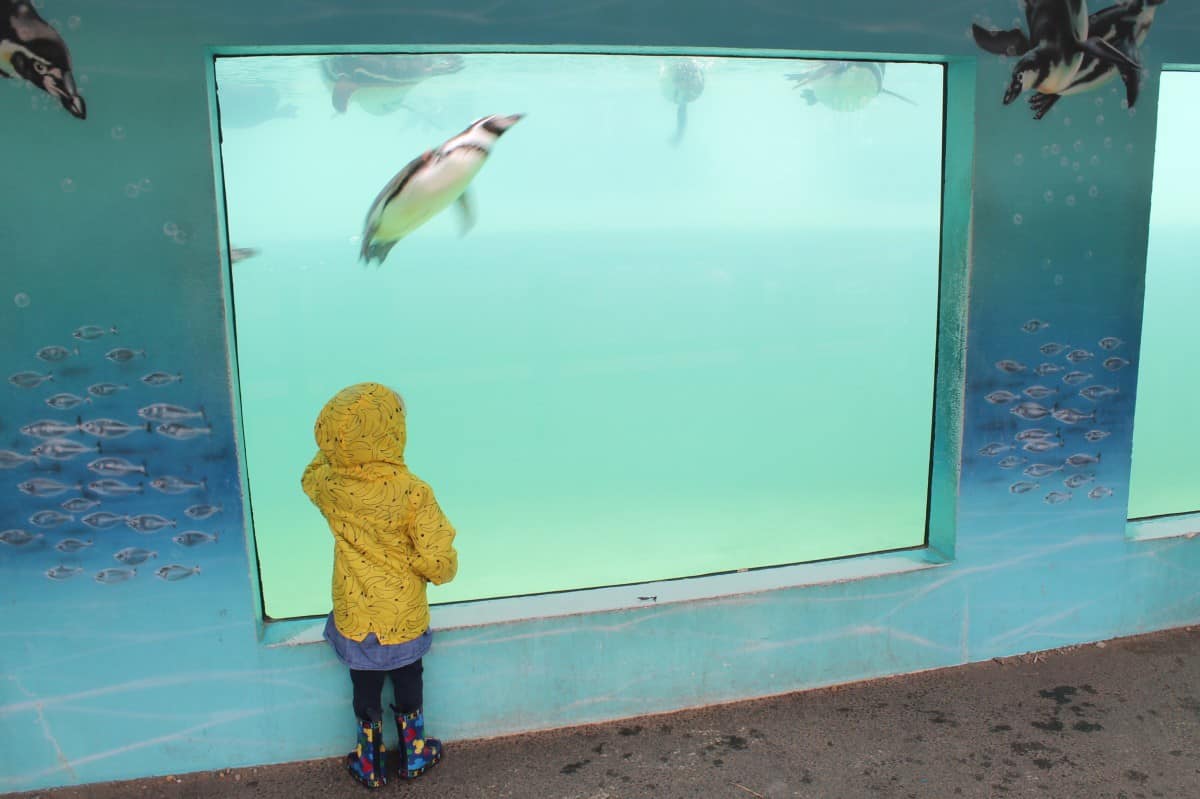 There were so many more animals that we didn't get a chance to see and hope to go back one day – when the weather's nicer. There's also extensive outdoor play areas that would make this a great day out in the summer but we had a really great day out even in the rain.
If you're looking for somewhere to visit in Wales, whatever the weather, take a trip to Folly Farm.