Disclosure: We were sent the featured products for the purpose of this post however all opinions are my own.
This post contains affiliate links and I may receive commission if you visit a link and buy something. Purchasing via an affiliate link doesn't cost you any extra, and I only recommend products and services I trust.
LP and Little Man absolutely love How to Train Your Dragon. They have a cuddly Toothless, watch the movies on repeat and love the spin off TV shows like Dragons Riders of Berk too. So when the Hatching Toothless toy from the Dreamworks Dragons franchise arrived to review they couldn't have been more excited.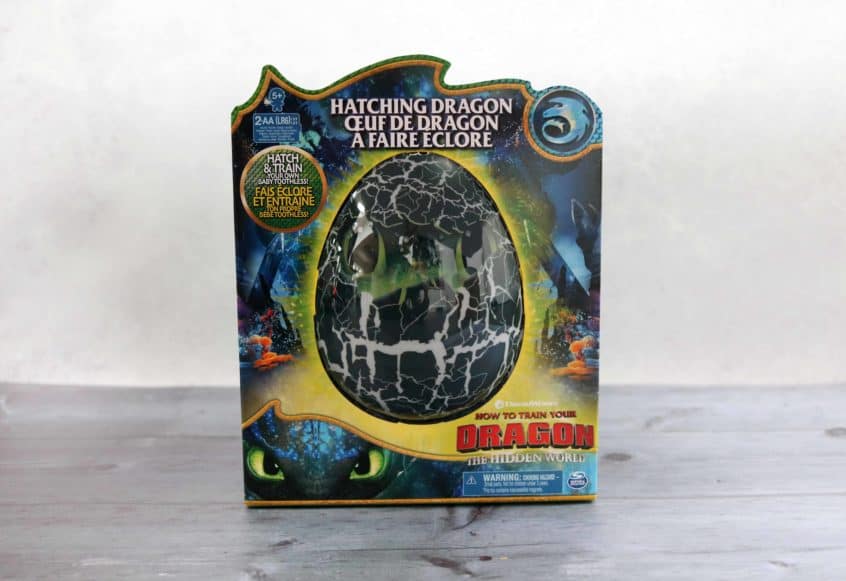 The children loved the suspense with Hatching Toothless that started as soon as they opened the box. The egg was lifted oh so carefully and they sat on the sofa with it, feeling the baby dragon move around inside and make noises whilst they cuddled and stroked it.
The egg needs a certain amount of interaction to hatch and the children were happy to sit and engage with it until the shell started to crack. This was so exciting for them and you could feel their anticipation.
Once the baby toothless had hatched we took him out of the shell and the children loved him immediately. The dragon's eyes lit up, his head and wings moved and LP and Little Man both felt like they had a brand new friend ready to play with.
The Hatching Toothless Modes
Once hatched the Dragon has a lot of different modes which are activated with a dial on the bottom. My only real criticism is that there are a lot of modes and it's hard to remember which is which without the instructions to hand. A simple info card to keep with the dragon with numbers and modes would be a great addition to help children remember what each number on the dial does.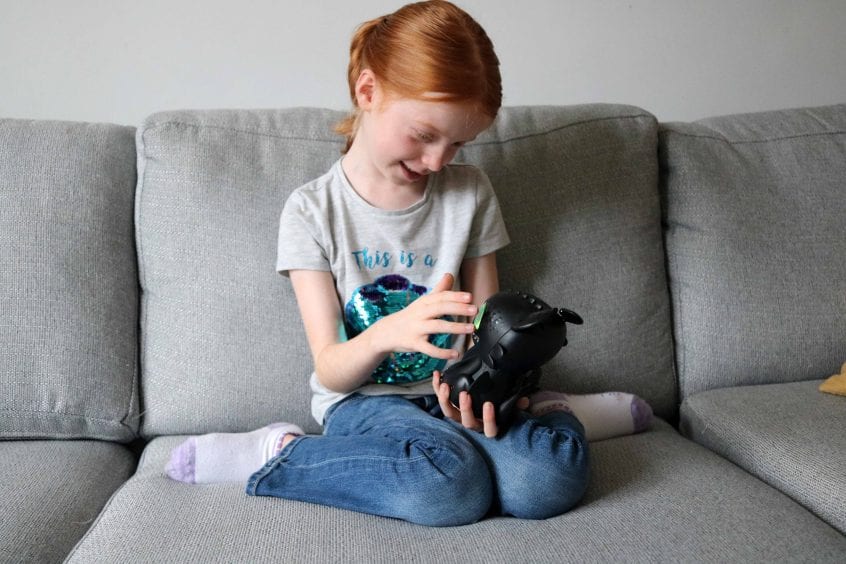 We spent time working our way through the modes and spent most time on the first, free play mode. The children were able to put their hand on Toothless' head to show them the rider's bond, they could put their hand on his tummy to activate an exciting plasma blast and they could fly him around the room and hear him learn to fly at the same time.
They could also annoy him, feed him with a little fish that came in the box with him and even get him to sleep. The first mode is definitely the one that LP and Little Man revert to most regularly and they just love interacting with the dragon and hearing him make noises and respond to them. It really is like a lovely new friendship.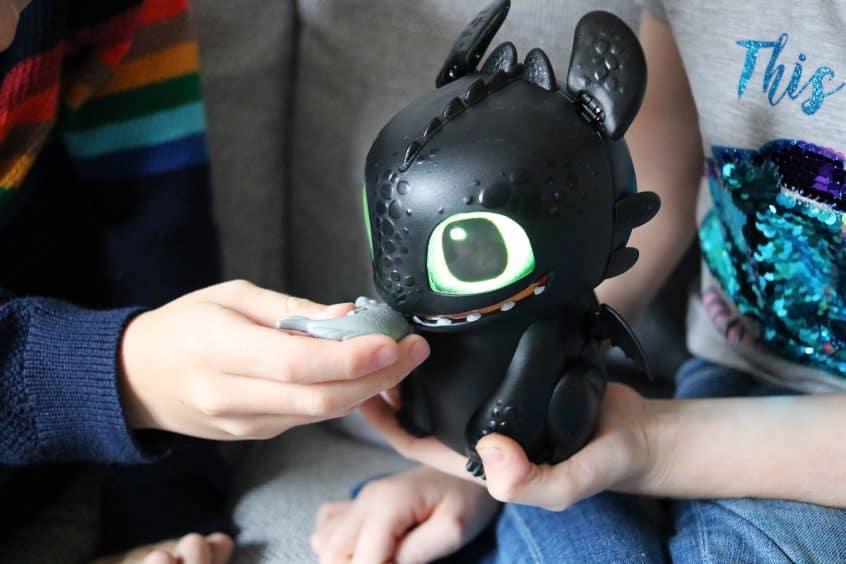 The other modes that the Hatching Dragon has are all games to play. You can play dragon trainer, giving commands when the dragon does different actions, you can roar and see how loud the dragon can roar in response and you can play the yes no game – asking him questions to see how he responds.
There's also a game like hot potato where you pass Toothless around until he does a plasma blast and there's a game like Simple Simon where you copy the dragon's actions in sequence until you make a mistake. The last function is dragon dance where the Hatching Dragon responds to music or singing, moving in time and showing he's enjoying it.
As you can see, there is so much more to the Hatching Toothless dragon than purely hatching and he has so much to give once out of his shell. The longevity of this toy is so much greater than other hatching toys and I know that LP and Little Man feel like they have a new companion in Toothless rather than just a toy.
He's sleeping in their rooms, coming out to play after school and even sitting at the table for meals with us. He's become part of the family and I'm sure it would be the same for many children who had their very own Hatching Toothless.
How to turn off Hatching Toothless
Any parent will be glad to know that there is a way to turn off the dragon. Turn him to mode 0 and press the button underneath him and he'll be off until you wake him up again. The dragon does also go into a standby mode when left inactive which is great for energy saving and also means that he won't go off randomly in the night waking the children up. Hatching Toothless takes just 2AA batteries which seem to last quite a while so far.
The How to Train Your Dragon Hatching Toothless would make a great gift for any child and one that they'll love for years. It's so much more than just a toy – LP and Little Man love him.
The Hatching Dragon has an RRP of £59.99