Disclosure: We were invited for this meal for the purpose of this post however all opinions are my own.
On Monday night Dave and I were invited to the 1907 restaurant, bar and grill at Brooklands Hotel. It was the first time we had been out for a meal, just the two of us, since the summer and we were really looking forward to it – even more so as I'd sampled the 1907 menu when I went for a spa day at the hotel a couple of weeks ago.
The 1907 restaurant is situated on the ground floor of Brooklands Hotel and is accessible from the main hotel and directly from outside. There's plenty of parking and it looks immediately welcoming from outside, with shrubs at the entrance and the black decor visible through the windows.
We were given a really friendly welcome and a choice of tables before our coats were taken and we took our time browsing the menu. The waiter was amazing throughout, giving us recommendations and explaining aspects of the menu to us.
We were given bread to enjoy whilst we waited for our starters to arrive and enjoyed a nice glass of wine too. The 1907 restaurant has an extensive wine list with a great choice for any palate as well as a good variety of soft drinks too.
For our starters I chose the Garganelli Pasta and Mushroom which can be enjoyed as both a starter or a main – served as a larger portion. It was beautifully presented and full of ricotta and topped with a perfectly cooked poached egg and parmesan powder. The flavours worked so well together and it was a good portion size.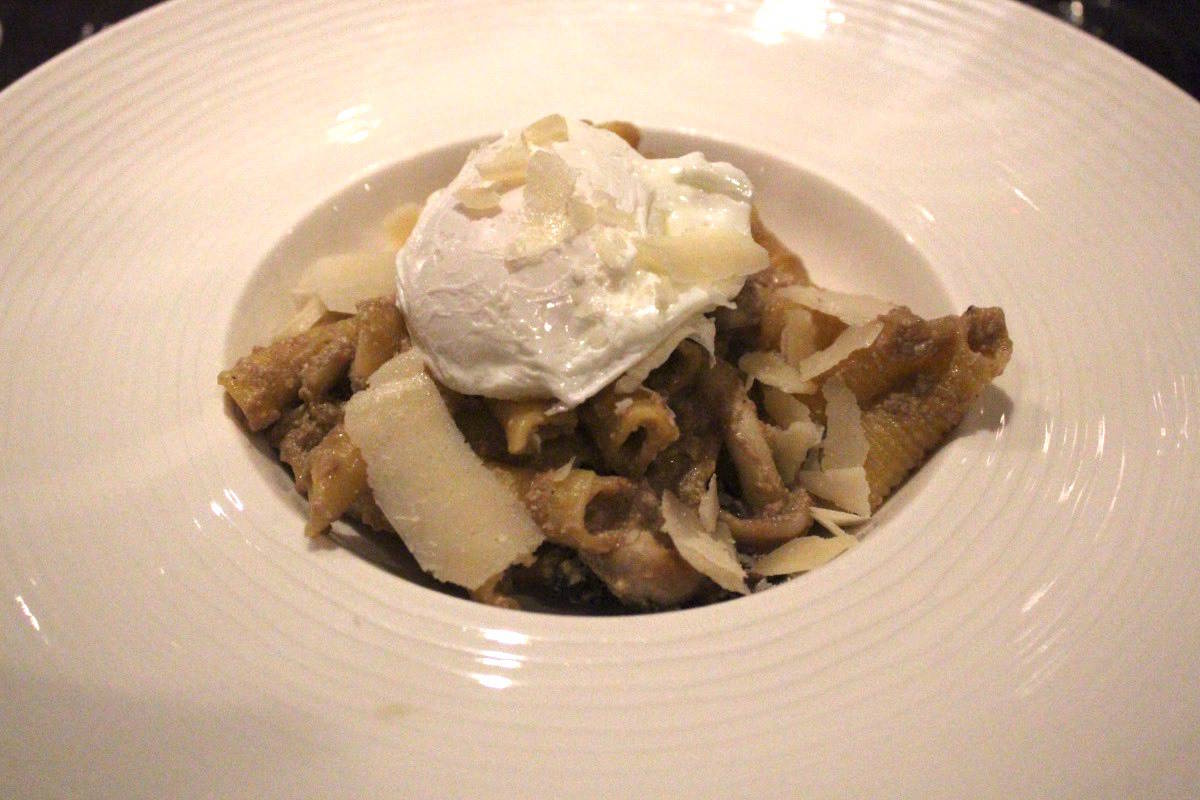 Dave went for the Scallops and Chocolate which had all of his favourite things in one dish – 88% Venezuelan chocolate and handmade peanut butter as well as lemon basil and a port reduction. It was a light starter but one Dave really enjoyed and just so full of flavour.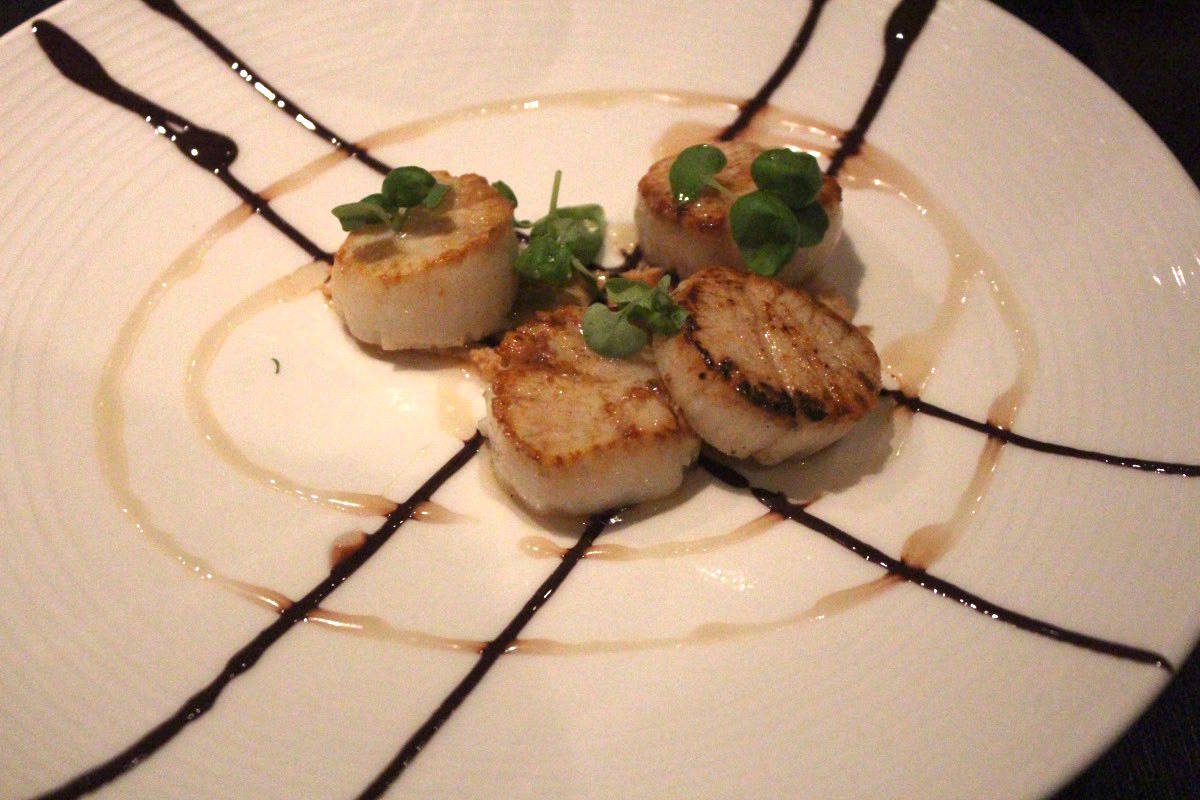 For our mains I chose the Sticky Glazed Brisket which was served with apple fondant, parsnip purée, leek étuvée and parmentiers. I also had a side dish of honey roasted roots which complemented the meal perfectly. The meat was beautifully cooked and literally fell apart. All of the flavours worked so well together and it was a great play on a traditional roast dinner. I couldn't have wished for a nicer main course.
Dave went for the fillet steak which was served with half a baby gem and aged balsamic, one side and a sauce of his choice. His chose the boulangère potatoes and a parmesan sauce which complimented the steak perfectly. It was medium rare and although given a steak knife it wasn't needed – the steak was beautifully tender and cooked perfectly. The potatoes were different to Dave's typical choices but they went well with the meal and he really enjoyed every aspect of his main.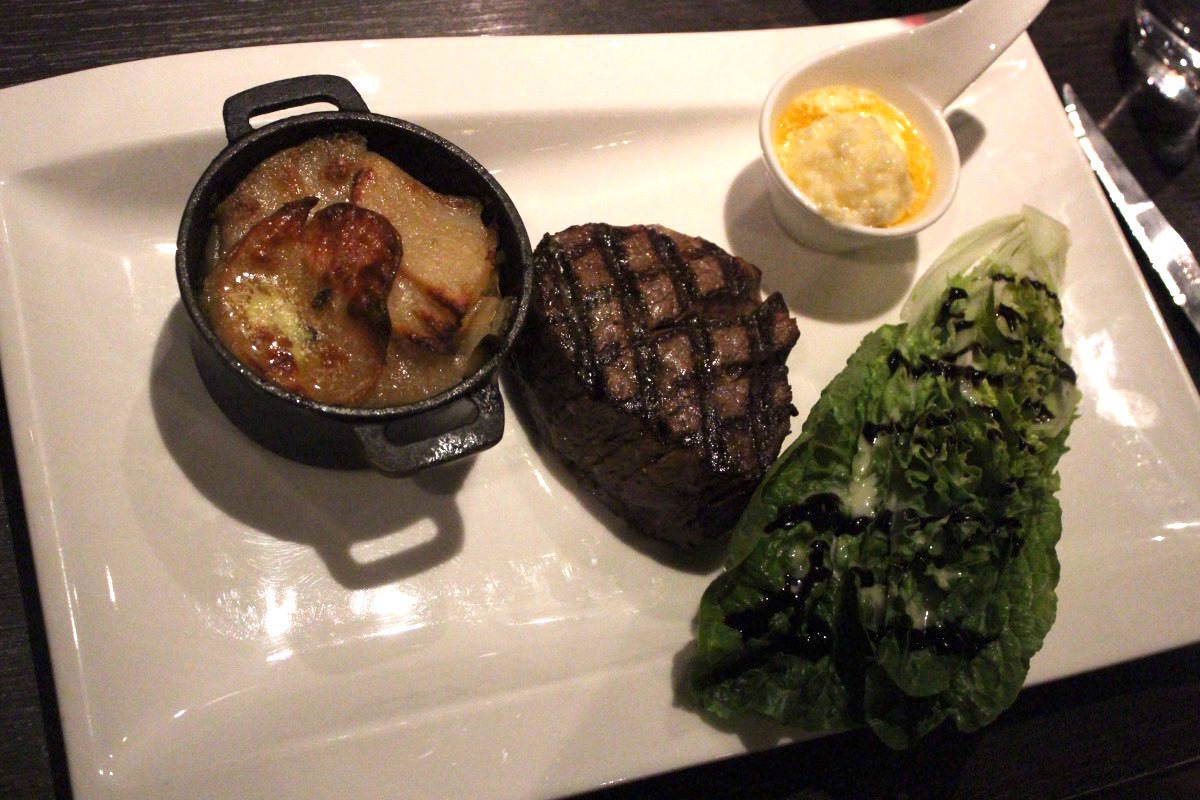 We were so impressed with our meal that we just had to stay for desserts however, there was a slight delay in preparing them so we were brought a mini cheesecake dessert to enjoy in the interim – a lovely touch that really made the short weight pass more quickly.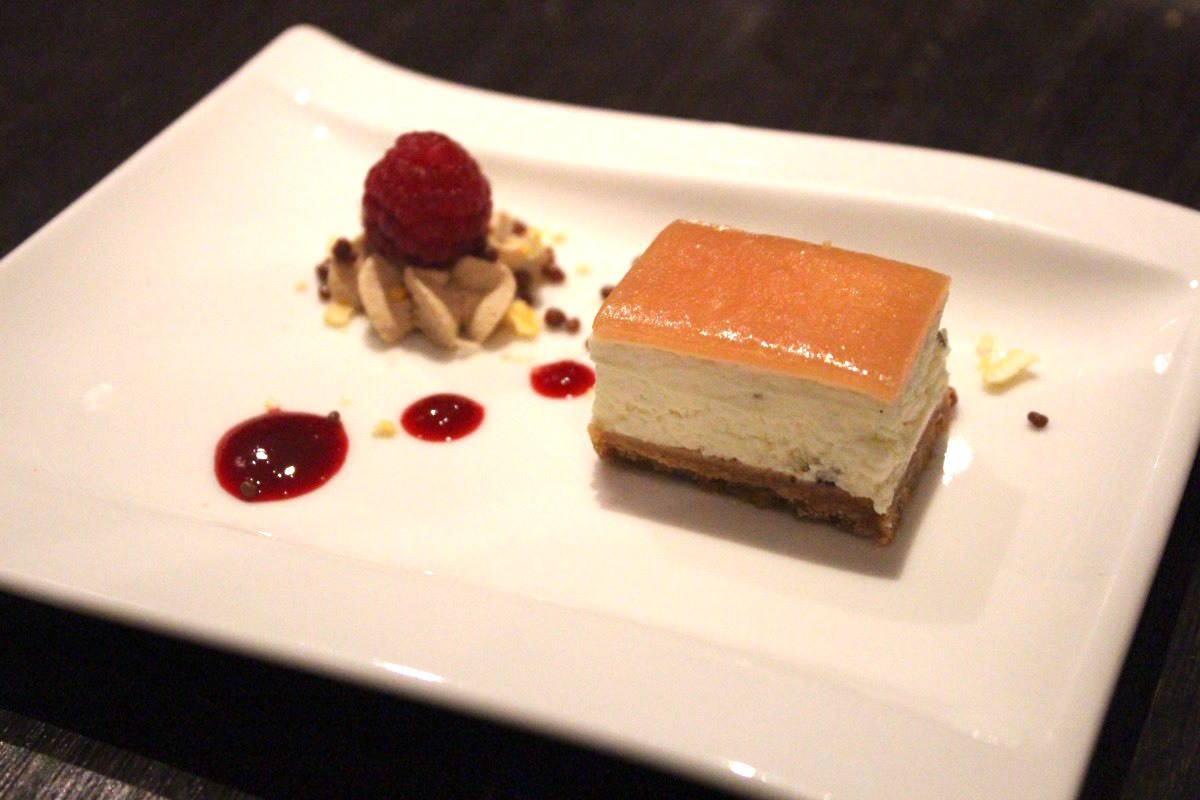 Dave went for the warm Carrot Cake which was served with honey and carrot purée, orange meringues and hazelnut gelato. The cake was light and moist and everything on the plate was so full of flavour.
I went for the Salt Caramel Chocolate Fondant which came with crème caramel gelato and toasted cocoa
nibs. It was the easily the best fondant I have ever had – with a slight cake outer and gooey middle, full of rich chocolate flavour and twinned with the salt caramel flavours. It was perfect.
After our desserts we retired to the bar to enjoy a couple of cocktails before heading home. The cocktails were made to our tastes – both loving gin and one wanting a sweet and one a sour cocktail. They were lovely and couldn't have been a nicer way to finish off our meal.
We couldn't have had a nicer meal at the 1907 restaurant and it's made us want to go back to Brooklands Hotel as soon as possible – probably to make a weekend of it next time! The service was wonderful, the food was perfect and the atmosphere was nice and relaxed. If you are looking for somewhere to have a nice meal for a special occasion or just some time together then I can't recommend the 1907 restaurant enough.