Disclosure: We were invited on this day out for the purpose of this post however all opinions are my own.
We last went to Peppa Pig World when Little Man was just a year old and so when Hampshire's Top Attractions invited us back to see what Hampshire has to offer families we thought it would be a great chance to see what Paultons Park was like for older children – and to see if LP and Little Man still loved Peppa Pig World as much as they had on our first visit.
Paultons Park is so easy to get to, being just outside of Southampton and has plenty of parking. It opens at 10am which means it's not too much of an early start and any children under one metre tall can visit for free. This makes it one of the best value theme parks for families as, unlike other parks, children under one metre can actually do so much within Paultons Park – as well as the whole of Peppa Pig World.
As soon as we arrived LP and Little Man wanted to go straight to Peppa Pig Land so we made our way there and worked our way through the rides one by one. Considering we went on a sunny Saturday none of the queues were too long and the most we waited was about twenty minutes for a ride.
The whole of the Peppa Pig amusement park is like being inside the Peppa Pig cartoon. There's music playing in the background, model characters everywhere of the whole Peppa Pig Family and all the different Peppa Pig houses and buildings from the cartoon. To say LP and Little Man were in their element is an understatement – they loved it.
All of the Peppa Pig World rides are suitable for any age but an adult has to ride with children under a certain height on some rides. LP and Little Man are 1.05cm tall and they couldn't really ride on anything by themselves yet – but they wanted Dave and I to go on with them anyway.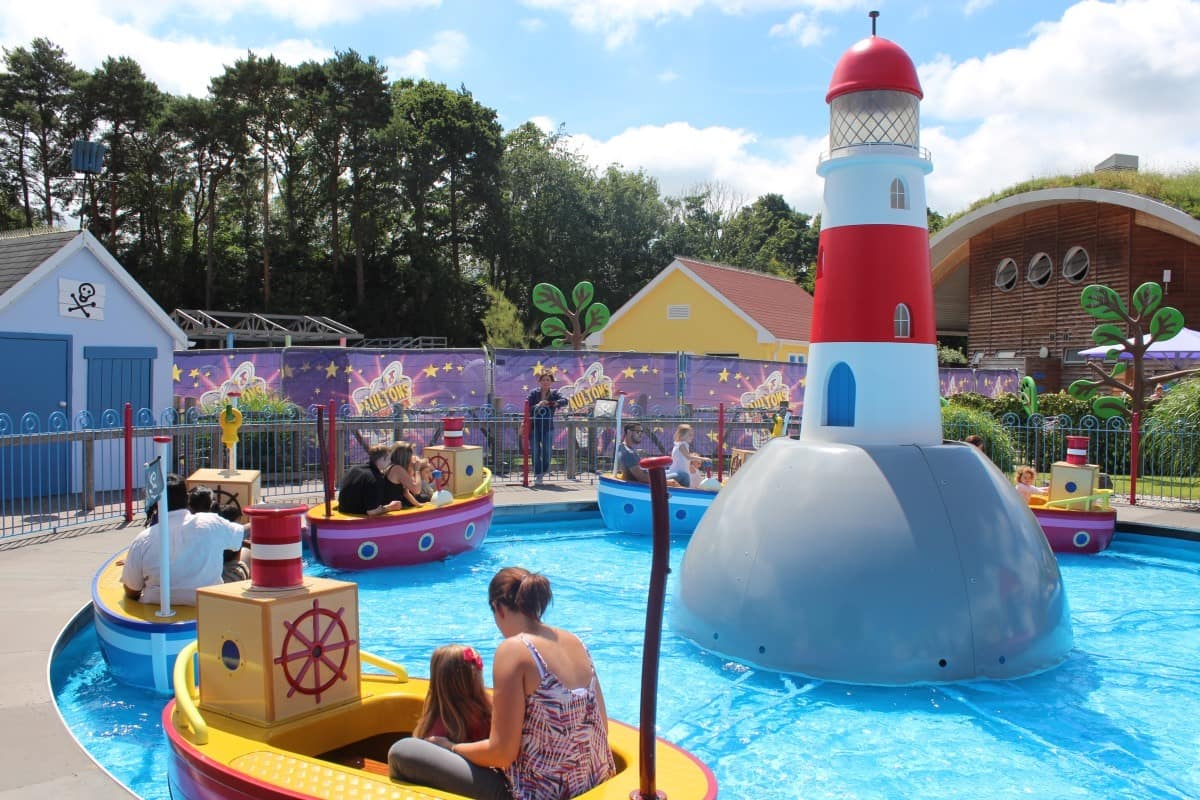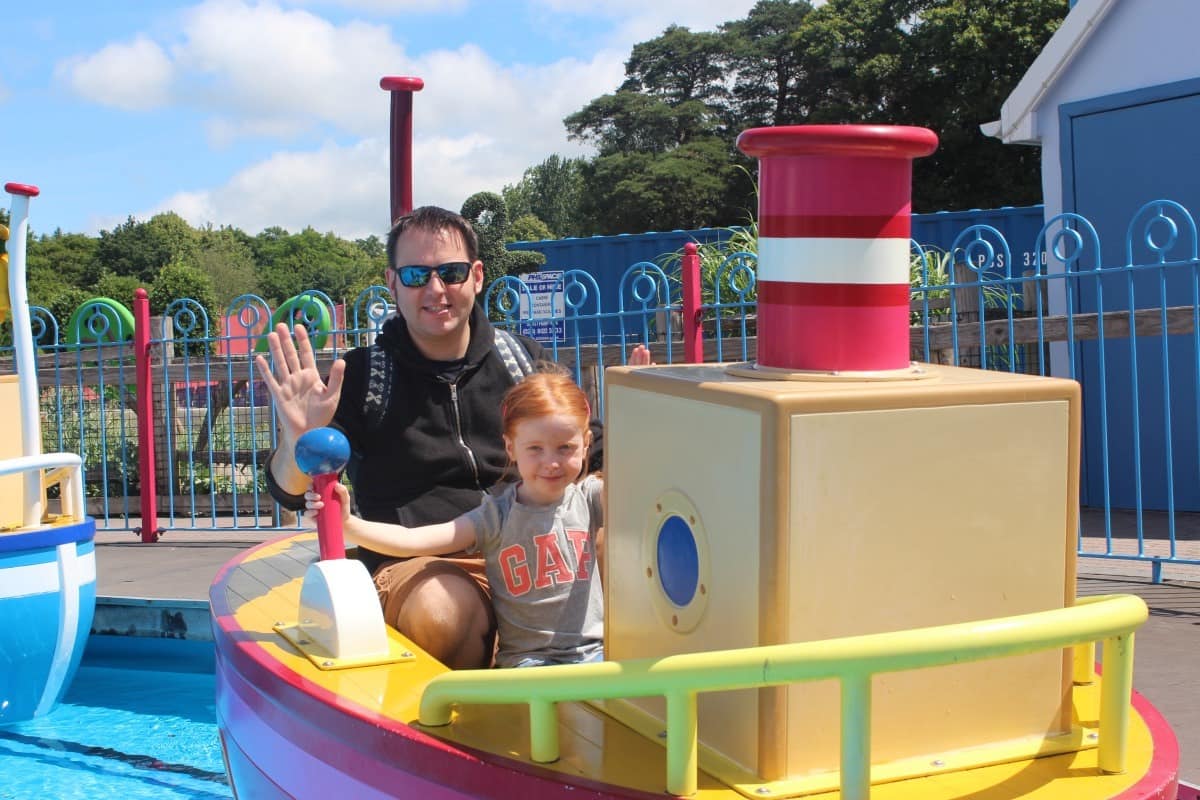 The variety of rides is fantastic and the children loved everything from up in the air balloon rides, spin around rides, trains, boats and even dinosaur riding. Peppa Pig theme park is the stuff that children's dreams are made of.
But, as well as the rides there is a splash park and play park too – as well as places to eat, toilets and plenty of places to sit and relax for a moment. Peppa Pig World as a whole is a great place to visit and we spent the bulk of our day there, only leaving at about 2pm to explore the rest of Paultons Park.
The main Paultons Park is huge. There are rides for every age and LP and Little Man could go on everything apart from four rides as long as we were with them. This is amazing for little children and makes them feel so grown up – as we have been to other theme parks where they are only able to go on a couple of rides.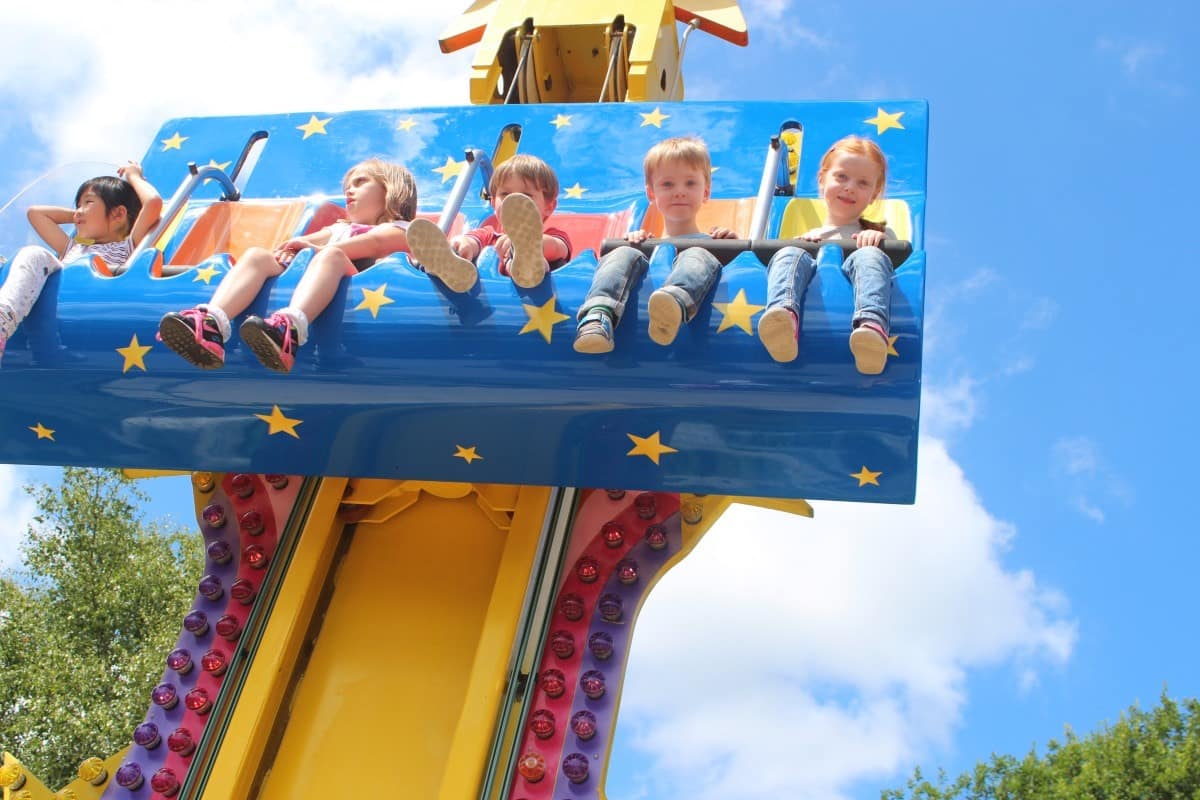 The children loved the teacups, the carousel and the little train that went around the edge of Peppa Pig World. They were all simple rides but ones that children love and ones that didn't have much of a queue either. As Paultons Park is so big it didn't feel too busy at any point and the children loved having the freedom to explore without crowds everywhere.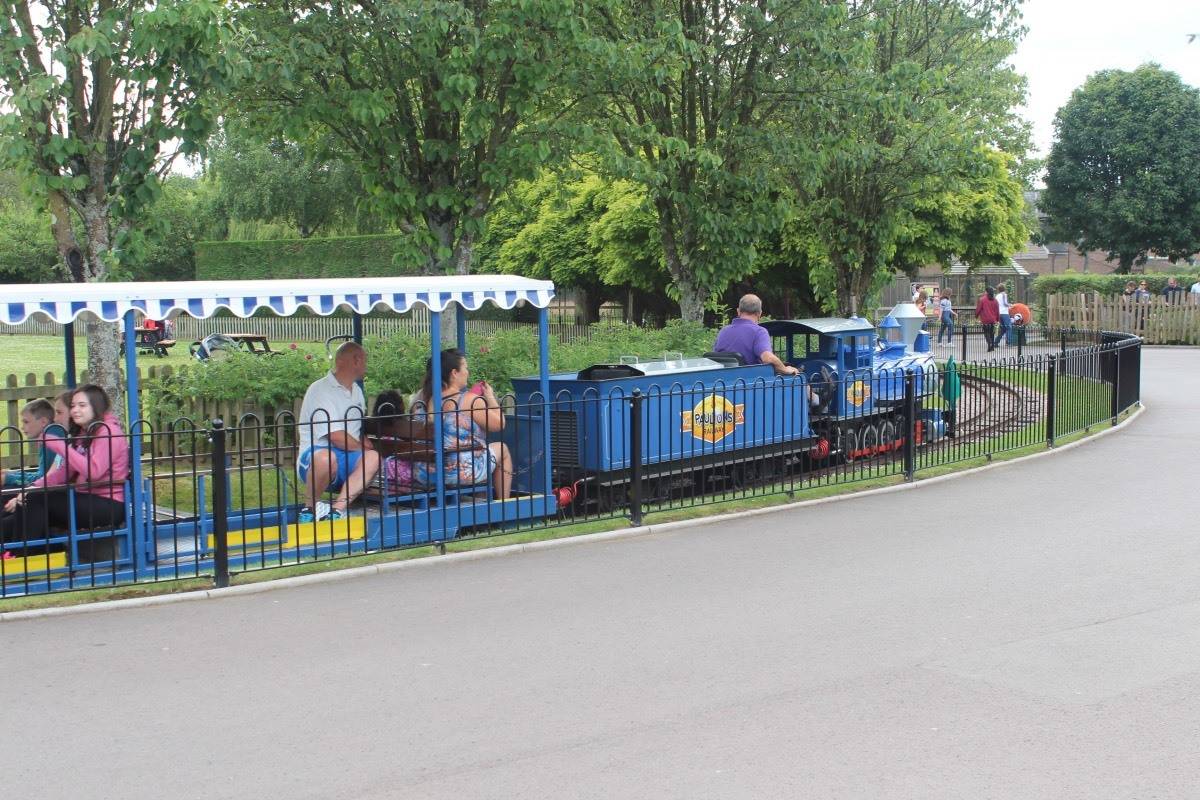 Another highlight was Critter Creek where the children went on a rollercoaster, another little train and through a cave of bugs and fish in aquarium style tanks. They always love having something else to look at as well as just enjoying the rides and they really liked the break to just wander and look at things. There were penguins inside Peppa Pig World too which were another lovely break from the rides.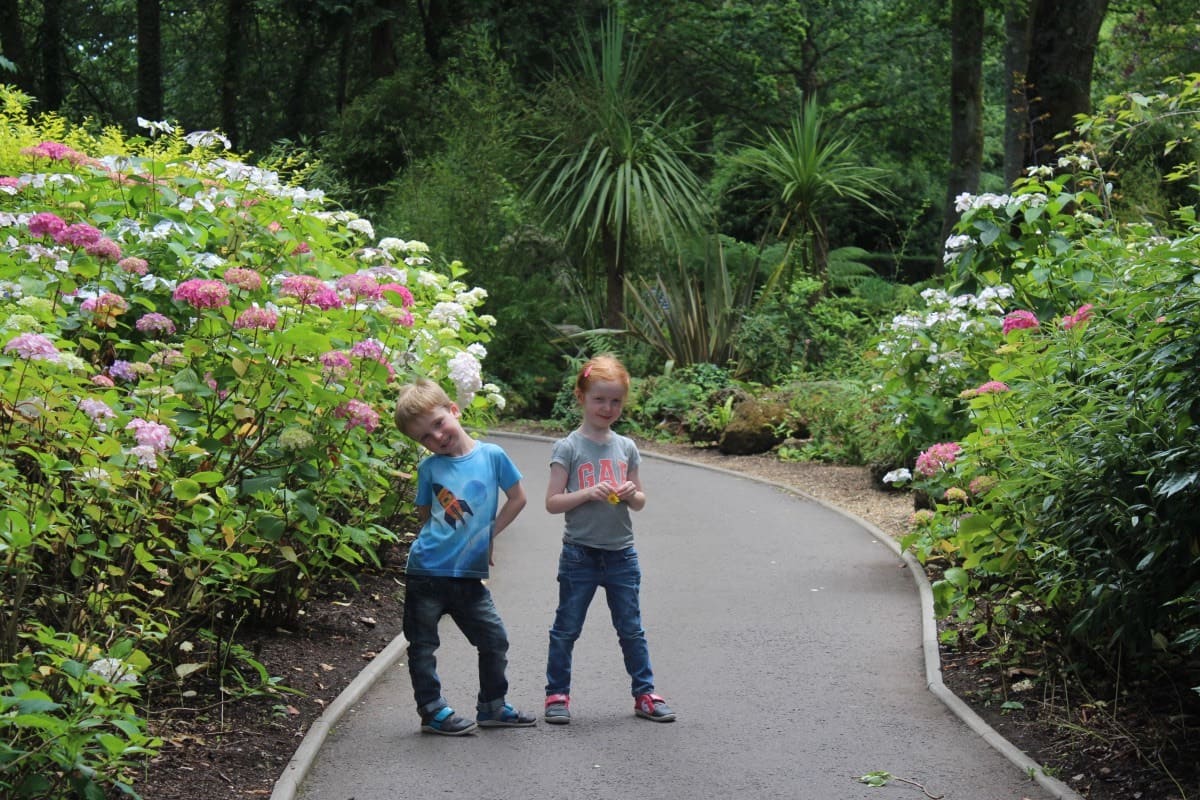 By this point the children were pretty tired and just wanted to go in the splash park, something we had told them about but hadn't managed to go in on our last visit. The main Paultons Park splash zone is a really big flat area with so many fountains and things to play with. The children got into their swim gear and spent an hour running around, enjoying themselves whilst Dave and I sat and had a drink.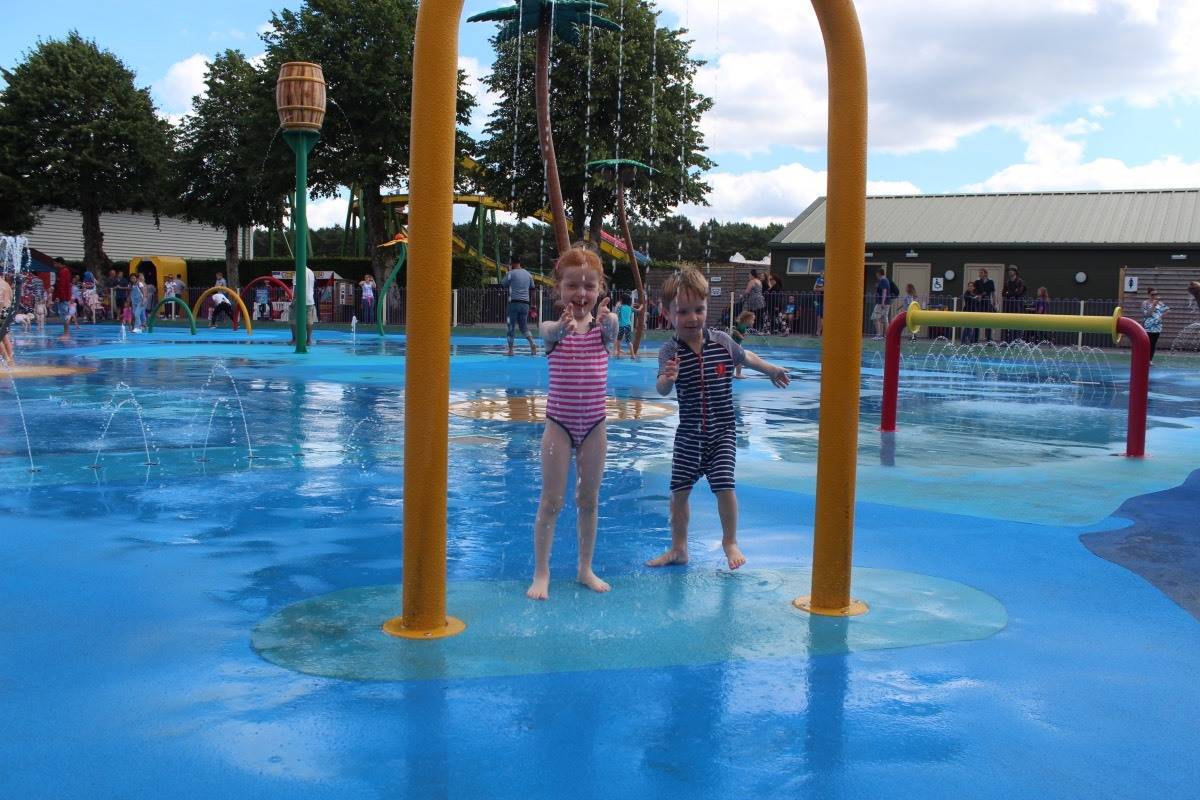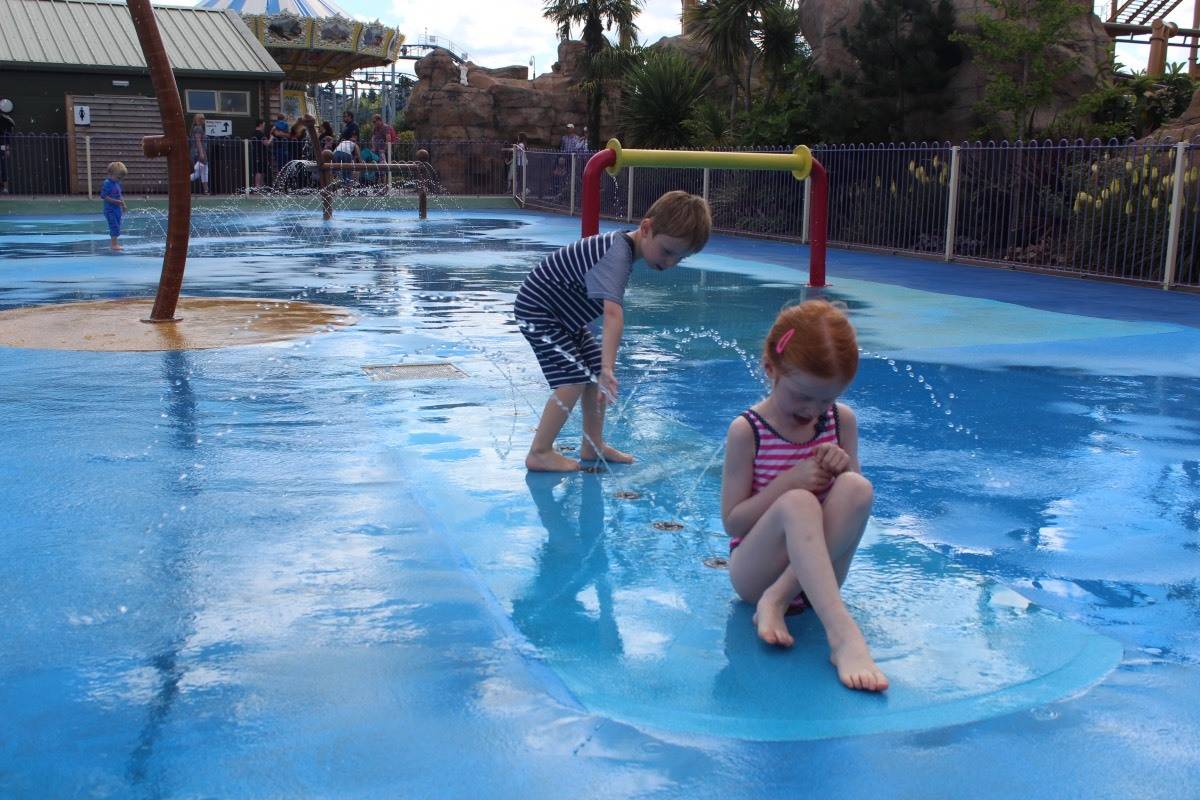 All around Paultons Park there were places to sit, toilets and places to buy refreshments. There are also so many gardens to explore and space for children to run around and burn off energy. The food options were fantastic too with snacks available everywhere and so much space to have a picnic too. Another small thing that made such a difference were the small ride on vehicles dotted around the park that you would usually put coins in to have a go at shopping centres – but these ones were free. Such a simple pleasure for a child.
Just before we went home we went to the Wild Forest Family Restaurant which is probably our favourite restaurant in any tourist attraction we have been to. It's bright and airy, nice and big and the table are all spaced out so that even at busy times it doesn't feel too crowded.
The children's menu has a great selection of hot options or a typical sandwich box and the adult menu has a great choice of mains, sides and lighter lunches. We had an early dinner there and it was perfect for us as a family.
It was then time to head to the HUGE gift shop before making our way home. Both the children have asked to go back to Paultons Park as soon as possible. There was so much of the park that we just couldn't fit into one day but we spent most of the on rides and enjoying ourselves rather than feeling like we had spent the whole day queuing and as a family we had such a lovely day out. Paultons Park is, without a doubt, one of the best days out in Hampshire – and probably the whole of the south east. We cannot wait to go back.
Here's a little video we made of our day out: