Disclosure: We were sent the featured products for the purpose of this post however all opinions are my own.
Dave and I have always had one weakness when it comes to food and that is cheese and biscuits. It's something we love having as another course for Christmas dinner, and something that we indulge in throughout the year in the evening when we're watching a movie together or relaxing with friends.
What is the Marks and Spencer Cheese Selection like?
M&S recently introduced us to their new range of cheese in their shop. We thought the best way of trying it properly would be as cheese and biscuits. One of my favourite things when having an evening of cheese and biscuits is to get a selection pack of cheese.
The M&S Mini Cheese Selection is perfect to give a great variety of cheese with Cornish Cove Cheddar cheese, Farmhouse Red Leicester and Blacksticks Blue.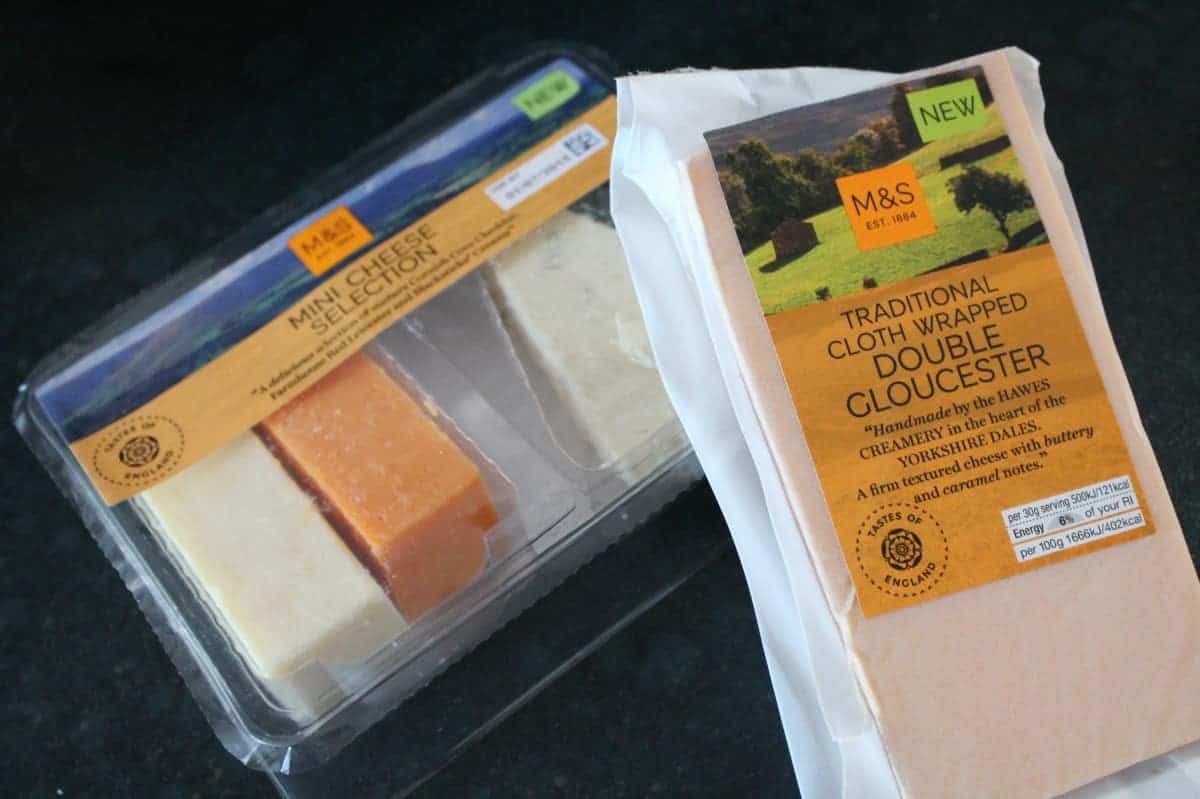 The three cheeses really compliment each other. If you have guests it is a great way of making sure you have a cheese for everyone. Also, at just £2.49 it's a great value cheese selection too. These are all cheeses that you would be familiar with and know what to expect from them.
I'm not that keen on blue cheese but the Blacksticks Blue was wonderfully creamy and not very blue. This is a perfect blue cheese for someone just starting to experiment with different cheeses.
We also tried the Cloth Wrapped Double Gloucester which is handmade by the Wensleydale Creamery in Yorkshire. It has a smooth and buttery texture with a mild nutty flavour.
This is a cheese that we hadn't tried before but really liked it. It had a different flavour to our typical mature cheddar but the texture was similar although more creamy. We really enjoyed it, especially with a caramelised onion relish!
What were our overall thoughts?
If you're looking for something for your cheese board then definitely take a look at the cheese selection in M&S. They have a great variety and something for everyone as well as so many offers too.
M&S have so many fantastic European cheeses and I can't wait to try their French Brie next.They also have cheese selection gifts, a cheese and chutney selection and a cheese board selection.
There are so many other gifts and sharing options amongst the food at marks and spencer and now cheese is something I go to M&S for – along with party food, barbecue food, cakes, wine and their beauty advent calendar at Christmas!