*This is a paid post
It's no secret that Little Man loves space and as a family we have always loved learning more about space, planets and all those galaxies far, far away. Space is such a healthy, wholesome interest and something that I know so many children and families are interested in.
I've also mentioned a few times how much I love personalised gifts. Something that may not be expensive to buy but would mean so much to the recipient, priceless gifts that can really be treasured.
When Planets in Time got in touch a few weeks ago I was surprised that I hadn't heard of them – or anything like them – before. You've probably seen prints of the sky on meaningful dates, maybe even constellations on different dates but have you ever seen beautiful posters of the planets positions on a specific date? I hadn't, until I discovered Planets in Time.
Planets in Time create incredible pieces of art that are completely personalised to any date and with your own personalised message on too. They show all the planets – including Pluto if you like, their relationship to each other and their positions around the sun in the centre.
Planets in Time posters are made from hand painted designs, printed onto great quality matte paper. They're a really good size at 20 inches squares and come unframed so that you can frame in a style that suits your home. Frames are easily available on Amazon or from places like Ikea too.
The Planets in Time website is so easy to use to create your print and a preview is updated at every step to show you exactly what the finished piece will look like.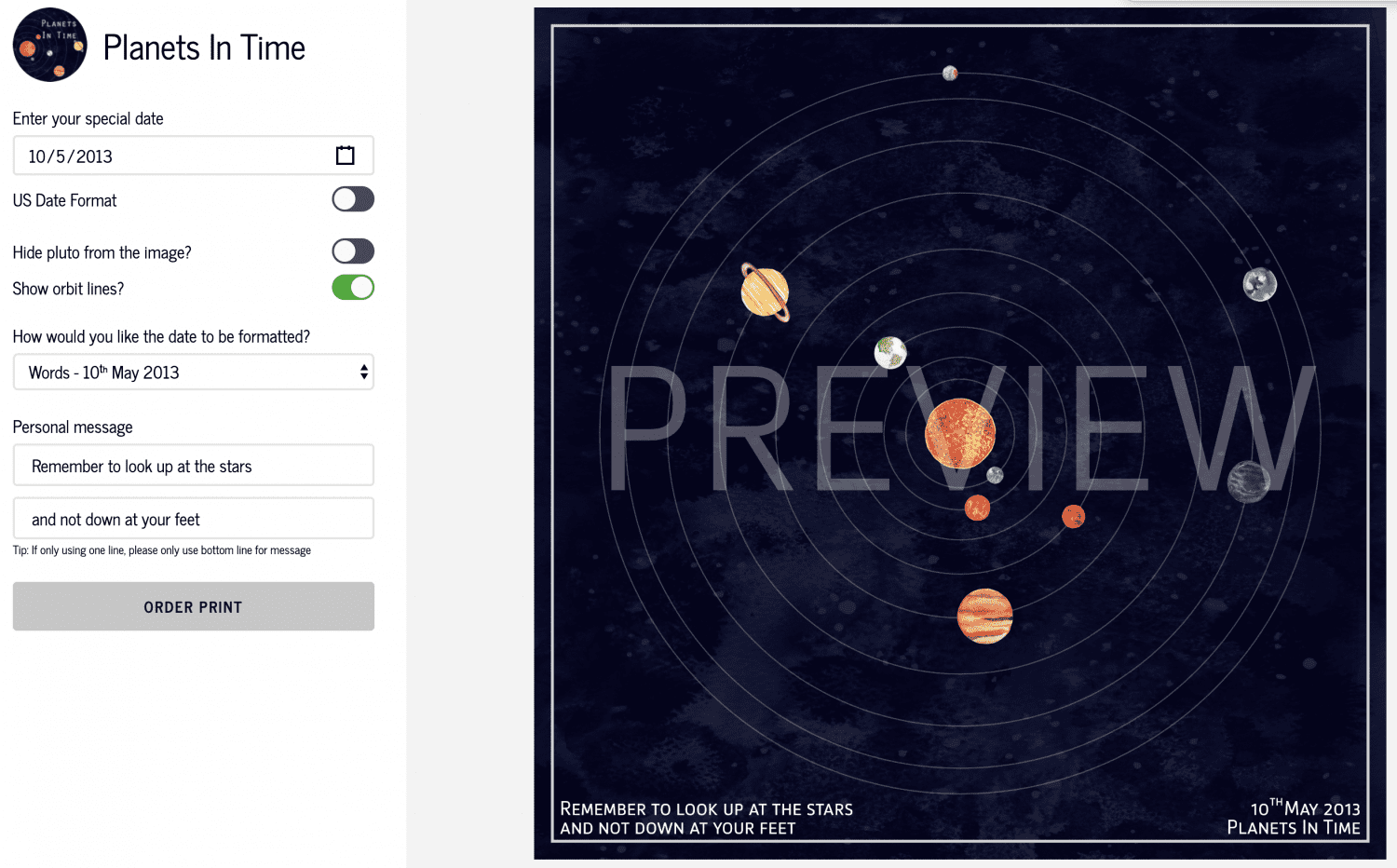 As Little Man has a space themed room it felt right to order the print for him, with how the planets were aligned on the day he completed our family. We found a quote to add to the bottom and I hope that through life he really does keep looking up at the stars and not down at his feet.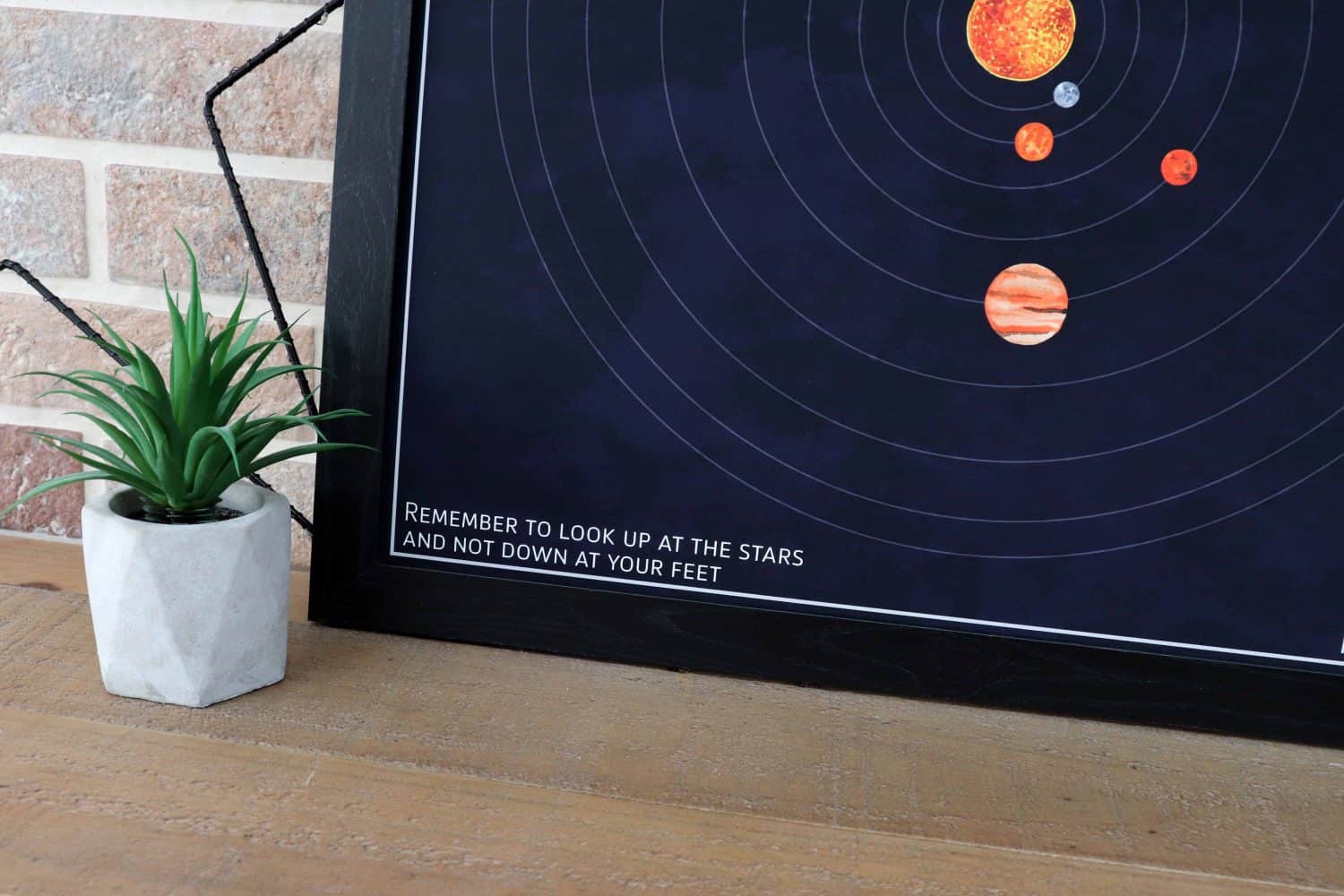 Delivery is free worldwide and it took just a couple of days for our print to arrive, packed in a sturdy postage tube. As soon as we took it out of the tube we were blown away by the quality. The textured matte finished feels amazing and gives such a higher quality look than a typical poster. It really does look like the night sky.
We are so pleased with Little Man's new print and he can't wait to have it on the wall in his bedroom. I know that if he'd received this as a birthday or Christmas gift he would be over the moon – no pun intended!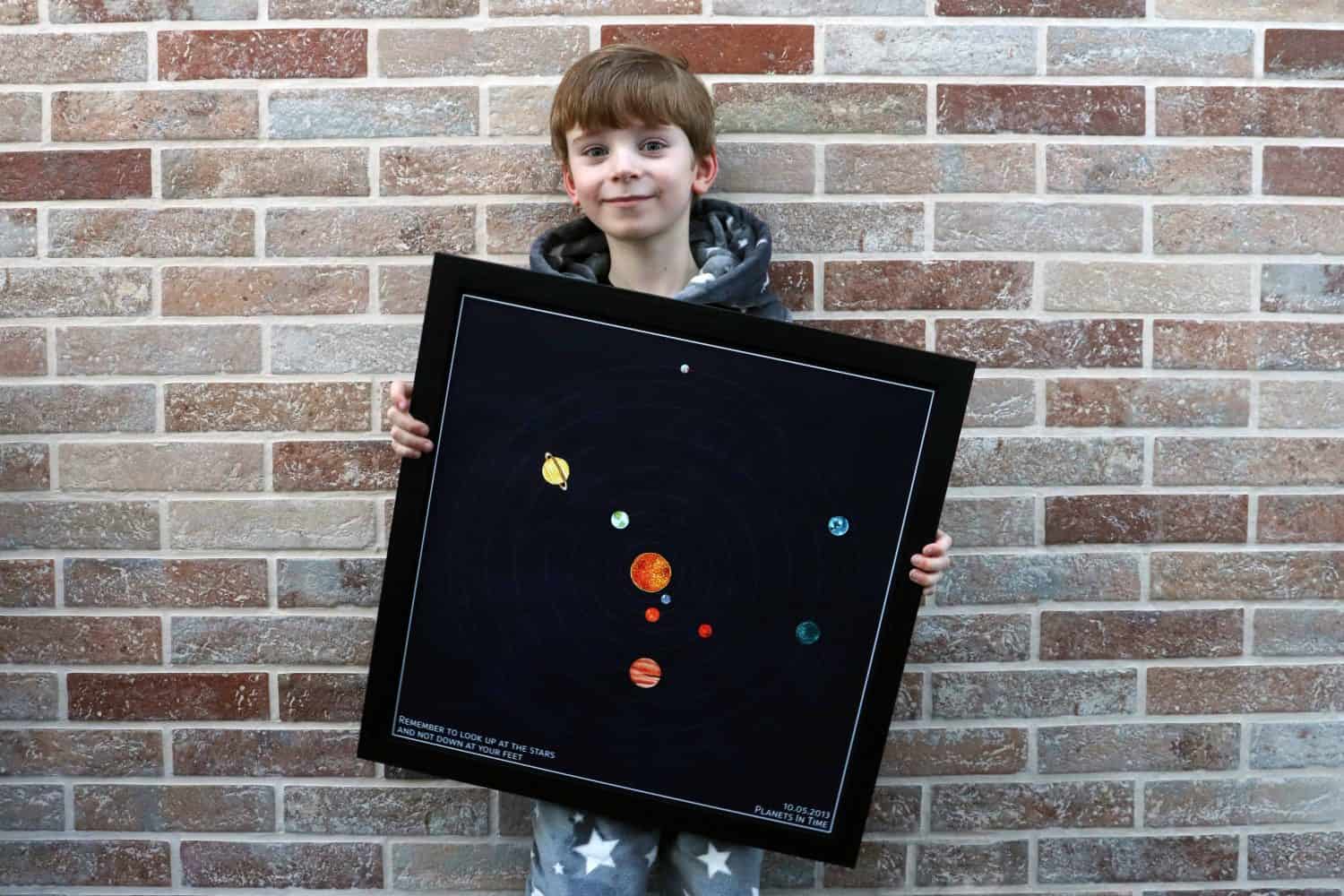 If you're looking for a personalised gift for literally anyone that can be treasured forever then Planets in Time could be just the thing. Their quality is fantastic and it's the sort of thing that will happily have pride of place in any home and a real talking point too.
Planets in Time posters cost £39.00 with free delivery and you can use code REDHEAD15 for 15% off at the checkout.