Along with my two friends, Sarah from Life With Munchers and Steph from Mental Parentals, I'd been looking into accommodation in Manchester city centre for a weekend away. We had a few things in mind but none of us knew Manchester very well.
All we wanted was somewhere for two nights where at least three of us could sleep, somewhere with our own cooking facilities, parking and close to the city centre. We looked everywhere before booking a two bedroom apartment at The Place Aparthotel.
Where is The Place Aparthotel?
The Place Aparthotel is located very close to Manchester Piccadilly train station in the heart of the city, a short walk from many shops, restaurants, bars and attractions. When we arrived we were given a door card that operated both the apartment door and the car park allowing us secure underground parking for just £9 per night.
The Place Aparthotel is in a beautiful renovated warehouse with brickwork and steel beams on show everywhere. The building has been very sympathetically restored to keep as many of the originally features as possible and this made it a really attractive place to stay.
The lobby is bright and modern and has both a bar and restaurant access although we didn't use either during our two night stay. Staff are everywhere if anything is needed and we were asked multiple times whether we needed a hand with our bags or anything else – they were very attentive.
What was our Place Aparthotel apartment like?
Our apartment was on the second floor and we went up in the lift although there are stairs. The two lifts do get busy during peak times but that is to be expected. From the lifts you come out into what feels like a courtyard, wide communal balconies which each apartment faces out onto. at the bottom there are water features and places to sit and it has the feel of being on holiday somewhere, you'd easily forget you were inside a building and in Manchester.
The apartment had two good sized bedrooms, each with a TV and one with an ensuite shower room. There was also a bathroom, a kitchen and a lounge area which looked out onto the communal areas. This is a feature we weren't keen on and kept the blinds closed for the duration of our stay as we didn't want people looking in on us as they walked past.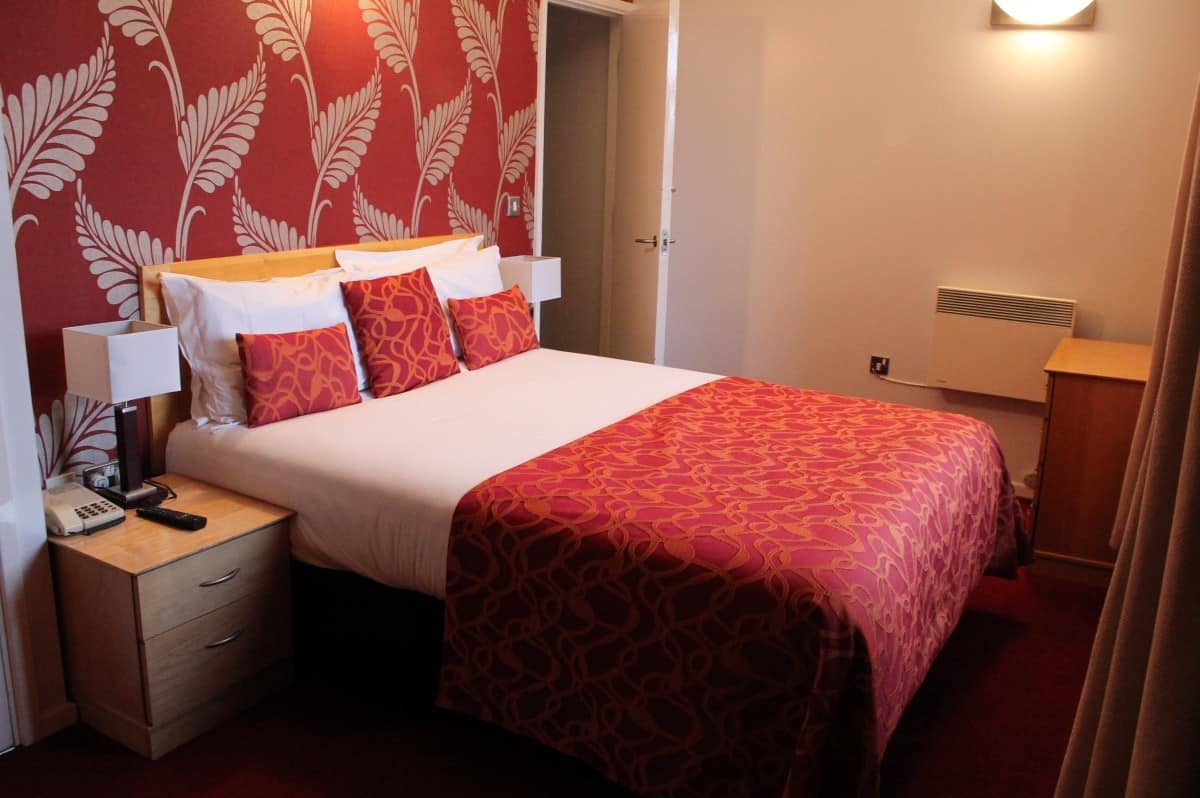 The apartment was nicely laid out and had nice decor although everything was getting a little run down – screws coming loose on furnishings, wonky cupboard doors in the kitchen and a dining chair coming apart as we sat on it. These are small things though and overall it didn't put us off our stay, it is just something that is worth noting – from a 4 star apartment I wouldn't expect so many signs of wear.
The kitchen was well equipped with a oven, hob, microwave, fridge, freezer and dishwasher as well as dishwasher tablets, tea, coffee, sugar and a small third pint bottle of milk to get us started. The only things that we found were missing from the kitchen were a grill pan and pizza cutter – or even just a large knife that wasn't serrated. Both would have been appreciated.
The Place Aparthotel also has a gym that is included in your stay and complimentary wi-fi although we found that it cut out every 10-20 minutes and we had to log on again, very annoying and if you are planning a business stay it would be worth thinking about. For us, streaming songs from YouTube and having them stop halfway through was annoying but not something worth complaining about.
As you can see, we had a lot of little niggles with the apartment but even now, knowing what else is available at the same price I am glad we stayed at The Place Apartment hotel. The apartment cost us just £175 per night between the three of us but the price is per apartment so would be even cheaper with four. For that you get the beautiful building, comfortable beds, the ability to cook your own meals rather than having to rely on restaurants or room service and you have the rest of the amenities too.
Staying in an apartment is a great alternative to a hotel and has a lot more freedom too. It is great if you're staying as a family, as a group of colleagues or friends and works out to be a really good accommodation option. If you're staying in Manchester in the future you could definitely do a lot worse than staying at The Place hotel Manchester, we'd definitely recommend it and it's only a stone's throw from Manchester Piccadilly Station.
You can find out more about The Place over on their website and for reference their address is: 51 Ducie Street Manchester M1 2TP