We had a weekend in London for Dave's birthday and booked a hotel through Hotels.com – Arosfa Hotel in Fitzrovia. I had no idea what to expect from the hotel as there's very little information online, but it was a good price, well located and had breakfast included.
Where is the Arosfa Hotel?
The Arosfa Hotel is in the heart of historic Bloomsbury district of London. It's within a short walk of Euston Square, Russell Square, Warren Street and Goodge Street Tube stations on the London Underground and Euston, Kings Cross and St. Pancras mainline railway stations.
What is Arosfa Hotel like?
The Arosfa Hotel is a refurbished 200-year old Georgian Town House. When we first arrived it felt more like a home than a hotel. It's cosy, with high ceilings and narrow stairs, decorated in keeping with such a traditional period property.
The hotel has just 17 rooms that are a mix of quadruple rooms, double rooms, twin rooms and single rooms.
The staff at the Arosfa Hotel are lovely and they were happy to look after our bags before or after our trip for us. Check in was from 2pm although we didn't arrive back at the hotel until around 8pm.
We had booked a quadruple room with two double beds and it was perfect for our needs. The room was quite dark, with only side lights, and the weather didn't help as it was so rainy on the weekend we visited.
But, the room was comfortable. There was tea and coffee making facilities in the room, complimentary toiletries in the bathroom and a spare blanket if we needed it.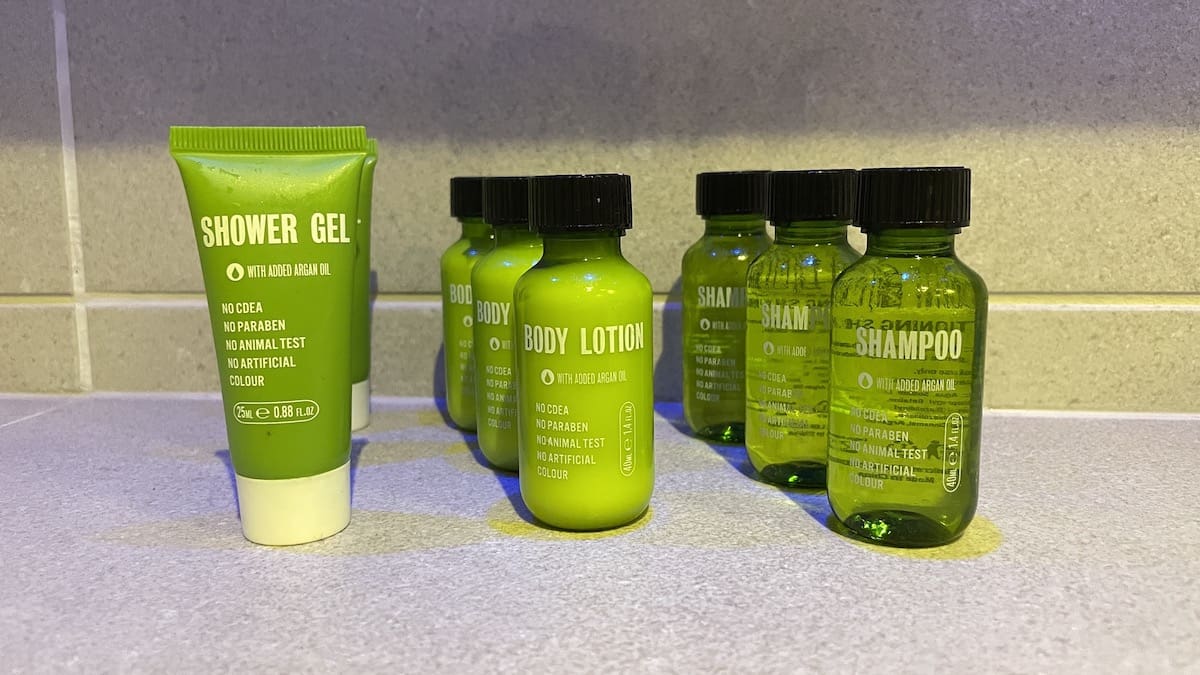 The bathroom room was lovely and looked newly renovated. It had a shower and no bath but the shower was huge and worked really well – great water pressure!
The room was quite tired in places – scuffs on the paintwork, blown plaster in the corners of the room, cracks in the ceiling and a duvet that was probably too thin for the winter. We also only had one pillow each but we all slept well and the room was lovely and dark overnight – and pretty quiet too.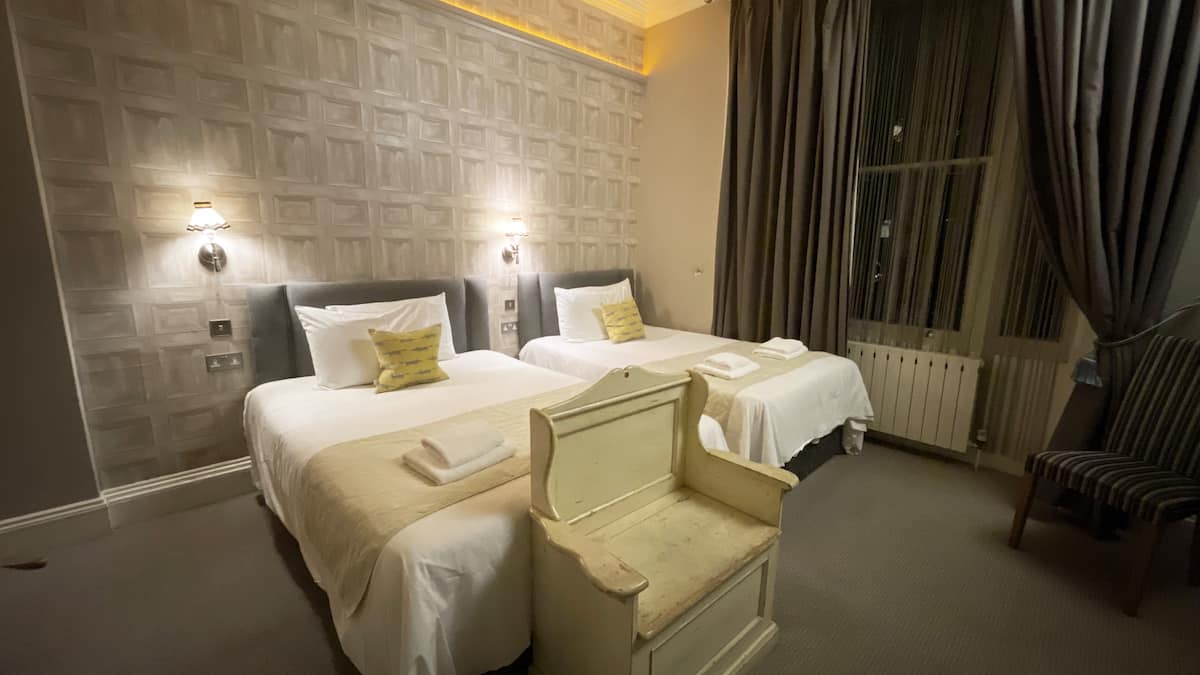 Breakfast at the Arosfa Hotel
One of the best things about the Arosfa Hotel was that breakfast was included with the room price – something that doesn't often happen in London!
Breakfast was served between 8am and 10am and consists of a continental buffet along with a full english breakfast made to order.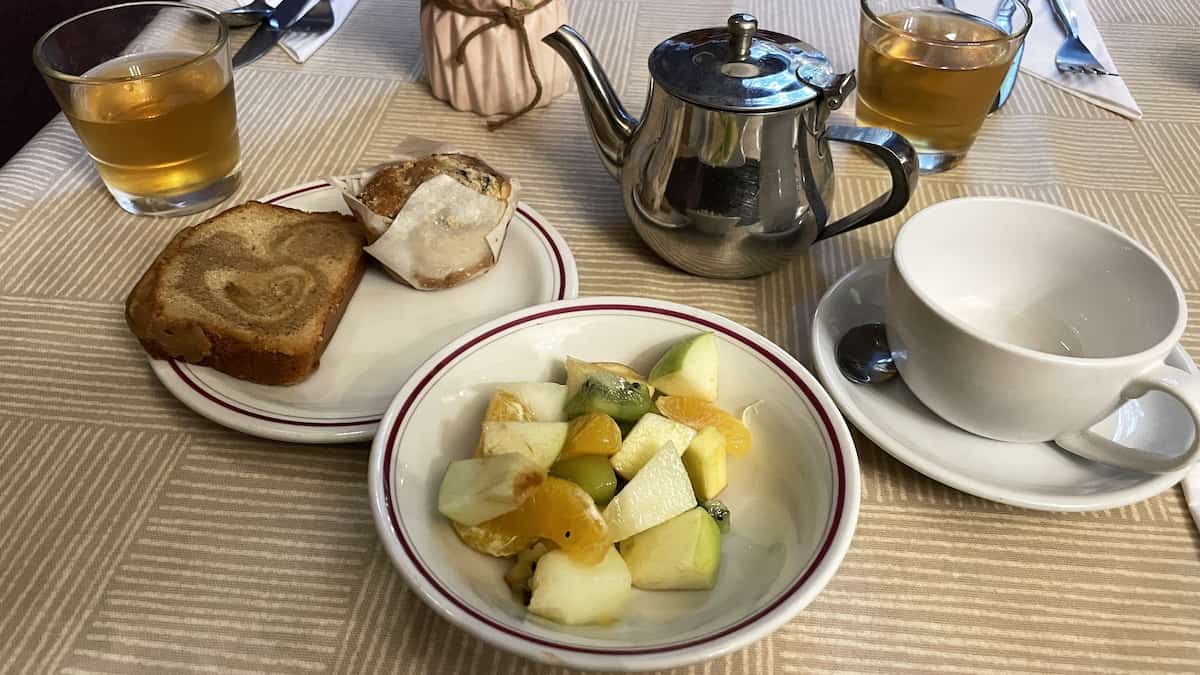 The staff were really attentive, bringing us tea and coffee and taking our breakfast orders. They were happy to do any variations of the full english breakfast items and didn't mind LP just having bacon, egg and sausage or Little Man having egg on toast.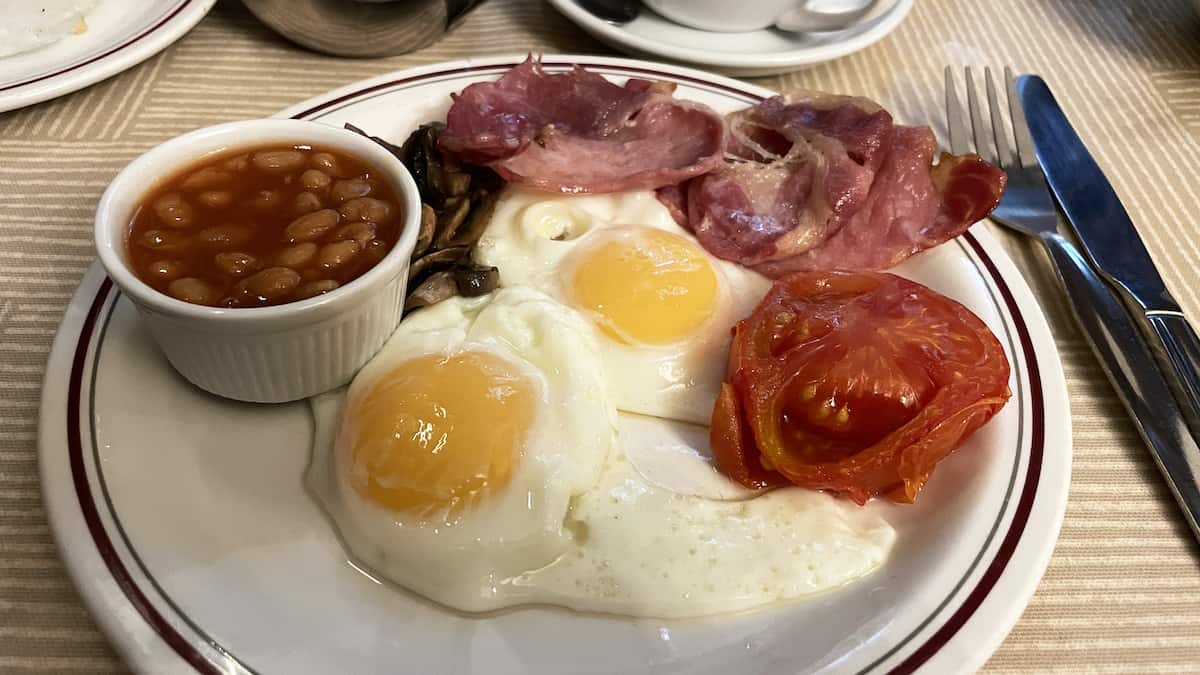 The buffet was also fantastic with cakes and pastries, cereals, fresh fruit, cold meats and cheeses and fresh juice. It was a lovely spread and everything was delicious.
We didn't spend a huge amount of time at the Arosfa Hotel but it was clean and comfortable, with great food and friendly staff. It was a really nice, affordable base for a family break away.
You can find out more about Arosfa Hotel over on their website and for reference the hotel address is: 83 Gower Street, London WC1E 6HJ