Welcome back to another week of the Ordinary Moments. If you haven't joined in before this is a weekly linky that launches every Sunday morning and is open until midnight on the following Saturday. It's a linky that celebrates any ordinary moments in your life – or the not so ordinary some weeks too. Basically – anything goes. I'll be sharing and commenting on the posts that are linked up during the week and there's a badge at the bottom of the post if you'd like to add it to yours too.
Last week I wrote about the slower pace that we're enjoying this year compared to previous years. I've realised that this year we have so much time. Time to organise Christmas, time to have days at home or days out and time to spend together.
Time is such a luxury. It's something I never usually seem to have enough of – with work days flying by and one week blurring into the next. Through the year I would give anything for another hour in the day.
But, this Christmas time is on my side. I have the right amount and it feels so good. I have time to get work done as well as run errands during the day. I have time to play with the children, do homework and organise dinner after school.
In the evenings I have time to do admin for work, do any jobs that need doing around the house and even switch my laptop off for a bit and watch TV. It's lovely, and I'm enjoying it. But, I know a point will come where my time is more precious, where I'm wishing for more of it again and where I'm pulled in all directions.
For now though I'm enjoying all this time and appreciating the work life balance I have that allows me this time too. It's lovely.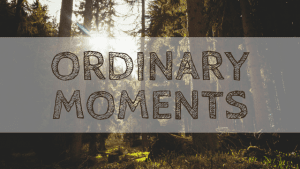 If you have an ordinary moment this week, come and link up – I'm looking forward to reading the moments that you share and will comment and share them on Twitter through the course of the week. Thanks so much for taking part.
You are invited to the Inlinkz link party!