Welcome back to another week of the Ordinary Moments. If you haven't joined in before this is a weekly linky that launches every Sunday morning and is open until midnight on the following Saturday. It's a linky that celebrates any ordinary moments in your life – or the not so ordinary some weeks too. Basically – anything goes. I'll be sharing and commenting on the posts that are linked up during the week and there's a badge at the bottom of the post if you'd like to add it to yours too.
Well, switching off is definitely not an ordinary moment for me. It's something I very rarely do and, because of that, it always takes me a while to fully switch off at the start of the holidays.
We've been in Mauritius for nearly a week and, with any holiday outside of the EU, I don't use my phone unless it's on wifi. So, I have been having a good chunk of time every day without my phone, without social media and, most important, without emails.
That may sound like such a small thing. Like, you're on holiday, just don't use your phone. But, using my phone is so ingrained in me that it's a habit to keep on top of social and emails all the time. But over the last week I've had a break, just checking in to social during a bit of down time in the evenings and replying to any important emails. It's been lovely.
We've been on boat trips, spent so much time on the beach, been snorkelling and have swam endlessly. It has been such a nice break so far and I could happily add another week onto the end of our holiday and stay here even longer. I can't wait to tell you more about it when we're back.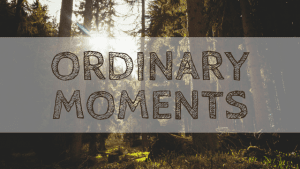 If you have an ordinary moment this week, come and link up – I'm looking forward to reading the moments that you share and will comment and share them on Twitter through the course of the week. Thanks so much for taking part.