Welcome back to another week of the Ordinary Moments. If you haven't joined in before this is a weekly linky that launches every Sunday morning and is open until midnight on the following Saturday. It's a linky that celebrates any ordinary moments in your life – or the not so ordinary some weeks too. Basically – anything goes. I'll be sharing and commenting on the posts that are linked up during the week and there's a badge at the bottom of the post if you'd like to add it to yours too.
Nearly three years ago we finished our extension which really opened up our living space and created a real heart of our home. It also gave me the space to have a dedicated working area which has been amazing for me with working from home.
Since then we've wanted to create a spare room – or move to a four bedroom house. But, moving home is way out of our budget if we want to stay in the same area and as both the children were born at home we're quite attached to the house too. In the end we decided to get a loft conversion done and we got the ball rolling by getting quotes for the work at the end of last year.
But this week we had an architect visit to draw up the plans and talk through what was possible and we paid the deposit to our building firm. So this year we will be having a loft conversion.
Hopefully in a month or two I'll be able to tell you about the definitive plans. But, for now, we're aiming to have an L shaped dormer which will have one main bedroom and a juliet balcony looking over the back garden, a separate shower room and a second room which may end up being my office.
It's quite an exciting time and I'm quite nervous about it too but this week it definitely feels like we've had a big step forward. To get the loft converted we'll have to lower the ceilings across the whole of the first floor. It will be massive upheaval for us for a few weeks but the whole build should only take two months. After that we'll have to paint and get new flooring and I'm sure it will feel like home again by Christmas!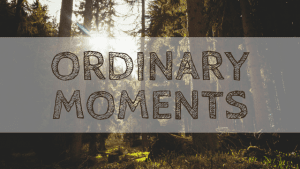 If you have an ordinary moment this week, come and link up – I'm looking forward to reading the moments that you share and will comment and share them on Twitter through the course of the week. Thanks so much for taking part.
You are invited to the Inlinkz link party!