Disclosure: We were invited for this meal for the purpose of this post however all opinions are my own.
Last weekend we were invited to The Red Lion in Odiham, Hampshire for Sunday lunch. As a family we don't often go out for pub lunches on a Sunday – mainly because we are never sure how family friendly new places will be but this is something you don't have to worry about with The Red Lion – it was so family focused from start to finish.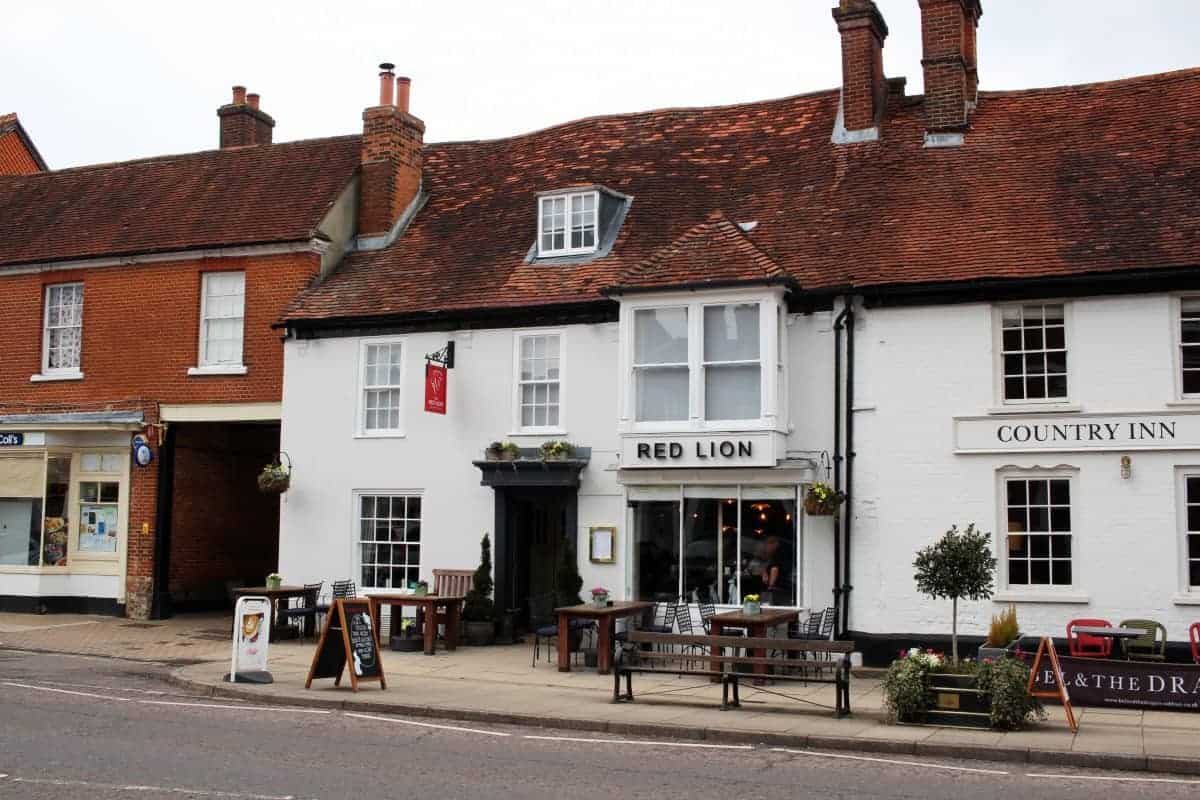 The Red Lion is on Odiham High Street with plenty of parking outside on the street but there is also the Deer Park View Car Park nearby, which is free after 6:30pm and on a Sunday. We found it easily and were pretty much in love with Odiham by the time we walked into the pub – it's such a quaint village, with so much character and somewhere definitely worth visiting for a weekend.
We walked into The Red Lion and were greeted so warmly by the staff, being shown to our table in the window and being brought water and colouring in for the children. The pub was beautifully decorated, having been refurbished last year, and everything was completely in keeping with the character of the building. There was so much to look at and fresh flowers on each table – as well as a wood burner keeping us lovely and warm throughout our meal.
The children's menu was great – with a child size portion of the adult's roast dinner and things like sausage and mash, chicken goujons and chips, fish and chips or pasta. It was a simple menu that would have something to suit every child – and the children could colour in the menu whilst they waited.
LP went for roast pork and Little Man chose the curly sausage and mash which came with a choice of beans or peas. Little Man's meal looked quite small in comparison to LP's but it was the perfect size to him and really LP's roast dinner was just a huge portion size.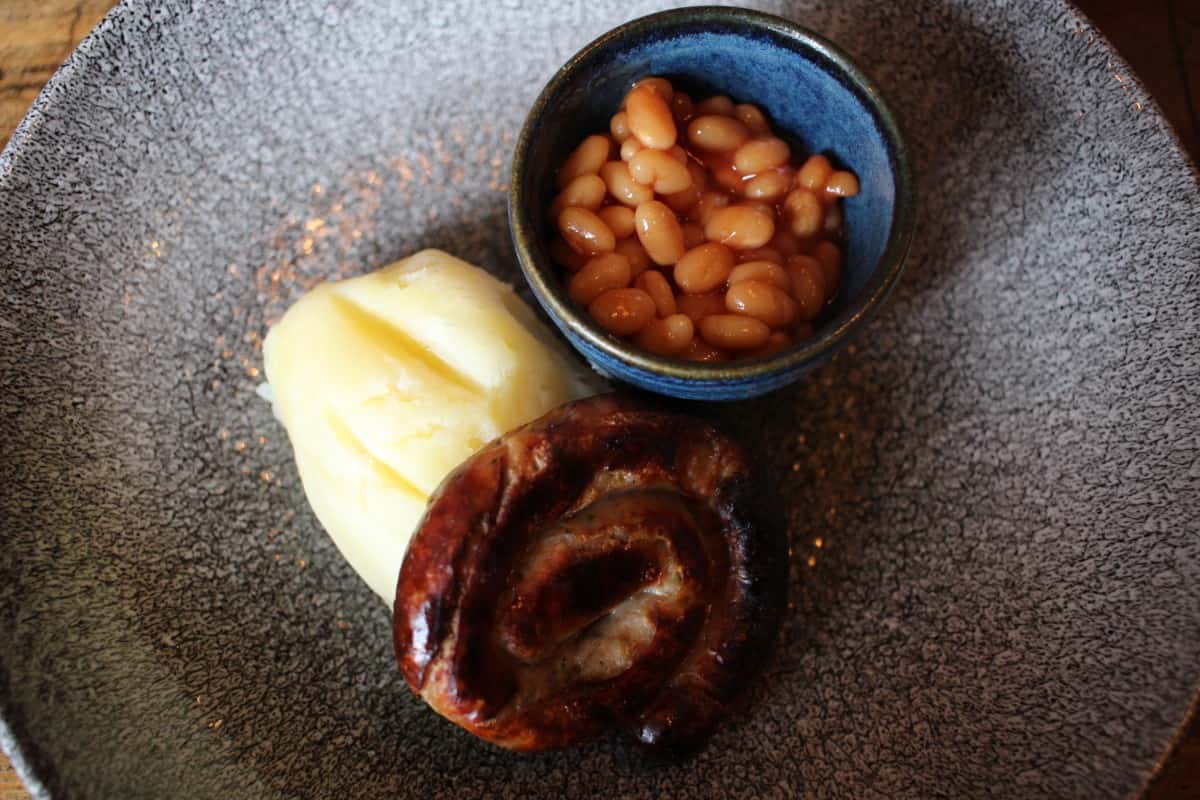 Little Man ate all of his dinner and loved every part – especially the novelty of having a circle of sausage instead of a normal one. LP really enjoyed her dinner but couldn't finish it – it came with not just roast pork but roast potatoes, so much veg, crackling and the biggest Yorkshire pudding I have ever seen. They were both pretty lovely children's meals.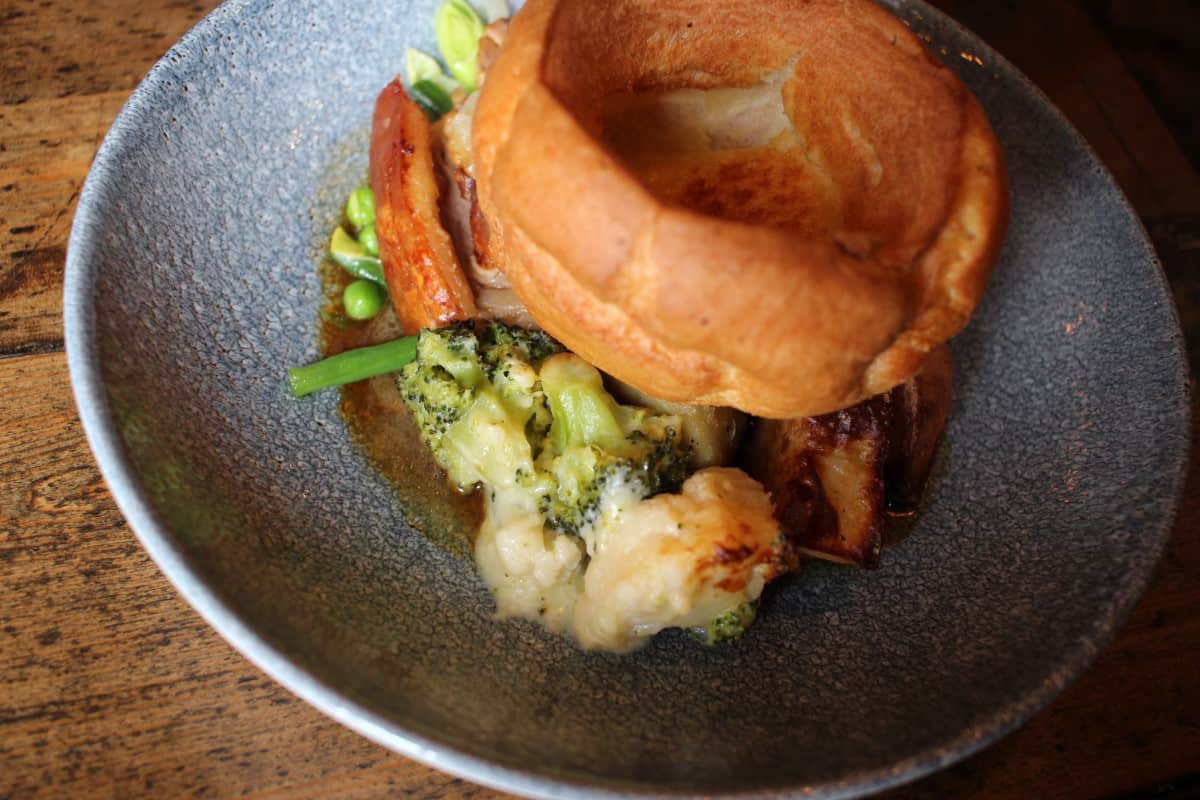 Dave and I went all out with our Sunday lunch and decided to have the full three courses. For our starters I chose the tarragon and samphire battered tiger prawns which were served with a really lovely wasabi mayo and salad. They were so crisp, so full of flavour and just the perfect start to our meal.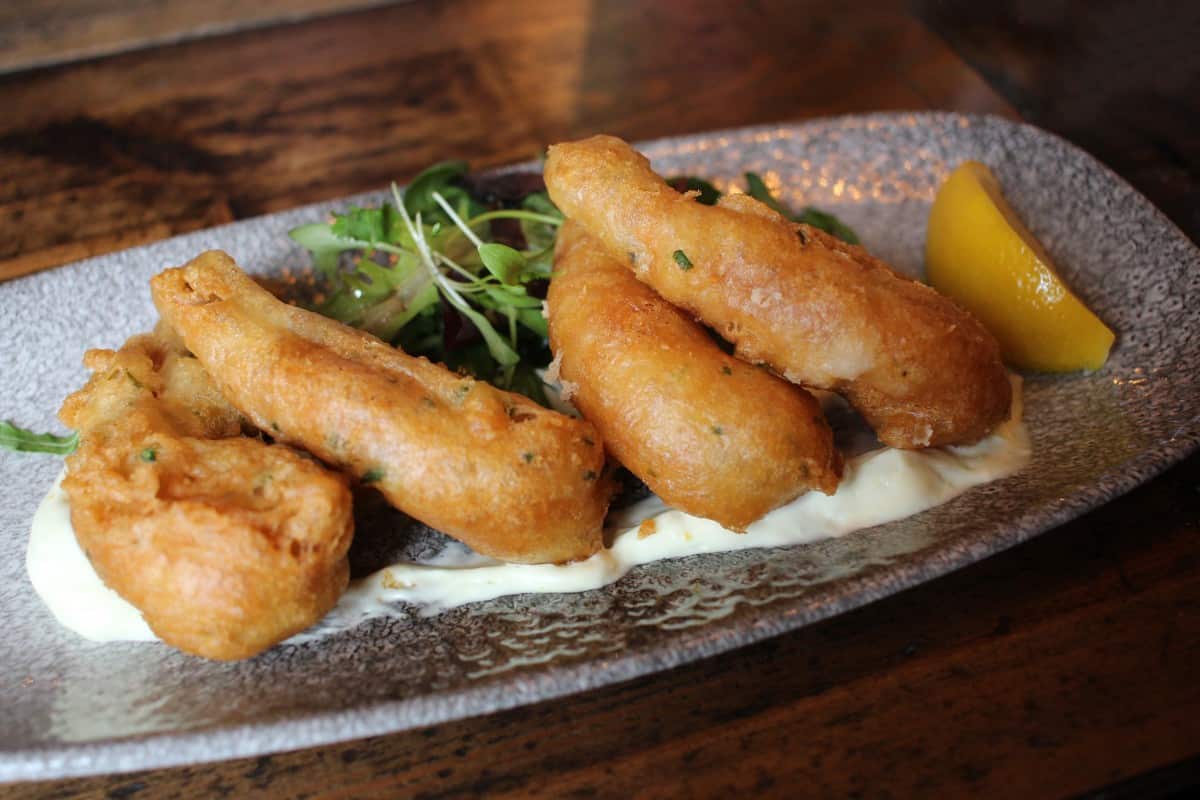 Dave chose the homemade chicken liver pâté which came with country garden chutney, pickles, salad and toasted focaccia and he really enjoyed it. The pickles were a great addition and added a lovely crunch to such a traditional starter.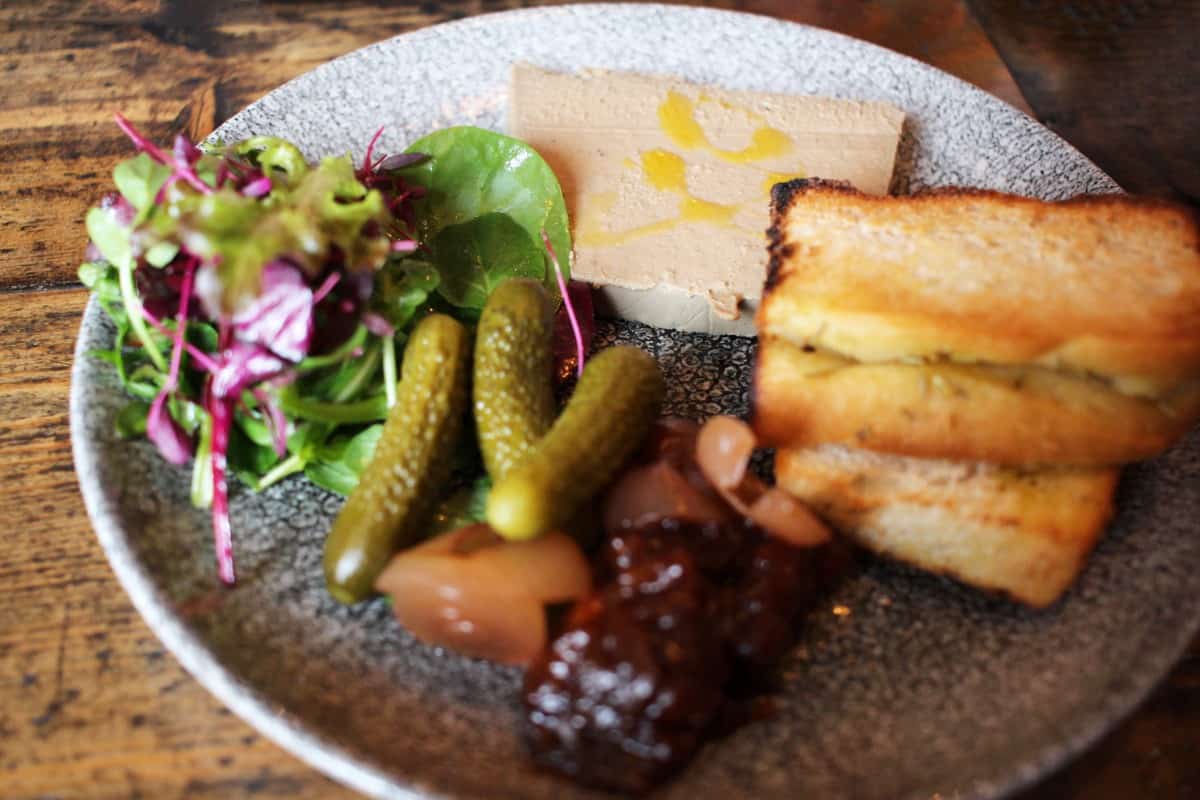 For our mains Dave chose the roast beef which was huge! His plate was piled high with duck fat-roasted potatoes, seasonal vegetables, a great size Yorkshire pudding and lovely rich gravy. You cannot beat a Sunday roast and this one was beautifully cooked and came with such a nice variety of veg too. It was perfect.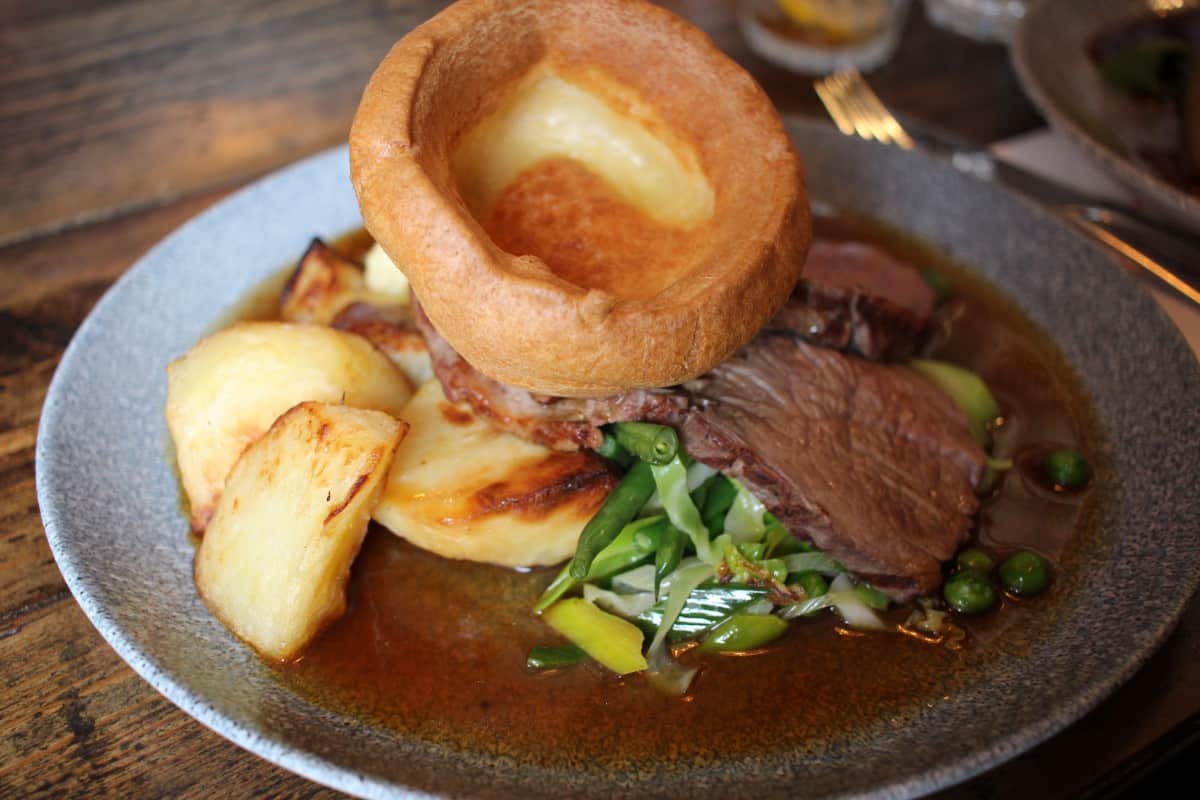 I chose the canon of lamb and spiced lamb belly which came with dauphinoise potatoes, minted pea puree, ratatouille and a rosemary jus. It was such a great alternative to a traditional Sunday roast but had such a great depth of flavour and was a really hearty and filling meal. I also ordered a side of seasonal vegetables which complemented the lamb perfectly.
For our desserts the children both chose the Red Lion Sundae which was full of crunchy meringue, chocolate brownie, honeycomb, marshmallows and chocolate sauce. This was pretty much their dream dessert and the perfect way to end a lovely meal.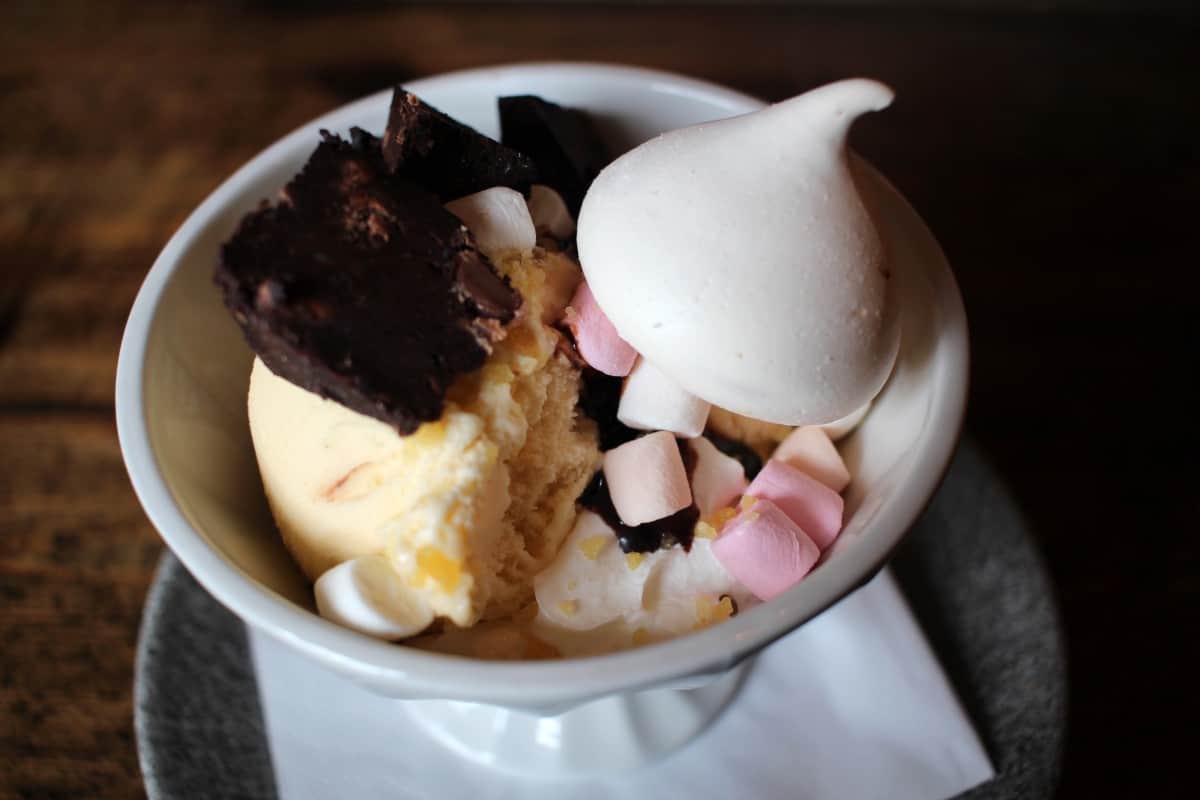 Dave chose the baked cheesecake which came with berry compote, fresh berries and vanilla ice cream. This was such a simple but beautiful dessert and was a really light option to end the meal.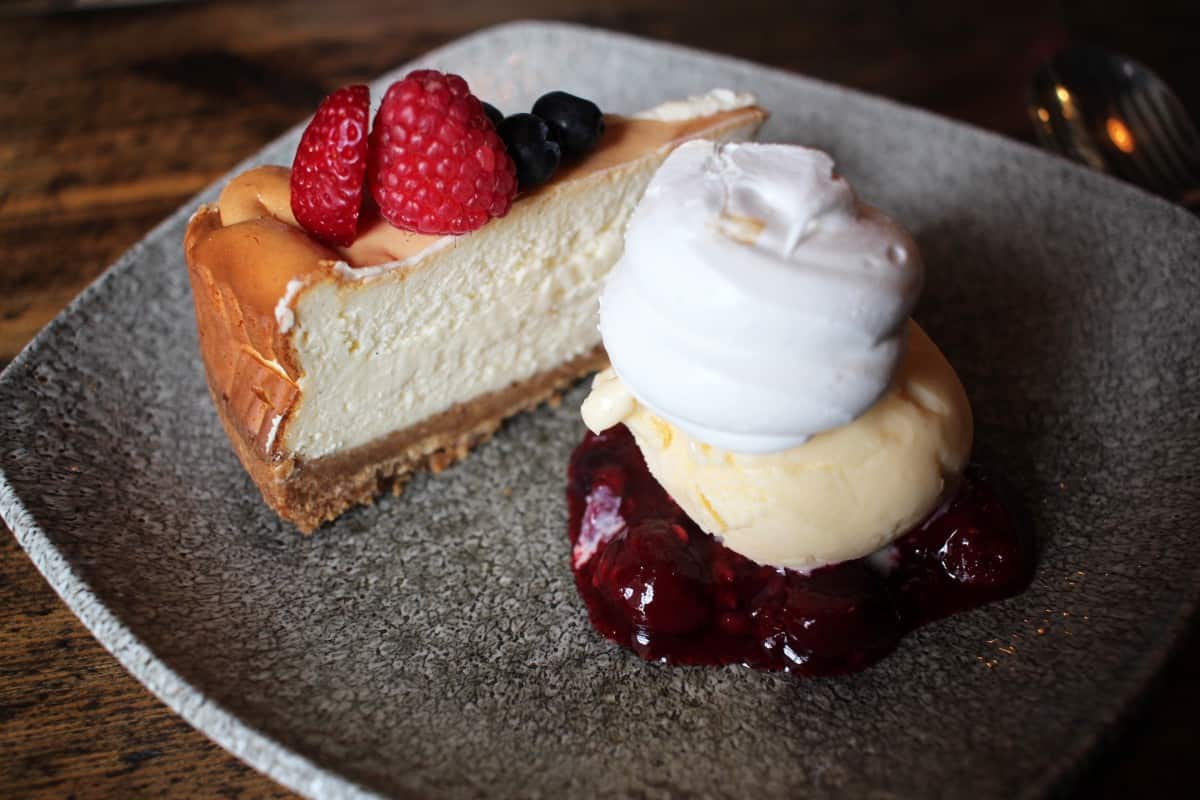 I went for the rhubarb and stem ginger crumble served with vanilla custard and topped with berries. It was such a homely dessert. It was served warm and the kick of ginger went so well with the rhubarb – definitely something I would choose again.
The Red Lion was the perfect place for Sunday lunch. The children really enjoyed it and as a family it's one of the nicest meals out we have had in a long time. The food was beautifully cooked, the menu was varied, seasonal and homely and the decor was beautiful but relaxed and inviting. I don't think our lunch could have been any better.
The whole pub was buzzing whilst we were there – with so many people all having lunch, popping in for a drink and catching up with friends and family. It was clear to see that The Red Lion is a real part of the community in Odiham and a much valued part of the High Street.
Whilst we were there I was also shown the hotel side of the pub, with beautiful rooms and even adjoining rooms for families. The hotel is often busy and it's clear to see why – set in the heart of such a beautiful village it would be the perfect base for a weekend away.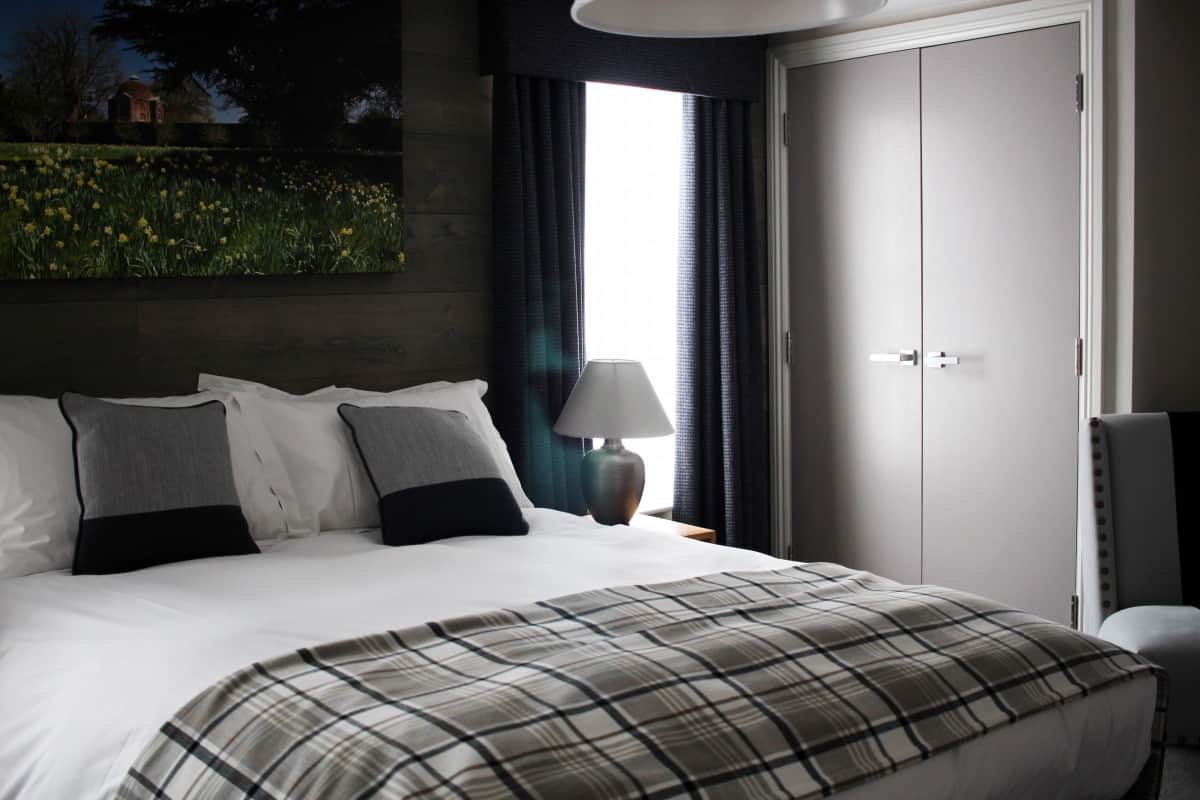 I have teamed up with The Red Lion to give readers a fantastic offer for April. If you visit The Red Lion between 2nd – 30th April you can use code 'REDHEAD' to get £10 off when you spend £40. You can just mention the code or show this blog post to benefit from the offer – so now all you need to do is work out when you can visit. I'm sure we'll be back again before the month is out too!