Disclosure: We were invited on this break for the purpose of this review however all opinions are my own.
As much as we love going on new days out as a family there is one place that we go back to time and time again – Drayton Manor. It's LP and Little Man's favourite place and Thomas Land for them is like nothing else. So when we asked LP what she'd like to do for her Birthday she said go to Drayton Manor, the same thing we did for her birthday last year – and mine the year before! We always love to extend our trips with a stay in a family friendly hotel and this year the Drayton Manor Hotel invited us to try out one of their stay and play packages so we could be right on the Drayton Manor doorstep when it opened!
We live nearly a three hour drive from Drayton Manor but it's somewhere we really find worth the trip. The Drayton Manor Hotel is right on the edge of the Drayton Manor theme park and has plenty of parking which is included with the hotel stay.
Our room was a standard family room which had two double beds. The hotel also offer themed Thomas rooms which are an extra cost. The room was really nice and modern with plenty of room for the four of us, a huge TV and a good size bathroom. Rather than a selection of complimentary toiletries the bathroom had a hair and body wash dispenser attached to the wall next to the shower. There was also tea and coffee making facilities in the room.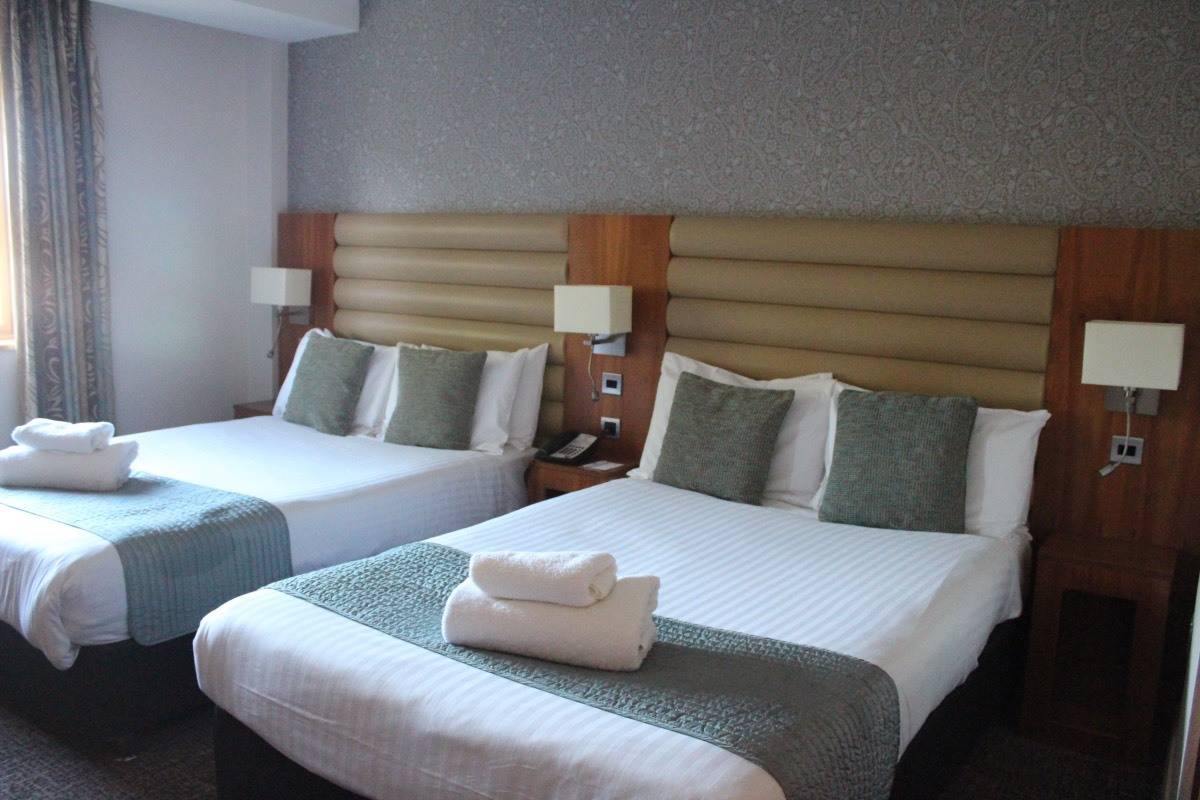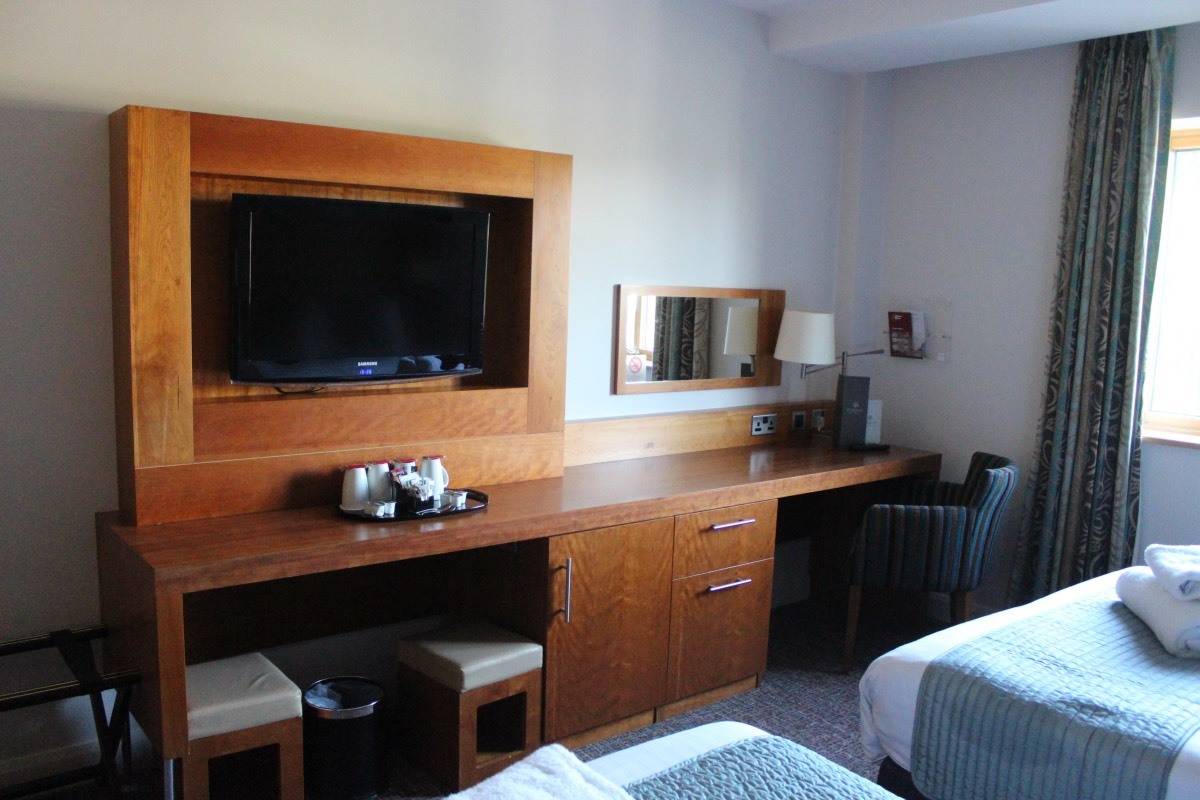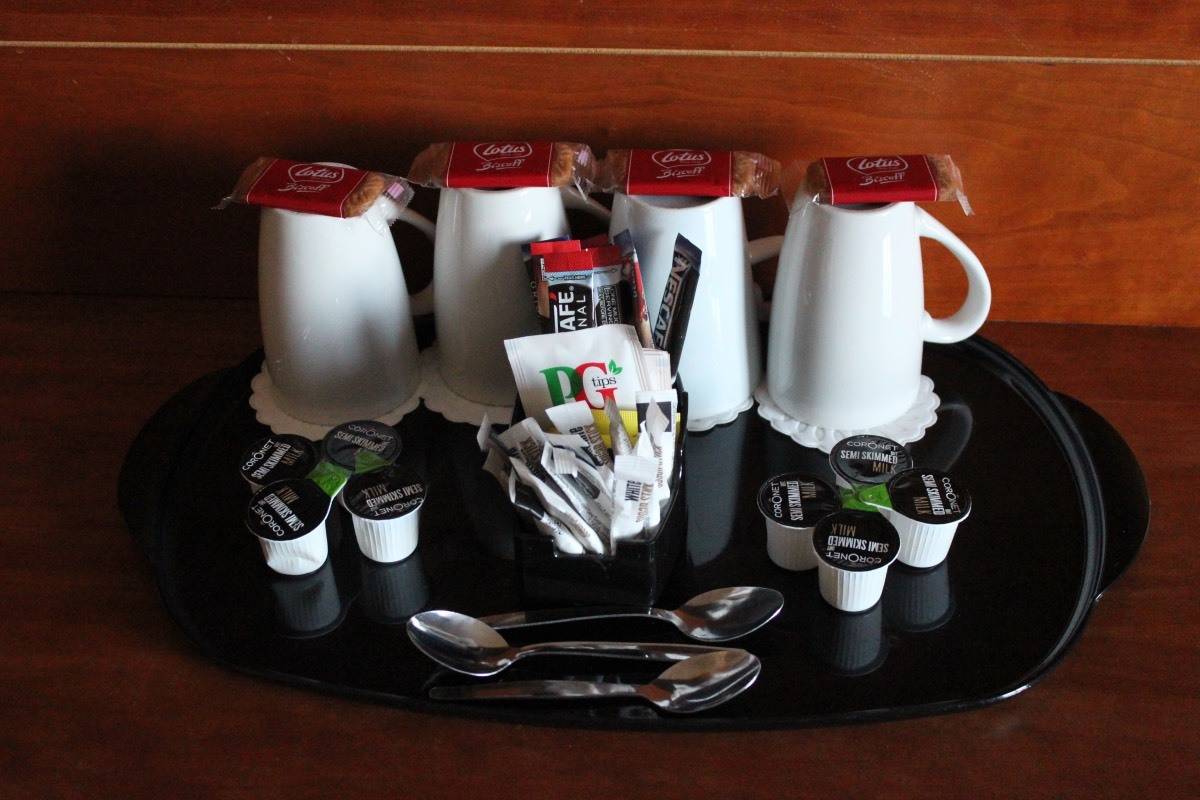 The hotel is very much Thomas themed with a toy Thomas carousel in reception and train models everywhere to have photos with. The children loved this and it made their stay so much more exciting knowing that when we leave our room we'll be greeted by Percy, Emily or Thomas.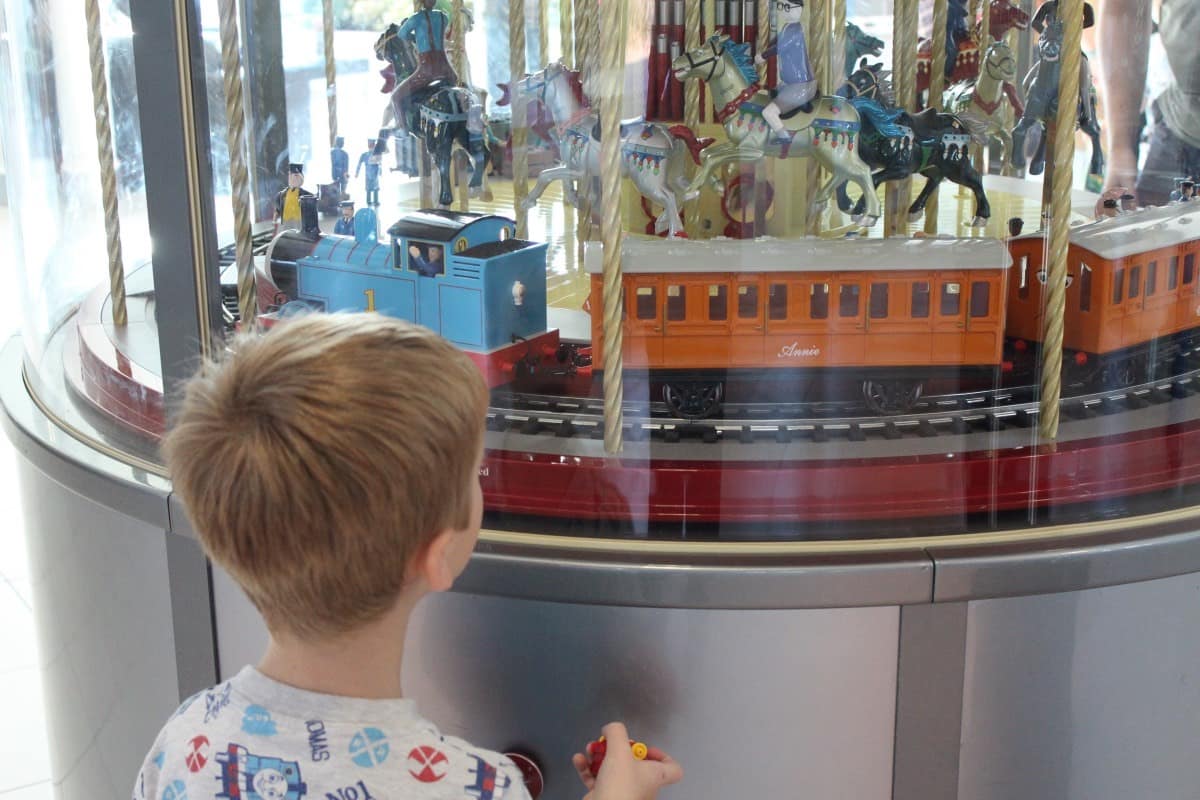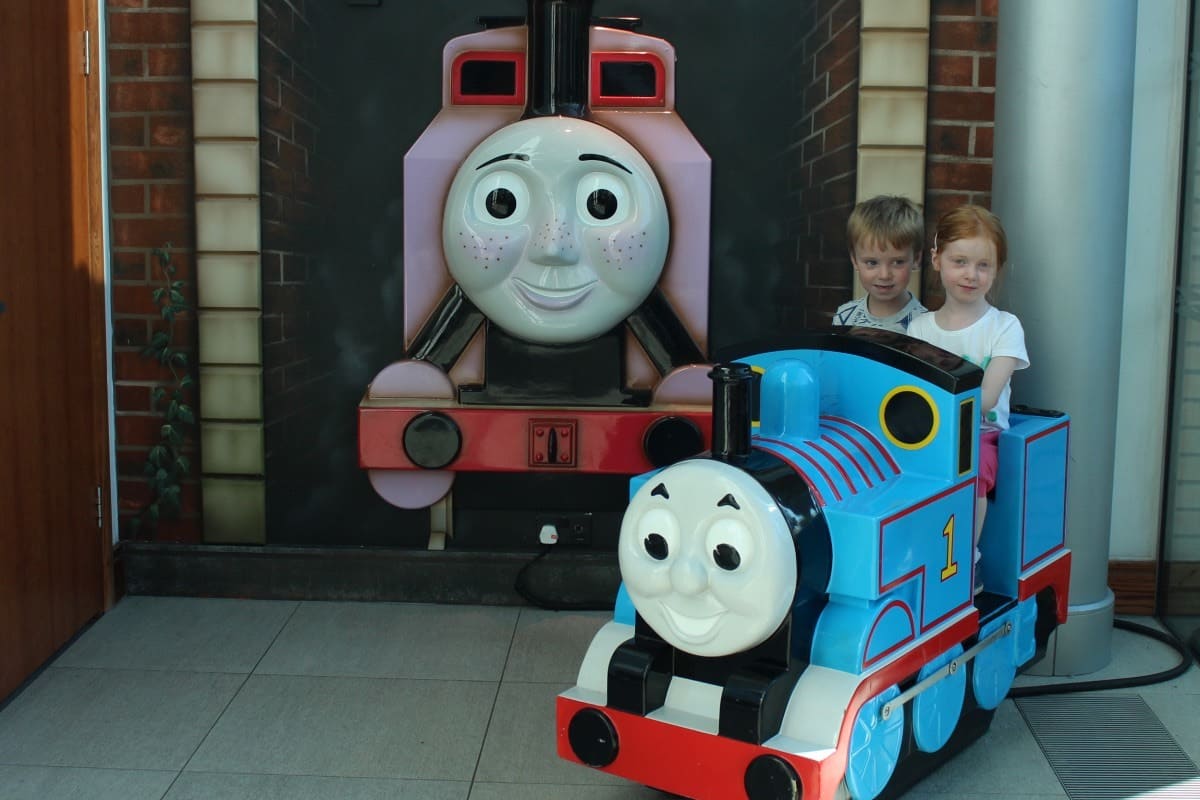 LP and Little Man slept really well but Dave and I didn't sleep quite as well. Our bed seemed to dip quite a lot in the middle, making us both roll into the centre constantly. Everything else was fine and we got up early to make the most of the day at Drayton Manor.
Breakfast at the Drayton Manor Hotel was lovely with lots of hot options and a good selection of fruit, cereals and pastries. The restaurant was also really nicely laid out so that it was really big but intimate at the same time. A really lovely space to have a meal.
After breakfast we went straight to Drayton Manor. The park opens at 9:30am but rides don't open until 10:30am giving you an hour to get in prime position in the queue for your favourite ride, explore the zoo or in our case take photos with all of the trains in Thomas Land!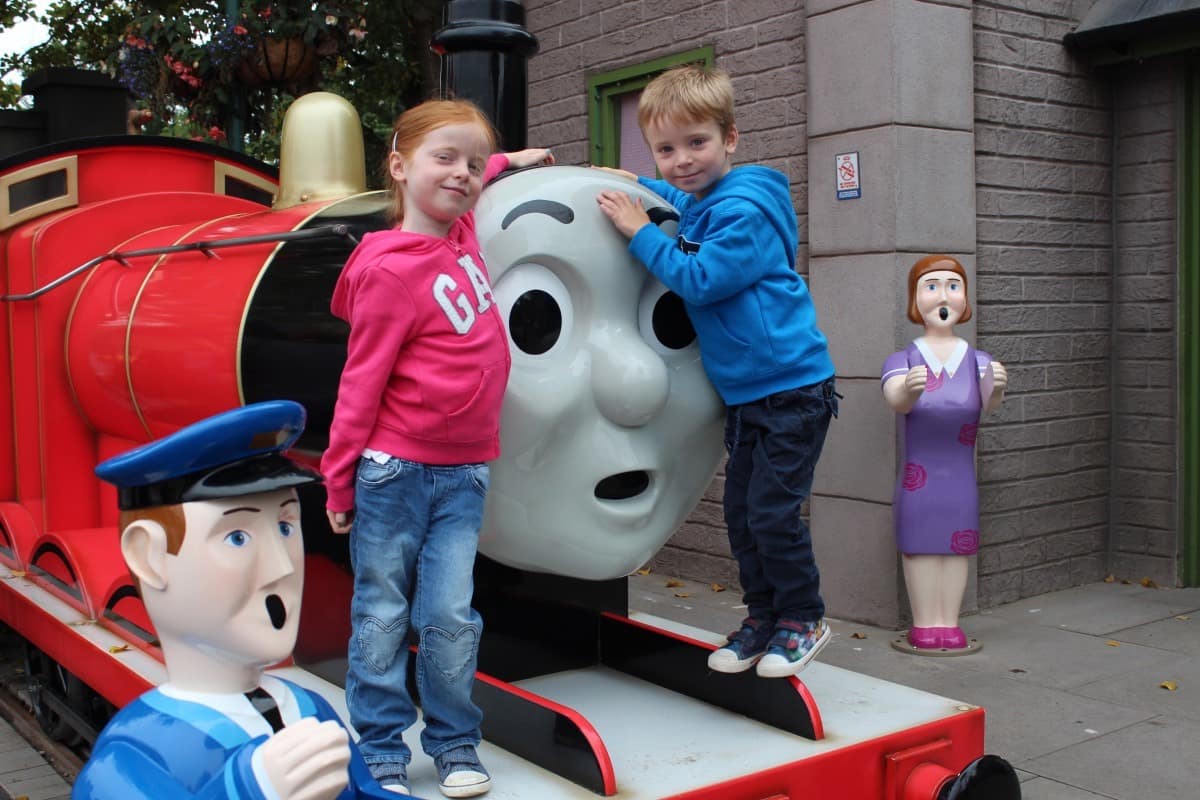 We actually ended up spending the whole day in Thomas Land which LP and Little Man were really happy about. It's a great area of Drayton Manor with rides dedicated to each of the Thomas and Friends characters and it's perfect for the whole family.
The children loved the new James and the Red Balloon ride and went on so many others for the first time – Diesel's Locomotive Mayhem, Lady's Carousel, Bertie Bus, Blue Mountain Engines and Toby's Tram Express.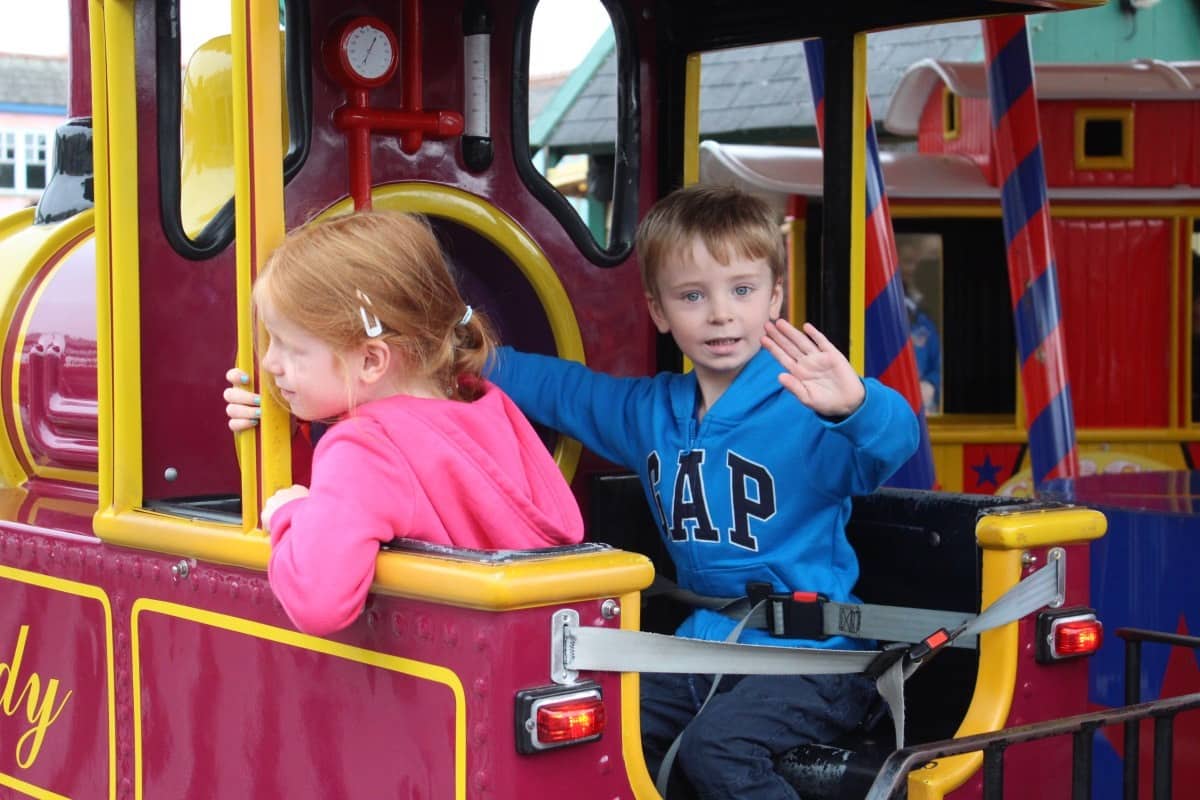 They also went on old favourites like Captain's Sea Adventure, Jeremy Jet's Flying Academy, Winston's Whistle-Stop Tours, Harold's Helicopter Tours and Cranky's Tower Drop. The rides are all so different and the children are just the right age – and height – for them.
They also went in Emily's Soft Play for the first time which was so busy and run on a session basis. I don't know how long the sessions are but as we arrived late into a session the children only got about fifteen minutes of play time before we had to leave for the next session to start – something worth thinking about if you're planning on using the soft play.
We visited Drayton Manor during the school holidays and on one of the hottest days we'd had in a while and the queues for the rides were bearable. We didn't have to queue for more than about fifteen or twenty minutes for each ride but we did skip the Flynn's Fire Rescue ride due to the queue length.
Although we didn't explore more of Drayton Manor this time we had a really fun and full day out. Next time we'll get on the Thomas, Rosie or Percy trains over to the zoo, explore the dinosaur park and go on some of the bigger rides in the main Drayton Manor park. But our visit shows that Drayton Manor is a great day out – even if you stay in Thomas Land the whole time!
We had such a lovely visit to Drayton Manor this year and staying in the hotel meant we could have a longer day in the park, doing more of what the children love. It's definitely something we'll consider next time we head to Drayton Manor as the children are already asking to go back. Drayton Manor is one of our favourite attractions in the UK and I know we have years of Thomas Land enjoyment yet to come.
Here's a video we made of our day: