Tonight I have had a breakthrough, it's just a small thing, but I am incredibly proud of myself.
I wrote back in September about how awful I found solo parenting evenings, how it was too hard to juggle everything and I couldn't be everywhere at once. Little Man's bedtime coincided with LP's dinner and trying to get them both fed, bathed and in bed was sending me to the point of pulling my hair out.
After writing that post I made a decision that I would no longer to bathtimes when Dave was working in the evening. So two nights generally out of ten both children would go without a bath and it made things so much easier. The last six months have flown by. Little Man was only 4 months when I wrote that post, he was still tiny really and all I could see was a future being filled with two conflicting routines, stressful evenings and screaming, upset children.
I've hardly noticed the change but somewhere over the last 6 months Little Man has started staying up later, started having dinner with us and started sharing baths with LP in the evenings. Somehow without me even realising, LM and LP's routines have merged and they are now so much easier to deal with but I still lack confidence in doing bathtime by myself with both of them. I have visions of something going horribly wrong, of them both being in awful, overtired moods and the whole situation being uncontrollable. Because of this I still haven't bathed both children together by myself. I avoid it at all costs and have been planning on starting bathing Little Man every night from a year to coincide with me stopping breastfeeding, teaching him to go to sleep by himself and having a proper bedtime routine.
Tonight though Dave was working. The children had dinner together and by the end of it Little Man had baked beans mushed in his hair. Usually a quite wipe over and he's fine – Babies don't get very dirty really, but baked bean juice is like orange cement and Little Man had to have a bath.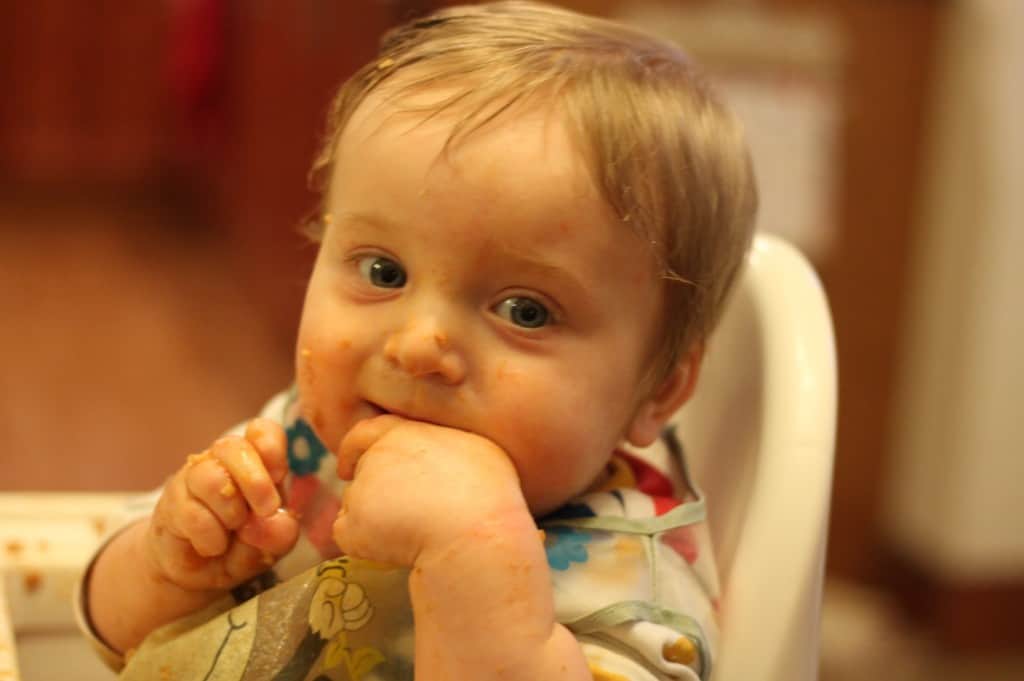 My first thought was to give Little Man a bath and for LP to 'help'. Anything to avoid them both being in the water at once but then I thought 'sod it' and bit the bullet. I'd have to face my fear at some point and just get on with it, it may as well be now!
So I took both children upstairs, ran the bath and bought the change mat and Little Man's bedtime things into the bathroom. I then got LP undressed and put her in the bath, following closely behind with Little Man. I then washed them both over, washed their hair and let them have a splish splash for a few minutes. I then got Little Man out and ready whilst still in the bathroom to keep an eye on LP. When he was ready for bed I put him in his bedroom to have a roll around on the floor and a play whilst I got LP ready.
I cleaned LP's teeth, got her out the bath and got her into her PJs and then put her in our bed to watch Curious George whilst I fed Little Man and put him to bed. Curious George lasts 30mins so I know I have time to feed Little Man without having to stop to come out and change the TV channel and LP loves Curious George so much that she'll stay in our bed watching it.
So all in all bathtime with both babies by myself was a success. They were both happy, both enjoyed it and are both now clean. For me, that was quite a parenting victory – Something I've been nervous about for the best part of 10 months but it's now been done once and can be done again!
If you're worried about doing something then my suggestion would be to feel the fear and do it anyway – Not many things in life are easy and it will definitely be a lot easier for me to do double bathtime by myself in future now that I've got over the hurdle of doing it once!