Disclosure: We were invited on this break for the purpose of this review however all opinions are my own.
Due to having a young family as well as both working shifts around each other, Dave and I don't often get time alone together, especially not overnight so when The Maytime Inn invited us to stay with them for a weekend I was really looking forward to it. The Maytime Inn is situated in a really beautiful and quiet village in the cotswolds.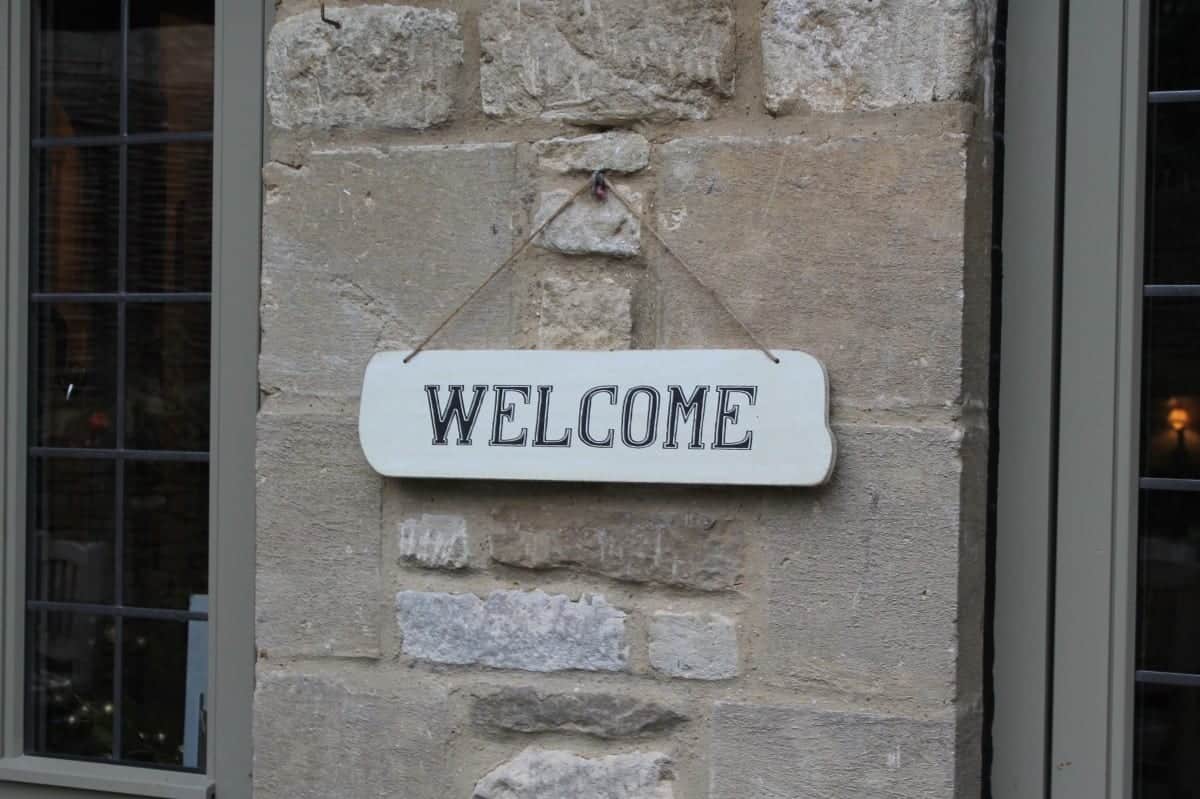 The Maytime Inn is a traditional country pub with rooms available – although that doesn't give it the credit it deserves. From first stepping foot inside The Maytime Inn it is clear that this isn't your average pub although it is full to bursting with a homely charm. It has recently been refurbished but it still has many original features and a bar that you could happily spend all afternoon or evening sitting at.
We were shown to our room, The Hunting Room, just off The Maytime Inn's rear courtyard. The Hunting Room and the other five available rooms are all set away from the main body of The Maytime Inn to make sure you aren't disturbed during your stay but you're also close enough to have dinner or just a drink without even having to grab your coat.
The Hunting Room was simply stunning. The bed was huge – a really generous sized king – and a stag's head had pride of place on the wall above it, setting the theme for the room. The decor all worked beautifully together and everything felt rustic but comfortable and more like a character filled boutique hotel than a room at a country inn.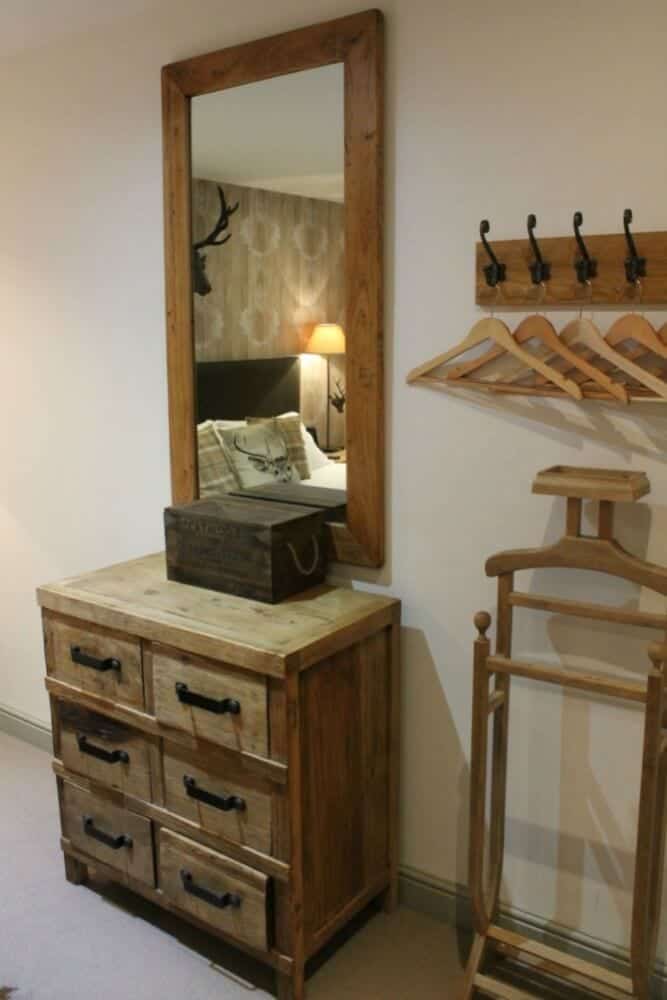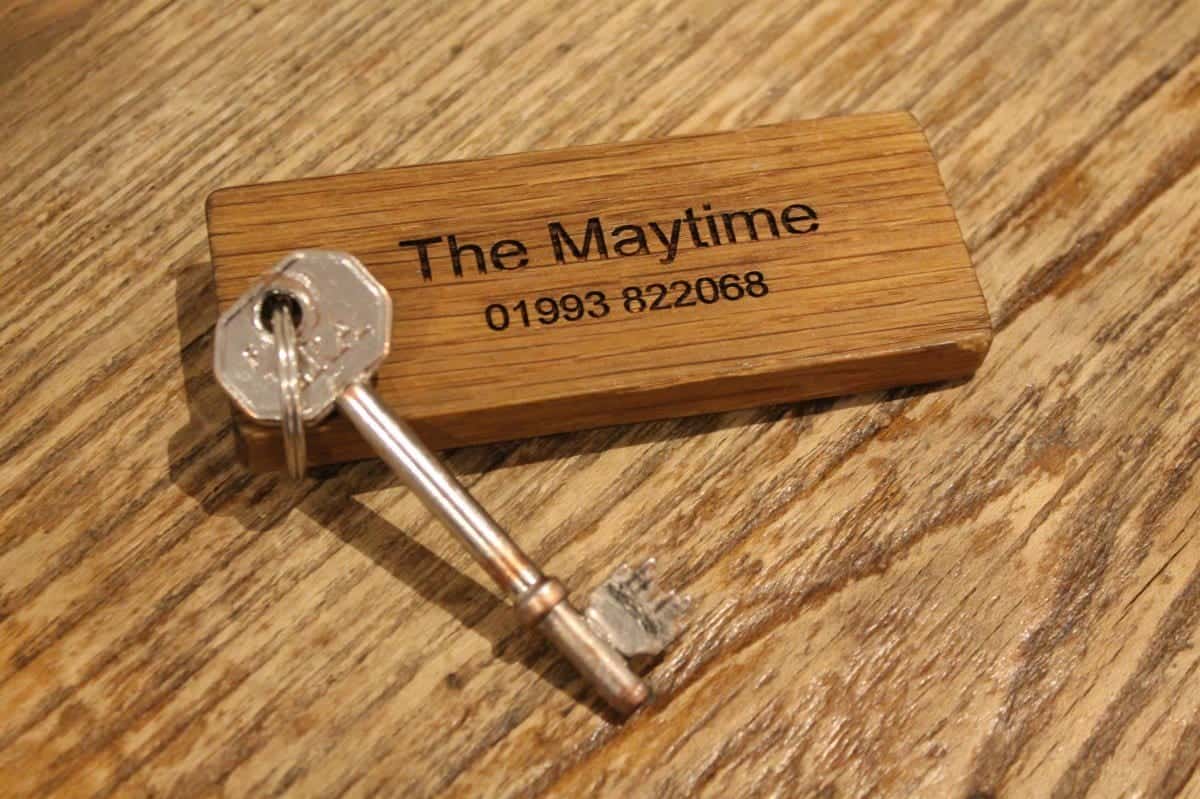 The bathroom had a huge freestanding bath as well as a really big shower cubicle – one of the nicest bathrooms I have seen in a hotel in a long time. There were also Cowshed toiletries to use and the softest of towels.
The room was easy to love but there were so many little touches too – homemade shortbread on the well stocked tea and coffee tray as well as a bottle of fresh milk delivered in an ice bucket. Everything worked so well together and we really couldn't fault the room at all and even though everything felt traditional. The Maytime Inn hadn't cut back on the modern touches either. With lights that you could adjust by the touch of a button to get the right ambience and free wifi it really ticked all the boxes.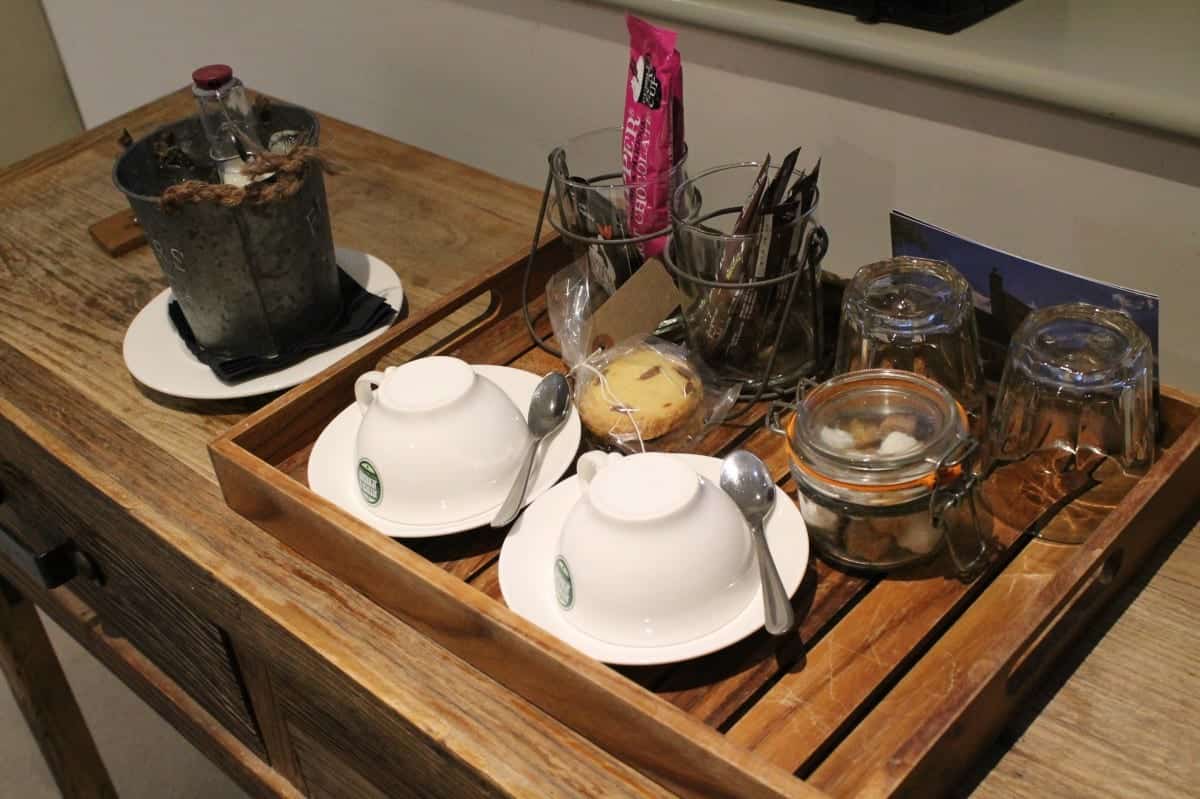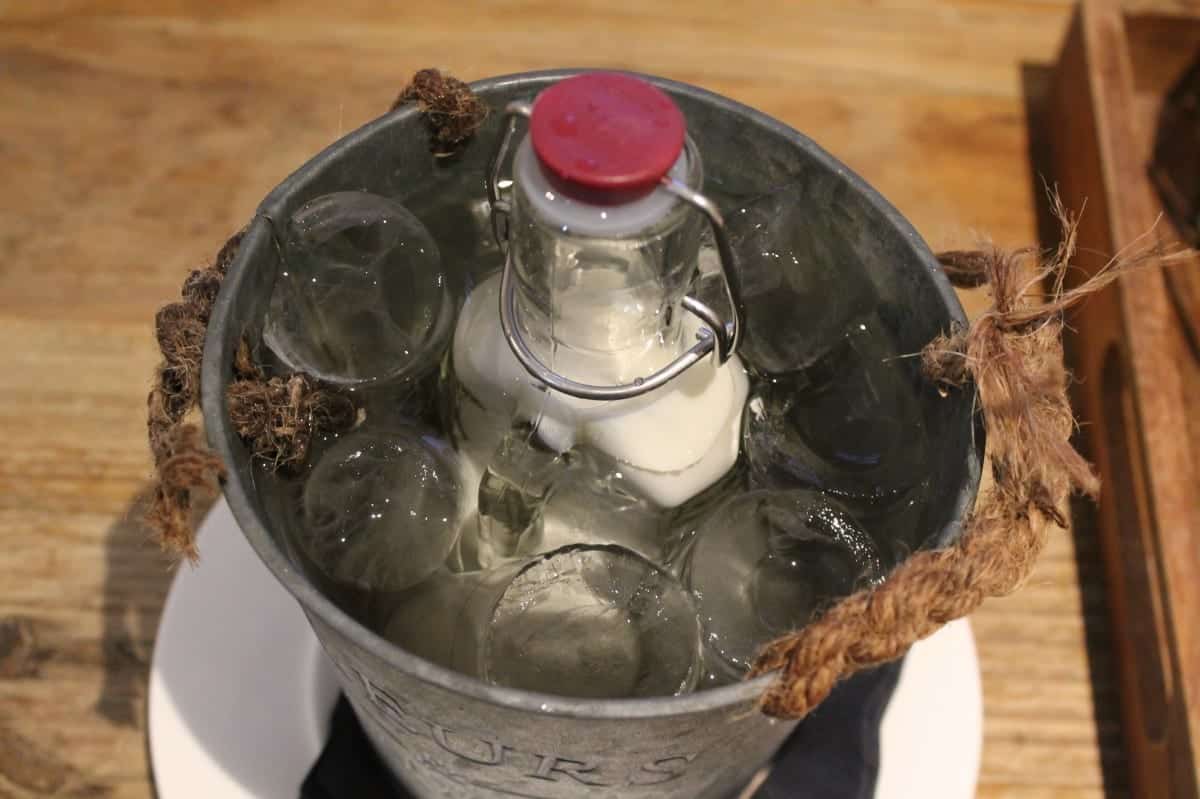 We had a drink before dinner and went for a gin and tonic – our usual drink of choice. We found that The Maytime Inn actually specialise in gin and had 42 different varieties – and Andy the Assistant Manager was more than happy to recommend ones to us and we ended up going for a local Cotswolds Distillery gin.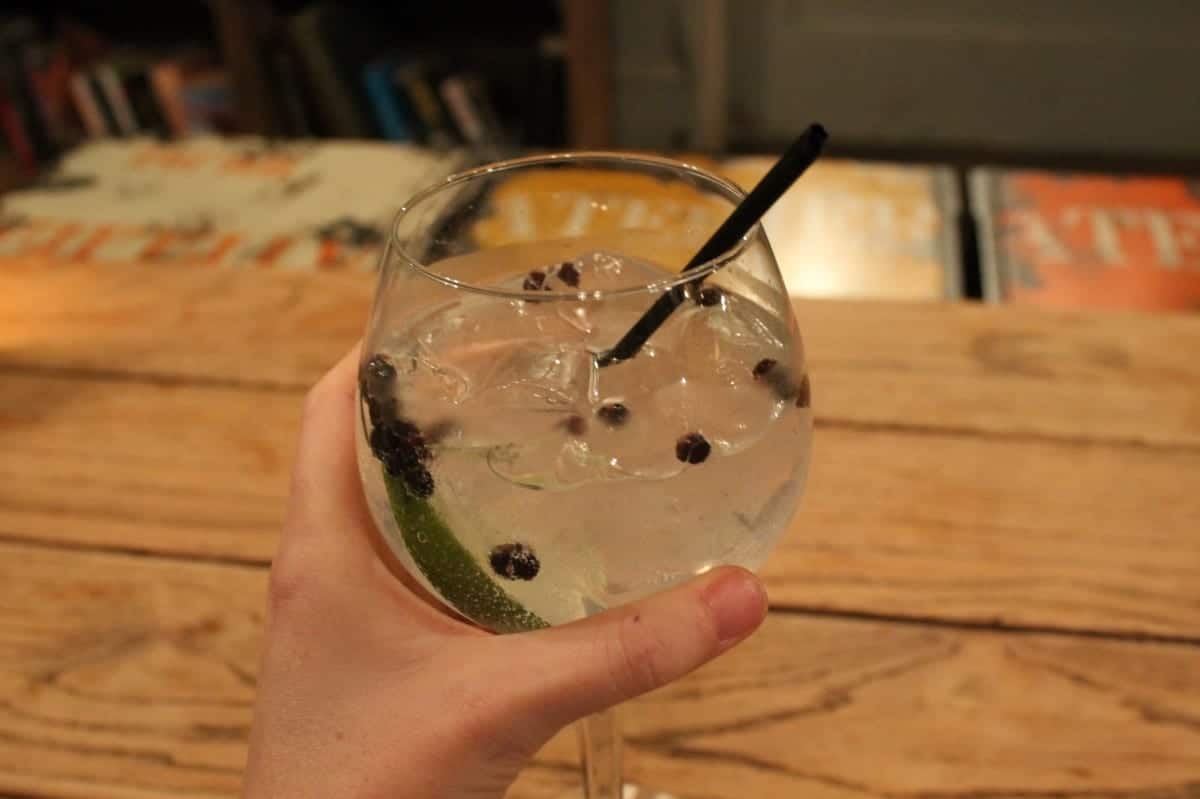 Over our drink we got to soak in the beauty of The Maytime Inn. Relaxing on a sofa in the corner, surrounded by mismatched, reclaimed furniture it was easy to feel at home. There were coat hooks, welly boot storage and even a crate of blankets for the colder evenings. The Maytime Inn had thought of everything.
It was lovely to visit at this time of year too – with Christmas decorations everywhere, mistletoe hanging from the chandeliers and a roaring fire with stockings hanging above. The Maytime Inn would be such a lovely place to go to for a festive gathering but it's equally perfect for a quiet evening at any time of the year.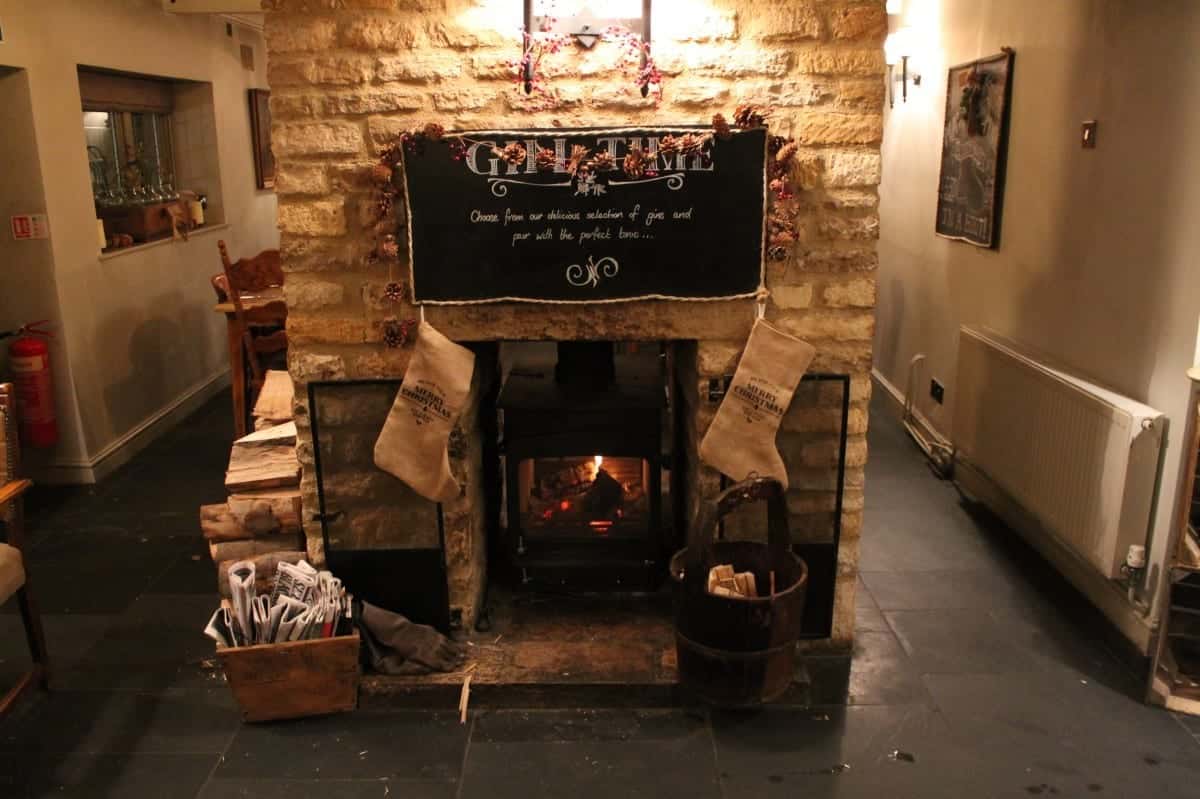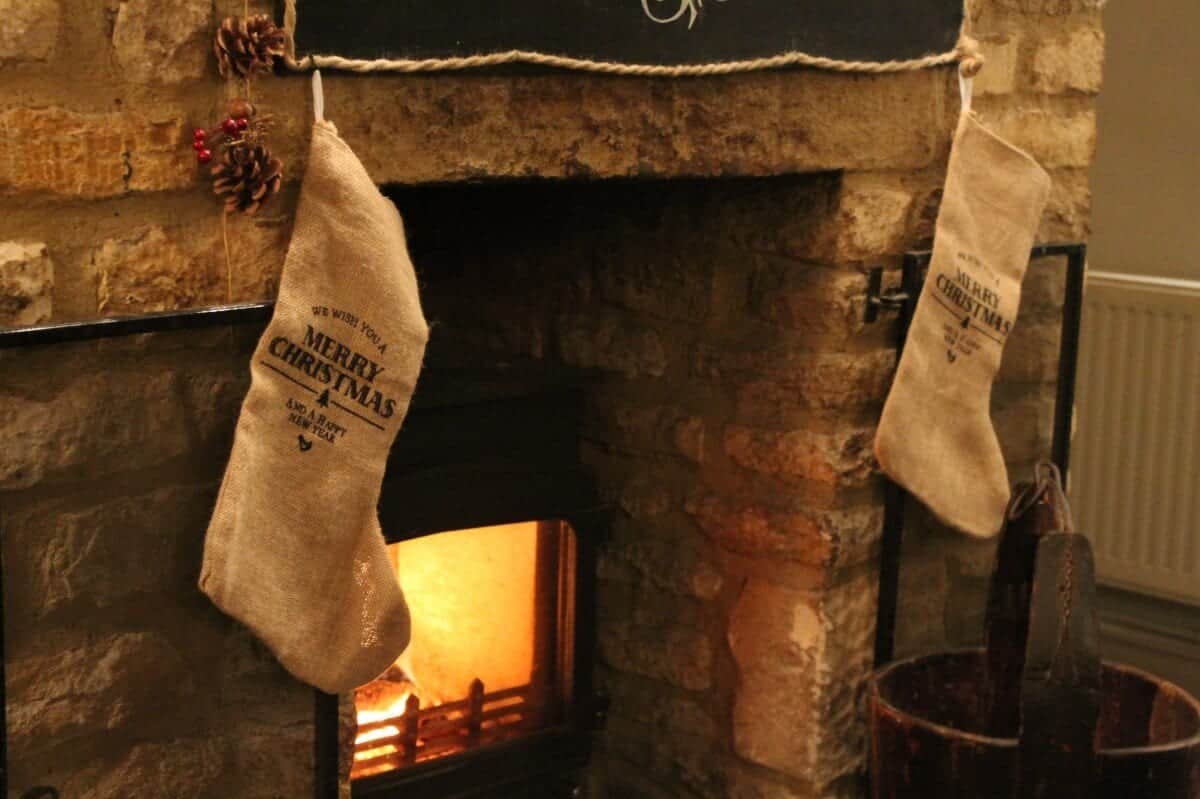 We had dinner seated in one of the many intimate dining areas and had such a diverse menu to choose from. We had humus and pitta bread whilst we waited for our starters to come out and cracked open the wine, enjoying the relaxed, candle-lit surroundings.
For starters we chose the Pork and Black Pudding Scotch Egg and Parma Ham, Blue Cheese and Figs on Rye Bread. I have wanted a proper scotch egg since seeing them on Masterchef – and they're something I cook at home often but I don't think I will ever enjoy a scotch egg as much as this one. Heaven on a plate!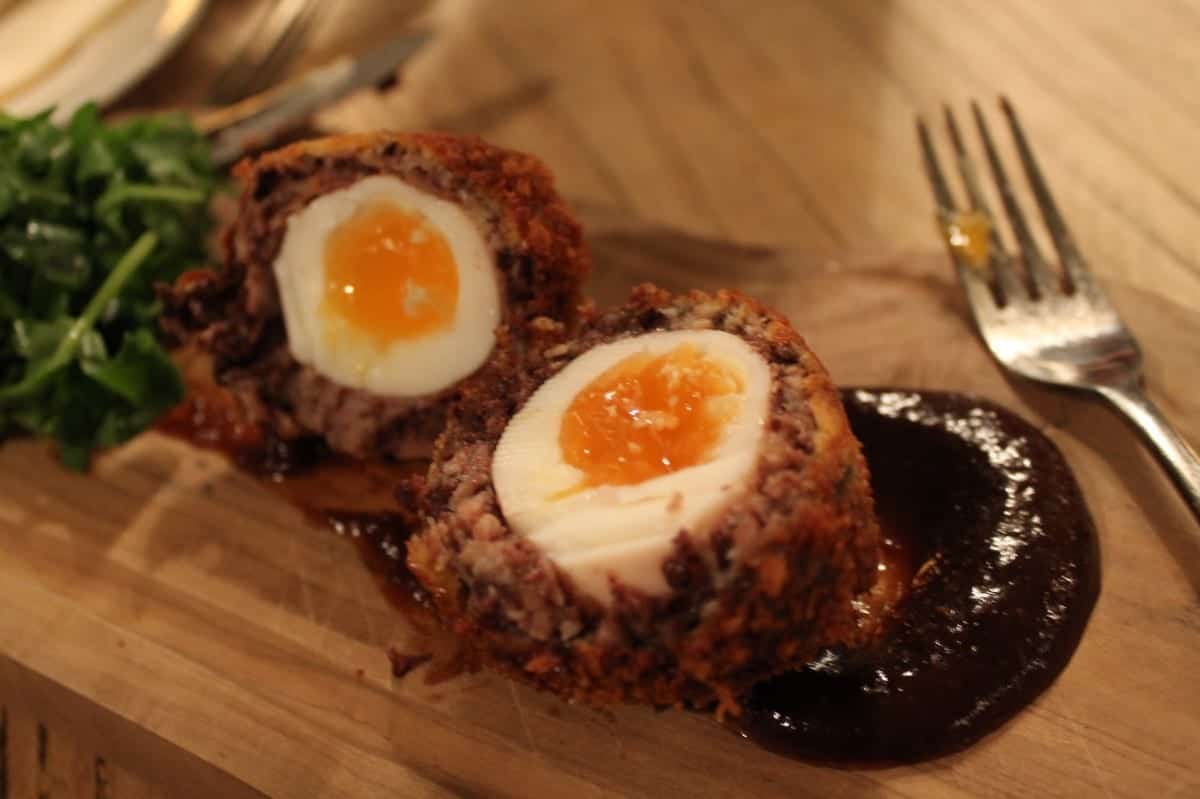 Dave loved the combination of parma ham, cheese and figs and it's not something he's tried before. I loved how pretty his plate looked – after all, you do most of your eating with your eyes!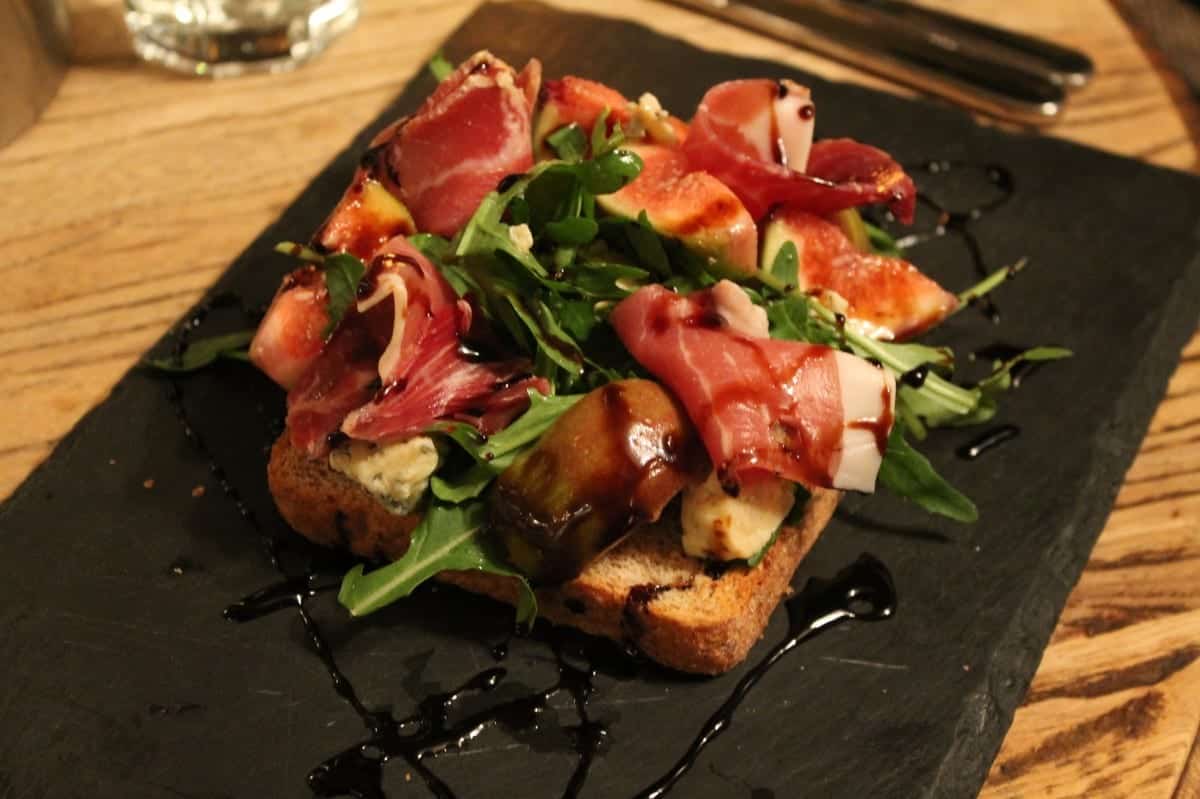 For mains I chose the Wild Boar Burger and Dave had Ribeye Steak – easily one of the nicest looking steaks I have ever seen! It came with a choice of peppercorn sauce or garlic butter and he chose the peppercorn sauce – perfect for pouring over the steak but also for dipping the rustic chips into!
My Wild Boar Burger was lovely. It's not something I've tried before but it was juicy and full of flavour. It also came with beautifully cooked skinny fries and the biggest onion rings I have ever seen. I normally feel like it's a bit of a cop out ordering a burger when out for dinner at a restaurant but this burger was something else entirely – one of the best meals I have had in a long time.
For desserts Dave had Blackberry Parfait and I had the Chocolate Chip Bread and Butter Pudding. Served with Creme Anglaise, this was a really lovely winter pudding. It was just the right size as it was so filling and the flavours worked so well together. Dave's Blackberry Parfait was so refreshing and as he usually picks heavy, chocolate based puddings he loved the change and I think he will be picking this sort of dessert more in the future – he loved it!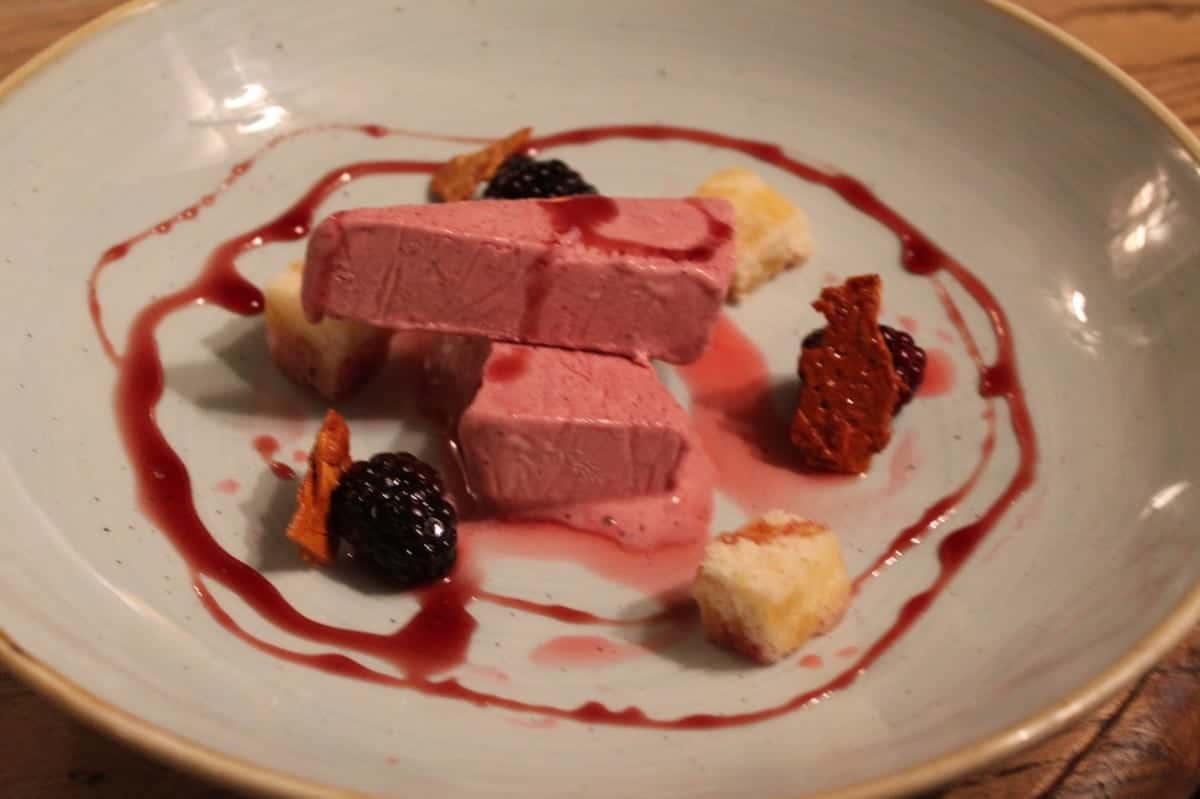 After dinner we watched TV for a while before bed and had a great night's sleep. The bed was comfortable, the pillows and duvet were perfect and the room was just the right temperature. We couldn't complain at all!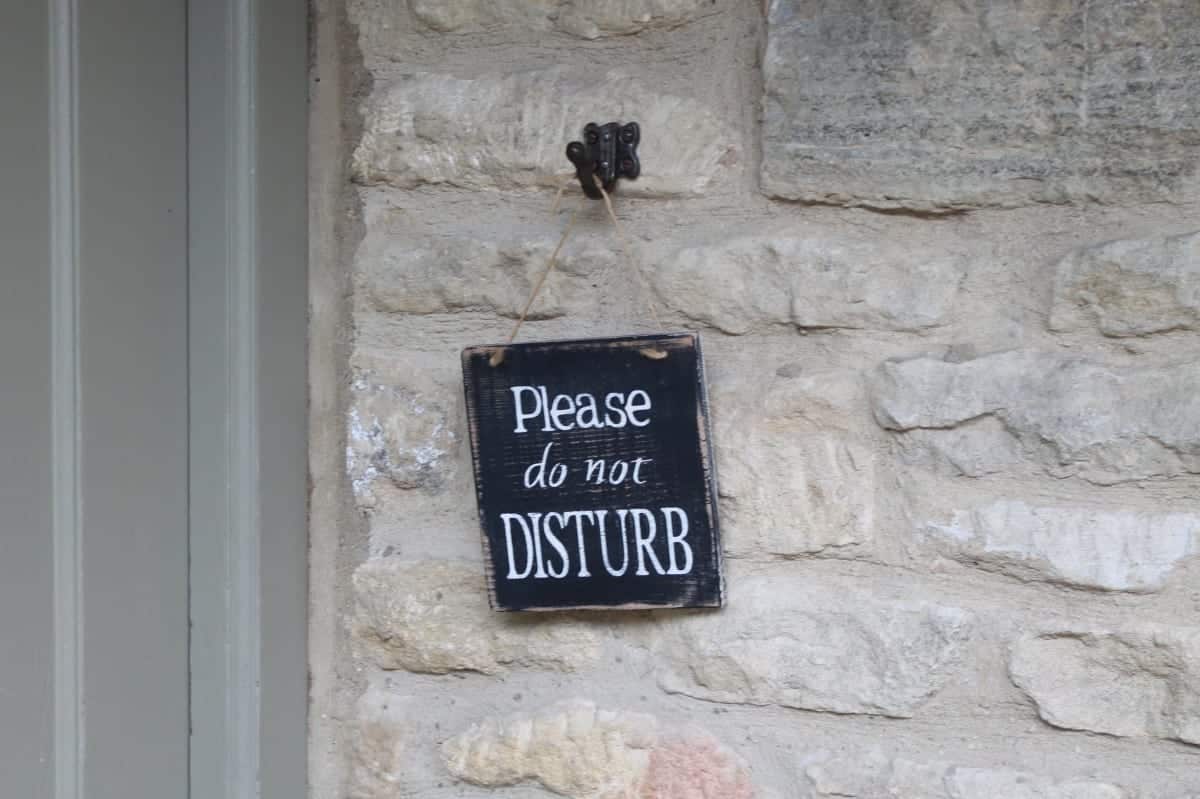 For breakfast the following morning we were greeted with a well stocked buffet of continental options and juice as well as ordering a cooked breakfast from the menu. They also had a great choice of teas and coffees and I loved the addition of the Tea Timer – great idea to help achieve the perfect tea!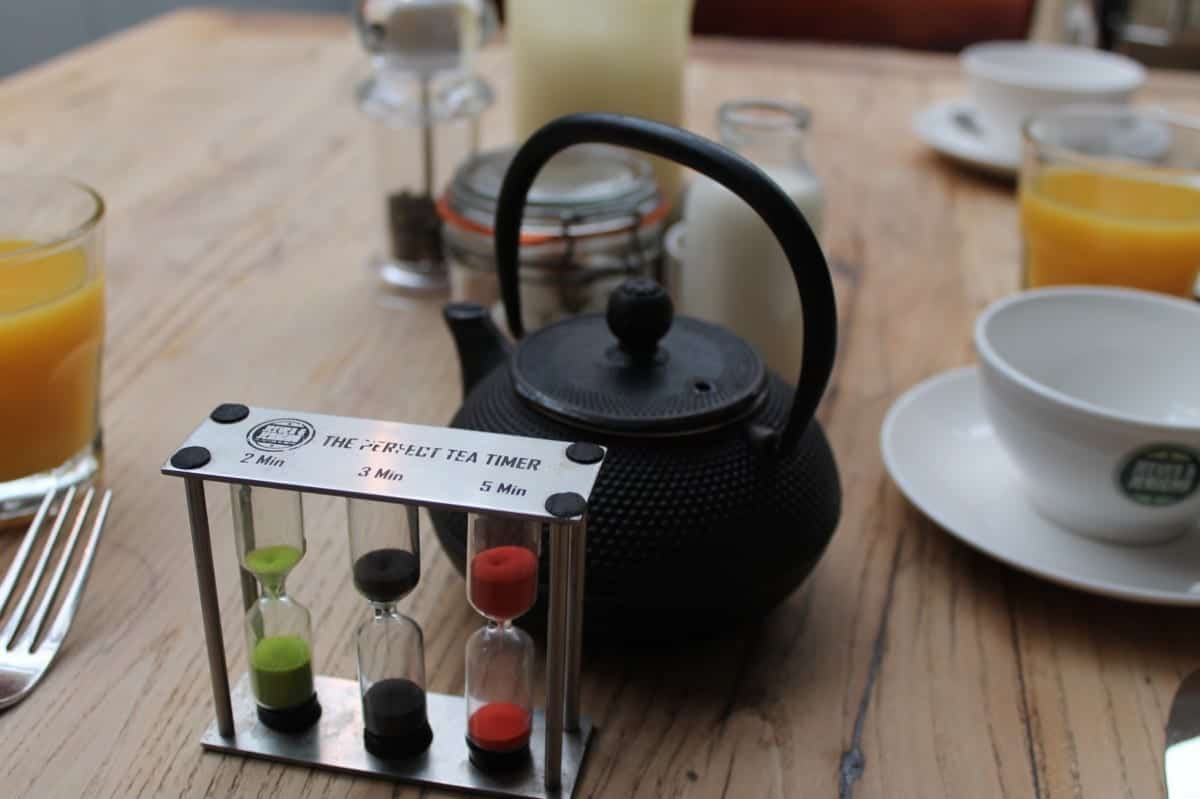 Dave and I both chose the Full English Breakfast and you can tell that The Maytime Inn only use the best of ingredients for everything they cook. The bacon was thick, the sausages were meaty and vine tomatoes and mushrooms topped it off perfectly. A really lovely breakfast.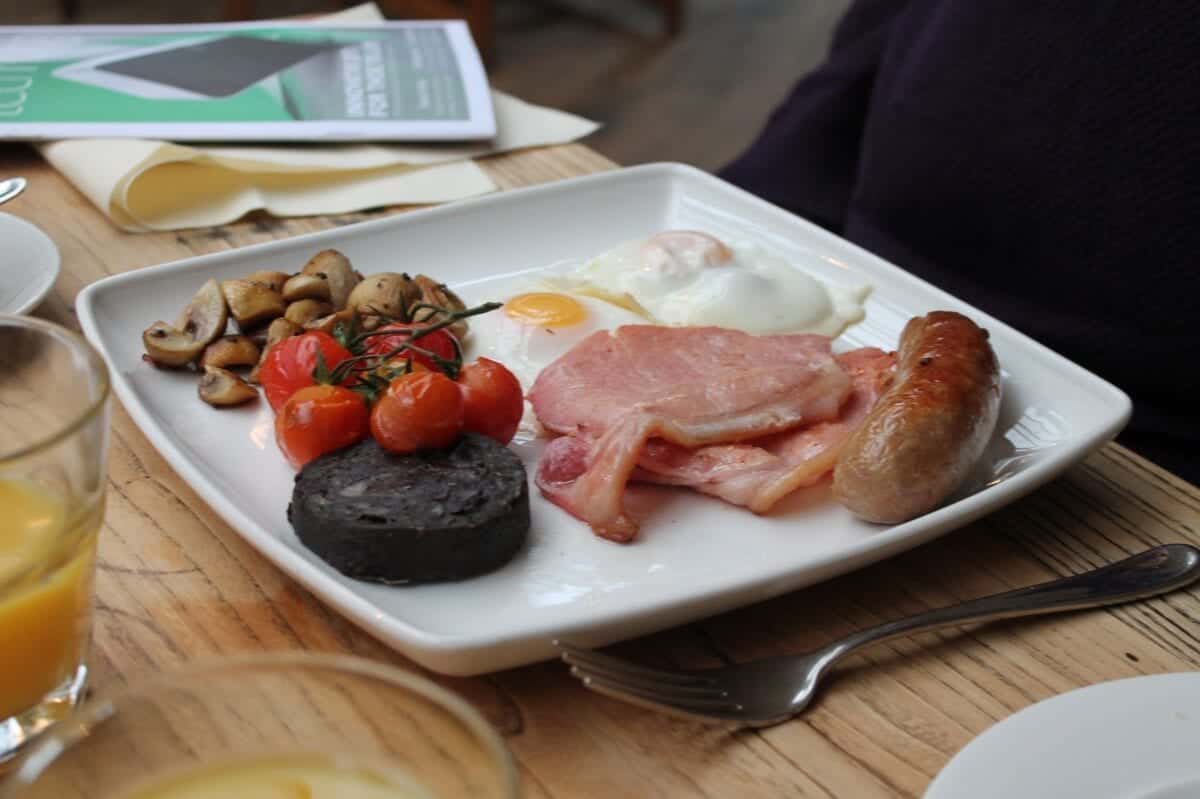 The Maytime Inn is a really welcoming place whether you are looking for somewhere to stay for the night or just stopping for a drink. Dogs are welcome as are children and it is one of the nicest pubs I have been to in a very long time – if ever. It also caters for weddings, parties and any other occasion. It really seemed like the perfect place for celebrating! The Maytime Inn also has a lovely garden that would be beautiful in the summer. The staff were fantastic, nothing was too much trouble and they even have live music some nights too.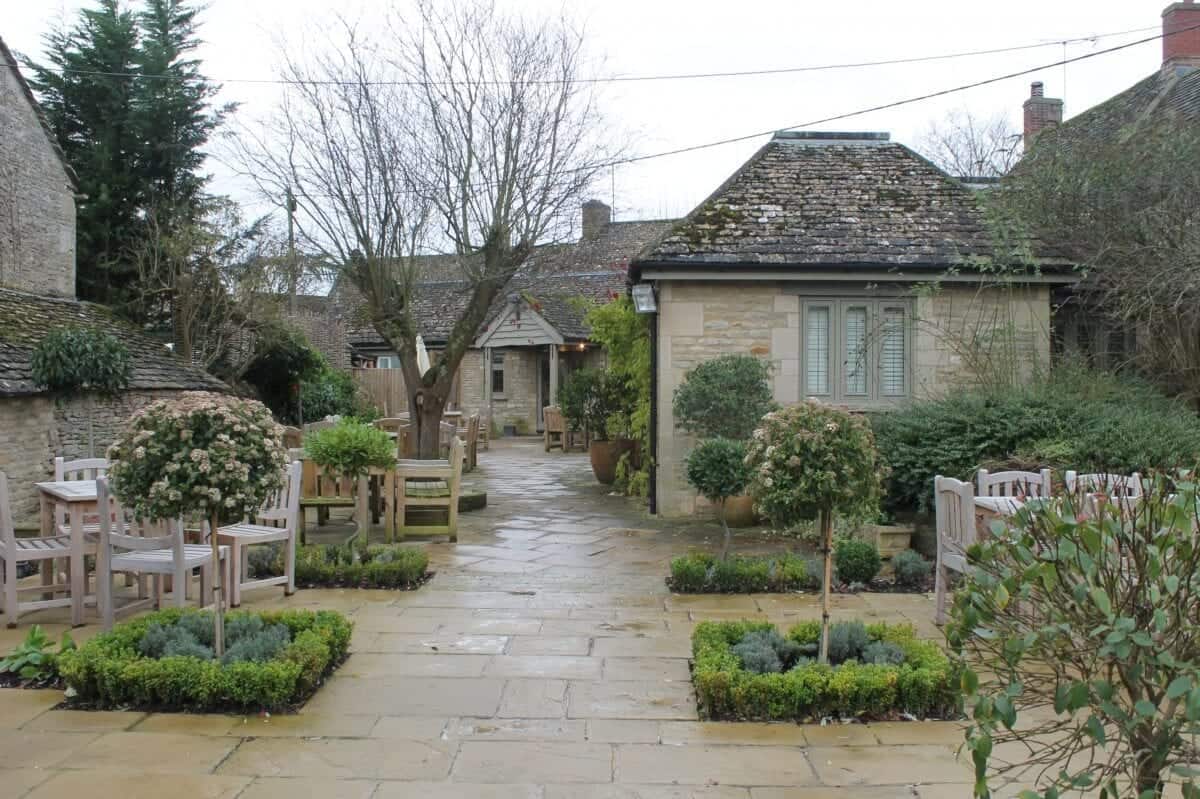 We had a really lovely stay at The Maytime Inn and I asked Dave if he could think of any negatives – he couldn't. The only thing I could think of was there is no mobile phone reception but to be honest, when having a quiet weekend away who needs mobile signal anyway?! Especially with free wifi. That, to be honest, is the most negative I can be – and it's not really down to The Maytime Inn anyway!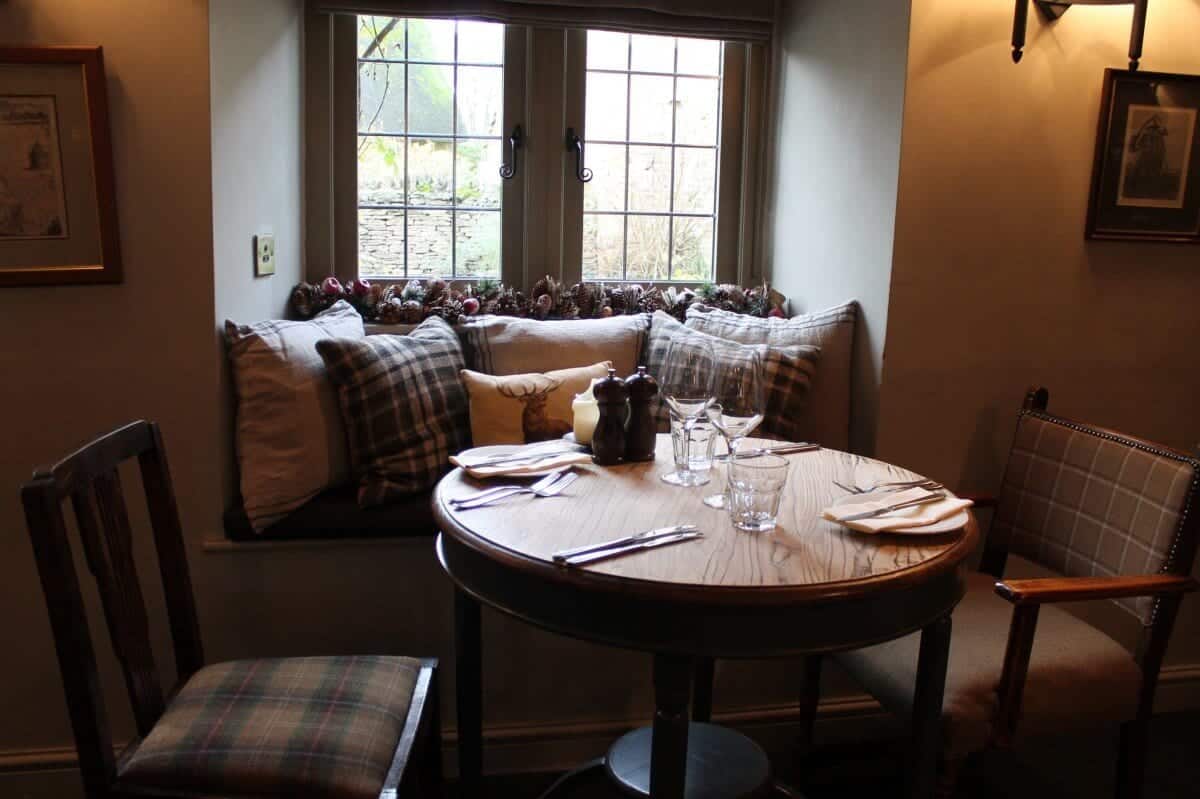 The Maytime Inn is a wonderful place and I just wish we lived nearer to spend and evening there more often. One thing's for sure, if we're even in the area again it will be our first choice for lunch!