We have now been Baby Led Weaning for 3 months. LP has still only fed herself, we have never spoon fed her. BLW is definitely a way of life for us now and I am so glad that we started weaning this way. LP is putting on more than enough weight, has dropped milk feeds and is thriving. I'm going to talk about how baby led weaning is going for us and at the end of this post there's a cheese scones recipe too.
So how is Baby Led Weaning going for us?
The last three months have flown by and the BLW journey is going really well. It is now so easy to have meals with LP, to share our food with her and she generally tries everything.
LP has such a variety of foods – more so than Hubby and I! I always give breakfast then fruit, lunch and then fruit, dinner and then fruit plus yogurt if she is still wanting more! I never would have thought that someone so small could eat so much!
What does a Baby Led Weaning baby eat?
For breakfast LP will have either cereal or something 'bready'. When we give cereal I break a weetabix up into a few chunks in a bowl, add a sprinkling of cheerios and shreddies and pour over some milk. LP loves to grab handfuls of the sticky mixture – sucking most off her fingers but still managing to get it in her hair, over her clothes, on the floor etc. The bread options are toast fingers, crumpets, english muffins, bagels. I usually spread these with either unsalted butter, 100% fruit spread, cream cheese or a mixture of avocado and cream cheese.
Lunches LP has either jacket potato, omelette or toasted sandwich fingers. I have realised that anything can go in an omelette or toasted sandwich! Cheese, obviously, then anything you have in the fridge/freezer/cupboards! Sweetcorn, spring onion, red onion, tomato, pepper, ham, baked beans! LP would eat lunch all day every day! If we are out and about for lunch I make an omelette or a cheese toastie for her and cut them into fingers. Such an easy thing for her to eat away from home!
For dinner LP has a portion of whatever we are having – Spaghetti Bolognese, Cottage Pie, Chilli Con Carni, Tagliatelle and Meatballs, Stew, Toad in the Hole. We give her everything and she tries most things. She will usually try something 3 or 4 times before deciding that she really doesn't like it.
Should we give a Baby Led Weaning baby pudding?
After each meal we give LP fruit. She has very expensive taste in fruit but most of it gets eaten. I usually give her three different types of fruit at each sitting but not a huge amount of each. Blueberries, Strawberries, Raspberries, Melon, Watermelon, Mango, Nectarines, Pomegranate. LP loves fruit! Her favourite is still Mango but Nectarines/Peaches/Apricots come a close runner-up!
Yogurt LP eats with a loaded spoon after most meals. We always give full fat natural yogurt and she will eat 3-4 dessert spoons worth after dinner. We've also used loaded spoons occasionally with rice dishes – risotto etc.
Should a Baby Led Weaning baby have meals and snacks?
I have started trying to introduce snacks too. I usually offer something twice a day – bread sticks, raisins, dried apricots, rice cakes or the cheese scones below. If it has been over an hour since her last meal LP will eat whatever we give her. LP loves snacks.
I have started baking to fill the freezer with LP-friendly foods that I know she will eat. We made Banana and Raisin Muffins and a BLW Carrot Cake but both were aimed at babies and LP wasn't keen. I think they were both a bit bland for her. I then looked through my recipe books at home and found a recipe for Cheese Scones. With a few slight modifications I made the recipe BLW friendly and LP loves the new baby led weaning friendly cheese scones! She would eat the cheese scones at every meal and loves a cheese scone with butter spread over them. I might try giving her a cheese scone with cream cheese on it – Double Cheese!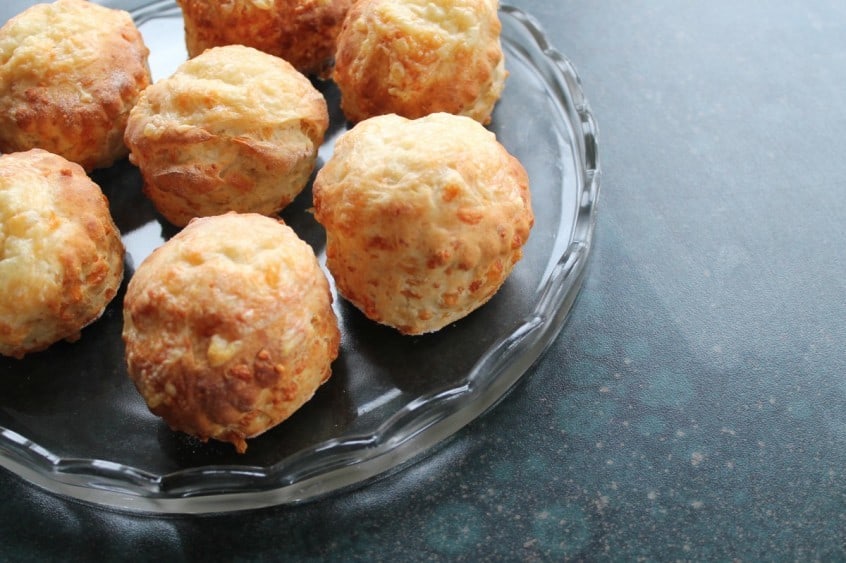 So here's my Cheese Scones Recipe – Happy Baking!
Cheese Scone Recipe
A baby led weaning friendly cheese scone recipe, perfect for the whole family.
Ingredients
250

g

Self Raising Flour

1

Teaspoon

Baking Powder

30

g

Unsalted Butter

115

g

Grated Cheddar Cheese

200

ml

Full Fat Milk
Instructions
Pre-heat the oven to 220C/425F/Gas 7. Lightly grease a baking tray or line with baking paper.

Sift the flour and baking powder into a bowl. Using your fingertips, rub in the butter until the mixture resembles fine breadcrumbs. Stir in 85g of the cheese making sure that it doesn't clump together. Make a well in the centre.

All the milk and mix, using a cutting action until the dough comes together in clumps.

With floured hands, gently gather the dough together, lift out onto a lightly floured surface and pat into a smooth ball. Do not knead or the scones will be tough.

Pat the dough out to 2cm thick. Cut into rounds using a 5cm cookie cutter. Gather the trimmings and repeat.

Place the rounds close together on the baking tray and sprinkle with the remaining cheese. Bake for 12-15 minutes or until risen and golden brown.