Disclosure: We were sent the featured products for the purpose of this post however all opinions are my own.
This post contains affiliate links and I may receive commission if you visit a link and buy something. Purchasing via an affiliate link doesn't cost you any extra, and I only recommend products and services I trust.
A Year of Nature Craft and Play is a new activity book by Becky Goddard-Hill and Catherine Hughes. Designed to inspire kids to get creative with nature, it's filled with 52 crafts, gardening projects, games, art activities and science experiments to keep them busy all year. Each activity uses materials that are easy to find in nature, so they're low cost, eco-friendly and simple to organise.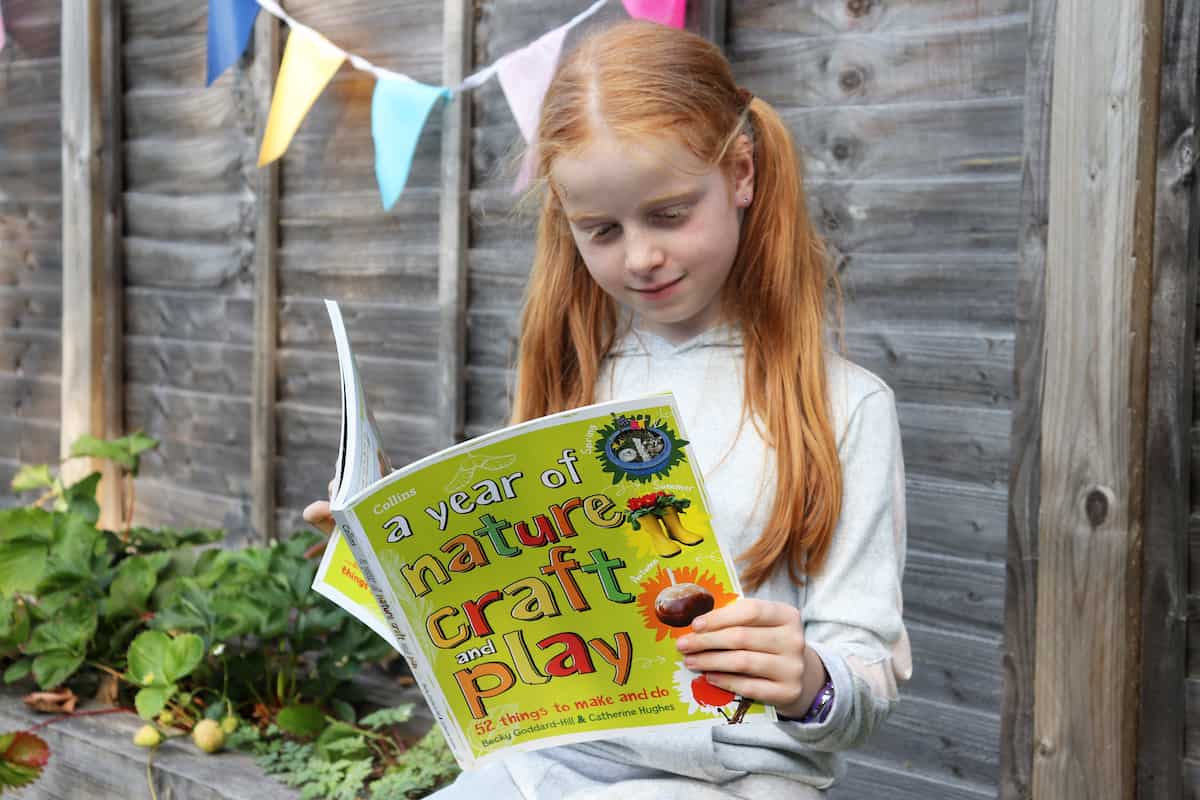 We're thrilled to be taking part in the blogging book tour to launch A Year of Nature Craft and Play, and sharing one of Becky and Catherine's favourite nature activities here on the blog.
Homemade flowering bulb pots
This simple gardening project is a lovely way to enjoy flowers indoors during winter – and it's perfect for making homemade gifts too.
Autumn is the best time of year to plant spring flowering bulbs in the garden, but did you know you can also 'force' spring bulbs to flower early indoors?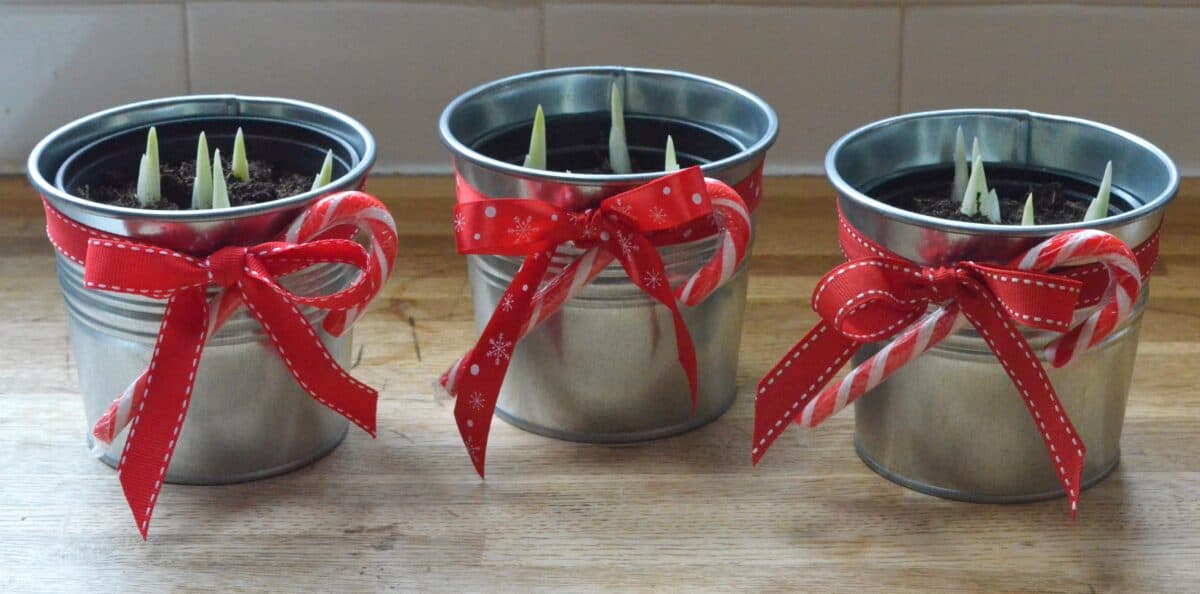 To do this, you need to trick your flower bulbs into thinking winter has already arrived, so they start to grow sooner.
You will need
Small plant pots
Potting compost
Hand trowel
Gardening gloves
Spring flowering bulbs – miniature daffodils, crocus and miniature iris are all ideal
Use your trowel to put a small amount of compost in the bottom of your pot.
Plant your bulbs on top of the compost, with the pointy ends facing upwards. You can fill the pot, but it's best if the bulbs aren't touching each other.
Cover the bulbs up with more compost, until the pot is almost full.
Water your pot.
Put your pot in a cool, dark place – this is to create the same conditions as winter. An unheated garage, cellar or shed is perfect. Cover the top of the pot with a plant saucer or a paper bag to block out the light.
Check your pot every now and then – keep the soil damp, but not really wet.
When you can see green tips peeking through the soil, it's time to bring your pot indoors and place it in a warm spot. Your bulbs will continue to grow and you'll have beautiful flowers in around three weeks.
If you'd like to turn your bulbs into a homemade gift, you could put them in a pretty pot and add some ribbon, or decorate the pot yourself for a really personal touch.
Bulb planting is a fantastic way to get kids engaged with nature and teach them about how plants grow. Perhaps you could have a go at planting bulbs in the garden too?
The A Year of Nature Craft and Play book is out now and makes a great gift for young nature fans. It has an RRP of £12.99 and you can find out more here.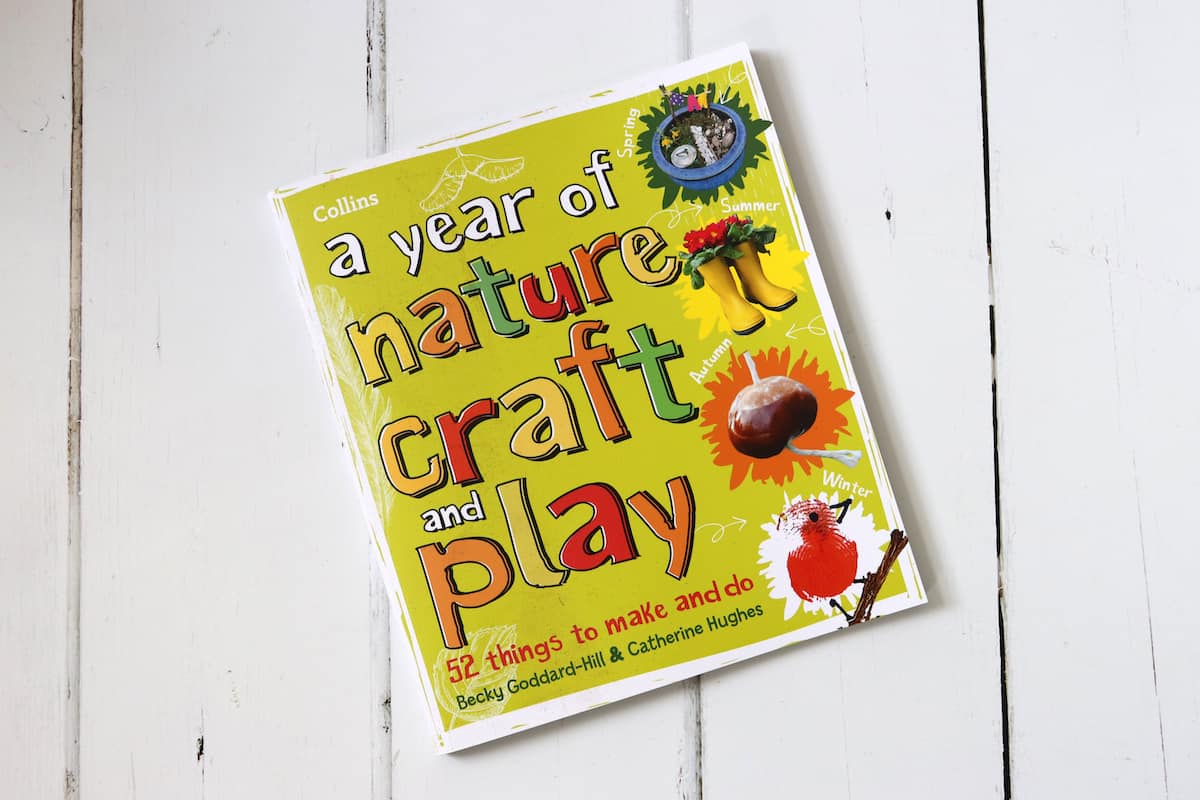 A Year of Nature Craft and Play book tour
If you'd like to take a look at the other Nature Craft and Play Book Tour bloggers you can find them here:
30th September – www.pennyreads.co.uk
1st October – www.emmaand3.com
3rd October – www.mummymummymum.com
4th October – www.whatkatysaid.com
5th October – www.monkeyandmouse.co.uk
6th October – www.wemadethislife.com
7th October – www.thriftymum.com
8th October – www.rainydaymum.co.uk
9th October – www.goingonanadventure.co.uk