Welcome back to another week of the Ordinary Moments. If you haven't joined in before this is a weekly linky that launches every Sunday morning and is open until midnight on the following Saturday. It's a linky that celebrates any ordinary moments in your life – or the not so ordinary some weeks too. Basically – anything goes. I'll be sharing and commenting on the posts that are linked up during the week and there's a badge at the bottom of the post if you'd like to add it to yours too.
As a child it really is the little things that matter and for Little Man that is his love of Thomas. Thomas the Tank Engine has been a feature in our lives for years – ever since Little Man saw his first train – and even now, at five and a half, there is no sign of his love for Thomas passing.
Over the last few years Little Man has collected a vast array of Thomas toys, he has so many Thomas clothes as well as a Thomas dressing gown and slippers and he loves it when we find something else with Thomas on, something new that he hasn't had before.
But, his love for Thomas makes things a little difficult at times – where there isn't a Thomas option of something or when something of his breaks and there is no longer the exact same Thomas one on sale anywhere. We also find that on the internet there's a lot of low quality character merchandise that does last very long at all – and trying to explain to a five year old that he can't have the same thing again because it's rubbish doesn't really help anything – Little Man wouldn't understand that.
So when we bought Little Man a Paw Patrol swim bag which swiftly broke and then we replaced it with the same style Thomas bag Little Man was really happy – until it broke again. I refused to get the same style bag again and had to explain to Little Man that there may not be a Thomas bag that he can use for swimming – I didn't want him to get his hopes up.
But, last week I found a Thomas swim bag on Amazon, made of fabric and not the fragile plastic of the previous ones. It arrived just in time for his swimming lesson on Thursday and he couldn't have been happier – even offering to carry his bag for once.
LP and Little Man love the things they love and something as simple as a £5 Thomas backpack makes Little Man so happy. I'm hoping that they'll appreciate the simple things for as long as possible – maybe even indefinitely – as it makes for such a nice, easy life for all of us.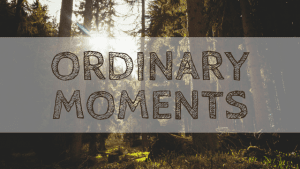 If you have an ordinary moment this week, come and link up – I'm looking forward to reading the moments that you share and will comment and share them on Twitter through the course of the week. Thanks so much for taking part.
[inlinkz_linkup id=803121 mode=1]