*This is a paid post
This post contains affiliate links and I may receive commission if you visit a link and buy something. Purchasing via an affiliate link doesn't cost you any extra, and I only recommend products and services I trust.
LP loves any kind of interactive toy and I am always drawn to those with educational benefits so when we were sent the V-Tech DigiGo to review I knew that it would be something that LP would like and that I would appreciate too.
What is the DigiGo from V-Tech?
The V-Tech DigiGo is a Smart Device specifically aimed at pre-schoolers. It looks like a grown-up's phone or mini tablet and isn't much bigger than my real phone! It has all the features that little one's love when borrowing Mummy and Daddy's phones – a 2mp camera that rotates through 180 degrees (for the obligatory up nose toddler selfie), a large full colour touch screen and downloadable games that you can purchase through V-Tech's Learning Lodge when connected to your home computer. There are also good size shortcut buttons around the screen for the camera, home and voice recorder.
What can you do with the DigiGo from V-Tech?
The vTech DigiGo also has Wi-Fi connectivity for a feature that I have not come across in a child's 'toy' before: Kid Connect. This is basically an instant messaging service direct from the palm of your child's hands. Adults need to setup the service on the DigiGo and then download an app to their real smart phone using the username and password they setup on the DigiGo. This is completely safe and secure. You can now receive text messages, voice messages, stickers and drawings from your children. When a message is received, you'll get a notification on your phone like any other app. You too can respond with the same set of stickers, text or a photograph! We have had problems with receiving notifications on the DigiGo though. Marketing videos suggest that it works in a similar fashion to a real phone with a notification that pops up, but I can't seem to make it work. We can only see new messages if you are actively using the Kid Connect app at the time.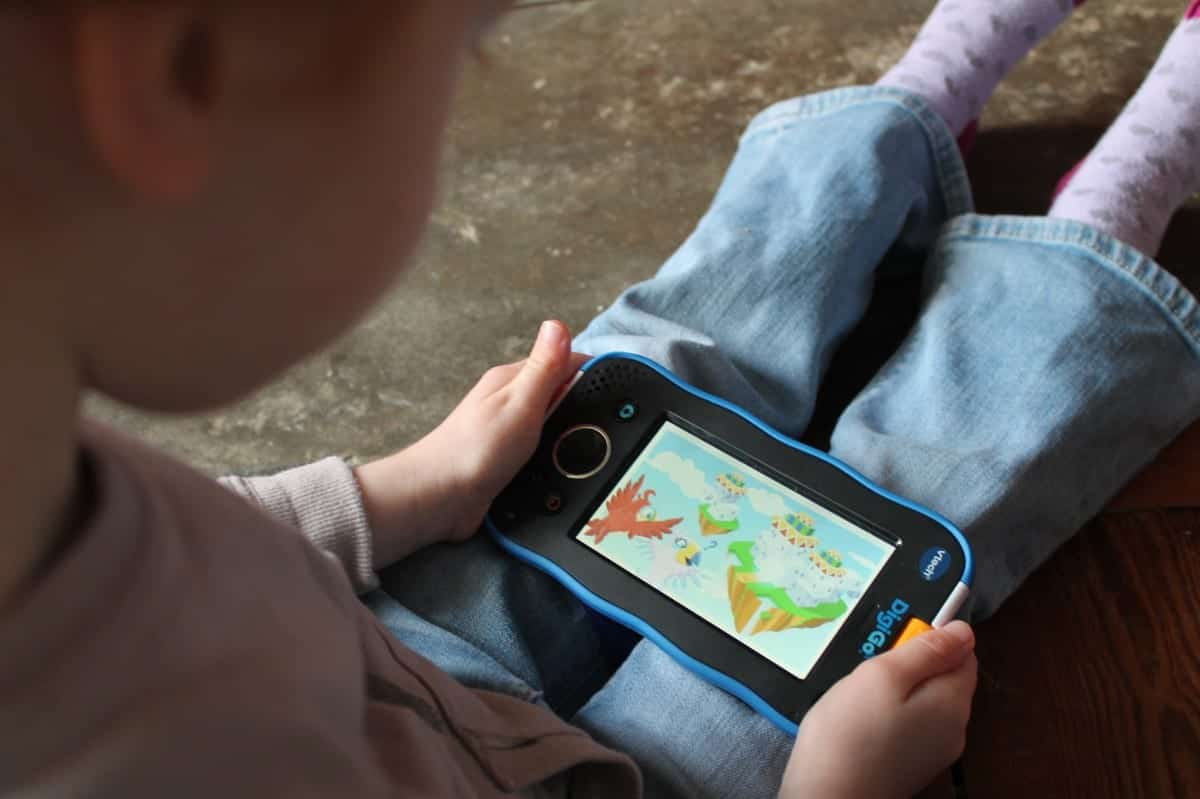 With the V-Tech DigiGo children can also listen to music and it comes with one game built in and another two that you can download free from the Learning Lodge after registration. Other apps, games, ebooks and more can be downloaded onto the DigiGo but most of these are chargeable. Children love to play games on the DigiGo – they're basic but fun.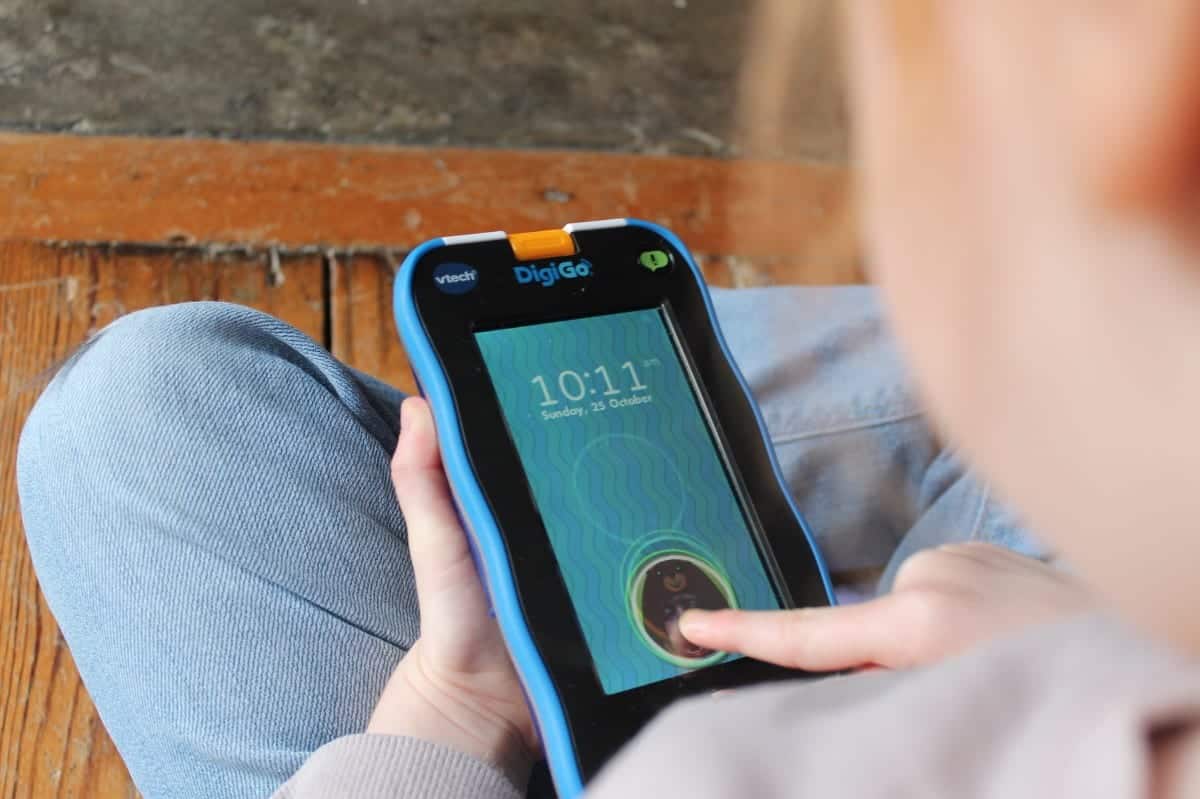 The responsiveness of the touch screen does leave a little to be desired. The children are forever needing to press really hard on the screen with the stylus to make a selection and the camera shutter button is also on the screen so when the unsteady hands of a preschooler press it, it seems to take almost a second before the image is captured – long enough for little ones to move and have their photo come out blurry.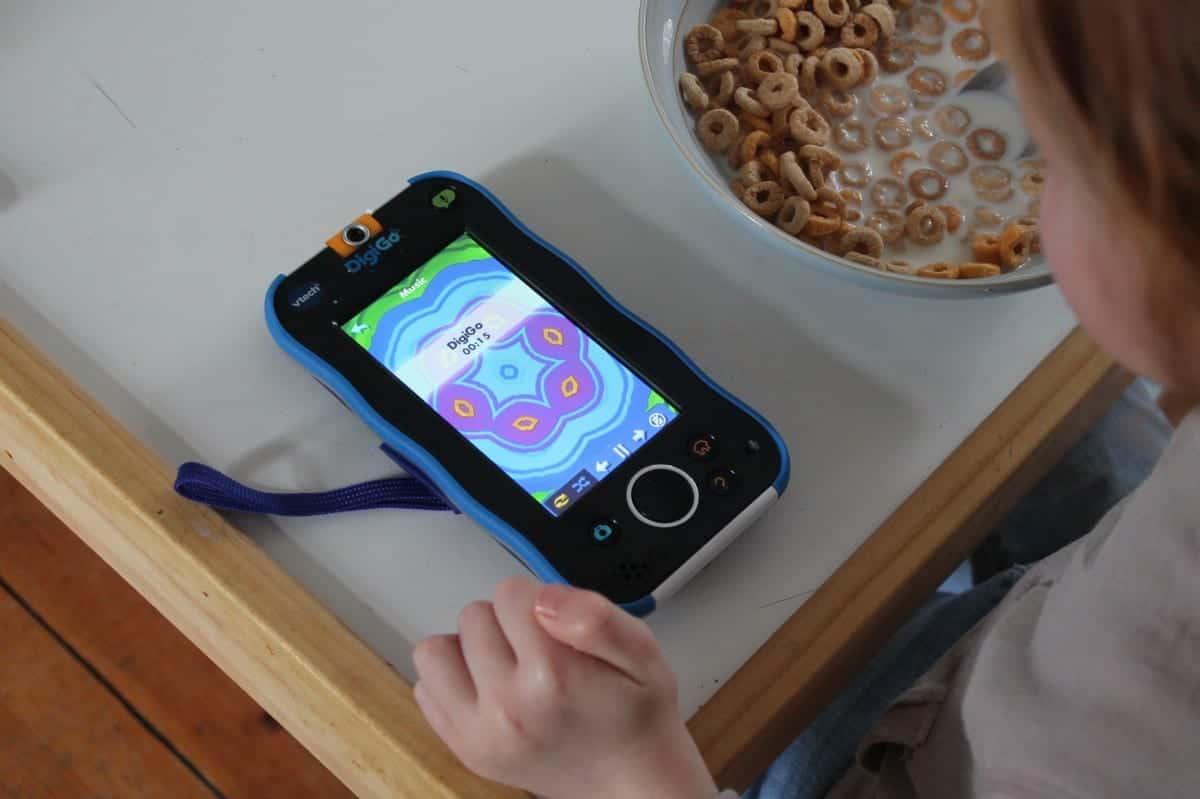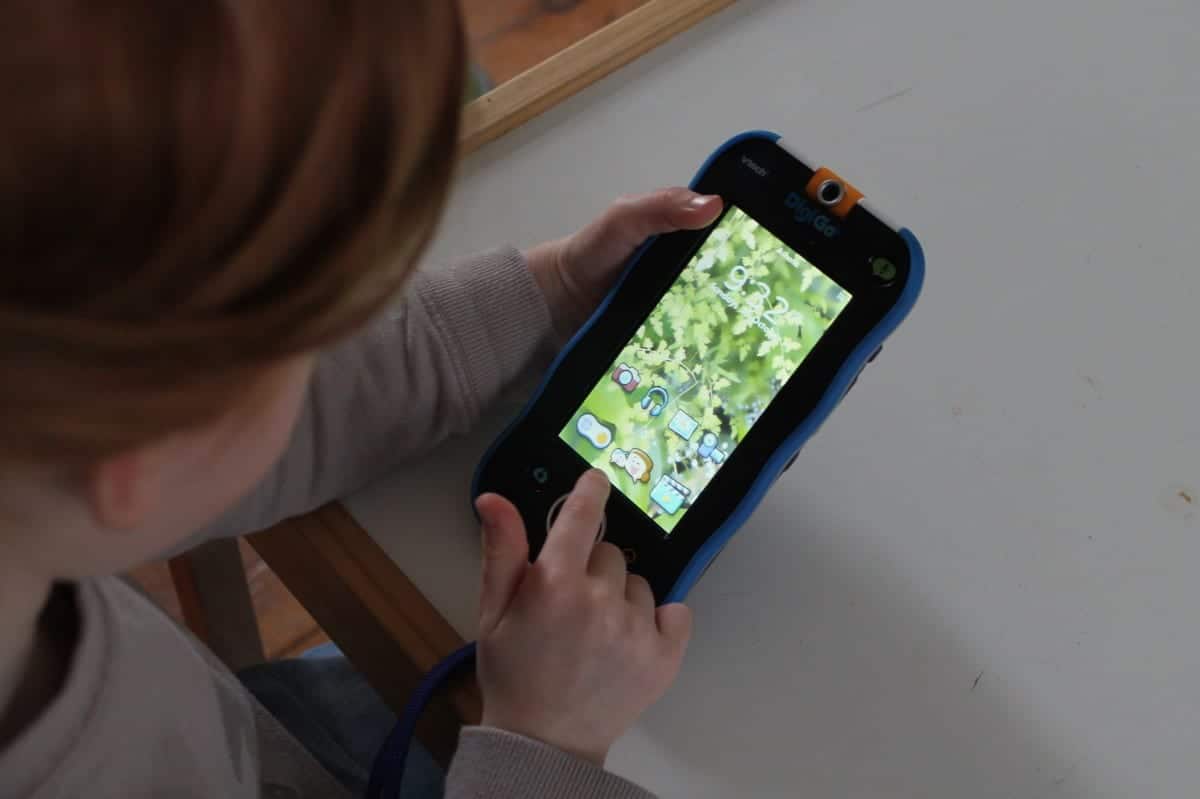 That aside, the DigiGo is a great way to introduce kids to having their own 'Smart phone' and the messaging service is a fun way to keep in touch if you can't be there. It's a smart device they can touch safely which gives us as parents a huge amount of peace of mind. The whole design of the DigiGo is robust and a good size for little hands whilst being portable and great to take out and about. LP absolutely loves her DigiGo and feels so grown up being able to send Mummy, Daddy or even Nanny instant messages over the wi-fi. Although we, as parents, have our criticisms of the V-Tech DigiGo they really are just our issues – LP loves her new phone.
The DigiGo Vtech Pink and the VTech DigiGo Blue have an RRP of £79.99