*This is a collaborative guest post
You have already noticed it. The days are shorter, the nights are longer, and it is cooler outside. Autumn is already here and with it also a wide range of delicious fresh fall products are available: pumpkins, apples, sweet potatoes, rhubarb, cranberries… All these products allow you to create delicious, inviting dishes. Pumpkin pie, one of America's most typical dishes, is actually a perfectly autumn dish. Of course, if you want to try the authentic American pumpkin pie you will have to apply for an ESTA and travel to the USA, but if this is not possible, here you will find the recipe for the perfect American pumpkin pie.
Bake a Pumpkin pie as good as in the USA
All across the United States, there are many different pumpkin pie recipes, but they all have two things in common: a spiced, creamy filling and a flaky crust. If you do not have a lot of experience with baking, don't worry too much. This mouth-watering dessert is actually quite simple to make. If you follow the steps below, you will obtain the perfect pumpkin pie, as good as in the USA.
You will need:
4 large eggs
1 cup of cooked, mashed pumpkin
1 cup evaporated milk
1/2 cup granulated sugar
1 teaspoon ground cinnamon
1 teaspoon ground ginger
⅛ teaspoon ground cloves
1/2 teaspoon salt
1/2 teaspoon ground nutmeg
1/2 teaspoon vanilla extract
1 frozen deep-dish pie crust
Whipped cream, optional
Instructions
Preheat the oven to 190 °C and blind-bake the frozen pie crust. Cover the crust with parchment paper and fill it with dried beans. Bake for at least 15 minutes. Remove the parchment paper and the dried beans and go on with the recipe.
Make the Pumpkin Pie Filling: In a large bowl, combine the first 10 ingredients and whisk until smooth; then pour into the pre-baked pie crust. Cover edge loosely with foil.
Bake at 200°C for 10 minutes. Reduce to 180 °C and bake 40-45 minutes. Check if it is well done by inserting a knife in the centre. If it comes out clean, your pie is ready.
Remove foil.
Let it cool on a wire rack and let it cool at least 3 hours before serving.
Serve with whipped cream.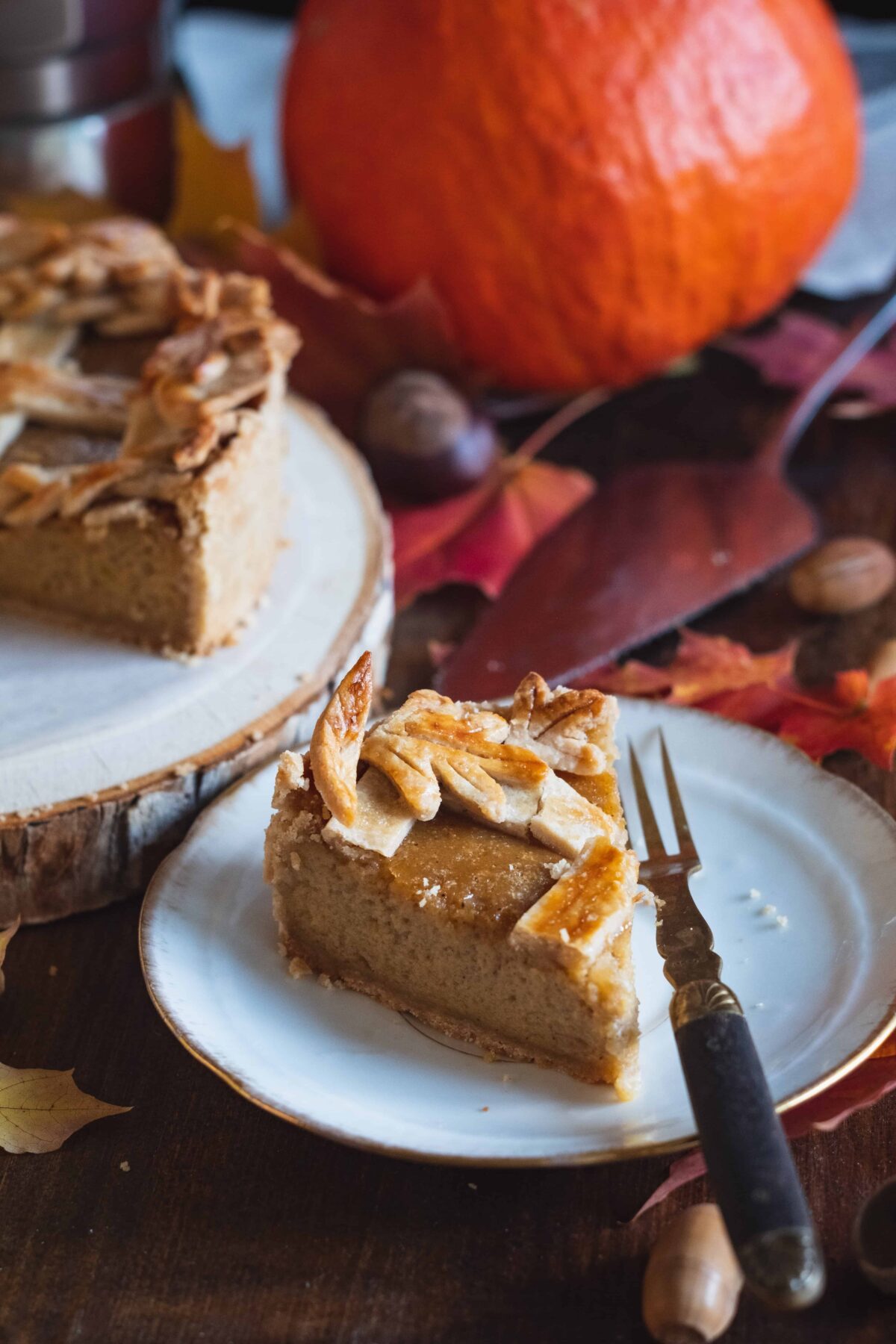 Where to eat the best pumpkin pie in the United States?
Baking your own pumpkin pie is of course a good option. However, if you still want to taste the authentic American pie, you will need to travel to the USA and taste it on site. These are some of the best places in the USA where you can eat pumpkin pie:
Republic of Pie – Los Angeles. Located North of Hollywood, this is a large restaurant and coffee shop offering not only pumpkin pie but many other types of sweet pies.
Rock Springs Cafe – Black Canyon city. This iconic restaurant is known as "the pie place' and it is an institution in Black Canyon city. They have been baking pies for over 100 years, so they must definitely be doing something right!
Four and Twenty Blackbirds – Brooklyn. In this famous pie shop in New York you can order the traditional American pumpkin pie, but it also offers some innovative options, like their matcha custard pie or their chocolate pecan pie.
Apply online for your ESTA for the USA
If this autumn you want to try the delicious American pumpkin pie, you can bake it yourself, or you can fly to the US and taste it there. Remember that if you opt for this last option, you will have to apply for an ESTA USA. The ESTA is an electronic travel authorization which allows you to travel to the United States as many times as you want for a period of two years. Applying for your ESTA is really simple. You can do it online 24/7, and it is really quick, it only takes 5 minutes! In just a couple of days – or even less – you will receive your ESTA in your email inbox.