*This is a paid post
Little Man had his bedroom decorated in October half term and since then we've been looking for a new bed for him. A grown up bed that can grow with him. He initially wanted bunk beds for when his friends came for sleepovers or a big, tall gaming bed complete with built in desk and flashing lights.
Instead, we went for a more practical bed that would fit well into his room without having to buy new matching bedroom furniture sets. He already has bookcases, a wardrobe and a chest of drawers so purely needed a new bed.
But, the one thing that is always useful is more storage so a nice, grown up ottoman bed seemed like the ideal choice for his room and something that would work well in the coming teenage years too.
A new ottoman bed
Little Man's new bed is really well made and didn't take long to put together. Available in a range of colours, it goes nicely in his room and has a lovely padded headboard for him to relax against when he's reading. It's a massive improvement on his last bed which was all wood.
The ottoman base is easy to access. The mattress and slats pull up from one end and the space underneath is fantastic. I'm already planning on how we're going to organise the space and what Little Man will be storing in there!
What to store in a child's ottoman bed?
We've already explained to Little Man that he won't be able to access the ottoman storage in his bed until he's a little older. So, until then, Dave and I will control what is stored in his lovely new storage bed.
Here are some ideas of what we might store in there:
Spare bed linen and seasonal duvet and covers
Cuddly toys – the ones he wants to keep and treasure forever but not see every day.
Treasured toys that he's outgrown but doesn't want to part with.
Creations that he's made but, again, doesn't want to part with.
Seasonal clothes. Storing his summer clothes during the winter and winter during the summer.
The space under the bed is a fantastic size and I'm sure when he's a teenager he'll be putting all sorts under it. For now though it's a really practical, useful space that I'm sure Dave and I will appreciate having!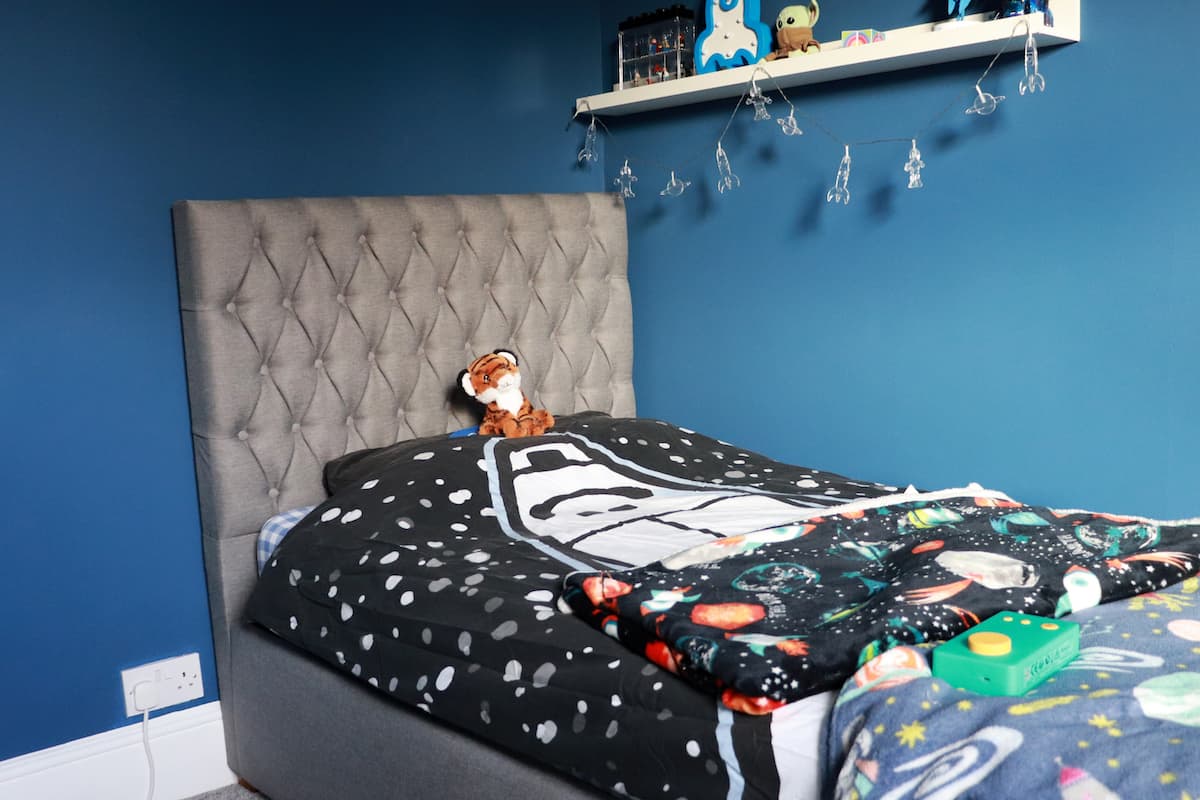 Little Man's bedroom is now finished, with just a little tidying and organising to do. It's a room that can grow with him and that is perfect for him. Plus, the new bed has a smaller footprint than his last one, freeing up floor space too.
Little Man couldn't be happier with his room and it's lovely that he has such a nice, comfortable space to spend time in. Bed time has never been so exciting for him!