Toast is one of my favourite things. There's nothing quite like a slice of toast spread simply with salty butter and I remember toast and jam being the nicest thing to eat just after having the children. Toast can be part of a meal, a side dish or just a snack when you need one. It's versatile and delicious.
But do you ever run out of inspiration of what to put on toast? We have a few things we'll always have – butter, jam, baked beans, peanut butter or eggs cooked in a whole variety of ways. Wouldn't it be nice though, to have even more inspiration of toast topping just when you want them?
Well, to give you more inspiration when it comes to toast, here are some easy ideas for savory toast toppings. I can't call them savory toast recipes as they're simply things to put on toast – with no real method needed – but I hope you enjoy it all the same.
The Best Savoury Toast Toppings
Tinned sardines in tomato sauce
Baked beans and cheese
Cream cheese and smoked salmon
Cheese and garlic
Cheese spread and cucumber
Garlic mushrooms
Cheese and Worcester Sauce
Mozzarella and tomatoes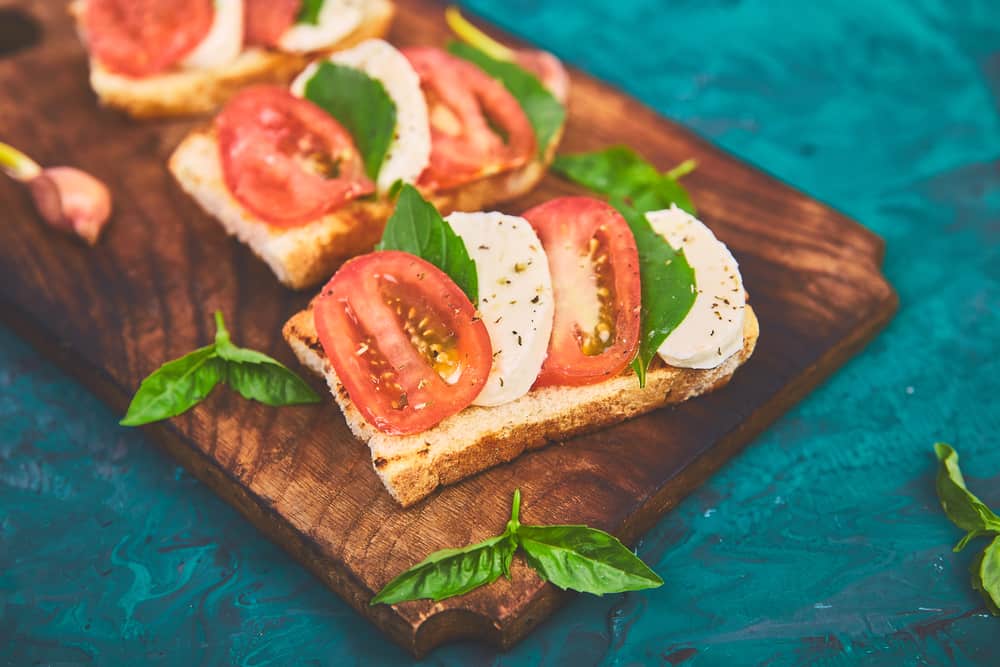 Crushed tomatoes and garlic
Crushed cherry tomatoes and balsamic vinegar
Radishes and sea salt flakes
Cucumber slices and olives
Sweetcorn and sun dried tomatoes
Prosciutto and peaches
Sliced avocado for a simple avocado toast
Avocado, boiled egg and soft cheese
Avocado, smoked salmon and capers
Avocado and pomegranate
Smashed avocado and a fried egg
Avocado and bacon
Crushed avocado and chilli flakes
Goat cheese and caramelised onions
Houmous and a sprinkle of chia seeds
Houmous and cucumber
Poached eggs
Poached eggs and parmesan
Feta and roasted red peppers
Peanut butter
Peanut butter and apple slices with a sprinkle of cinnamon
Ricotta cheese and cherries
Fried egg and bacon – the best breakfast toasts!
Scrambled egg
Scrambled egg with goats cheese
Brie and bacon
Olive tapenade, spinach and a fried egg
Almond butter and strawberries
Almond butter and banana
Simple Marmite and butter
Marmite and avocado
Marmite and cheese
When I'm feeling a bit fancy, I also love Nadiya Hussain's savoury twist on classic French Toast – full of ham, cheese and a little spice too. It's delicious! A fantastic brunch option when we're all at home together.
Think of savory toasts as open sandwiches instead of simply slices of toasted bread. Gone are the days when you would spread something on a slice of toast and be done with it. Now, you can pile toppings high, drizzle dressings over them, add a dash of olive oil or a few red pepper flakes and enjoy it as a full meal, with a knife and fork.
The possibilities for toast toppers really are endless – and when you think you've created them all, you can make them all again, sprinkle them with cheese and put them under the grill. Or, make a toasted sandwich from them instead. Toast is one thing that will never, ever, get boring.
What is the best bread to use for toast?
When it comes to toast, I love any kind. A lovely white bloomer, a whole grain bread loaf or a fresh sourdough. From experience though, a whole-wheat bread makes fantastic toast, with a lovely crunch. But, if you want something easy then go for any toast that fits nicely in your toaster. I also love a seeded loaf for that little extra depth of flavour. However, if you're looking to make French Toast then brioche or a nice French baguette are always the best options.