*This is a paid post
One thing that has come out of the pandemic for us is the children's love of Minecraft. They discovered it pretty much a year ago and it's always the first thing they want to play. But, in looking for ways to expand their love of Minecraft, so they could enjoy it both on screen and off, we discovered Minecraft World Magazine.
Keep reading to find out more about Minecraft World Magazine – and get 3 issues for just £3!
What is Minecraft World Magazine?
Minecraft World Magazine is the perfect resource for any Minecraft fan and complements the game perfectly. The unofficial magazine is full of online community news, tips for achieving goals in the game, walk throughs and tutorials, puzzles and so much expert advice too.
The magazine teaches children so much! How to protect yourself from the mobs, find out brand new Minecraft secrets, test out new recipes and discover everything there is to know about all the different Minecraft blocks.
Before LP and Little Man first saw Minecraft World Magazine, I thought they already knew loads about Minecraft from just playing along – how wrong could I be! Minecraft is an ever expanding world, with regular updates and expansions. There's always more to learn, more to discover and more to do – which makes Minecraft World Magazine the perfect choice for anyone who wants to immerse themselves even further into the game, learning and discovering all they can.
What will children enjoy about Minecraft World Magazine?
Each page of Minecraft World Magazine has so much to read but it's all laid out in a really bright and colourful, engaging way with text dotted around the pages. It's a magazine that children can pick up and put down as needed and something that won't be thrown away when the next issue arrives – they'll keep every magazine to refer back to and dip in and out of as they get deeper into the world of Minecraft.
In each issue of Minecraft World Magazine children will find something they didn't know about – exciting news straight from the Minecraft world, the latest updates, an answer to something they've been trying to work out or an idea for something to build the next time they step into Minecraft.
One word I can use to sum up Minecraft World Magazine is inspiring. It inspires children to work things out, create more and push themselves. Each magazine has a Top 10 in it of Minecraft builds from things like famous places to sports stadiums and it's incredible seeing what other people have been able to build on Minecraft.
This shows children what is possible within the game whilst also educating them around how to build different things, what blocks to use and what stages they need to work through first. It's inspiring but it also makes everything within the game possible – making the game that much more enjoyable at the same time.
Each issue of Minecraft World Magazine comes with a free gift – there was a fidget spinner in our first issue that Little Man hasn't put down since it arrived and a Minecraft cutter in the next issue for cookies or playdough! It's an extra treat to look forward to.
What did our children love about Minecraft World Magazine?
LP and Little Man loved Minecraft World Magazine from the very first time they picked it up. Full of the colourful block creations they're used to from the game, it felt familiar and exciting straight away.
One of the first things they did was follow the walkthroughs in the magazine to build their own creations in Minecraft. Using the different blocks, reading the instructions in the magazine and having step by step screengrabs to help them too. It was amazing seeing them work together to build a turtle sanctuary – and it blew my mind that the magazine would teach them about things like wildlife conservation within Minecraft. It really is a whole world!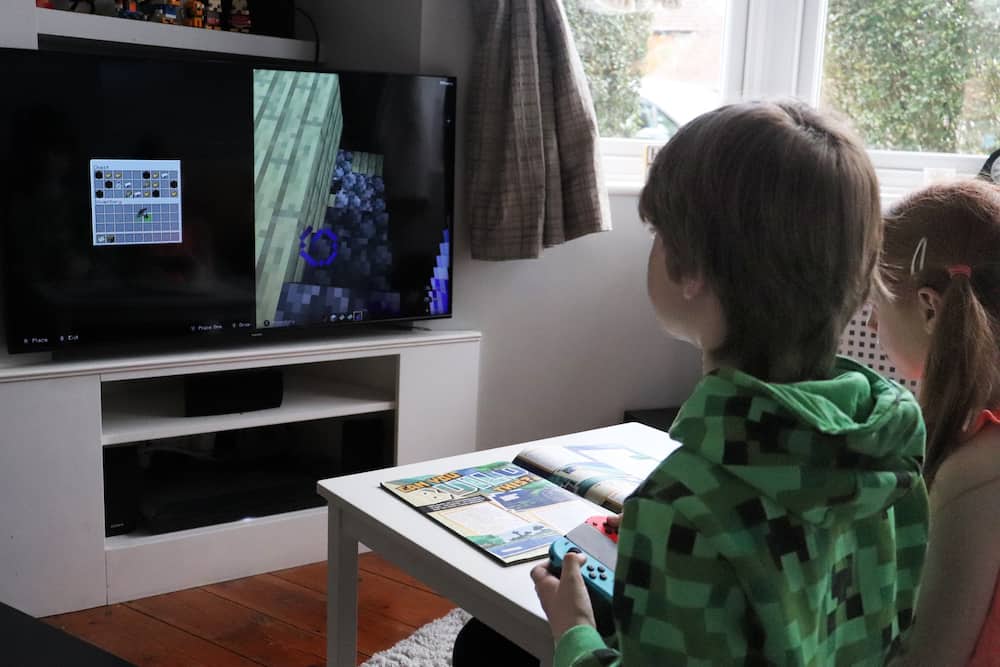 They love the reader questions and answers in the magazine and Little Man always thinks of things to write in and ask as well. I know eventually he'll get around to submitting his own questions and checking excitedly to see if they've been published!
The questions cover everything from how to create a certain object to how do you put something in a specific place through to how do you download updates, change your view in the game or get a new Minecraft game edition. Children can write in and ask literally anything related to Minecraft and the experts will do their best to help.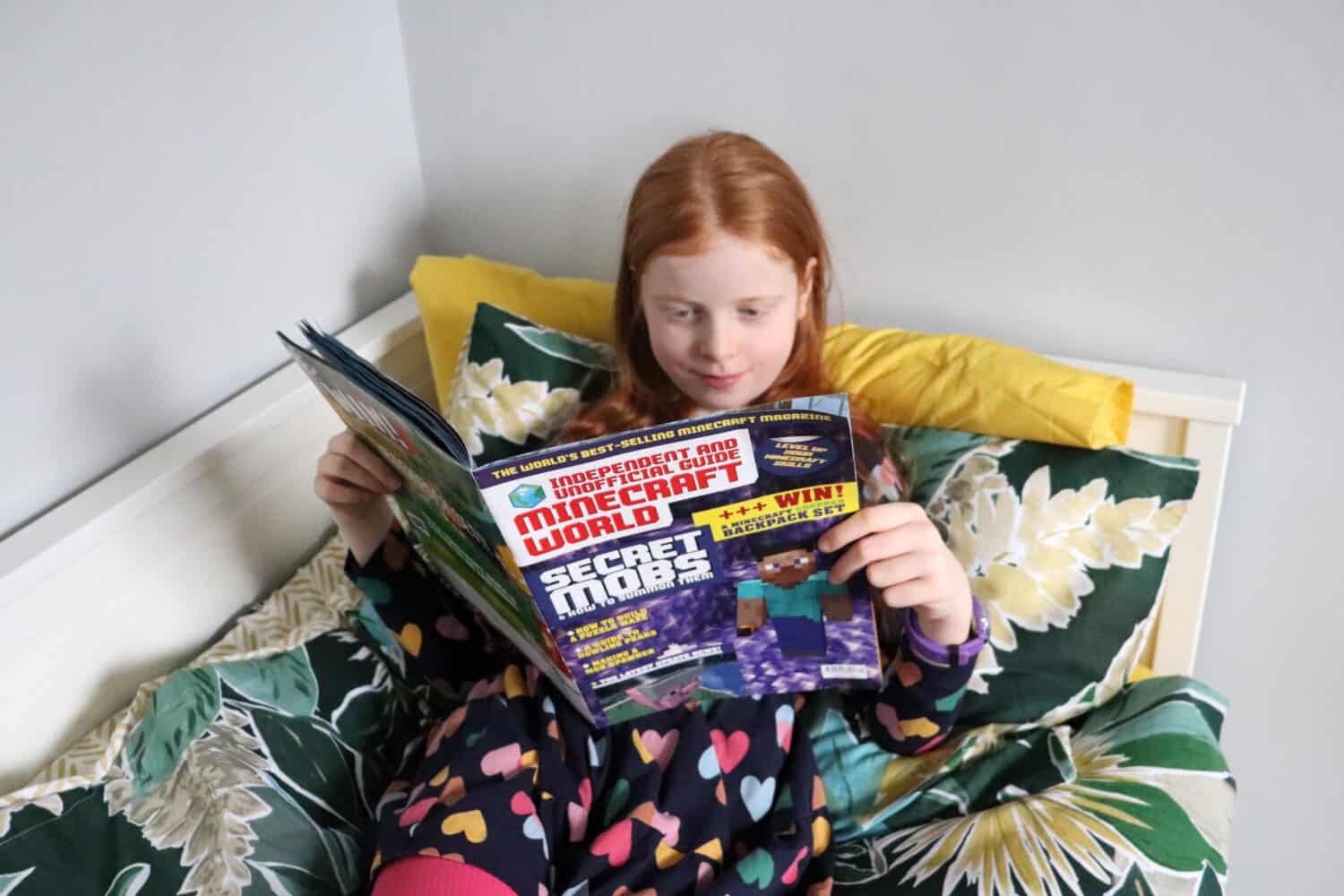 The children love to learn and there is so much information within Minecraft that Minecraft World Magazine really helps you learn about different aspects of the game. You might find out more about raids and sieges in one section or about caves and cliffs in the next.
Children will learn about things like potatoes, what in game hunger really means and the ins and outs of every single type of Minecraft block. As a parent and non-Minecraft player, most of this goes over my head but the children absolutely love it.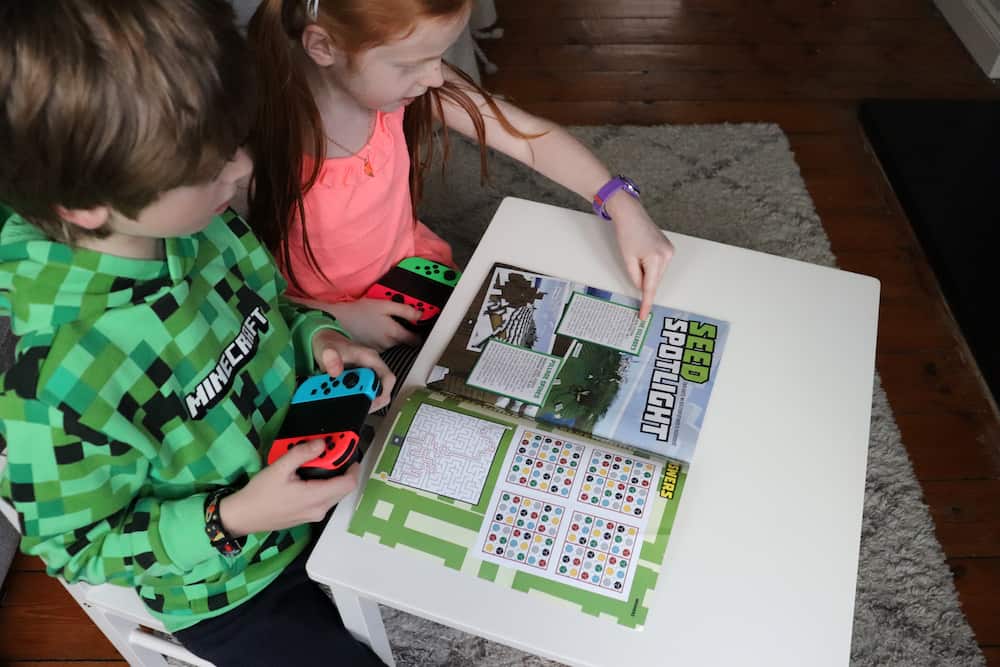 LP and Little Man spend ages discussing the finer points of different blocks, whether they want certain animals in their world and what they're going to spawn next. As you can tell, Minecraft World Magazine adds so much depth to these conversations and to their Minecraft enjoyment.
Through reading the magazine, LP and Little Man have built so many things from their own lives, memories and imaginations. From our house to their school, a holiday we went on and somewhere they'd love to visit in the future. Minecraft World Magazine has opened the children's eyes to a whole new world of Minecraft possibilities.
It's safe to say, LP and Little Man love Minecraft World Magazine and are always so excited when a new issue arrives. I'm sure that if you have a Minecraft fan in your life that they will also love Minecraft World Magazine. So why not make the most of the current Minecraft World Magazine introductory offer?
Get your first 3 issues of Minecraft World Magazine for just £3 – find out more and sign up here.