*This is a collaborative guest post
Keeping your family hydrated is not as easy as it seems. Sure, our fridges are always stocked with drinks of every colour, but are they really giving us proper nutrition?
Sugary drinks, artificial sports drinks and fizzy drinks are not. In fact, they can even dehydrate you!
It's so important for kids to drink healthy drinks and plenty of water when they're young. It's not only their bodies that are still developing. They're also developing healthy (or unhealthy) habits they will keep with them for life.
That's why it's crucial to make water the #1 beverage in your household. One way you can do that is with Auron Bottle, the smart water bottle that makes water cleaner, safer and more fun for kids to drink.
Auron purifies your water inside the bottle, guaranteeing the purest water you've ever tasted. And you never need to replace any parts. It provides pure water for life! It also comes equipped with a touchscreen display and interactive functions that make kids want to drink more.
Auron is currently available for pre-order on the crowdfunding site Kickstarter, where it's had a record-breaking quarter-million US dollar run. It still has a few days left and a few unclaimed perks for early-birds. If you pre-order before the campaign ends, you can get an Auron Bottle for 60% off the retail price. Don't forget to check it out.
Here's how Auron Bottle goes above and beyond to keep your family healthy and hydrated.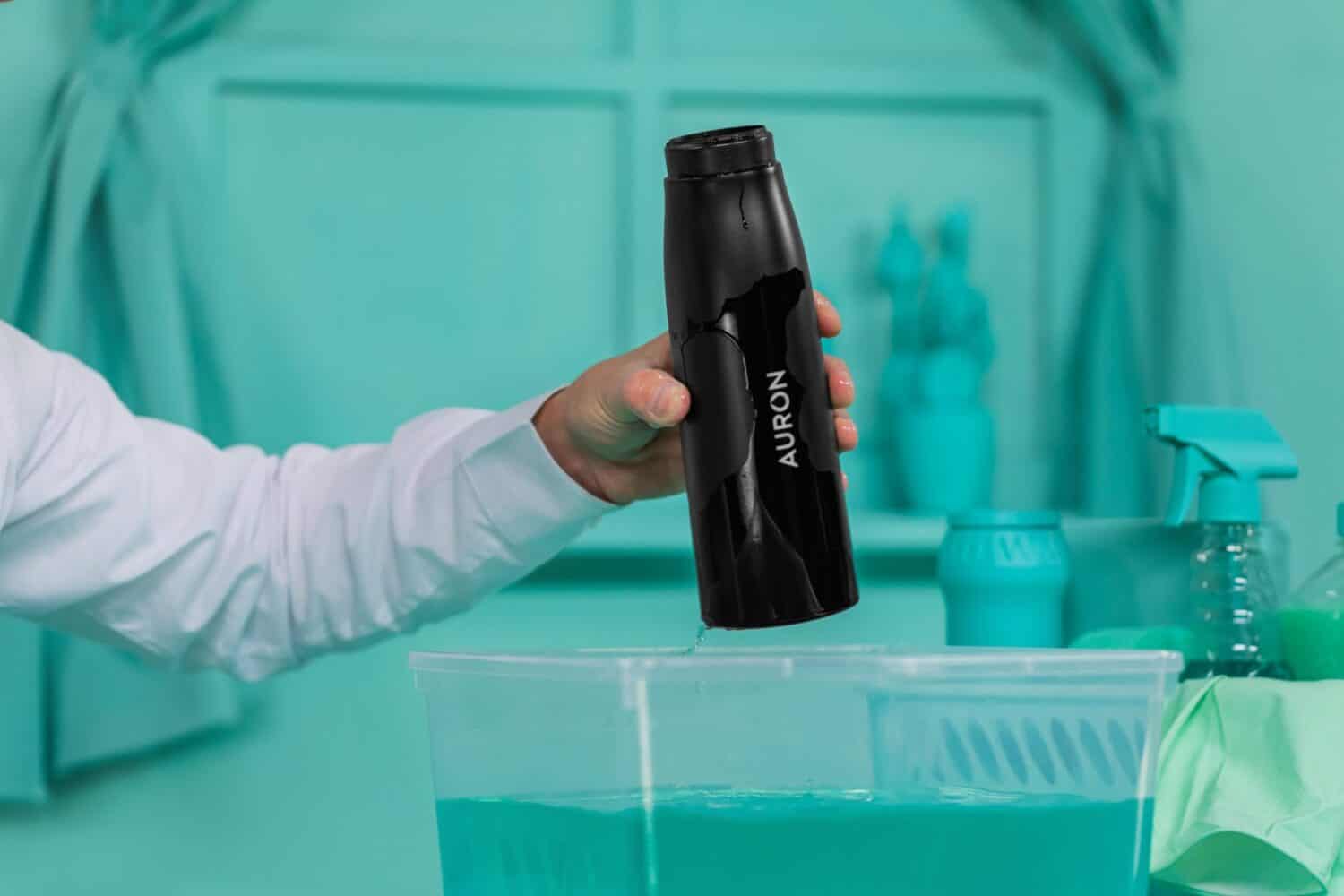 The Purest Water You Can Get
Auron is unlike any other water bottle or water purifier. It purifies water inside the vacuum-sealed bottle with a UV light capable of eliminating 99.99% of germs.
Because the bottle is sealed, nothing can enter after the purification process finishes. Your water is guaranteed to be completely sterile every time you take a drink.
This is fantastic for busy families who share a bottle. You never know what kind of germs are going to get inside from kids mouths and fingers! Auron makes sure that your water is pure every time you drink.
Auron's purification cycle takes just 60 seconds. You activate it by tapping the touchscreen lid twice. A little timer will pop up so you can actually watch your water purifying (kids love it).
Or, you can turn on the auto-purifier and Auron will cleanse itself every 4 hours so you don't have to remember.
The peace of mind you get from drinking with Auron is worth the buy alone. As an added bonus, the water actually tastes better. Have you ever tried 100% sterile water? Purifier pitchers and bottles are still full of germs from the air as well as microplastics and other contaminants.
Only water from Auron is totally clean. It tastes delicious!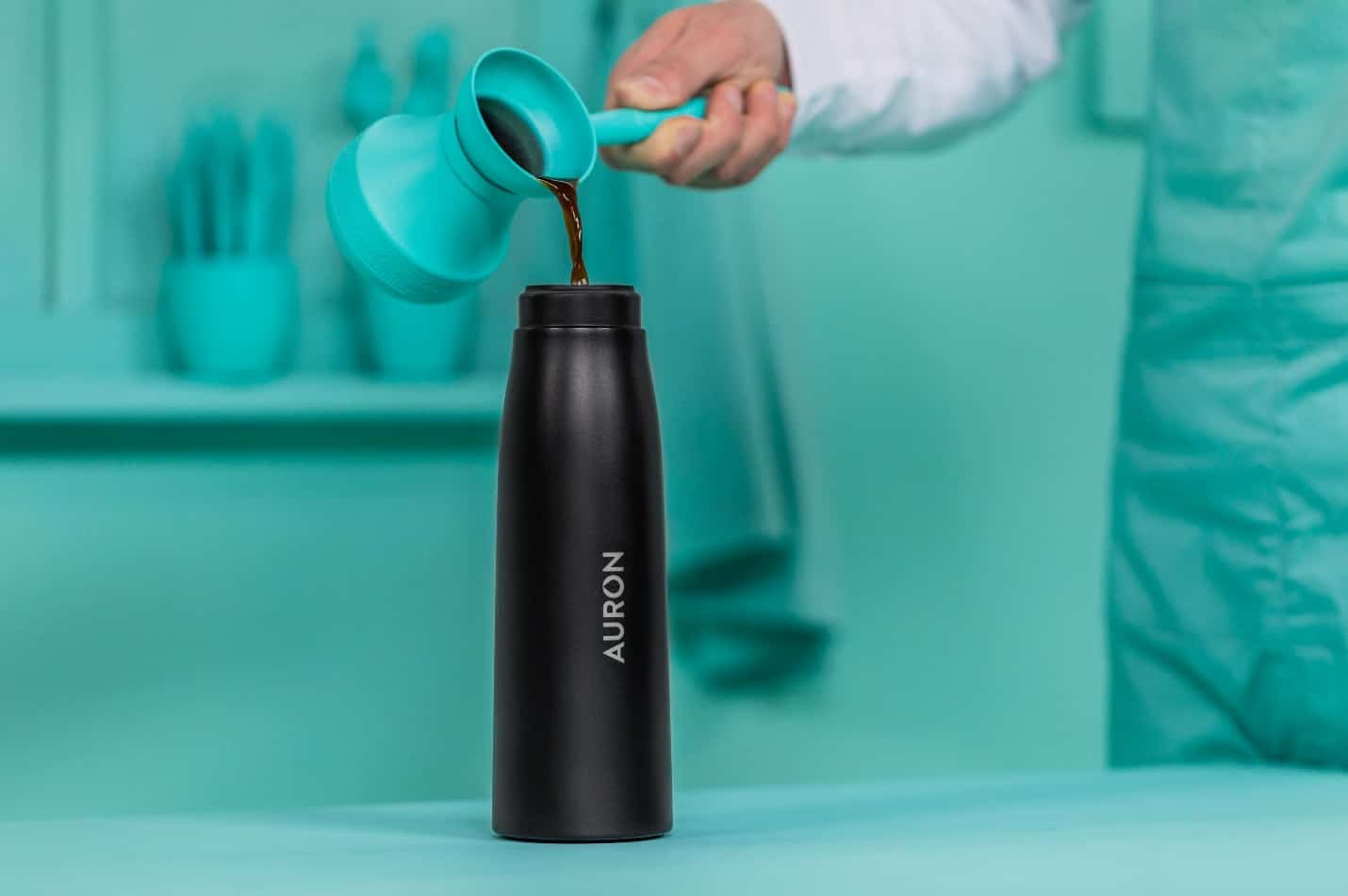 Purify Any Water, Anywhere
Auron makes travelling and running errands with kids a lot simpler. You can take water from any source and turn it into 100% pure water in 60 seconds.
This includes water from public toilets, fountains, lakes, rivers and any other place with running water. You can also fill up from the tap in countries with unsafe water and turn it into potable water in seconds.
Auron is a camping and hiking essential, but it's also great for routine days out. With Auron, you won't need to haul a litre of water around in your bag just to make sure your kids have a drink when they need it. And you won't need to stop at the shop to by a single-use bottle if you're thirsty. Just fill Auron up from any source and you'll have the cleanest water in town.
No More Washing Up
Auron doesn't just clean your water. It also cleans itself. Auron's UV light purification system sterilizes the interior of the bottle from top to bottom, preventing bacteria and mould from building up.
A study found that other bottles become breeding grounds for bacteria due to a biofilm that builds upon the bottle's interior. This film is very difficult to wash out without scrubbing. And we all know how easy it is to scrub the inside of a bottle!
These bacteria and mould cause bottle odours and funky flavours in your water. They can even make you sick.
Auron's UV-light purification prevents these germs from getting a foothold in your bottle. You don't have to wash Auron to keep it germ-free. However, if you want to wash it, it's dishwasher safe and easy to clean. It's also immune to stinky bottle odours for life!
Smart Features for Smarter Hydration
You can access all of Auron's smart features right from the touchscreen display on its lid. All it takes is a few taps to clean your water, check the temperature of your drink, set hydration reminders and activate auto-clean.
The display also features sounds and lights, which makes kids interested in drinking more water. Letting them "play" with the bottle can turn water into a little game and incentivize the development of healthy drinking habits.
Keep any Drink Cold or Hot for 24 Hours
When you're not in the mood for water, Auron can carry anything else you want to keep cold or hot. It's double-walled and vacuum-sealed for the best possible insulation. Auron can keep any drink cold or hot for up to 24 hours, including tea, coffee, beer, juice and shakes. Unlike other reusable bottles, Auron can even hold fizzy drinks safely.
Thanks to its temperature display, you don't need to break the vacuum seal to know if your coffee or tea is ready to drink. Just tap the lid! It's a lot easier than spilling your hot drink or burning your tongue.
Auron's double-walled flask also prevents condensation, so your bottle will never sweat in your bag and get your electronics wet.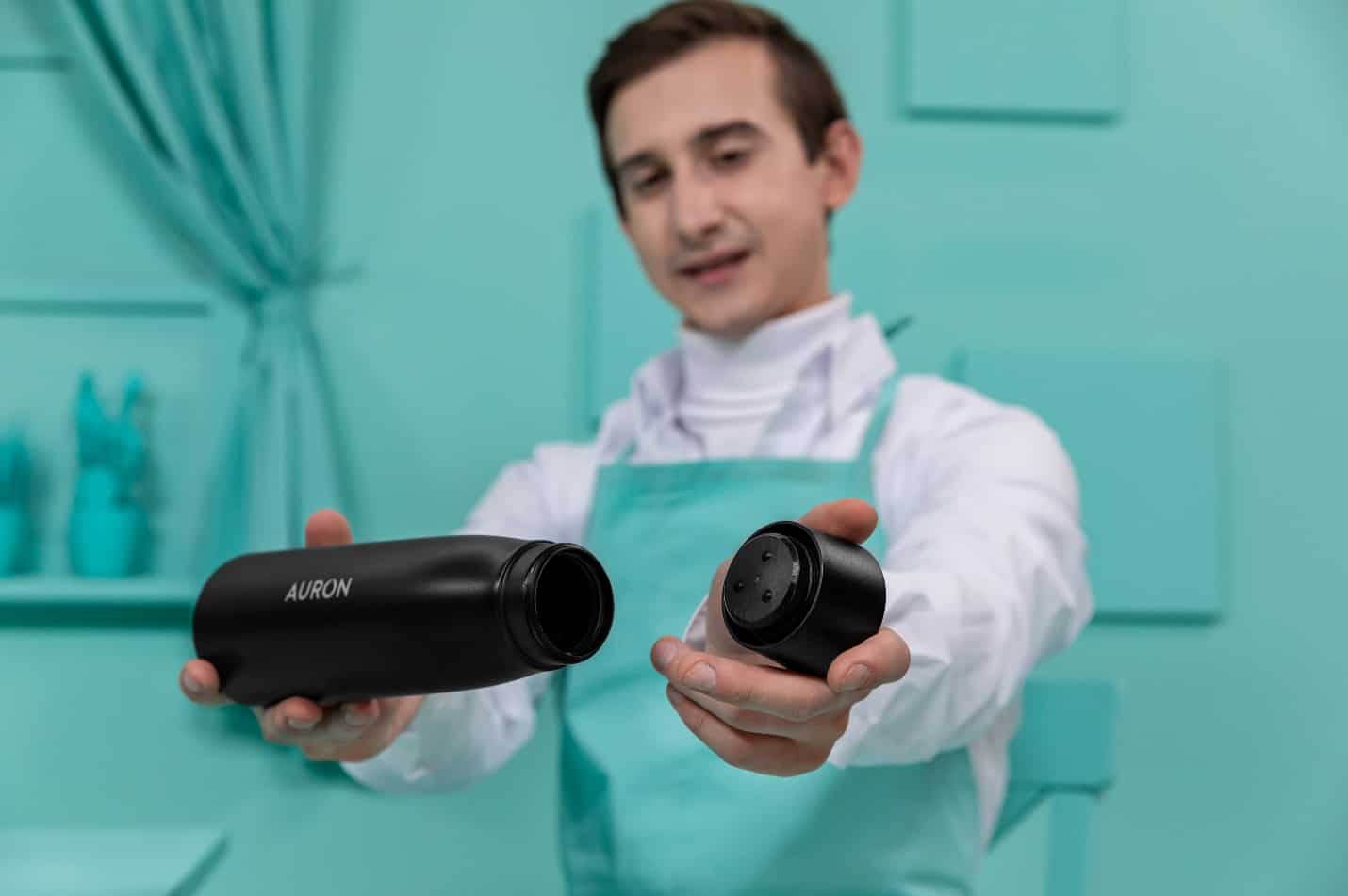 One Bottle for a Lifetime of Pure Water
Water purifiers are a hassle because you have to replace filters and parts. Who has the time or money for that?
Auron contains a lifetime of purification power in just one bottle. Its UV light bulb is made to last for 300,000 purification cycles, and its battery lasts for 2 months per charge. With just one purchase, you can enjoy clean water for decades to come.
You can use it as a carafe on the dinner table, a travel companion or a work thermos. Even if you don't use it for years, It will be sterile and ready to go when you pick it up again.
Auron can also take a beating. Go ahead and leave it with the kids. It's practically indestructible. Auron is made of 304 stainless steel, and it's resistant to breaks, dents, rust and corrosion. It's electronic parts and UV bulb are sealed, so there's no risk of harm to anyone in your family.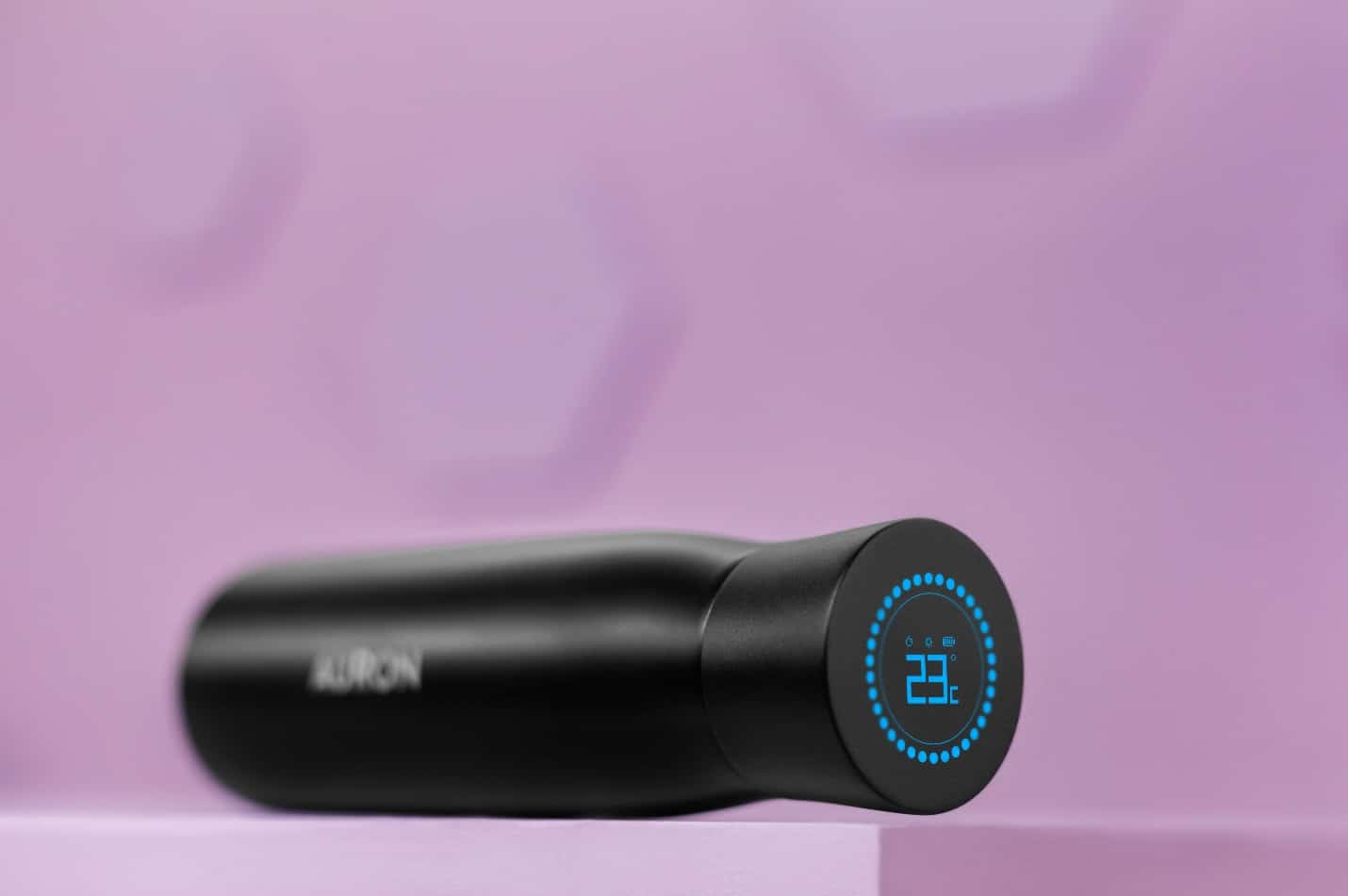 Get Your Auron Bottle for 60% Off
If you're ready for cleaner water, a safer home and healthier habits for the whole family, then Auron is an easy choice. To make it even easier, you can pre-order one now for 60% off the list price.
That means you can get a self-cleaning Auron Bottle that will last a lifetime for the same price as a standard thermos. Don't miss out on your chance to grab this bottle. Earby bird perks will only be available during the Kickstarter campaign!
See Auron Bottle in action and pre-order yours now at auronbottle.com.