*This is a paid post
We absolutely love Christmas in our house and, as you can imagine, the preparations are in full swing. The Christmas day arrangements have been made, the dinner has been ordered, gifts have been bought and the wrapping will soon commence. So we can turn our thoughts to other parts of Christmas – the parties, the gatherings and the Santa visits. The bits that the whole family really love and that help us to get into the festive spirit. And this year Opposuits sent Little Man a gift that really has made him feel like Christmas has come early.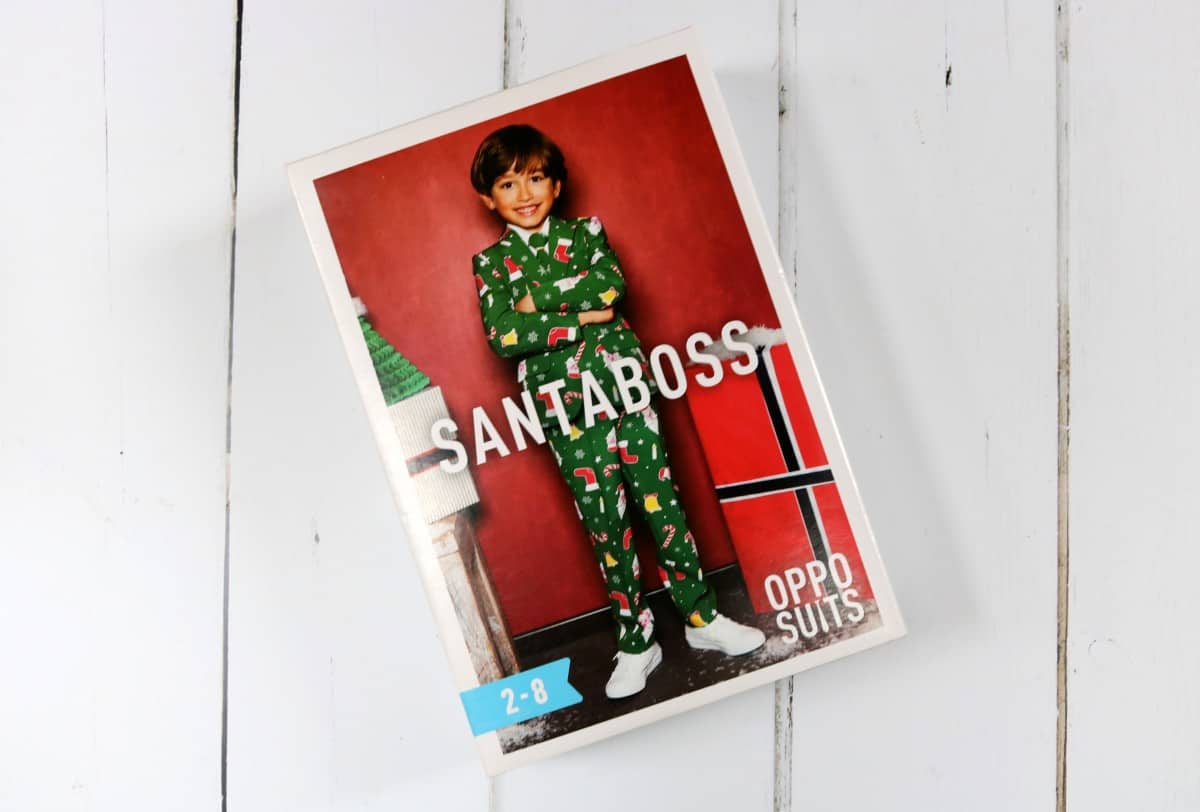 Opposuits have a range of fun and funky suits for any occasion – and their Christmas suits are pretty awesome. With options for men, women or children they are pretty much the statement outfit for any occasion in the run up to Christmas. When Little Man first opened his Santaboss suit he was lost for words – he had never seen or even imagined anything quite like it before and couldn't wait to put it on.
The Santaboss suit comes in a beautiful gift box and, like most Opposuits suits, it's a three piece suit of trousers, jacket and tie. I was immediately impressed with the quality – with the jacket being fully lined, buttons on the jacket cuffs and size adjusters on the waist of the trousers. It's a suit that is made to last and made to really be worn and appreciated – not just a novelty that will be worn once and forgotten about.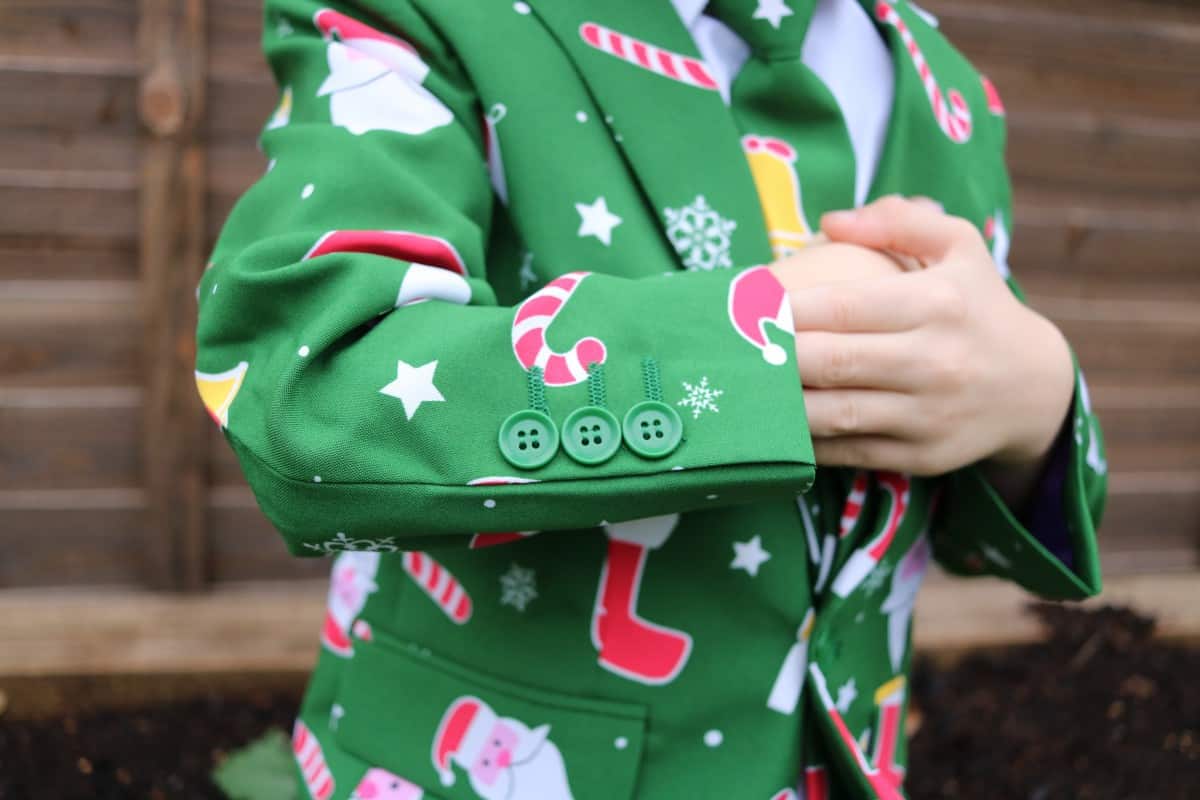 Little Man's suit is age 4 as I thought age 6 would be too big and, at 5 and a half, the age 4 suit fits him perfectly with the waist adjusted slightly. The jacket does up, the sleeves and trousers legs are the right length and he's really comfortable wearing the suit – and proud too. He thinks he looks the bee's knees, and I have to agree. The tie is a clip on one which looks fantastic but is so much easier for Little Man to put on and take off – and will always look pristine too.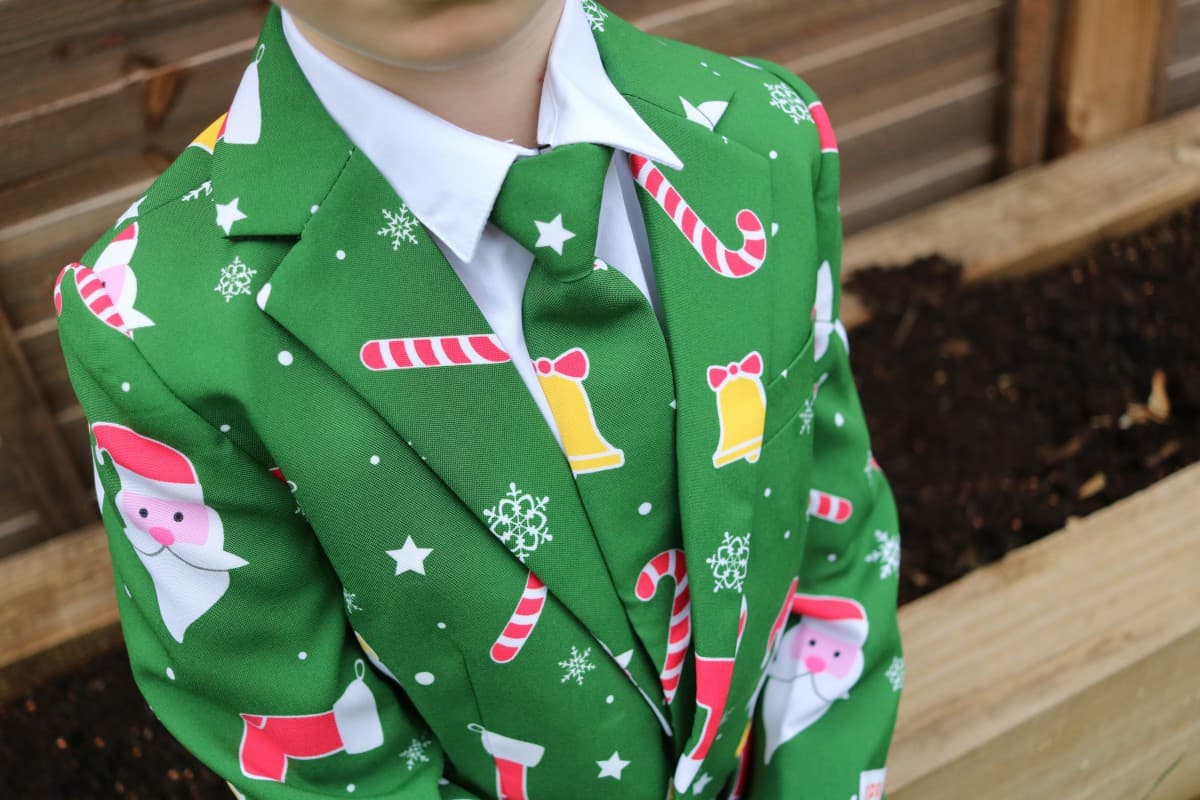 In the run up to Christmas the children have so many different occasions and things on the calendar. There's the school Christmas fair, Christmas discos, a Christmas outfit day at school, Father Christmas visits and so many family things too – and Little Man has decided he will be wearing his new suit to as many of these things as possible.
With the Opposuits Santaboss suit, Little Man wore one of his school shirts and his school shoes – we'll be investing in some smart shoes for him nearer Christmas but it shows that you don't need to spend a fortune for children to really get dressed up and look the part at Christmas.
It's safe to say that Opposuits are going to feature heavily in our Christmas plans – and who knows, Dave may even have a matching suit within the coming weeks too! Opposuits have a great range of suits for the whole family with plenty of Christmas options and ones that can be worn all year round too.
The Santaboss suit has an RRP of £44.95 and you can see the whole range for men, women and children over on the Opposuits website.