Welcome back to another week of the Ordinary Moments. If you haven't joined in before this is a weekly linky that launches every Sunday morning and is open until midnight on the following Saturday. It's a linky that celebrates any ordinary moments in your life – or the not so ordinary some weeks too. Basically – anything goes. I'll be sharing and commenting on the posts that are linked up during the week and there's a badge at the bottom of the post if you'd like to add it to yours too.
One of the children's favourite days of the year is Christmas jumper day at school. It's always on a Friday and so they get all the usual Friday fun of special assemblies and things as well as the extra bonus of wearing a Christmas jumper to school.
This year Christmas jumper day has been teamed with mufti day in honour of anti-bullying week (a little bit later than the official week) and so the children are wearing their Christmas jumpers with their own clothes instead of uniform underneath and are having odd socks too to celebrate how different everyone is.
The day is full of festive fun at school – complete with Christmas dinner, crackers and party hats. For them it kicks off the last few days at school and they know that once their jumpers have been worn they are in for a few days of winding down to the end of term and it's like a sign to them that Christmas is just around the corner.
I love how excited the two of them get about things like this and after a few years at school they are used to the traditions that the school calendar brings. This term is always the longest, always the hardest and they are so tired that it's lovely for them to get excited about something, have something to look forward to and know that the Christmas break will soon be here.
LP and Little Man have just three and a half days of school and the end of term really can't come quick enough. Each afternoon we are spending doing festive crafts or watching Christmas movies and we are all just so excited for Christmas. I know that this won't be the last time we'll be wearing our Christmas jumpers!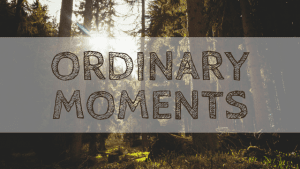 If you have an ordinary moment this week, come and link up – I'm looking forward to reading the moments that you share and will comment and share them on Twitter through the course of the week. Thanks so much for taking part.