Welcome back to another week of the Ordinary Moments. If you haven't joined in before this is a weekly linky that launches every Sunday morning and is open until midnight on the following Saturday. It's a linky that celebrates any ordinary moments in your life – or the not so ordinary some weeks too. Basically – anything goes. I'll be sharing and commenting on the posts that are linked up during the week and there's a badge at the bottom of the post if you'd like to add it to yours too.
We've been leaving the house a few times a week for the last couple of weeks now and I've found that we manage to go out, and are a lot more content outside of the house if we go out first thing.
I've been taking the children to the park straight after getting up and having a breakfast picnic. It's so nice to get out whilst the local area is still quiet and the children love the novelty of eating fruit salad and pain au chocolat on a blanket in the park instead of having cereal at home.
We only ever stay at the park for an hour or so but it's such a nice start to the day. The children read books, play games, throw a frisbee around or scoot and it then makes us feel better about being at home for the rest of the day.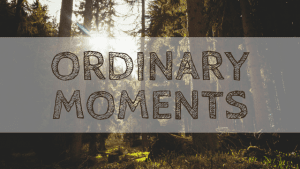 If you have an ordinary moment this week, come and link up – I'm looking forward to reading the moments that you share and will comment and share them on Twitter through the course of the week. Thanks so much for taking part.
You are invited to the Inlinkz link party!